Inside Intelligence: The First Debate
In which our insiders ponder the governor's performance in his first presidential debate, and what the outcome might be.
Rick Perry now has a presidential debate behind him, so we asked our insiders for their first impressions. Most thought the Texas governor's performance was "good." A few (15 percent) thought it was "great," and only 8 percent thought it was "poor." Having seen Perry on stage with seven other presidential candidates, almost half of our insiders think he's on his way to the Republican nomination, and 32 percent give that prospect a "maybe" rating.
And then there were the comments, which are more interesting (as usual) than the tallies. We've put all of them in one document, which is attached, but here's a sampling: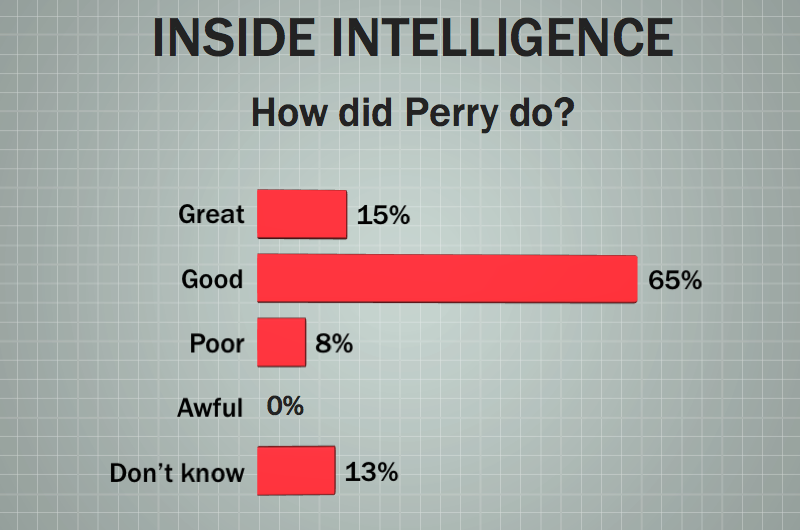 How did Perry do?
• "He did OK - not good, not poor. He started strong, but faded badly. Clearly, he has much work to do to be comfortable discussing major issues."
• "Rough around the edges, but getting his sea legs on the national stage. If he continues to improve, he'll be unstoppable for the nomination. People question lines like 'Ponzi scheme', but it's red meat to primary voters!"
• "The disconnect between the pundit class and Republican voters is more surprising than anything he said in the debate that could be considered controversial, e.g., Social Security, climate change."
• "Solid B. lots of attention will be paid to the Ponzi Scheme comment, but he doubled down on his anti-Washington rhetoric... needs to be sharper, more substantive in next couple debates... answer on death penalty was absolutely perfect"
• "Good, not great. Strong open. Stumbled midway. Great recovery on death penalty. Ponzi scheme will haunt him. General election prospects in flux."
Now that you've seen him with the other candidates, do you think Perry will be the Republican nominee?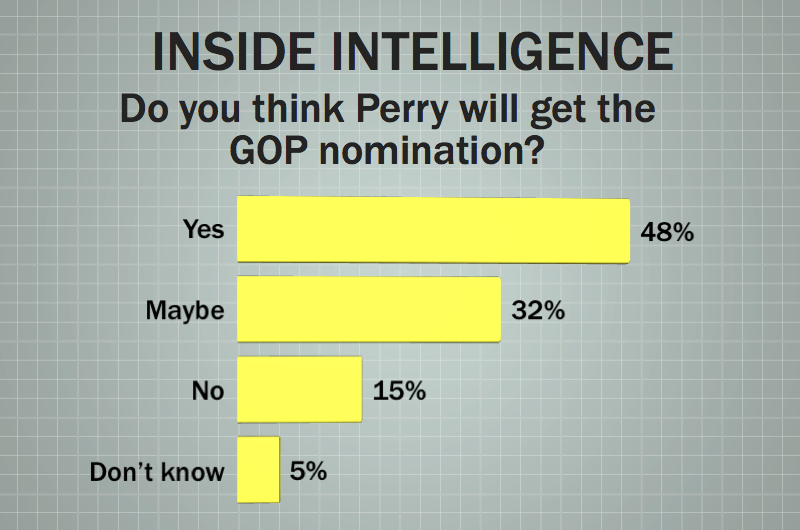 • "He's too far out of the mainstream. Even today's Republicans aren't going to be comfortable with a nominee who is going to scare old people by calling Social Security a Ponzi scheme."
• "None of the other candidates have the political moxey to go toe to toe with Governor Perry. One of them will need to hire Karl Rove to have any chance to beat Governor Perry."
• "It's most definitely a Perry/Romney show unless one of them commits a major error. Romney (and Huntsman) are the most electable of the group, but Perry will play the primary voter the same way he has played conservatives in TX - masterfully. And no one on the outside will understand how he did it."
• "It's the Perry-Romney show and who do you think the GOP base will elect? Not Romney."
• "Team Perry is the only campaign who is running to win a Republican Primary Election. He is feeding the red meat machine and will be rewarded. Who cares about a general election if you can't win your primary."
What were the high and low points of the debate, and what did you find surprising?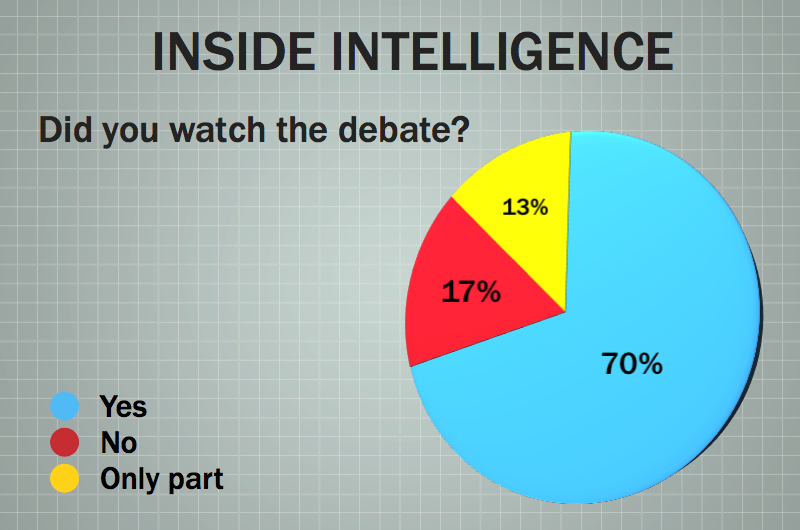 • "I was surprised that Governor Perry publicly dissed Karl Rove. I was impressed with Governor Huntsman. He was poised but he missed his opportunity to back up his comments about his Republican competition. I wondered as bad as President Obama is doing in the public opinion polls how could he still be leading the individual Republicans in the field. The debate illustrated why President Obama still has hope, the Republicans are playing to a very small and extreme group of voters who have lost favor with the general public."
• "The realization that Galileo was outvoted and thus science just cannot inform policy in regard to the environment. The high point of the debate for me was Perry's mocking facial gestures when Romney was standing up to his condescending rhetorical bullying. I find it amazing that Newt Gingrich gets to renew his franchise on relevancy. Ron Paul still comes off as the nice cranky guy who lives down the street who will lecture you if you walk by his house."
• "Highs: Perry survived and was able to handle the pressure; Romney became a player again; Huntsman won't die that quickly. Lows: Watching Bachman's presidential ambitions come to an end; Determining that Ron Paul's public service career just ended; Surprising: Rick Perry handled the pressure."
• "I suspected that the others would attack Perry, but I was still surprised by it - I guess in bar fights and debates you should always knock the Hell out of the biggest dude in the room first. Ron Paul looked like the whiney old man who lives at the end of your block bitching about the garbage truck."
• "The audience applause at the death penalty numbers in Texas was appalling."
Our thanks to this week's participants: Gene Acuna, Cathie Adams, Brandon Aghamalian, Victor Alcorta, Clyde Alexander, Jay Arnold, Louis Bacarisse, Dave Beckwith, Allen Blakemore, Hugh Brady, Steve Bresnen, Linda Bridges, Chris Britton, Andy Brown, Lydia Camarillo, Snapper Carr, Tris Castaneda, George Cofer, Rick Cofer, Lawrence Collins, John Colyandro, Kevin Cooper, Hector De Leon, Tom Duffy, David Dunn, Jeff Eller, Alan Erwin, Gay Erwin, Ryan Erwin, Terry Frakes, Bruce Gibson, Daniel Gonzalez, Thomas Graham, Alan Gray, Clint Hackney, Wayne Hamilton, Bill Hammond, Albert Hawkins, Jim Henson, Shanna Igo, Deborah Ingersoll, Mark Jones, Sandy Kress, Nick Lampson, Pete Laney, James LeBas, Donald Lee, Luke Legate, Richard Levy, Matt Mackowiak, Luke Marchant, J. McCartt, Dan McClung, Bee Moorhead, Steve Murdock, Craig Murphy, Keir Murray, Keats Norfleet, Todd Olsen, Nef Partida, Gardner Pate, Bill Pewitt, Jerry Philips, Tom Phillips, John Pitts, Royce Poinsett, Jay Propes, Bill Ratliff, Carl Richie, Kim Ross, Luis Saenz, Mark Sanders, Jim Sartwelle, Stan Schlueter, Bruce Scott, Dan Shelley, Christopher Shields, Dee Simpson, Ed Small, Todd Smith, Larry Soward, Dennis Speight, Jason Stanford, Bob Strauser, Colin Strother, Sherry Sylvester, Trey Trainor, Ken Whalen, Darren Whitehurst, Christopher Williston, Seth Winick, Eric Wright, Peck Young, Angelo Zottarelli.
Texas Tribune donors or members may be quoted or mentioned in our stories, or may be the subject of them. For a complete list of contributors, click here.
---
Information about the authors
Quality journalism doesn't come free
Perhaps it goes without saying — but producing quality journalism isn't cheap. At a time when newsroom resources and revenue across the country are declining, The Texas Tribune remains committed to sustaining our mission: creating a more engaged and informed Texas with every story we cover, every event we convene and every newsletter we send. As a nonprofit newsroom, we rely on members to help keep our stories free and our events open to the public. Do you value our journalism? Show us with your support.
Yes, I'll donate today