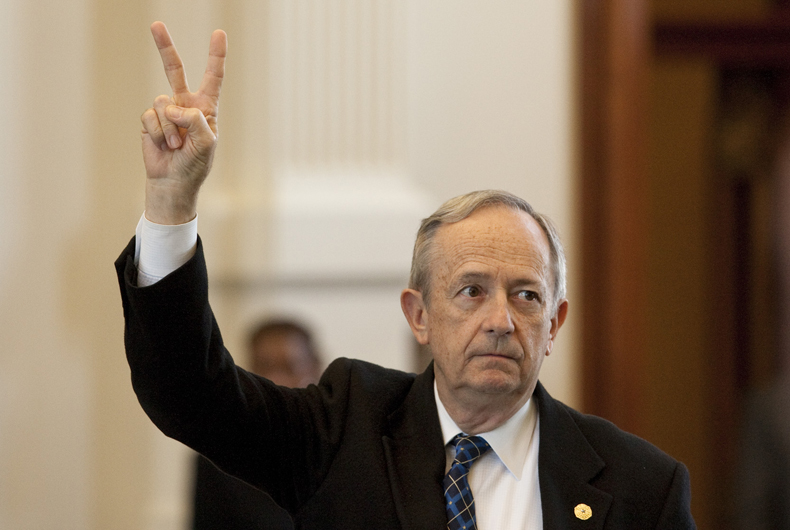 Sen. Jeff Wentworth, R-San Antonio, says he'll seek another term in 2012. Fun facts from his announcement: "Among his younger-life experience, he worked as a paper boy, TV station copy boy, waiter, dishwasher, library clerk, and taxicab driver."
U.S. Rep. Michael McCaul, R-Austin, has been talking to potential supporters about getting into the U.S. Senate race, where he would face a gang of other Republicans who hope to succeed Kay Bailey Hutchison, who's not seeking another term. McCaul is saying he could spend $4 to $6 million of his own, and has raised questions about whether Lt. Gov. David Dewhurst has been running a muscular enough race. Dewhurst has been raising money, aides say, and his real rollout is coming after Labor Day. Dewhurst can self-finance the race — he's done it before — but McCaul can, too. Roll Call just named him the richest man in the U.S. Congress. Talking carries risks; if McCaul doesn't look like a guy seeking reelection, he could attract others into his own race.
Put Marshall Mayor Chris Paddie into the race for HD-9 against state Rep. Wayne Christian, R-Center. And put Christian into the race for sure, if you were doubtful. He's announced he'll run for reelection. Paddie is a radio talk show host and general manager of KMHT Radio, where it airs. He's also been on the city commission, and he's a Republican — this will be a primary fight. Much of that is new turf for the incumbent; 80 percent of the population in the new district isn't in his current district. Christian has an Austin fundraiser coming up in mid-September, with levels of giving based on "conservative Texas values." On the cheap end is Gun Rights, for $250. The most expensive, at $5,000? Small Government.
State Rep. Cindy Burkett, R-Mesquite, will seek a second term in the House. Redistricting paired her with Rep. Joe Driver, R-Garland, in a northeast Dallas County district.
The Texas Tribune thanks its sponsors. Become one.
T.C. Betancourt of Edinburg will run for the statehouse in HD-41, where the incumbent is state Rep. Aaron Peña, who switched to the Republican Party after winning reelection last year. He's in the healthcare and produce businesses.
Add Republican Daniel McCool, a Harris County deputy sheriff, to the race for the SD-11 seat now held by Mike Jackson, R-La Porte. Jackson is running for Congress. State Rep. Larry Taylor, R-Friendswood, is also expected to get in. Fun facts from McCool's announcement: "He has been shot at multiple times by suspects as he attempted to apprehend them, and has suffered numerous broken bones, torn ligaments, scrapes and bruises while fighting crime over the years."
Texas Tribune donors or members may be quoted or mentioned in our stories, or may be the subject of them. For a complete list of contributors, click here.