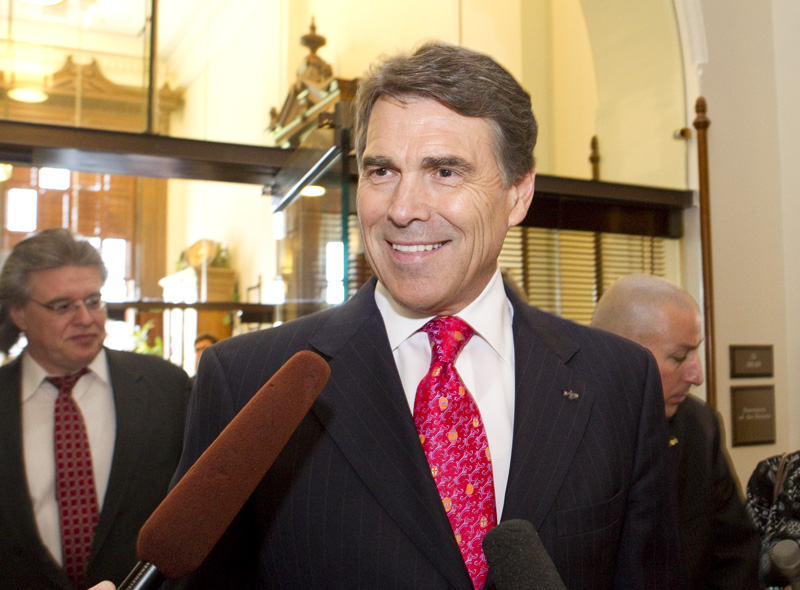 Two new political outfits, based in Austin and started by a former legislator who served with and worked for Gov. Rick Perry, will try to rally veterans to the governor's presidential race in Iowa and South Carolina.
Veterans for Rick Perry and the Jobs for Vets Fund, started by lobbyist Dan Shelley and others, aren't affiliated with the governor. But you can't get much closer to him. Shelley served with Perry in the House and worked for him in the governor's office between stints as a lobbyist.
And others in the governor's circle are involved, too, though it's difficult to tell just how involved they are. Shelley told the Houston Chronicle that acting Texas A&M University System Chancellor Jay Kimbrough is involved, but a spokesman says Kimbrough — a state employee with a politically sensitive posting — hasn't done anything more than say he's interested. Shelley also mentioned Washington County Judge John Brieden of Brenham, a longtime Perry friend and former college roommate who was national commander of the American Legion (that group doesn't do political endorsements).
Brieden says the commander-in-chief ought to be a veteran. Perry is one of only two potential candidates with military service on his resume (the other is Ron Paul). They started the political groups because time is short before voters speak out in Iowa and South Carolina and because other candidates — assuming Perry gets into the race — have a head start. "Veterans are an area where Perry is extremely strong," he says. Those ties might give Perry a natural constituency, he thinks.
The Texas Tribune thanks its sponsors. Become one.
Texas Land Commissioner Jerry Patterson, who served in the Senate with Shelley, filmed a video for the committees and says Shelley did the same. Kimbrough was a possible subject for a testimonial for Perry, too, he said. Patterson is raising money for his own political accounts and won't be participating financially in the new PACs. But he, like Brieden, says the president ought to have military experience, particularly when the U.S. is at war.
Jobs for Vets, a so-called super PAC, has raised about $50,000, according to Thomas Graham, who was speaking for Shelley, and while they haven't had to file fundraising reports yet, he said no single donor has given more than $10,000.
Two other committees are up and running, and have more money. Americans for Rick Perry and Jobs for Iowa both became active as Perry himself did, although neither is in direct communication with him or his early-stage campaign.
Texas Tribune donors or members may be quoted or mentioned in our stories, or may be the subject of them. For a complete list of contributors, click here.