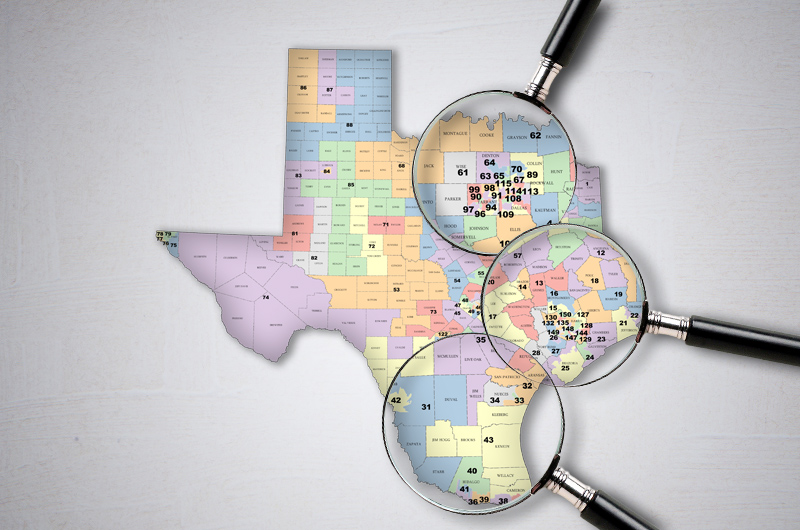 That exhibition of musical chairs is contingent on the outcomes of several lawsuits filed against this or that piece of the new political maps drawn by the Legislature earlier this year.
Three suits were filed in San Antonio, another in Austin, another in Sherman, another (in state court instead of federal) in McAllen. The latest lawsuit, expected to be filed Friday (15 July) in San Antonio, comes from state Rep. Marc Veasey, D- Fort Worth, and a group calling itself the "Fair Texas Plaintiffs." They contend the congressional redistricting plan approved by the Legislature cuts into minority voting rights in Tarrant County and other areas of the state. Among their arguments:
• Texas gets four new seats because of state growth driven by minorities; the legislative map creates four new seats "controlled by Anglo Republican voters."
• Anglos make up 45 percent of the Texas population but Anglo voters have the strongest voice in 70 percent of the congressional seats.
The Texas Tribune thanks its sponsors. Become one.
• Only one seat north of Austin is controlled by minority voters although 2.1 million Latinos and African-American voters live in the Dallas-Fort Worth area.
The first round in the courts will decide venue, and it looks like a semi-safe bet to say everything is headed for a three-judge panel in San Antonio that includes Judge Jerry Smith of the 5th U.S. Circuit Court of Appeals, Xavier Rodriguez and Orlando Garcia, both federal judges in San Antonio (Rodriguez was an appointee to the Texas Supreme Court, but didn't survive the election that followed that appointment).
Those judges have three of the cases in hand and told the attorneys to be ready for trial on September 6. Candidates start filing in November under a new state law that moved up the deadlines by a month; the courts hope to have legal maps in place — those drawn by the Legislature or some improved versions — before candidates have to sign up.
Texas Tribune donors or members may be quoted or mentioned in our stories, or may be the subject of them. For a complete list of contributors, click here.