TribWeek: Top Texas News for the Week of June 27, 2011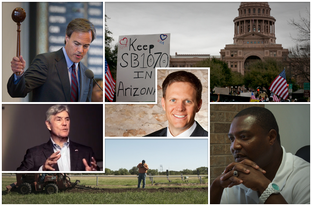 We kept track of the key issues throughout the special session. From budget measures to school finance, health care and airport groping, here's our final rundown of bills that passed, and the ones that died.
Tea Partiers thought this session was their time to shine, after helping to elect and elevate the GOP to supermajority status in the state House. With the session over, they're disappointed some of their pet issues were not resolved
Gov. Rick Perry's position on "sanctuary cities" doesn't play well with Latino voters but his record of job creation and his business-friendly approach may cause some to look beyond that if he decides to seek the White House.
The governor is also the first to admit that his views on a host of hot-button political issues — from letting states legalize marijuana and gay marriage to describing Social Security as a "Ponzi scheme" — could cause him heartburn in a race for the White House.
A glitch in the federal health reform bill that would make many middle-class Americans eligible for Medicaid could cost Texas nearly $90 million a year by 2017, according to a state analysis.
Candidates are dropping out of the U.S. Senate race in Texas faster than teenagers drop out of Texas high schools. It's been a month of un-declaration in the Republican race to replace Kay Bailey Hutchison.
Rick O'Donnell, the controversial former adviser at the University of Texas System, on his termination, the subsequent settlement, his critics and why he thinks his side is winning the battle over higher ed reform.
Anthony Graves got a check for $1.45 million this week from Texas Comptroller Susan Combs, money the state owed him for keeping him behind bars for nearly two decades for a crime he did not commit.
As one of the worst droughts in Texas history intensifies, a notable if lesser worry is the condition of athletic fields. Some fields are getting patchy already, and a summer of 90 or 100 degree temperatures still lies ahead.
Texas Tribune donors or members may be quoted or mentioned in our stories, or may be the subject of them. For a complete list of contributors, click here.