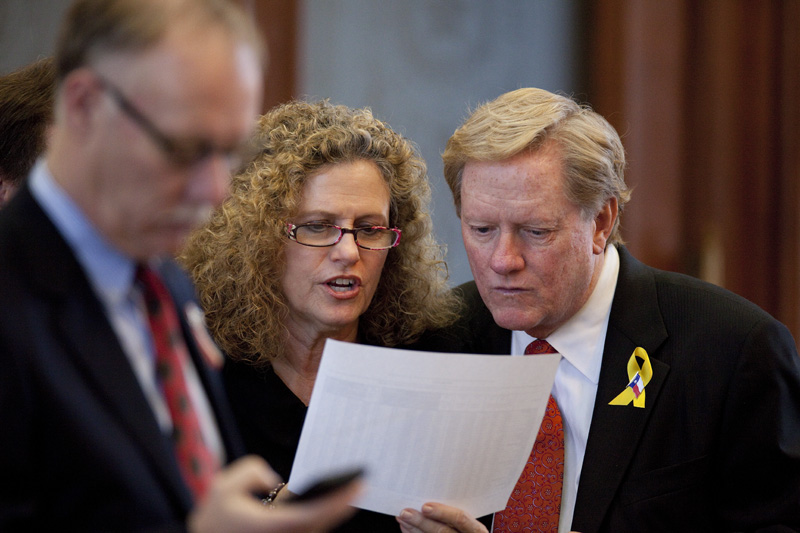 An amendment from Rep. Donna Howard, D-Austin, that would have directed surplus money from the Rainy Day Fund to pay for enrollment growth in public schools has perished in conference committee.
The House voted to attach the measure, which Howard argued was a practical approach that would allow Republican members to maintain their pledges to protect the savings account while providing what could be an extra $2 billion to public education, to SB 2 — an omnibus appropriations bill critical to balancing the budget.
After outcry from fiscal conservatives, however, the lower chamber passed a resolution to strip the amendment when the bill went to conference committee to resolve key differences between the House and Senate versions.
Such resolutions are nonbinding. But in this instance, members of the committee listened. Of the five representatives from the House — Jim Pitts, R-Waxahachie, Jimmie Don Aycock, R-Killeen, Myra Crownover, R-Lake Dallas, Drew Darby, R-San Angelo, and Ruth Jones McClendon, D-San Antonio — only McClendon did not sign the conference committee report.
The Texas Tribune thanks its sponsors. Become one.
"I am disappointed that the conference committee allowed the demands of a few unduly influential activists, as well as the political ambitions of Governor Rick Perry, to eclipse the needs of our schoolchildren," Howard wrote in an email, "My amendment was a common-sense compromise that would have left existing rainy day funds 'in the bank' while still providing the necessary funding to cover a rapidly-growing student population and investing in the future economic prosperity of our state."
Gov. Rick Perry has threatened to veto any bill that uses any of the Rainy Day Fund for the upcoming biennium.
Editor's Note: This story has been updated to reflect that McClendon did not sign the conference committee report.
Texas Tribune donors or members may be quoted or mentioned in our stories, or may be the subject of them. For a complete list of contributors, click here.