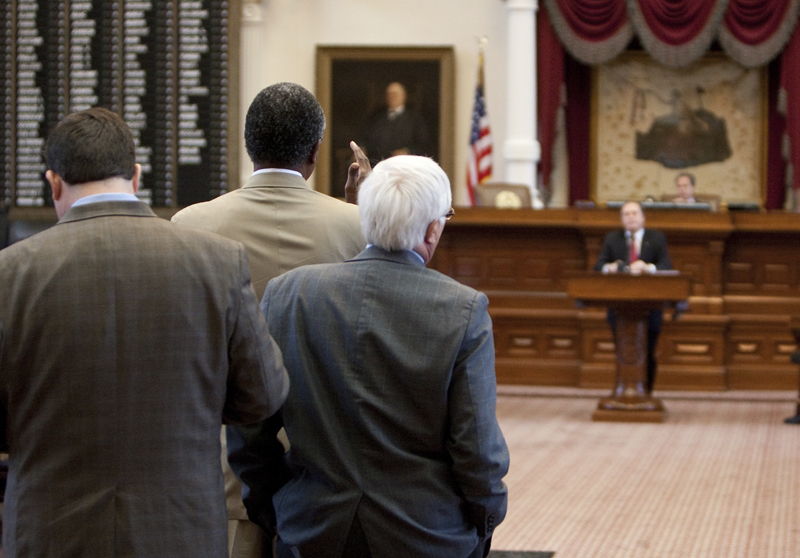 When the Senate passed her two signature education bills, Sen. Florence Shapiro, R-Plano, made an effort to keep her colleagues from weighing them down with extra amendments. The lower chamber took a different approach.
Both SB 8, a comprehensive mandate relief measure that allows school districts to furlough teachers, reduces contract termination notification requirements, and expands the Texas Education Agency's authority to grant waivers for the 22:1 student teacher size ratio, and SB 6, an instructional materials bill, left the House floor significantly heavier than they arrived.
Members attached amendments to SB 8 that would require districts to fire teachers based on evaluations instead of seniority, apply any teacher salary reductions to administrators, and allow them to fire superintendents mid-contract when they declare financial exigency. The bill's sponsor, Rep. Rob Eissler, R-The Woodlands, also changed a provision that reduced termination notification requirements from 15 to 10 days. (That's down from the 45 days required under current law.)
Teachers' groups fought fiercely during the regular session to prevent the passage of legislation like SB 8. Rep. Sylvester Turner, D-Houston, spoke to the unpopularity of the measure with teachers when he opposed it on the floor.
The Texas Tribune thanks its sponsors. Become one.
"I'm taken aback by the argument of people on this floor who think the best way to keep teachers is to reduce their pay," he said, adding, "Please, help me to understand why we are attacking teachers this session?"
Supporters of the legislation argue that it provides needed flexibility for schools coping with budget cuts, and will prevent job losses if districts can first look to furloughs or salary reductions before laying off employees.
SB 6 became the new home of Eissler's testing bill from the regular session, HB 500. It permits districts to set their own policies about how new end-of-course STAAR exams count toward a student's final grade instead of the currently required 15 percent. It also would allow districts to suspend a new requirement that students receive a cumulative score on 12 exams in four subject areas to graduate; instead, students would have to pass a total of four exams, one in each subject.
Shapiro has said that she opposes making any changes to the rollout of the new STAAR tests, so the fate of Eissler's amendment in conference committee is uncertain.
House members also took aim at an education amendment they adopted to a budget bill last week. At the insistence of Rep. Phil King, R-Weatherford, they voted 87 to 59 to instruct the conferees on SB 2 to strip the measure from Rep. Donna Howard, D-Austin, that would direct additional growth in the Rainy Day Fund to public schools.
Such resolutions are non-binding. It will be up to the House conferees to SB 2 — Rep. Jim Pitts, Drew Darby, Myra Crownover, Jimmie Don Aycock and Ruth Jones McClendon — to decide whether to follow their colleagues' recommendation.
Texas Tribune donors or members may be quoted or mentioned in our stories, or may be the subject of them. For a complete list of contributors, click here.