Video: "Pansexual" Amendment Debate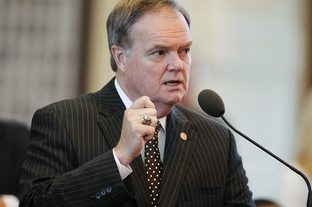 While you were sleeping last night, lawmakers in the Texas House were engaged in a passionate debate over "pansexual" politics that nearly killed the entire fiscal matters bill, which is pretty much the main reason they're having a special session.
State Rep. Wayne Christian, R-Center, resurrected an amendment to SB 1 that would ban colleges from using state funds or university facilities for gender and sexuality centers. The provision passed back when the House voted on the budget during the regular legislative session, but it was stripped when the bill reached the Senate. After nearly 45 minutes of fierce debate, Democrats raised a point of order that would have nixed the whole bill. In response, Christian reluctantly agreed to withdraw his amendment.
The midnight debate over this issue became extraordinarily emotional and contentious. We've posted the raw exchange from our live stream in three parts.
Part 1 — Christian's opening statement, state Rep. Joaquin Castro's explanation of just what pansexual means, a warning from state Rep. Senfronia Thompson that passage of the amendment would lead to a lawsuit.

Watch live video from texastribune on Justin.tv
Part 2 — Democrats' attempts to change the amendment. Proposals by state Rep. Marc Veasey, D-Fort Worth, and state Rep. Dawnna Dukes, D-Austin. Both measures failed.

Watch live video from texastribune on Justin.tv
Part 3 — Christian's comments about withdrawing his amendment. He drew upon his own childhood (Yes, he really said, "White boys can't jump.") "It seems the walls are so high every time I open my mouth. ... I pray for the day when we actually can discuss things and bring those walls of prejudice down," he said, before apologizing to the chamber for saying anything that might have been considered discriminatory.

Watch live video from texastribune on Justin.tv
Texas Tribune donors or members may be quoted or mentioned in our stories, or may be the subject of them. For a complete list of contributors, click here.