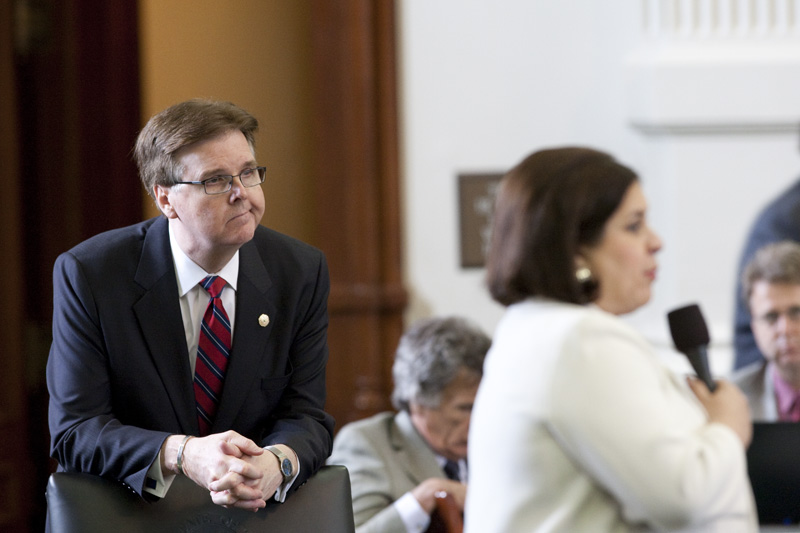 Legislation on textbook funding approved by the Senate today breathed new life into left-behind education bills, including three languishing charter school measures.
During debate on HB 6, which changes the way districts purchase instructional materials, members tacked on 13 amendments. Two from state Sen. Dan Patrick, R-Houston, substantially increased the State Board of Education's authority over the textbooks available for districts to purchase. One would allow board members to remove curriculum materials placed on the approved list by the commissioner of education. The second would lift a requirement that instructional materials approved by the board are "written, complied, or edited primarily by faculty of the eligible institution who specialize in the subject area of the textbook."
Another amendment, from state Sen. Florence Shapiro, R-Plano, the bill's sponsor in the upper chamber, prohibits the state board or school districts from adopting national "common core curriculum" standards. Shapiro said she aimed to keep Washington, D.C., from "coming down and telling Plano, Texas, or San Antonio ISD" what they should teach their students.
But to get the bill through on third reading, Shapiro pulled down the SBOE amendments and her own on the national common core curriculum standards.
The Texas Tribune thanks its sponsors. Become one.
Still attached is SB 597, a bill that extends the Permanent School Fund's facilities bond backing to charter schools, which would allow them to obtain lower interest rates. Charter advocates have pushed for the measure to help them find adequate buildings — but it failed to make it out of the calendars committee, perhaps because traditional school districts oppose it.
Two more charter school bills — SB 1872, which adjusts the way the state measures dropout and completion rates for charters that serve at-risk students, and SB 127, which lifts the state's hard cap on the number of charter schools — also remain on HB 6 as amendments.
Texas Tribune donors or members may be quoted or mentioned in our stories, or may be the subject of them. For a complete list of contributors, click here.