Inside Intelligence: The Political Climate is...
For the latest installment of our unscientific survey of political and policy insiders, we asked some questions about the political atmosphere in Texas, about the job performance of leaders and institutions and about whether immigration is good or bad for the country right now.
The session is winding down and we asked the insiders to take stock of the state's political atmosphere, to rate some leaders and to answer a couple of policy questions. And we slipped in a twist, using questions from a University of Texas/Texas Tribune Poll that was in the field at the same time. The insiders didn't know that, and soon, we'll have a look at how their answers compared with those of registered voters in Texas.
For now, it's their answers alone. Looking at a long list of issues, we asked which was the most important facing the state right now. A third of the insiders — 33 percent — picked the state budget shortfall. Another 24 percent chose education, and the economy came in third, at 14 percent.
Asked to rate the job Barack Obama has done as president, the insiders were split, with 45 percent approving and 47 disapproving. But the people who don't like him are a more intense about it — 34 percent disapprove strongly, while 14 percent approve strongly of the job he's doing.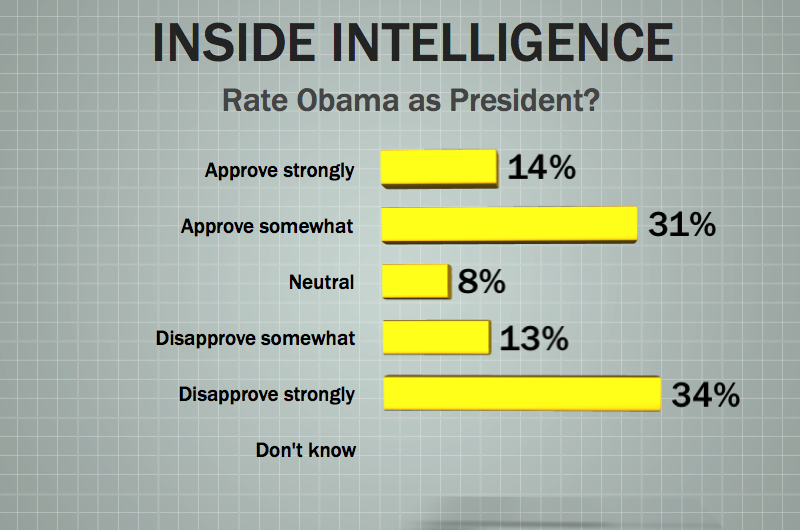 The insiders were much more negative about Gov. Rick Perry, with 33 percent saying they approve of the job he's doing and 66 percent disapproving. Again, the disapproving bunch felt more strongly — 47 percent disapprove strongly of the job the governor is doing, while 13 percent approve strongly.
The Legislature gets dismal marks, too, with 27 percent percent approving of the job its doing and 64 percent disapproving. Is the Texas government a good model for other states to follow? More than half — 56 percent — said no, while 44 percent said it is.
The insiders overwhelmingly think lawmakers should tap the Rainy Day Fund to avoid budget cuts, with 74 percent saying some but not all of the fund should be used, 19 percent saying all of it should be used and 7 percent saying none of it should be used.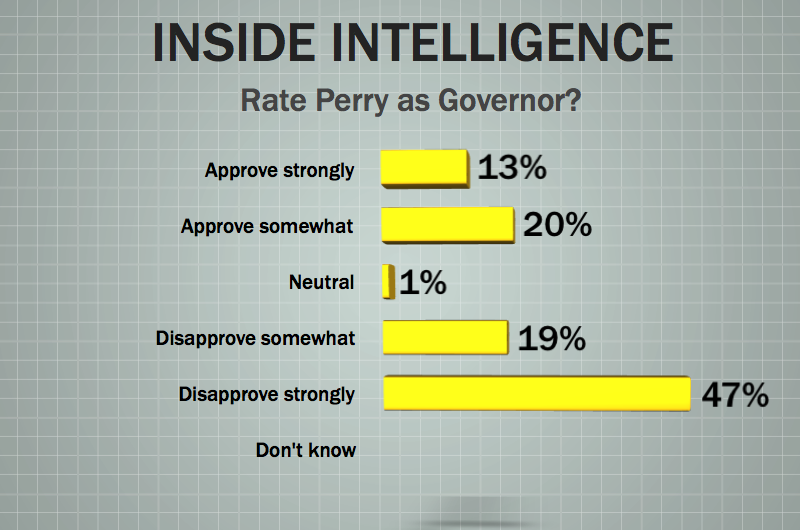 Finally, we asked them about immigration: 68 percent say it is, on the whole, a good thing for the country, while 22 percent say it's a bad thing and 10 percent say they don't know.
We gave the insiders space to comment — something we didn't do in the survey of registered voters. Their full verbatim answers are attached, but here's a sampling:
What would you say is the most important problem facing the state of Texas today?
• "Jobs and the economy are the most important issues. And if we don't properly fund our schools, we won't have workers who are educated enough to bring and keep more jobs for Texas."
• "Ultimately the kind of state our children inherit from us will be defined by the quality of our public and higher education systems. No other single factor will matter nearly as much in the long run."
• "I guess my answer has to be taxes since money is the given reason: a) we can't address current and future water and transportation needs, b) we can't give our school children the education they deserve, c) universities were given the power to raise tuition without limitation in lieu of state money, d) debt financing has doubled instead of 'paying as we go' and e) dedicated funds are not used for their intended purposes."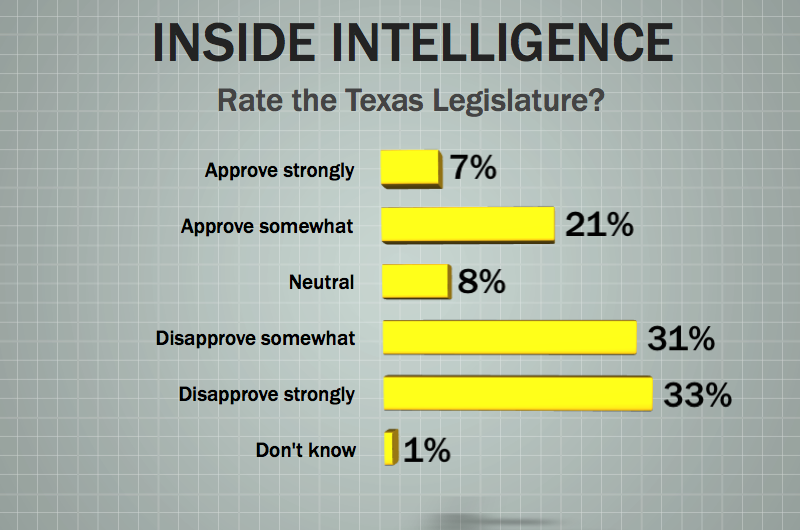 • "I answered 'shortfall.' What this means, of course, is that the state is unable to deal with all the other problems on the list - education, health care, transportation."
• "Leaders do the hard things. They step in front of issues. They place policy above politics. They plan for the future. Our current leadership does none of these things. They are playing political games for short-term benefit, ignoring how quickly this state is changing and paying no thought as to how it will compete with other states -- and countries -- in the decades to come."
How would you rate the job Barack Obama has done as president?
• "Heading into re-election year, I still can't define his priorities."
• "President Obama is steady, measured, tough, smart, sensible, focused and yes, compassionate. I only wish I could provide the same answer for Question #3. Texas is desperate for any one of these qualities in our current governor."
• "Did not vote for the President, but don't dislike him either."
• "It's the economy, stupid."
• "He's on the path to failure."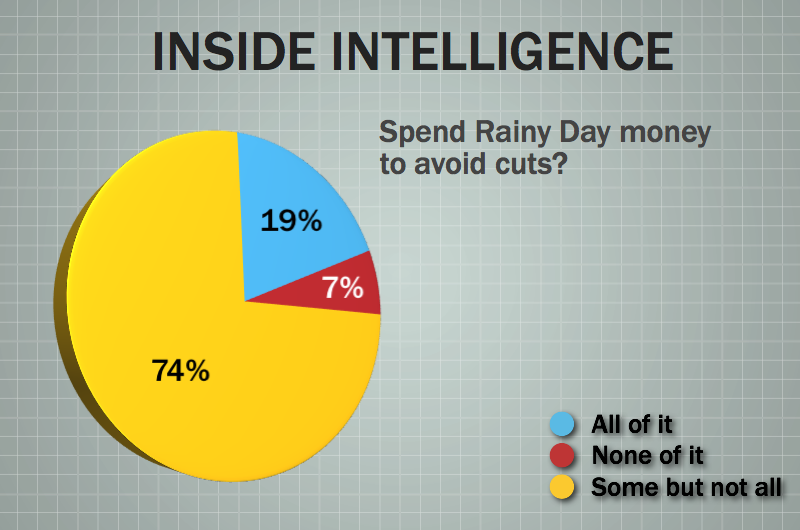 How would you rate the job Rick Perry has done as governor?
• "Gov. Perry has done a great job of keeping a laser-like focus on jobs and the economy. I approve of trimming state government, generally, but I do not agree with the severe, drastic cuts to public education that the Legislature is considering. That is a job-killer and will drive business from our state."
• "Agree or disagree: You always know where our Governor stands."
• "Like most of the leaders of today, it is all about 'him'."
• "He is trying to destroy public education and public higher education in Texas."
• "What a bozo. Puts politics over policy. "
Overall, how strongly do you approve of the job the Texas state legislature is doing?
• "Despite the budget calamity, a (very) few good things have happened this session. The bi-partisan support for toughening human trafficking penalties and for fighting meningitis among college students are important - and generally unheralded - examples of unity and cooperation. And don't forget the puppies."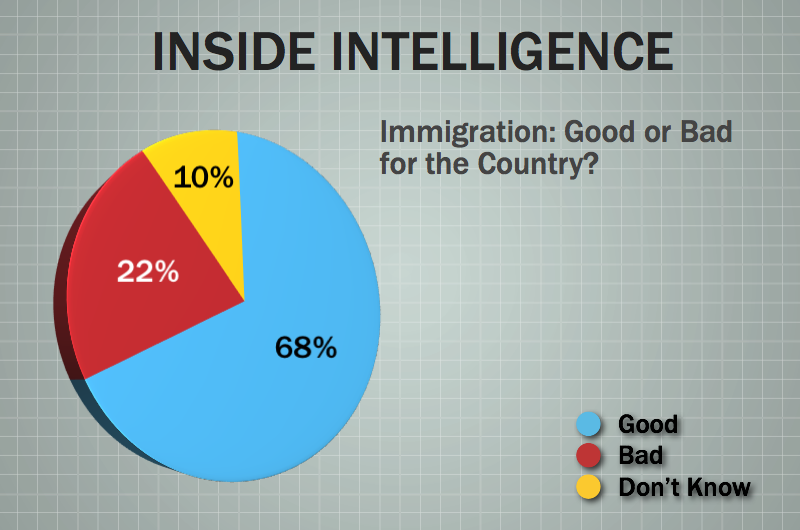 • "Ignoring all the posturing on hot-button social issues, they haven't done much. Which is generally good, except for the part where they totally ignored the future of Texas by shortchanging education and transportation."
• "Leadership, leadership, leadership!!!"
• "It's like a B-movie horror marathon - low budget, low quality, and so awful sometimes that you think it has to be on purpose."
• "Like the President they inherited a really tough budget and economy. They are attempting to balance the budget without new revenue while addressing the pressing needs of the state. It's tough."
How do you feel about the following statement: Generally speaking, the way state government runs in Texas serves as a good model for other states to follow?
• "Given the choice between how Texas state government operates or how federal D.C. government operates, I'll take Texas every time."
• "You're joking.... right?"
• "Sending legislators home for most of 2 years is better approach than I've seen elsewhere in state governments."
• "Texas has a good record for success with short-term goals like attracting businesses and therefore jobs, but it is ignoring the things necessary for long-term success like funding the education from pre k through college and career ready to ensure that businesses have the workforce they need to continue to succeed here and to continue to attract businesses. Our state leadership is terribly short sighted to the detriment of the long-term welfare of our State."
• "Anytime before 2003 we could have been held up as a national model."
What is your opinion on whether to spend money in the Rainy Day Fund?
• "You don't clear out your savings account for one crisis when another may be on the horizon."
• "That's precisely why it was created in the first place."
• "Right-sizing government at all levels is a good exercise every few years."
• "Spend enough to fund public education."
• "Send me a check back if you aren't going to use it. I would at least use the anticipated growth amount."
On the whole, do you think immigration is a good thing or a bad thing for this country today?
• "Legal immigration is good. Illegal immigration should be stopped, completely."
• "But this is the wrong question. Immigration is not responsible for the social ills or economic costs that are often attributed to it. Economic policies and border security drive illegal immigration more than any other factors. Hispanics in particular are an integral part of everything Texas is about. Our economy benefits from and needs inexpensive labor. Crack down on drug cartels and legitimate terror threats and leave people who cross the border trying to make a better situation for their children alone."
• "Immigration is what made this country."
• "Thank God Leo Berman wasn't working at Ellis Island in 1914. Otherwise, I'd be a potato and beet farmer somewhere in Eastern Europe."
• "What do you think has made America great? It's the repeated waves of highly motivated immigrants who, along with their children, provide the energy and innovation that set us apart from Europe."
Our thanks to this week's participants: Gene Acuna, Cathie Adams, James Aldrete, Clyde Alexander, George Allen, Doc Arnold, Jay Arnold, Charles Bailey, Tom Banning, Reggie Bashur, Don Baylor, Eric Bearse, Leland Beatty, Dave Beckwith, Mark Bell, Luke Bellsnyder, Allen Blakemore, Tom Blanton, Chris Britton, Andy Brown, Jose Camacho, Kerry Cammack, Marc Campos, Snapper Carr, Janis Carter, Tris Castaneda, William Chapman, George Cofer, Rick Cofer, John Colyandro, Harold Cook, Scott Dunaway, Anne Dunkelberg, David Dunn, Jeff Eller, Alan Erwin, John Esparza, Jon Fisher, Wil Galloway, Neftali Garcia, Norman Garza, Dominic Giarratani, Bruce Gibson, Scott Gilmore, Eric Glenn, Kinnan Golemon, Daniel Gonzalez, Thomas Graham, John Greytok, Marta Greytok, Michael Grimes, Wayne Hamilton, Bill Hammond, Adam Haynes, Ken Hodges, Steve Holzheauser, Shanna Igo, Deborah Ingersoll, Cal Jillson, Mark Jones, Richard Khouri, Tom Kleinworth, Ramey Ko, Sandy Kress, Tim Lambert, Pete Laney, Dick Lavine, James LeBas, Donald Lee, Luke Legate, Leslie Lemon, Richard Levy, Vilma Luna, Matt Mackowiak, Mike McKinney, Kathy Miller, Robert Miller, Bee Moorhead, Steve Murdock, Craig Murphy, Keir Murray, Nef Partida, Gardner Pate, Bill Pewitt, Wayne Pierce, Royce Poinsett, Kraege Polan, Ted Melina Raab, Bill Ratliff, Tim Reeves, Carl Richie, Kim Ross, Jason Sabo, Luis Saenz, Mark Sanders, Jim Sartwelle, Stan Schlueter, Steve Scurlock, Christopher Shields, Patricia Shipton, Ed Small, Martha Smiley, Terral Smith, Todd Smith, Larry Soward, Dennis Speight, Bob Stein, Keith Strama, Bob Strauser, Colin Strother, Michael Quinn Sullivan, Russ Tidwell, Bruce Todd, Trey Trainor, Ware Wendell, Ken Whalen, Darren Whitehurst, Chad Wilbanks, Ellen Williams, Michael Wilt, Peck Young, Angelo Zottarelli.
Texas Tribune donors or members may be quoted or mentioned in our stories, or may be the subject of them. For a complete list of contributors, click here.
Your New Year's resolution list isn't complete without …
… supporting the Tribune. This new year, resolve to do your part to sustain trusted journalism in Texas. Join thousands of readers who power The Texas Tribune's nonprofit newsroom.
Donate now