Inside Intelligence: In 2012, Obama's Chances in Texas Are...
For the latest installment of our unscientific survey of political and policy insiders, we asked about politics — whether Barack Obama will do as well in Texas in 2012 as in 2008, whether Republicans can lose a statewide election, whether any top officeholders are in danger, and which issues in the Legislature will become issues in the elections, for better and for worse.
This week, we asked the insiders about politics, starting with how the president, who was dragging the sack in Texas this week, will do in 2012 compared with 2008. Half think he won't do as well, 21 percent think his fortunes here will improve, and 26 percent say it'll be about the same.
We asked if any of the statewide Republicans are likely to lose their seats in the next two cycles and almost half — 49 percent — don't think any of them are in trouble. The comptroller and a statewide judicial spot are most likely, with 14 percent each, followed by the U.S. Senate race, which 12 percent chose as most vulnerable.
Republicans in Texas haven't lost a statewide election in 17 years and might keep that up. But, we asked, are any statewide officials vulnerable to challenges in future primary or general elections? Yes, according to 71 percent of the insiders.
The full set of responses to the survey attached, but here's a sampling:
President Obama was in Texas this week, talking about immigration and about his reelection campaign. Will he do better or worse in Texas in 2012 than in his first election in 2008?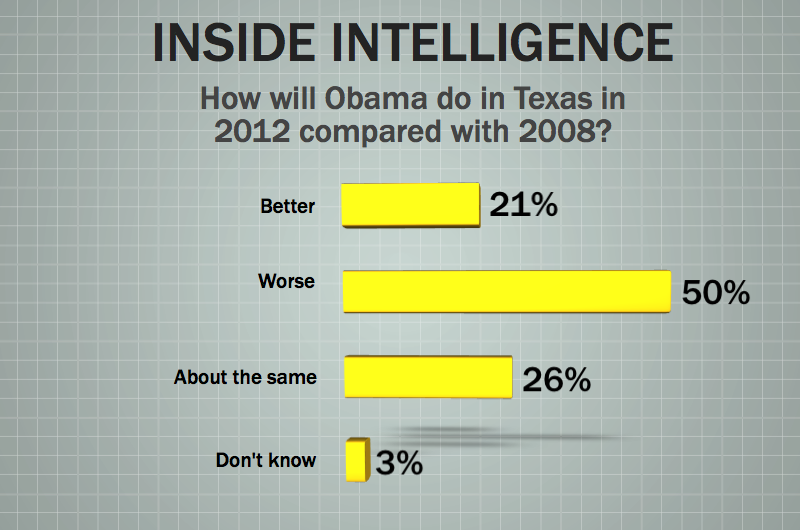 • "In 2008, the Latino electorate voted for President Obama by 69%. Recent poll numbers show that the Latino electorate dropped by 20 percentage points. If President Obama wants to win his reelection bid, he most makes some important steps that demonstrate the Latino electorate that he is moving to make good on his election promise to pass a fair and just immigration bill. With his executive powers, he must halt deportation of individuals who do not have criminal records. He must act!"
• "He will be re-elected nationally, but in Texas, he will turn out at least as many Rs as Ds."
• "Same voting blocks in Texas. Same results."
• "No chance he does better. None."
• "Liberal dissatisfaction, lower turnout among 18-25 year olds, fleeing independents, over-reliance on Hispanic turnout"
• "Too early to tell how people will react to the Republican Legislature's attack on the 20th Century"
• "The enthusiasm behind Obama is now gone. His campaign is lying about playing seriously in Texas, and when that becomes apparent, he'll lose by 15."
• "Honestly, in the next 2 years, how could he possibly create a better environment in Texas than was in place in 2008?"
Republicans haven't lost a statewide race in Texas since the mid-1990s. What office, if any, are they most likely to lose in the 2012 or 2014 elections?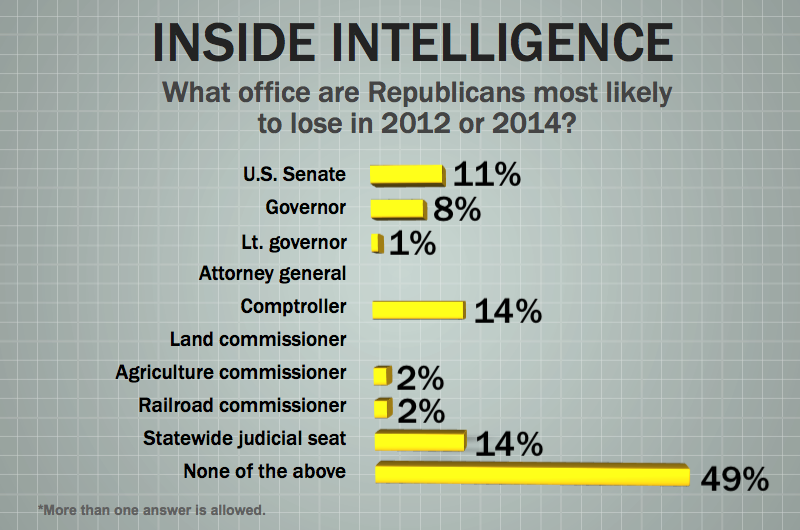 • "Democrats could win in 2012 is real money is invested in expanding and mobilizing the Latino electorate. Otherwise, it will be another 20 years plus before they win any seats at the statewide level."
• "Any seat from Railroad Commissioner down has possibilities for Democrats - with a good candidate and running a strong campaign."
• "Unless there is a scandal, GOP will be safe this decade."
• "No viable statewide candidate, an even more limited fundraising base = snowballs chance"
• "Nothing has changed, yet."
• "Are you kidding me with this question? Once can write-in a candidate like "Mickey Mouse" and that'll beat any democrat on the ballot."
Are any of the current statewide officeholders vulnerable to challenge in the next primary or general elections?
• "Dewhurst"
• "Susan Combs"
• "Susan Combs in a primary challenge."
• "Susan Combs - you can't give away millions of Texans' social security numbers and $25 million a year to a bunch of French race car drivers AND be pro-choice and make it --- Combs & GOP voters, A Perfect Match, they are not!"
• "Porter, maybe Combs."
• "Any reasonable, indeed any responsible Republican is vulnerable to primary challenge in this environment. I think the top of the ticket could be vulnerable in 2014."
Texas lawmakers are almost finished with their regular session. What have they done that will resonate with voters — positively or negatively — in the next election cycle?
• "Reducing funding for local schools."
• "The anti-immigrant legislation and passage of a budget that does not make students, the poor and middle class America a priority will harm the GOP in the long term."
• "Negative: Cut Education Spending Positive: Cut Education Spending"
• "It's all about education. Everyone talks a good game about education but tough times demonstrate true priorities and those electeds who voted to cut public schools will have a lot of explaining to do."
• "Limited spending, no new taxes"
• "Anti-immigrant legislation will resonate positively w/GOP base and negatively with Latino voters."
• "Positives: balance budget, pro life bills... negatives: cut education"
• "Voter ID very popular and easy to understand. The budget, while more important, is just a big blur."
• "Obviously the budget.... for better or worse. I think voters will applaud the legislature for passing a state budget without a tax increase; but at the same time, these same voters will blame the legislature for not funding specific items in the budget."
• "Slightly negatively, but in reality other than Republican Party activists, most voters will be unable to recall much about this past session come November of 2012."
• "No taxes and preservation of the Rainy Day Fund."
• "Gutted the public school system while leaving $9 billion in the rainy day fund."
• "Budget will be a liability once it sinks in. Voters will simply not understand that the Legislature could not find the money to fund education. I do not believe raising taxes would have resulted in a better reaction. There is no requirement that voters be rational."
Our thanks to this week's participants: Gene Acuna, Cathie Adams, Victor Alcorta, James Aldrete, Clyde Alexander, George Allen, Jay Arnold, Kip Averitt, Charles Bailey, Tom Banning, Reggie Bashur, Dave Beckwith, Luke Bellsnyder, Allen Blakemore, Tom Blanton, Steve Bresnen, Chris Britton, Lydia Camarillo, Kerry Cammack, Tris Castaneda, Rick Cofer, Hector De Leon, Scott Dunaway, Anne Dunkelberg, David Dunn, Alan Erwin, Ryan Erwin, Jon Fisher, Wil Galloway, Neftali Garcia, Dominic Giarratani, Scott Gilmore, Eric Glenn, Daniel Gonzalez, Jim Grace, Thomas Graham, John Greytok, Marta Greytok, Michael Grimes, Jack Gullahorn, Wayne Hamilton, Albert Hawkins, Jim Henson, Ken Hodges, Steve Holzheauser, Shanna Igo, Cal Jillson, Jason Johnson, Mark Jones, Robert Kepple, Richard Khouri, Ramey Ko, Sandy Kress, Tim Lambert, Nick Lampson, Pete Laney, James LeBas, Donald Lee, Luke Legate, Ruben Longoria, Matt Mackowiak, Bryan Mayes, Gray Mayes, Dan McClung, Parker McCollough, Scott McCown, Mike McKinney, Kathy Miller, Bee Moorhead, Steve Murdock, Craig Murphy, Keir Murray, Sylvia Nugent, Todd Olsen, Gardner Pate, Jerry Philips, Tom Phillips, John Pitts, Royce Poinsett, Kraege Polan, Jerry Polinard, Jay Propes, Ted Melina Raab, Bill Ratliff, Tim Reeves, Carl Richie, Jason Sabo, Mark Sanders, Jim Sartwelle, Stan Schlueter, Steve Scurlock, Terri Seales, Bradford Shields, Patricia Shipton, Ed Small, Martha Smiley, Larry Soward, Dennis Speight, Jason Stanford, Bill Stevens, Bob Strauser, Colin Strother, Michael Quinn Sullivan, Russ Tidwell, Bruce Todd, Trey Trainor, Ware Wendell, Ken Whalen, Darren Whitehurst, Woody Widrow, Chad Wilbanks, Peck Young, Angelo Zottarelli.
Texas Tribune donors or members may be quoted or mentioned in our stories, or may be the subject of them. For a complete list of contributors, click here.
Your New Year's resolution list isn't complete without …
… supporting the Tribune. This new year, resolve to do your part to sustain trusted journalism in Texas. Join thousands of readers who power The Texas Tribune's nonprofit newsroom.
Donate now