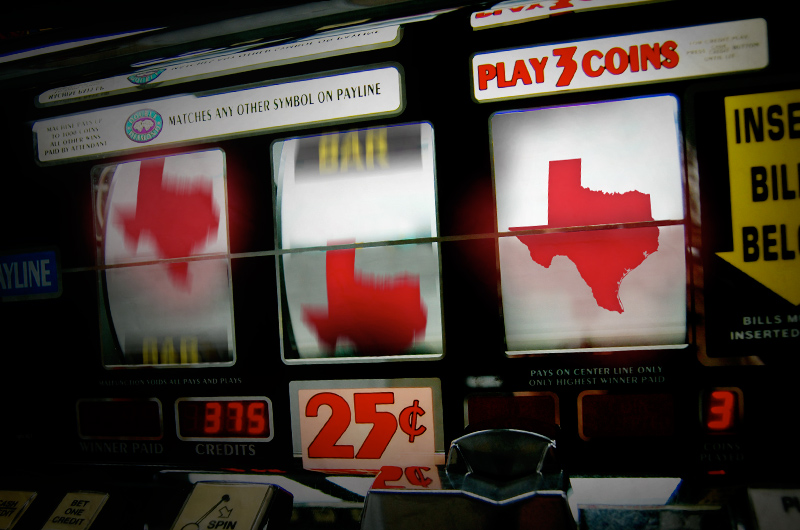 Attention, gamblers. A Texas House committee surprised the casino lobby Friday night when it voted out legislation that would allow video lottery terminals — slot machines — at state racetracks and Indian reservations. The casinos were left behind.
Casino interests wanted any legislation approved by the House Licensing and Administrative Procedures Committee to also allow destination casinos in major cities and on the state's barrier islands.
Rep. Mike "Tuffy" Hamilton, R-Mauriceville, said he still doesn't have the 100 votes required in the House to advance the constitutional amendment his committee approved.
Time is short. The legislative session ends on Memorial Day. And next week, a joint House-Senate committee trying to reconcile their two versions of the budget will convene. They're looking for money, and the gaming interests are hoping this is their chance.
The Texas Tribune thanks its sponsors. Become one.
Sen. Robert Duncan, R-Lubbock, has said he won't move on any gaming bill until and unless the House passes one. With that still in doubt, nothing's moving in the Senate right now.
The bill approved by the committee includes a constitutional amendment and the legislation putting it into effect if it passes. Those bills, by Rep. Beverly Woolley, R-Houston, would allow VLTs at dog and horse tracks and on reservations and would raise $548.2 million for the next budget.
The Texas Gaming Association, representing the casinos, wasn't happy with the news. It issued a statement, attributed to Jack Pratt, the group's chairman, saying it was "deeply disappointed."
Texas voters overwhelmingly support destination resort casinos over video lottery terminals at racetracks by a margin of more than three to one according to multiple scientific polls. Casinos also create many times more jobs, result in much greater economic investment and create substantially larger tax revenues for state and local governments.

Granting a monopoly for track owners on commercial gaming revenues in our state is just plain wrong and bad public policy. We have long believed that the only way to pass legislation to expand gaming in Texas is a balanced approach that includes destination resort casinos, slots at racetracks and gaming at the State's Indian reservations.
Its counterparts at the racetracks — an association called Win for Texas — said through spokesman Mike Lavigne that it's happy to see some action from the Legislature:
The Texas Tribune thanks its sponsors. Become one.
We are excited to see the process moving along. Overwhelmingly, Texans want the opportunity to decide this issue at the ballot box. HJR 111, once approved by voters will create a mechanism by which full scale destination resorts will be created in a limited number of sites across Texas without expanding the footprint of gambling.

This is a big step towards creating more than 75,000 new jobs and keeping billions of dollars here in Texas when we need it most.
Texas Tribune donors or members may be quoted or mentioned in our stories, or may be the subject of them. For a complete list of contributors, click here.