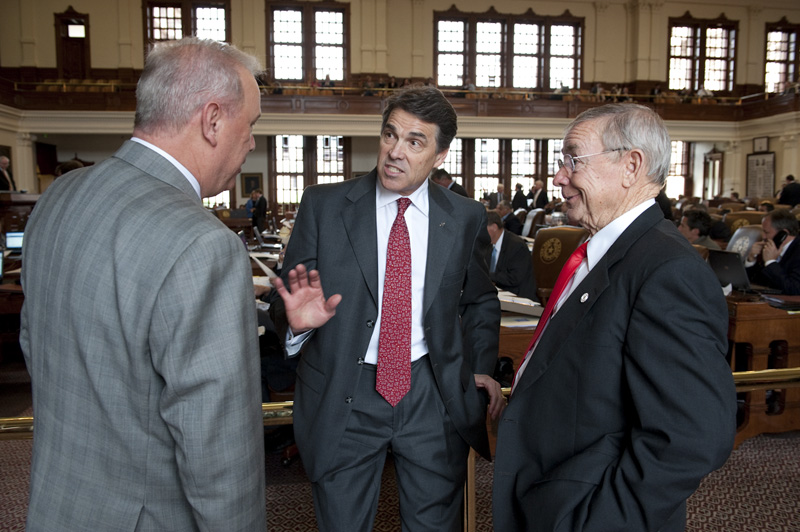 Gov. Rick Perry says he is unswayed by estimates that the state's Rainy Day Fund may end up being more flush than previously anticipated and blasted the Legislature's budget office as an unreliable source of numbers.
During an informal meeting with reporters outside the House chamber Tuesday afternoon, Perry criticized a provision in the Senate Finance Committee's budget draft that would allow the comptroller to withdraw $3 billion from the Rainy Day Fund if no other revenues can be found. The Senate is expected to vote on the bill as early as Thursday.
Perry also took a jab at the Legislative Budget Board, which supplied the Senate Finance Committee last week with reports indicating oil and natural gas production revenues are trending up. That could leave the Rainy Day Fund with about $12 billion by the end of 2013. That's about $3 billion more than the comptroller estimated earlier this year.
"I've lost so much faith in the [LBB] and their ability to estimate what's going on. When they put up a report that said there's going to be 600,000 jobs lost, that pretty much told me that we got some people that don't know what they're doing over there," Perry said, referring to a controversial jobs report released earlier this session. "Use anybody but the LBB for numbers."
The Texas Tribune thanks its sponsors. Become one.
Several senators, including Senate Finance Chairman Steve Ogden, R-Bryan, have indicated they trust the LBB's estimates. Earlier this session, Perry gave his blessing for the Legislature to withdraw $3.1 billion from the account to cover expenses for the last few months of the fiscal year. At the same time, he declared he would not "sign" a bill that spent additional rainy day money in the next biennium.
When asked whether the state is prepared for the magnitude of cuts proposed in the House's budget bill, including the possible closure of up to half of the state's nursing homes and the displacement of thousands of residents, Perry responded, "I think those are, again, estimates that were not on my radar screen."
Perry reiterated his belief that state government must tighten its belt.
"It's also on people's radar screens what they've been through for the last two years, for people who've had to make huge and hard decisions in their personal lives and in their small businesses. And for the government not to have to make those is inappropriate," Perry said. "Nobody says it's going to be an easy period of time."
The governor sidestepped a question about whether he's concerned about education cuts — which could total as much as $8 billion under the House budget — by returning to the Rainy Day Fund conversation. Though he is "worried and concerned" about schools, Perry said the account should be left alone in case of a future natural disaster, such as a level 5 hurricane. He said the wildfires have already decimated the state's disaster fund, and "nobody knows what the future is going to be."
"I'm willing to make some hard decisions just like people are doing every day in this state. That's what I think gets lost sometimes," he said. "For two years, Texans have been making reductions in their personal lives. They've been making hard decisions. They've been ... distilling wants from needs. And state government is going to have to do the same thing."
Texas Tribune donors or members may be quoted or mentioned in our stories, or may be the subject of them. For a complete list of contributors, click here.