Inside Intelligence: And on Redistricting...
For the latest installment of our unscientific survey of political and policy insiders, we asked whether lawmakers or the courts will end up drawing political maps and who they think is angling for the four new seats in the congressional delegation.
We got a light turnout in this week's survey of insiders; must've been the budget and the holiday. Maybe they're spooked by redistricting, the subject of the week. More than half — 53 percent — think lawmakers won't finish the political maps, and that the chores will be left to the courts (in the case of congressional redistricting, and to the Legislative Redistricting Board (in the case of House and Senate districts).
But the wheels are turning; the House will vote on a redistricting plan next week, and Senate mapmakers say they'll be ready to do as soon as the budget is off of the floor. That's also slated for next week.
The insiders do have opinions about this stuff. Their full answers are attached; here's a sampling:
With six weeks left in the legislative session, the House map is moving, but Senate and Congressional maps haven't been unveiled. Will lawmakers enact maps this year or leave redistricting to the courts and the Legislative Redistricting Board?
• "I don't see how Governor Perry can let the courts draw the congressional maps, based on the 2003 precedent. But the LRB will probably draw the House & Senate maps."
• "The House has time to get maps drawn, since they've put away the stocks and guillotine and gotten their budget done. The Senate knows how to move fast. They'll for sure get their own maps done. No way do these guys want to let 4 statewides and the Speaker determine their move-up fates. I bet the Congressional map is already almost agreed-to."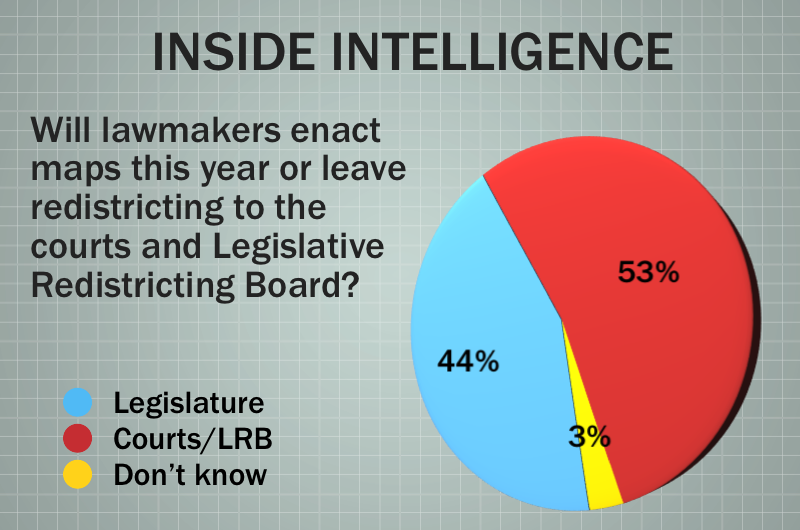 • "Congressional maps will not be completed."
• "They've not successfully completed a plan in 40 years, why should this year be any different?"
• "If history is any guide, LRB and the courts will finish the job."
• "The republicans have worked for 30 years to have the opportunity to position themselves to draw boundaries and they are way to savvy let the courts rob them of their right to pack, dilute and generally screw over Democrats. Best case for Democrats is that the courts draw the map."
Redistricting maps for the Texas House of Representatives are public now. What do you think about the maps, the winners and losers, and the silliest and cleverest features?
• "Harris County is a loser."
• "Obviously, House Dems can't be forced much further down. Pairing Hochberg and Vo is purely illegal, but that solution among Republicans in rural Texas is a good move."
• "Winners - FOJS, East Texas, Hispanics, Austin. Losers - West Texas, Wayne Christian."
• "Silliest--the new HD149... Losers--Hispanic D's. They picked the wrong cycle for Solomon Ortiz, Jr. and others to lose."
• "Silliest is the west Texas district and the second silliest is the Williamson county district."
• "Republicans are overestimating the number of safe districts"
• "The R's are a little tough on Joe Driver and Linda Harper Brown."
• "The map approved by the committee is designed, not surprisingly, to retain the maximum number of GOP incumbents possible. Winners are the suburbs, who continue to see their influence grow, while rural Texas is the big loser. The partisan battle for the suburbs of Texas, which are becoming far more diverse than they used to be, will decide the state's future political direction. Republicans are in position to hang on to power for a while, but this reapportionment is likely their last big grab."
• "Looks like an 'act of Solomon', devious, clever and sometimes mean."
• "Republicans are the biggest losers. That map takes away 9 House seats. Pairs only one set of Democrats. And having Cooke County in a district that is essentially one hour away from NM is nuts."
Texas is getting four new congressional seats and redrawing the maps for the congressional delegation. Who in the Legislature will run for Congress in the next election cycle?
• "Todd Hunter"
• "James White! And look for Patrick Rose to get in"
• "Sen. Lucio or Rep. Lucio will run."
• "Castro, Taylor"
• "I was just over at the Capitol...it seems they all are."
• "Lyle Larson, Todd Hunter, Harvey Hildebrand, Van Taylor, Carol Alvarado"
• "Show me some lines and I'll show you some candidates."
• "Ken Paxton, Aaron Pena,"
• "On the Democratic side it is hard to tell how the seats will be appealed and redrawn in time for all the eventual prospects to know if they can run... That said there is a strong case for a Hispanic Congressional seat in D-FW... ... Roberto Alonzo ... Joaquin Castro... Mike Villarreal"
• "Eddie Lucio Jr. ... Aaron Peña... Jane Nelson... Dan Patrick"
Our thanks to this week's participants: Cathie Adams, Jay Arnold, Charles Bailey, Reggie Bashur, Eric Bearse, Luke Bellsnyder, Allen Blakemore, Tom Blanton, Andy Brown, Lydia Camarillo, Snapper Carr, George Cofer, Rick Cofer, Hector De Leon, Alan Erwin, Jon Fisher, Bruce Gibson, Eric Glenn, Daniel Gonzalez, John Greytok, Wayne Hamilton, Ken Hodges, Cal Jillson, Mark Jones, Ramey Ko, Pete Laney, Donald Lee, Luke Legate, Vilma Luna, Matt Mackowiak, Bryan Mayes, Dan McClung, Mike McKinney, Kurt Meacham, Robert Miller, Steve Murdock, Keir Murray, Todd Olsen, Nef Partida, Gardner Pate, Jay Propes, Bill Ratliff, Jim Sartwelle, Stan Schlueter, Bradford Shields, Dee Simpson, Ed Small, Terral Smith, Todd Smith, Larry Soward, Jason Stanford, Keith Strama, Bob Strauser, Colin Strother, Russ Tidwell, Ken Whalen, Darren Whitehurst, Chad Wilbanks, Ellen Williams, Angelo Zottarelli.
Texas Tribune donors or members may be quoted or mentioned in our stories, or may be the subject of them. For a complete list of contributors, click here.
Texans need truth. Help us report it.
Independent Texas reporting needs your support. The Texas Tribune delivers fact-based journalism for Texans, by Texans — and our community of members, the readers who donate, make our work possible. Help us bring you and millions of others in-depth news and information. Will you support our nonprofit newsroom with a donation of any amount?
Yes, I'll donate today
---
Information about the authors
Explore related story topics