Drought-Plagued Midland Is Running Out of Water
A nasty drought is gripping all of Texas, but Midland's situation is especially precarious. Since the beginning of October, barely one-tenth of an inch of rain has fallen, and regional reservoirs are getting close to empty.
MIDLAND — The oil business is booming, but there is something more precious in Midland right now: water.
Since the beginning of October, barely one-tenth of an inch of rain has fallen on the oil and gas capital of West Texas. Two of the three reservoirs that Midland and other Permian Basin communities rely on for most of their water are getting close to empty. The third is below 30 percent of capacity.
This month, for the first time, Midland imposed water restrictions, forcing homeowners to water their lawns less, and schools to let their football fields grow a little scrubbier.
If the rain does not start soon, "it's going to get bad," said Stuart Purvis, the utilities manager for Midland.
All of Texas is extremely dry, and the parched vegetation is fueling huge wildfires across the state — prompting Gov. Rick Perry to urge prayers for rain this weekend. But the situation in the Permian Basin is particularly serious.
Without significant rain, all three reservoirs may be dry by January 2013, according to John Grant, the general manager for the Colorado River Municipal Water District, which supplies reservoir water to Midland, Odessa and several other cities. Lake Ivie (pictured) is the fullest at just below 30 percent capacity; the other two reservoirs are only about 5 percent and 2 percent full. The district also pumps some groundwater from Ward County, west of Odessa, but expanding production would require building a pipeline that would cost $75 million to $100 million and that engineers say would take 30 months (Grant thinks it could be done faster).
The region's groundwater, in fact, also has its own problems. Some of it contains high amounts of fluorides, arsenic or chlorides. Using more groundwater could require a desalination plant, which would cost tens of millions of dollars. Already, many Permian Basin residents fill up bottles at filtered-water kiosks on the street rather than drinking the tap water directly, because even the lake water has a high, although harmless, chloride content and it tastes odd.
For an oil town used to living large during boom times, like now, the arrival of water restrictions amounts to a cultural shift. This is a semi-arid place where it is so dusty that people sometimes hose off their sidewalks and driveways.
"People in Midland want a certain quality in their life," Purvis said. "They don't want to live in Midland, work in the oilfields and have no greenery."
The La Niña pattern that has contributed to the severe drought will be weak or gone by summer, said David Hennig, a Midland-based meteorologist with the National Weather Service. Still, he said, "The short-term weather models are not promising."
The Midland restrictions limit outdoor watering to three days a week and aim to cut consumption — especially important for summer — by 10 percent.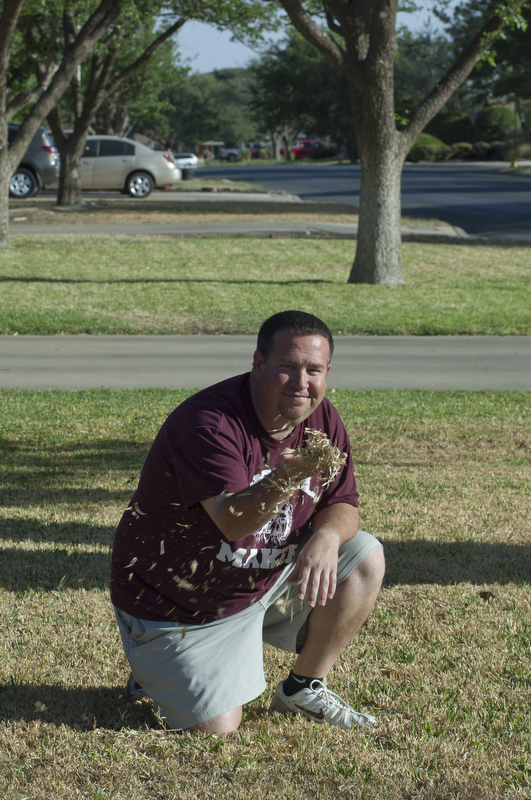 Residents are adjusting. Jason Smith (pictured), a science teacher and football coach at a local high school, has been cutting back on watering his lawn for months out of concern for the city's supplies. Now his St. Augustine grass is brown and so dry that it crunches underfoot. "You can feel it when you walk on it," he said.
The situation is more worrisome for school athletics fields, no small consideration in this Friday Night Lights part of the world.
"We are struggling to maintain our fields," said James Riggen, a maintenance official with the Midland Independent School District. Baseball fields, for example, now get watered four days per week rather than seven (the city has allowed sports fields one extra watering day). He is concerned that blemished fields could become a safety issue for young athletes.
Nearby Odessa has also imposed watering restrictions for the first time, and violating them will result in fines starting next month. Midland, by contrast, imposes no penalties on violators. That's because Midlanders prefer requests to mandates, according to Wes Perry, an oilman and Midland's mayor, who said he himself xeriscapes at home and even turns off the shower when he shampoos his hair.
"We don't respond really well to, 'Okay, the government says you've got to do this, and by God you've going to do it or we're going to string you up,'" Perry, the mayor, said.
So far, the 10 percent cutback has been working, he said, in an interview on Tuesday. However, Midland announced on Thursday that it had exceeded its daily water target twice in a week. Grant of the water district also said that system-wide usage in March, just before individual cities introduced restrictions, was the highest for that month in five years.
For Permian Basin cities, the water crunch presents hard choices — and perhaps especially so for Midland, which will lose about half of its reservoir rights when a contract with the water district ends in 2029.
Besides what the district supplies, Midland owns a groundwater well field called the T-Bar, which contains enough water to last the city several decades. But developing it would cost about $140 million and take five years or more, Purvis said.
Other groundwater is more readily available via a lease Midland has on land managed by the University of Texas System. But without a desalination plant, it must be diluted with lake water to reduce fluoride. Also, Purvis said, oil companies produce water on the same lands, and their water-intensive drilling technique, hydraulic fracturing, could capture a significant portion of the reserves. In isolated places around the region, leaks from old oil wells also affect the groundwater, water officials say.
"No one anticipated that we would be in this kind of a drought," said Perry, explaining why Midland had not prepared better previously. The mayor added that he believes the city will have enough water for the long term.
Clayton Williams, a Midland-based businessman and former Republican candidate for governor, hopes to sell water harvested from his ranch near Fort Stockton to Midland customers. A hearing next month in Fort Stockton, where this has stirred controversy because some officials want to keep the water in their area, may clarify the plan's future.
Midland is negotiating to sell its effluent, or sewage, to a wastewater treatment plant in Odessa. Summit Power, an energy company planning to build a carbon-capture coal plant near Odessa, wants to buy the effluent because Odessa's two effluent-treatment plants do not produce enough spare effluent to meet the coal plant's need, which averages more than four million gallons of water daily.
The Colorado River Municipal Water District plans to build a $12 million effluent plant in Big Spring, 40 miles east of Midland. It will send a modest amount of thrice-treated wastewater back into the regional water system — possibly a first for Texas.
With water scarce, prices seem poised to rise over the long term. Already, a few water-intensive businesses are staying away. One company that had wanted to establish a hydroponic farm — where plants are grown without soil — had considered Ector County but will now probably go elsewhere because of water, said Guy Andrews, the director of economic development for the Odessa Chamber of Commerce.
"If you don't have water," Andrews said, "you can't attract industry."
Texas Tribune donors or members may be quoted or mentioned in our stories, or may be the subject of them. For a complete list of contributors, click here.
Texans need truth. Help us report it.
Independent Texas reporting needs your support. The Texas Tribune delivers fact-based journalism for Texans, by Texans — and our community of members, the readers who donate, make our work possible. Help us bring you and millions of others in-depth news and information. Will you support our nonprofit newsroom with a donation of any amount?
Yes, I'll donate today
---
Information about the authors
Explore related story topics