Annotated Documents: Texas Superintendent Contracts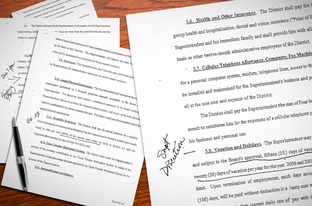 Enlarge
Illustration by Todd Wiseman
As Texas schools brace for what could be as much as an $8 billion gap in state funding, they are scrutinizing every last dollar they spend — from landscaping to teacher stipends to gas for school buses.
About 80 percent of a school district's budget is spent on staff. For most districts, there's no way to pare down expenses without reducing the number of people employed. Some in the Legislature and public have questioned the amount schools and school districts spend on administration; others have wondered if the high pay of many superintendents might be a place to start wielding the knife.
We've collected and annotated the contracts of the 10 highest-paid school superintendents, along with those who lead the state's 10 largest districts — for a total of 14 contracts — so readers can view their pay in the context of retirement perks, performance incentives, and benefits like monthly automobile and cellphone allowances.
Here's what we've gleaned:
Most districts pay for their superintendent's monthly contribution to the Teacher Retirement System — except for Alief, which pays half of it — and any expenses incurred for travel and membership in civic and professional organizations.
Lorenzo Garcia of El Paso receives the highest monthly communications allowance for his cellphone, home internet and other technology, at $1,000. His counterparts in Fort Bend, Dallas and Houston receive between $350 and $800 per month each for the same benefits.
Almost all of the districts — 10 of 14 — pay some form of monthly automobile allowance. That ranges from $500 per month in San Antonio's Northeast to $800 in Cypress Fairbanks to $1,200 per month in the state's largest district, Houston ISD. El Paso's chief gets no automobile allowance, but a $2,000-per-month stipend for travel expenses.
One superintendent, Carrol Thomas of Beaumont, receives an automatic raise — 3.9 percent — each year upon favorable review by the school board. In Austin ISD, Meria Carstarphen receives whatever annual salary increase other administrators get. In Alief, H.D. Chambers receives the same increase that teachers receive, at the board's discretion.
Superintendents in many districts can also earn incentives and performance bonuses for longevity and other objective measures. In Cy-Fair, chief David Anthony earned a $50,000 bonus when he agreed to stay on past June 30, 2010. (He announced his resignation at the end of this school year.) El Paso's Garcia stands to gain an annual $18,000 if his students achieve certain scores on their TAKS exams.
Here is the breakdown of the highest paid superintendent and the largest Texas school districts.
Highest-Paid Superintendents (base salary)
1. Beaumont ISD
2. Alief ISD
3. Dallas ISD
4. Fort Worth ISD
5. Spring Branch ISD
6. Houston ISD
7. North East ISD
8. Cypress-Fairbanks ISD
9. Plano ISD
10. Austin ISD
Largest Districts (based on overall student enrollment)
1. Houston ISD
2. Dallas ISD
3. Cypress-Fairbanks ISD
4. Northside ISD
5. Austin ISD
6. Fort Worth ISD
7. Fort Bend ISD
8. North East ISD
9. Arlington ISD
10. El Paso ISD
Texas Tribune donors or members may be quoted or mentioned in our stories, or may be the subject of them. For a complete list of contributors, click here.