In the Thick of It
The first half of a legislative session is for building the relationships that get destroyed in the second half of the session.
The first half of a legislative session is for building the relationships that get destroyed in the second half of the session.
The second half is underway. Not that any fights are breaking out, but the House went cumulatively more than 24 hours on the budget in a debate that had its moments (Western Civilization, anyone?) and produced a little tension and a miserly budget that can't pass the state Senate.
Redistricting was already under way, but only on State Board of Education maps. That's like riding with training wheels, but now they've graduated to talking about congressional maps. Two lawsuits have been filed — one in North Texas, where former Republican legislator Ron Clark is now a federal judge, and another in Hidalgo County, where there's also litigation pending over the county's allegations that the census left as many as 200,000 people uncounted. Travis County wants a congressional district that begins and ends in Travis County. A new group called the Texas Latino Redistricting Task Force presented two maps and argued that two of the four new congressional districts in Texas ought to be Latino-majority districts. And maybe three of them.
The Senate is still scraping for money to try to lessen budget cuts. Committees are in full swing. The House is meeting on Fridays now.
This is the fun part, right?
March of Dimes, Legislative Squadron
Texas senators scratching for new state revenue canceled a meeting to talk about their options, but a copy of their list got loose and it includes $5.5 billion in taxes, fees, asset sales and accounting tricks that could be used to ease their budget problems.
If, that is, the proposed cures are more politically palatable than the budget cuts. The list was obtained by Empower Texans, a group that advocates for fiscal conservatism, and posted on its website.
Sen. Robert Duncan, R-Lubbock, has been leading the effort to find $5 billion or more in non-tax revenues and confirmed the list's authenticity. But he says not everything on the list, printed at the beginning of the week, is still under consideration. He wouldn't get specific, though.
"Nobody's saying you can do this, or you should do this," he says. "This is just a list of things to consider."
Duncan has a marked-up version he won't share because he says he hasn't put together a Senate consensus. That's why he canceled his subcommittee's meeting today. He had planned to put out his list today at the committee meeting but wants another week or so to talk to senators. Asked if his version differs from the earlier version that got leaked, he says, "It's very safe to say that."
And he says he wasn't the leaker. "I was surprised it was out, but it doesn't matter," he says.
This is a little like the old days of the Texas Performance Review, when someone had the job of coming to the budget party with a list of fundraising tricks that wouldn't leave political scars. Except that some of these would, especially if they can fairly be labled as taxes.
The inventory of ideas, as Duncan calls it, is part of the Senate's attempt to find non-tax revenue to ease coming cuts in the state budget. The House approved a two-year budget on Sunday that totals $164.5 billion — about $23 billion less than the current budget and a drop of about 12.3 percent in spending. The Senate's version hasn't been voted out of the Finance Committee yet. While it's smaller than the current budget, its cuts are not as deep as those in the House edition.
Some of the big items on the Duncan panel's list, many of which are one-time measures:
• $200 million from counting the balances in the Texas Enterprise and Emerging Technology funds against spending to balance the budget.
• $78 million from shortening the time the state holds unclaimed property, allowing them to count those assets — which can still be claimed by Texans — against the budget.
• $216 million from moving up the date when businesses turn over unclaimed property to the state.
• $111 million from tying the back-to-school sales tax holiday to economic conditions and canceling it in hard times.
• $267 million from speeding up collection of motor fuel and diesel taxes.
• $66.6 million by accelerating collection of alcohol taxes.
• $47 million from cutting the tax stamp discount for cigarette distributors.
• $200 million from ending the sales tax exemption for Blue Cross on taxable items bought under federal contracts.
• $324.8 million from ending the sales tax exemption for contract computer programming
• $59.6 million for ending the 20 percent sales tax exemption for data processing services.
• $590 million from moving Tobacco Permanent Health Funds set aside in a tobacco lawsuit settlement in the 1990s from a dedicated account into a general revenue account. Another $379 million would come from doing the same thing with the Permanent Public Health Fund.
• $85.3 million by capping the savings retailers get for paying sales taxes on time.
• $115.3 million by collecting a surcharge when Texans buy fuel-inefficient vehicles.
• $102.4 million by assessing satellite TV providers with a subscription video assessment already paid by cable companies.
• $24.3 million from more high-cost gas audits.
• $426 million by suspending the high-cost gas exemption for two years, a measure that would also add $633.6 million to the Rainy Day Fund.
• $111 million by releasing 3,000 prison inmates who are non-violent, eligible for parole and who would be immediately deported.
• $75 million by releasing 1,000 elderly prison inmates under supervision for serious medical conditions.
• $50.5 million from increasing state traffic fines to $45 from $30.
• $300 million from accelerating sales tax collections from monthly payers.
• $128 million by repealing the timely filer discount for fuel taxpayers.
• $94 million by "improving administration" of the Texas Economic Development cap.
• $33.4 million by ending the sales tax exemption on rolling stock and locomotives.
• $888 million to $1.9 billion by spending up collections of quarterly state business franchise taxes.
• $67.7 million from eliminating the state's Texas Boll Weevil Eradication Fund.
Map Quest
The public version of drawing new congressional maps for Texas started with committee hearings and the unveiling of a proposal from a coalition that wants at least two of the four new districts to have Latino majorities.
The chairmen of the Senate and House committees that will draw those and other maps, meanwhile, both say they'll be trying to draw new maps that are fair, that are legal, and that make the greatest number of legislators happy.
"The process won't be driven by assertion or insistence but by the numbers," said Sen. Kel Seliger, R-Amarillo, at an event sponsored by The Texas Tribune. He said the Hispanic growth in the state is undeniable, but said that population is "diffused" throughout the state. It isn't always easy to draw districts for a population that's scattered throughout the state and not bunched in particular neighborhoods and geographic communities.
Rep. Burt Solomons, R-Carrollton, and the head of the House Redistricting Committee, echoed that: "There's been a lot of Hispanic growth in the state, but they're not all in one place."
Both said they're trying to get maps drawn with as little political violence as possible. But there will be blood, they admit. "There's going to be some very happy people," Solomons said. "There's going to be a few very unhappy people. My job is make sure I have as few unhappy people as possible."
Texas is getting four new seats in Congress because of its rapid growth over the last decade. And since two-thirds of that growth was Hispanic, a coalition called the Texas Latino Redistricting Task Force says at least two of the new districts should have Hispanic majorities. Almost two-thirds of the state's growth over the last ten years was Hispanic, and Hispanics now account for 38 percent of the Texas population, the group said.
They presented two maps, each of which includes nine Latino-majority seats. That's two more than in the current 32 districts, and the new seats would go in the Dallas-Fort Worth Metroplex and in Starr and western Hidalgo counties in the Rio Grande Valley.
Several members of the task force said they'd like to see another Latino seat, and Jose Cardenas, president of the League of United Latin American Citizens, or LULAC, said his group is trying to draw a map that would create four new Latino seats in Texas. One idea would create a Latino district that includes part of southeastern Travis County and reaches down to South San Antonio.
The task force includes the Mexican American Legal Defense and Education Fund (MALDEF), LULAC, the American GI Forum, the San Antonio Hispanic Chamber of Commerce, and the Southwest Voter Registration Education Project. Those groups will be involved both individually and as a group in the legislative lobbying and in the inevitable court fights over the maps that emerge from the legislative session.
The timing is tied to House committee hearings on the congressional districts that began this week. Those maps — along with ideas from other groups that want a say in congressional redistricting — will go into testimony as legislators draw 36 new congressional districts, each with exactly 698,488 people in it. State lawmakers began hearing from a long line of interest groups, members of congress and people representing them, partisans and others on their way to drawing new maps.
The House panel already voted out new maps for the State Board of Education. Still ahead, in addition to the congressional maps, are maps for representatives and senators. Both Seliger and Solomons are accepting ideas from other members and hoping that local lawmakers can work out some of the local fights.
In Dallas County, for instance, there are 16 state representatives and only enough people, probably, for 14. Two are in trouble. Solomons admitted at the TribLive conversation that some of the four freshmen lawmakers in that county "probably" have reason to be nervous. In West Texas, the area that stretches from the Panhandle to the Mexican border and from El Paso County in the west to I-35 in the east has 18 state representatives and only enough people, probably, for 16. Warren Chisum, R-Pampa, has already indicated he won't seek reelection, so there's one. But somebody else might be in trouble.
The Senate has bigger districts but the geographic and population problems are the same. Seliger said the West Texas districts will have to find people in the I-35 corridor to bring their numbers in line; the populations of the current districts are too small given the growth of the state since they were drawn in 2001.
Asked about the conventional wisdom that it will be hard to protect all 101 Republicans in the Texas House from politically hazardous maps, Solomons admitted it's a problem. "I think it's really, really difficult to draw a legal map at 101," Solomons said. "You can technically draw one."
Likewise, Seliger said it's possible to draw maps that put Republicans in control of two-thirds of the Senate seats (they have 19 now and would need 21 to make two thirds). "That's going to be challenging, he said. Democrat Wendy Davis of Fort Worth has argued that hers is a protected "coalition district" but Seliger said he's not sure that's right. She's at some risk, he said: "I won't say she's toast, but given the composition of her district, she's going to be challenged."
"There will be a lot of pressure from people in the Republican Party to try and do something there," he added. "I don't know what we're going to do."
Partisans are interested in those congressional seats, too. Members of the congressional delegation are talking amongst themselves, and two —Lamar Smith, R-San Antonio and Henry Cuellar, D-Laredo, floated the idea a year ago of splitting the four new seats between the two big political parties. That was before the elections that swept Democrats out of seats in the delegation and in the Legislature, but Seliger said Democrats "absolutely" have a fair shot at two of those seats. He added that while it'll be fair, it's no certainty. Could Republicans get all four seats? Seliger said he hasn't been able to draw a legal map that would do that. "Three, yes. Four, no. "
Asked if his own seat is safe, Solomons feigned uncertainty: "I hope."
Inside Intelligence: The Presidential Race in Texas
For this week's informal and unscientific poll of insiders, we followed up on President Obama's announcement that he will seek reelection in 2012. It was no surprise, but now it's official. We asked whether Obama's numbers will be better than the 43.7 percent he received in Texas in 2008, and more than half think he'll do worse. About 30 percent think he'll do about the same, and only 18 percent think he'll do better now than then.
Democrats got a boost in Texas in 2008 even with Obama losing the election, and 41 percent of the insiders think they'll do even better in 2012. Almost a third think they'll do worse and 23 percent say it'll be about the same.
And what of the Republicans, the beneficiaries of a huge election success in 2010? Two thirds of the insiders think 2012 will be a worse year for the GOP; 10 percent think it'll be better, and 20 percent expect things will be about the same.
We asked for comments, too, and the full set is in our Files section. Here's a sampling of those: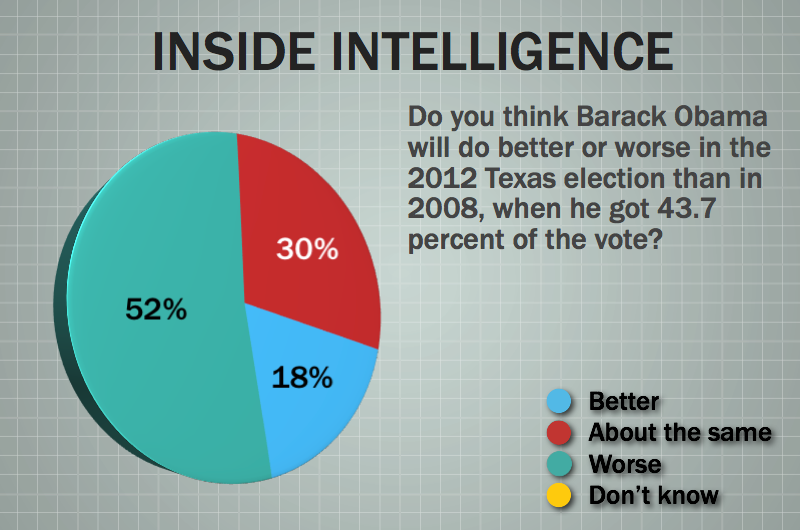 Do you think Barack Obama will do better or worse in the 2012 Texas election than in 2008, when he got 43.7 percent of the vote?
• "This is not Clinton '96. Clinton knew how to tack to the center. Obama is more of an ideologue. His percentage will go down as long as the Republican nominee isn't a cadaver."
• "The African American and Hispanic voters are less motivated."
• "Broken campaign promises (Gitmo, Afghanistan, etc) high energy costs, stubbornly high unemployment will be tough to overcome even for a gifted orator."
• "The one portion of the American electorate I expect Obama to do better with in 2012 is Hispanics. Fallout from the Clinton primary, and perhaps some racially based fear/mistrust had him underperform with Texas Hispanics, mostly due to depressed turnout. The immigration backlash against Republicans and more comfort with Obama among Hispanics should make for better performance, particularly as they rapidly increase in population and Anglos decline. Obama's prospects for improved performance would increase further if, as is now being discussed, his campaign makes a real effort to play here. Spending money to increase registration and turnout would help. He should be able to get at least 45% in Texas, and possibly as high as 47%, depending on the GOP nominee."
• "My sense is the sentiment of the Texas voter will be that this maybe the worst presidential hangover ever"
• "The emperor has no clothes."
• "I think the Gov. and Legislature are about to turn a lot of independents into Democrats by decimating the schools, health system, highways and infrastructure of the state. The voters last time said to economize the state -- not destroy it. Obama won't carry Texas, but I think his percentage will be higher this time than last."
• "The enthusiasm BO generated in Texas and elsewhere is long gone."
• "Depends considerably on who the Republican candidate is, but for now I'll assume the GOP selects a reasonable candidate (someone like Daniels, Pawlenty, or Christie and not like Romney, Gingrich, or Palin) and therefore that Obama will do worse."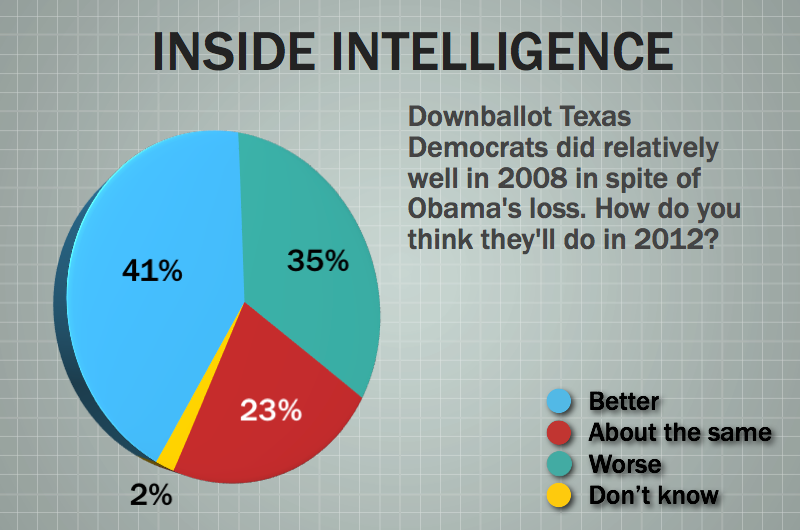 Down-ballot Texas Democrats did relatively well in 2008 in spite of Obama's loss. How do you think they'll do in 2012?
• "Worse than 2008, but not marginally worse. Will do better than 2010."
• "Except for maybe Dallas where blue is the new green"
• "Weariness with lack of GOP leadership is spreading."
• "Republican gains in 2010 reflected the lower turnout of a midterm election. With Obama back on the ballot in 2012, Democratic turnout should improve."
• "While the number of Republicans in the Texas House will drop, it will be the result of the redistricting process, not the effect of Obama or the Texas Democratic Party in 2012."
• "The open United States Senate seat, the redistricting process – Texas gaining the 4 new congressional seats and the current anti-immigrant legislation, budget cuts that harm Latinos and working families will help the democratic in Texas during the 2012 general elections."
• "Obama continues to be highly popular with African Americans, but that is not entirely the case with Hispanics, who are disappointed in the administration's decision to put off strong immigration legislation in before the 2010 elections. Moreover, the zeal that existed in 2008 among younger voters generally is not the same at present; surely the campaign will work to restore that excitement, but that is very hard to achieve after four years."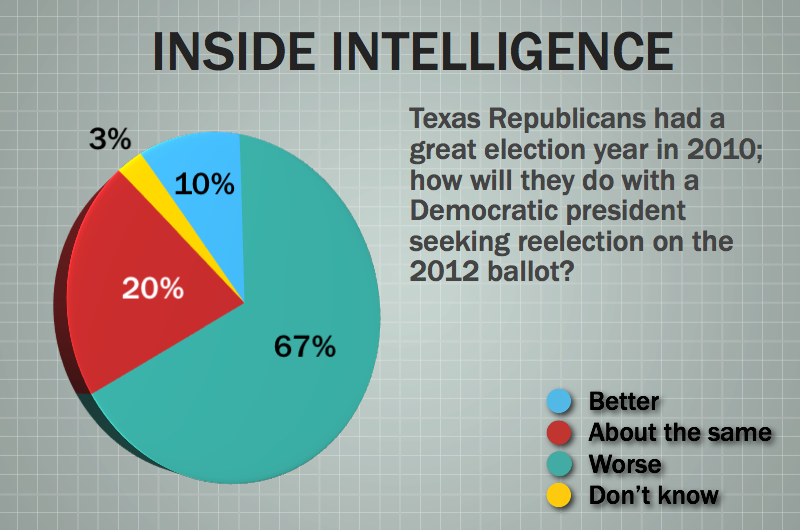 Texas Republicans had a great election year in 2010; how will they do with a Democratic president seeking reelection on the 2012 ballot?
• "No difference statewide, but they will lose a dozen or so legislative seats, and not just because of redistricting"
• "Obama will be toxic in Texas everywhere but in South Texas and in the inner cities."
• "Worse not because of Obamanose but because post redistricting will not support the current number of House republicans."
• "After the 2010 election, there is nowhere for them to go but down. The number of legislative seats they currently hold is simply not sustainable, especially since reapportionment means fewer seats in heavily Republican rural Texas. Further, presidential elections produce much higher voting among minorities, which means Democrats do better than in gubernatorial years."
• "2010 Republicans way out-performed themselves in 2010. They will come a little back to earth in 2012."
• "The President is a drag on Democrats in Texas, but Democrats will do better in 2012 than in 2010. 2010 was a high water mark for Republicans."
• "Worse. They won't do near as well in Harris Co. as they did in 2010 (not that Dems will do as well as they did in 2008, necessarily). They'll still lose Dallas and Travis. Tarrant will/should/could stay purple. There's a chance for Dems to make gains in Fort Bend and Williamson. And Republicans will all-but-certainly see their House majority drop around the neighborhood of 12 seats."
Stuck in the Chamber
San Antonio Republican Sen. Jeff Wentworth's bill to allow concealed handguns on college and university campuses glitched this week but is expected to return to the Senate floor early next week.
More than half of the House members have signed on to similar legislation, and 13 senators in addition to Wentworth have signed on to his bill, which he says will make campuses safer by allowing students to protect themselves.
But the Senate's two-thirds rule is an obstacle. Wentworth thought he had the numbers, but it began to be apparent he might be derailed when one of the votes he was relying on to take up the bill, Sen. Eddie Lucio, D-Brownsville, said he had been under the impression that the bill wouldn't come up until Monday. Lucio said wanted the weekend to mull an amendment by Sen. Robert Nichols, R-Jackson, that would exempt primary and secondary schools located on university campuses from the bill. Lucio wants an entire campus exempted if it contains such a school.
Sen. Mario Gallegos, D-Houston, also backed off his previously pledged support for suspending the rules. But Wentworth didn't just face opposition from Democrats.
Sen. Steve Ogden, R-Bryan, said that he did not believe the argument that the bill would make campuses any safer because it affected so few — only those who are 21 years old or older and have acquired a concealed handgun license. He also said he would not back the proposed bill because of its inconsistencies. Though Wentworth made clear that it was not his own preference, his bill would allow private but not public institutions to opt out of the provisions. Wentworth said he would not accept an amendment that would allow public institutions to do the same.
Sen. Robert Duncan, R-Lubbock, who voted against similar legislation last session and said he wants to keep dorms gun-free, filed an amendment to do that, though it never came up for a vote. After much discussion and gathering of players around the dais, Wentworth pulled the bill down and said he would try again on Monday. He said he is "hopeful and optimistic" that his bill will have enough votes at that time.
Meanwhile, Sen. Wendy Davis, D-Fort Worth, has filed an amendment that would allow boards of regents of to set the policies of the universities in their systems.
Vouching for Dollars
Heading for the full House: Legislation that would further screen applicants for indigent care who are legal resident aliens. House Bill 655, by Rep. Van Taylor, R-Plano, would allow counties to consider the income of an alien's sponsor — a person who issued an affidavit of support for the immigrant when he or she applied for legal status — if the non-citizen ever applied for Medicaid. The sponsor's spouse's income could also be considered.
Taylor said Collin County officials approached him and said they were spending money on several Medicaid patients who had the financial means for other health care via their sponsors. On federal applications for residency, he added, the sponsor must already attest he or she will not allow the applicant to be a burden to the state. Rep. Veronica Gonzales, D-McAllen, asked Taylor why he felt the bill was necessary if the federal residency application already requires the sponsor to attest to the information. She also questioned whether Taylor was accusing the aliens in question of being coached into receiving indigent care when they shouldn't.
Taylor said he is only trying to make sure "indigent care goes to the indigent" and says the bill is permissive. Nothing in the bill requires action, he said.
The Week in the Rearview Mirror
As the House considers the fate of the Railroad Commission, industry officials spoke out against the Senate version that would change the agency's name to the Texas Oil & Gas Commission, to be led by one elected commissioner instead of the current three. Concerns about regulatory authority were raised at the Senate hearing, along with questions about how the new agency would be funded.
For the second time this year, the U.S. Supreme Court issued a stay of execution for Cleve Foster based on his claim of ineffective counsel. He can now petition for a rehearing on the contention that his original representation failed to challenge crucial evidence used in his conviction. The stay also gives his lawyers time to work on their challenge to the new drug protocol to be used in Texas executions. One of the drugs Texas used in its execution cocktail was replaced when the only domestic manufacturer of the drug stopped selling it. In March, the Texas Department of Criminal Justice announced the adoption of pentobarbital as a replacement, but Foster's attorneys charge that the process of picking the new drug was illegal because it was not open to the public. So far, their appeal has gone nowhere, but they are also taking it to the state Supreme Court.
The House overwhelmingly passed a bill allowing aerial hunting of certain wild animals, including feral hogs and coyotes. Supporters cited the amount of damage caused annually by feral hogs and how prolific they have become in urban areas. That goes now to the Senate.
State lawmakers would be allowed to carry concealed weapons everywhere they go under legislation proposed by Rep. Tim Kleinschmidt, R-Lexington. The attack on U.S. Rep. Gabrielle Giffords of Arizona has made some legislators nervous about appearing in public places without their guns; Kleinschmidt's bill would allow them to pack heat in bars, churches, schools and sporting events. Citizens who meet all the requirements to carry a concealed weapon are banned from carrying one in those places.
No one knows yet what this year's redrawn political maps will look like, but there are already two lawsuits in the works over the data that will be used to draw them. The Mexican American Legislative Caucus filed suit in Hidalgo County over what it called flawed census data collected during the 2010 census that may have resulted in undercounting of Latino populations. On the other end of the spectrum, Austin attorney Mike Hull, who's being paid for redistricting work by the Associated Republicans of Texas, has filed suit trying to prevent the inclusion of non-citizens in totals used to draw new districts, and claiming that counting such non-citizens dilutes the power of legal votes.
While the House was busy considering and reconsidering budget cuts, the Senate took up the issue of the long-term budget crisis. Because of changes made in 2006, the state has collected far less in taxes than it needs to fund current programs. As legislators cut property taxes, they revised the primary business tax to compensate. But collections of the business tax continuously fall short of expectations. Senate Finance Committee Chairman Steve Ogden, R-Bryan, suggested that lawmakers need to work on the fundamental flaws in the system or the next biennium is going to look even uglier.
Texas has historically not allowed post-conviction DNA testing for inmates, but that could change. The Senate has passed legislation loosening the requirements for testing and allowing the results to be used in court to exonerate a prisoner. There's also a provision in the bill to compare the tested evidence to a federal DNA database to identify the true guilty party.
A crowd of about 5,000 Texans from across the state gathered at the Capitol to protest the deep budget cuts proposed in the House budget. They called on lawmakers to close the budget gap by using money from the Rainy Day Fund, closing tax loopholes and working to find long-term solutions in revenue collection. A crowd at a dueling rally supporting conservative budget balancing called on the Senate to make even deeper cuts than the current House proposal.
Political People and Their Moves
As expected, Agriculture Commissioner
Todd Staples
says he will run for lieutenant governor in 2014. Texas Rangers honcho
Nolan Ryan
signed on as his statewide chairman. Lt. Gov.
David Dewhurst
has said he's interested in running for the U.S. Senate in 2012. If he leaves the lite guv job, there's a line to replace him. In addition to Staples, Comptroller
Susan Combs
and Land Commissioner
Jerry Patterson
have expressed interest in the race.
Gov. Rick Perry reappointed three members to the Texas Board of Physical Therapy Examiners. Robert "Gary" Gray of Midland is a physical therapist and CEO of West Texas Therapy Services. Kathleen Luedtke-Hoffmann of Garland is an assistant professor at the Texas Woman's University School of Physical Therapy. Daniel Reyna of Waco is a certified public accountant and director of internal audit at Brazos Higher Education Service Corporation.
The governor also appointed Charles "Chip" Roy of McKinney as director of the Office of State-Federal Relations. Roy is an attorney and freelance writer.
Adam Aschmann joins Houston-based Strategic Public Affairs; he was most recently with the Greater Houston Builders Association as director of government affairs.
Quotes of the Week
Rep. Harold Dutton, D-Houston, finishing his closing statements during the budget debate with words he says he never thought he'd say: "Thank God for the Senate."
Rep. Wayne Christian, R-Center, on the motives of family planning clinics, which were targeted during the budget debate last weekend: "Their interest is not in giving women options. Their ultimate answer is, 'The best we can do is an abortion.'"
A witness at a committee hearing on cockfighting, quoted by The Dallas Morning News, making a somewhat off-topic assertion about prostitutes: "The Capitol is full of them, in their high heels, and — no offense ladies — boobs hanging out, skirts up to their butts. … I've been to lots of fights, but y'all are bound to have seen them around here."
Rep. Dan Huberty, R-Houston, on the struggle lawmakers have faced in finding funding for state programs: "Obviously, as you can tell, the past couple of weeks have been very frustrating for us, and we're getting a little short on temper."
Freshman Rep. James White, R-Hillister, on how to address the inadequacies of the state's school finance system: "Let's just fix it, not nix it, and get it done."
Rep. Rob Orr, R-Burleson, on transferring $500 million from the School Land Board to the Available School Fund: "I think it's irresponsible to have that much cash sitting around when our public schools need that money."
Rep. Aaron Peña, R-Edinburg, on considering an amendment to his proposed legislation that would limit how often election workers may assist voters to two times a day: "We are going to create a family exemption for a nuclear family, not for the expanded family that includes every cousin known to mankind."
Rep. Borris Miles, D-Houston, during a debate with Christian over whether minorities would be included in Christian's requirement for teaching Western Civilization at state-funded colleges: "Let's take this down, brother."
Contributors: Julián Aguilar, Reeve Hamilton, Ceryta Lockett, David Muto and Morgan Smith
---
Texas Weekly: Volume 28, Issue 14, 11 April 2011. Ross Ramsey, Editor. Copyright 2011 by The Texas Tribune. All Rights Reserved. Reproduction in whole or in part without written permission from the publisher is prohibited. One-year online subscription: $250. For information about your subscription, call (512) 716-8600 or email biz@texasweekly.com. For news, email ramsey@texasweekly.com, or call (512) 716-8611.
Texas Tribune donors or members may be quoted or mentioned in our stories, or may be the subject of them. For a complete list of contributors, click here.
Texans need truth. Help us report it.
Independent Texas reporting needs your support. The Texas Tribune delivers fact-based journalism for Texans, by Texans — and our community of members, the readers who donate, make our work possible. Help us bring you and millions of others in-depth news and information. Will you support our nonprofit newsroom with a donation of any amount?
Yes, I'll donate today
---
Information about the authors
Explore related story topics