TribWeek: Top Texas News for the Week of 3/28/11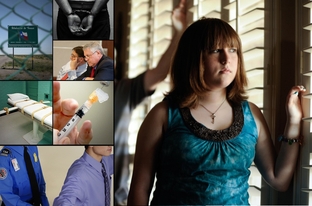 Enlarge
Illustration by Muliadi Soenaryo
Heated debate over the state budget is already under way, but similar fighting has been playing out for at least three years across the country.
Our liveblogs of the budget bills, here and here, give you the blow-by-blow of this week's House debate.
Numbers aren't all that's buried in the budget. Lawmakers have filed hundreds of amendments that are political in nature, from repealing in-state tuition for illegal immigrants to trying to push Planned Parenthood out of the family planning business.
Confused about the budget? Trust us — you're not alone. Later this week, the House votes on several key pieces of legislation. We've created a flow chart to help keep track of the process.
Thirty new GOP state lawmakers took office this year, promising their constituents they'd cut the fat out of government. As the House prepared to vote on a slew of budget bills, this freshman bloc was showing some clout.
The Texas public school finance system, responsible for underwriting the education of the nation's second-largest student population, is notoriously byzantine. Here's our layman's guide to figuring it out.
Insurers in Texas have stopped offering new child-only policies in protest over a provision of the federal health care overhaul. For children being raised by their grandparents, there are few options left.
Texas' decision to change one of the drugs used for lethal injections has sparked a lawsuit, calls for federal investigation of the criminal justice department and pleas from the drugmaker not to use its product for executions.
House lawmakers are gearing up for a battle as emotional and time-consuming as Voter ID when they take up legislation addressing another one of Gov. Perry's emergency items — abolishing sanctuary cities, which could hit the House floor as soon as next week.
Fort Bend County, home of Sugar Land, is almost as diverse as the Bronx in New York. Several other Texas counties rank high on the list.
This week, committees in both chambers heard testimony about bills to encourage recycling of plastic grocery bags. But environmentalists fear that the legislation would prevent local communities from banning plastic bags altogether, as three Texas cities have done.
In the face of possible changes, the University of Texas community has taken a strong stance in favor of academic research. But prominent reformers acknowledge that public research universities need to change, and one UT professor thinks he has a way.
Texas Tribune donors or members may be quoted or mentioned in our stories, or may be the subject of them. For a complete list of contributors, click here.