Inside Intelligence: Redistricting Will Be...
For the latest installment of our nonscientific survey of political and policy insiders, we asked whether the Legislature will finish its redistricting chores or will need help, whether Republicans will be able to ensure future supermajorities, and how lawmakers will split four new congressional seats between the political parties.
The insiders, asked this week about redistricting and how it will affect other issues, are split on the outcome. Slightly more than half — 54 percent — think the Legislative Redistricting Board will have to clean up after the Legislature fails to come up with maps for the House and Senate (congressional maps skip that step and go straight to the courts if lawmakers can't agree on plans).
The Republicans have 101 members in the House and 19 in the Senate, but only 9 percent of the insiders think lawmakers will be able to draw maps that ensure future supermajorities in both the House and the Senate. Almost half — 48 percent — think that effort will fall short in both houses; 10 percent say it'll work in the House and not the Senate, and 20 percent say it'll work in the Senate and not in the House.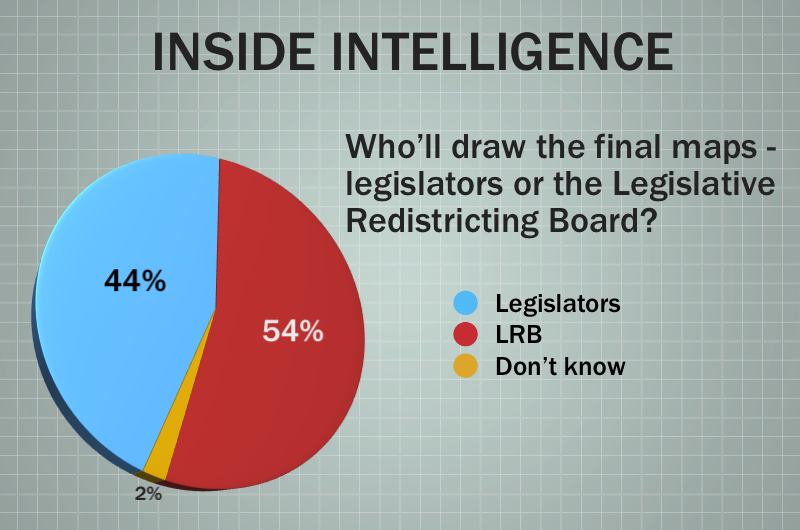 How will lawmakers split the four new congressional seats? Most of the insiders — 54 percent — say three of those spots will go to Republicans, while 37 percent think it'll be two for each side.
The full set of verbatim answers to our questions is attached, but here's a sampling:
Do you think the Legislature will adopt new Texas House and Senate maps, or that the Legislative Redistricting Board will have to do it for them?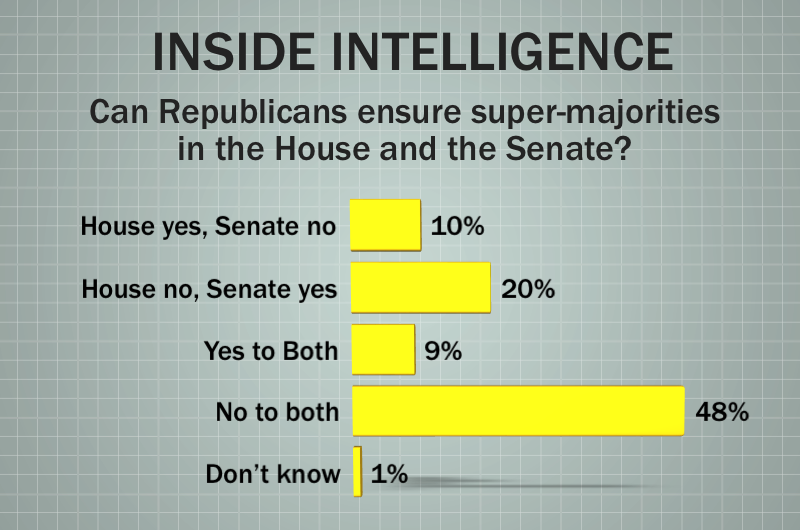 • "Everyone will play nice. They don't want the current statewides who are all jockeying for the next new office to be holding them hostage."
• "Why would a House Republican vote for a map with 85 safe R seats? Go explain to your local Republican women's club why that was a good vote. We started with 101 and I voted to help return 85."
• "The Legislature will adopt a House map — the Senate may not be able to adopt a Senate map."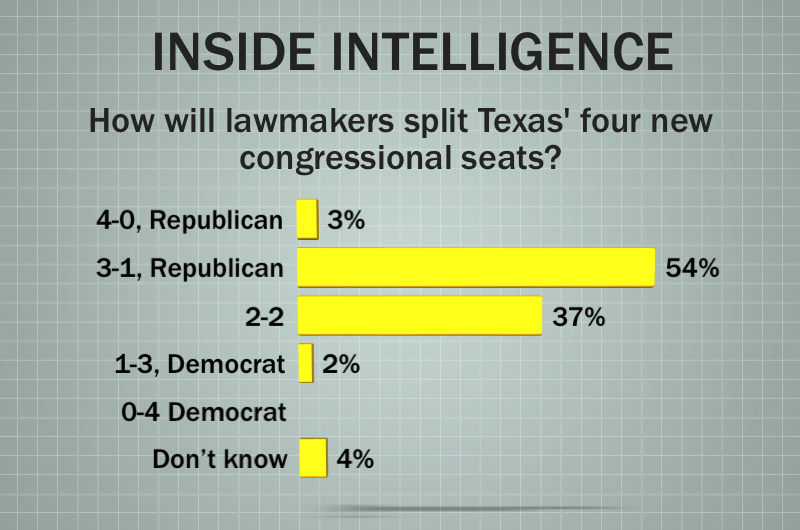 • "Drawing districts for 101 Republicans when the most fevered dreams of Tom DeLay only resulted in the high 80s will be a problem, but the budget will probably eat up so much time and capital that the legislature will have to punt."
• "I think after jacking around with the budget, the members will be more than happy to tackle some self-preservation."
Can Republicans draw maps that would ensure super-majorities of two-thirds or more in the House and Senate?
• "Difficult but not impossible. The real question is; if Republicans use their magic drawing skills and are able to draw a super-majority, for how long can they hold on to those seats? The party has not realized that it's a new Texas with a clear demographic shift."
• "They big hurdle is Voting Rights pre-clearance."
• "Way too risky to try. Could lose 20 House seats as soon as 2012, and 3-4 Senate seats over a decade. Bets strategy is to firm up viable GOP majorities for another 10 years — at least 17 safe senate seats, 80 or so House seats."
• "Only if Obama, Reid and Pelosi continue to endear themselves to the 'average' Texans."
• "That won't happen. The 2010 mid-term elections were an outlier. It would be borderline criminal for Republicans to assume that 101 (only 99 of them elected as R's) House Members is a proper bellwether for Texas' political proclivities."
How will the new congressional seats be split between Republicans and Democrats?
• "Three-quarters of population growth over the last ten years has been among Hispanics. Hispanics are expecting that growth to be recognized with more Hispanic majority seats and will be disappointed if that does not happen. Republicans will not want to look like they are actively trying to suppress the political impact of Hispanics. The two new majority Hispanic districts that will then likely go Democrat in 2012 will look a lot like Martin Frost's old district in the DFW area and an even more Hispanic version of Solomon Ortiz's district around Corpus."
• "The growth of Hispanics and their protested class status and their affinity for the Democrats will insure two seats go to them."
• "Either 2-2, or 3-1 Republican, depending on how aggressive the Republicans decide they can be."
• "I think 2-2 is the likely split, given Bill Flores and Quico Canseco sitting in formerly D seats. It will be hard, but not impossible, for the mappers to protect Blake Farenthold. Throw those 3 seats in with the 4 new ones, and I think all but the most fire-breathing fire-breathers would be thrilled with 4 or 5 pickups out of 7 seats total."
How will redistricting affect the Legislature's other business?
• "Eat up a lot of time that would otherwise go to other crappy legislation."
• "It will make the budget harder to finish before the end of the regular session."
• "I think the budget is more likely take time and attention away from redistricting than the other way around."
• "There will be a little less lovemaking."
• "Republicans will be more polite worrying that some offense they make will end up costing them their seat. Democrats will be free to be as obnoxious as ever."
• "Redistricting will kill a lot of other bills. Whether members can pass maps or not, they are going to spend a huge chunk of time trying to do so. That means less time for other bills in a session in which the budget has already sucked most of the air out of the room. I am glad to be playing mostly defense this session."
• "It won't."
• "How won't it?"
• "Unclear. I think that significant Republican majority makes it less divisive than the last redistricting cycle. I think that the budget will have a bigger impact on the Legislature's overall business."
• "As soon as maps are released, everything will come to a screeching halt. Getting a budget done will become difficult as it usually is in a redistricting year."
Texas Tribune donors or members may be quoted or mentioned in our stories, or may be the subject of them. For a complete list of contributors, click here.
Support public-service journalism that gets the context right
Your donations make our reporting possible and keep it free for all to access. Support our nonprofit newsroom by May 11, and your gift will help us unlock $25,000 in matching funds from our partners at Tito's Handmade Vodka, the Bernard & Audre Rapoport Foundation and the Suzanne Deal Booth Charitable Trust.
Yes, I'll donate today