The Weather Channel
In our last episode, Appropriations Chairman Jim Pitts was about to open his umbrella for a deal that would use $4.3 billion from the Rainy Day Fund to balance the current year's budget, and that was going to happen at the beginning of the week.
In our last episode, Appropriations Chairman Jim Pitts was about to open his umbrella for a deal that would use $4.3 billion from the Rainy Day Fund to balance the current year's budget, and that was going to happen at the beginning of the week.
A funny thing happened.
The governor, the comptroller, and House leaders did cut a deal on the current budget deficit, but in ending a standoff over how much to spend from the state's savings account, Gov. Rick Perry announced he won't sign a 2012-13 budget that relies on that fund for revenue. So, assuming the full House and Senate go along, the current deficit is patched and the haggling over how deep to cut state services for the next two years can take center stage.
The $4.3 billion current deficit will be covered by up to $3.2 billion from the fund, $800 million in cuts, and $300 million in new revenue certified by the comptroller on the basis of recent improvements in the state's sales tax collections. The $300 million windfall was announced by the comptroller last week, the result of better than expected sales tax returns so far this year. And the $800 million is old news, too — it's from the cuts made by agencies after the governor, the speaker and the lieutenant governor asked them to trim their spending in the current year.
Perry didn't say veto (which has inspired some hope among people parsing his statement), but he made his opposition clear: "As we craft the next two-year budget, Texas leaders will continue to focus on a more efficient, fiscally responsible government, essential state services, and private sector job creation. I remain steadfastly committed to protecting the remaining balance of the Rainy Day Fund, and will not sign a 2012-2013 state budget that uses the Rainy Day Fund."
If, on the other hand, the House and Senate were to pass a budget that used the Rainy Day Fund to pay for programs, they'd have to have two-thirds approval to do so. And two thirds is the same amount it takes to override a veto. It wouldn't be easy to get two thirds for the budget, but once it's in, it's potentially veto-proof.
House Appropriations approved the plan, moving the supplemental appropriations for this budget along to the full House. Because it taps the Rainy Day Fund, it'll require a 3/5ths vote from the House — 90 members if all 150 representatives are present. The committee vote clarified the split in the House: Everyone voted to break into the fund, but Democrats voted against the cuts that were included in the budget-balancing package.
Keep an eye on the revenue estimate. It's relatively unusual for a comptroller to cough up more money in March, and Combs said the money is from higher than expected collections in the current fiscal year. If it does nothing else, it'll spur budgeteers to higher revenue expectations over the next two years.
And there's this: Lt. Gov. David Dewhurst asked Sen. Steve Ogden, R-Bryan, the chairman of the Senate Finance Committee, to create the Subcommittee on Fiscal Matters with a target of locating $5 billion in nontax revenue and savings to help close the 2012-13 budget shortfall. "We need to conduct a thorough review of the budget and look closely at every cost-saving alternative before there is any further discussion about tapping into the Rainy Day Fund," Dewhurst said in a statement. "Texas taxpayers cannot afford for the Legislature to leave any stone unturned." Sen. Robert Duncan, R-Lubbock, will chair the subcommittee.
The Regent Who Kicked the Hornet's Nest
Top officials at the University of Texas System — Chancellor Francisco Cigarroa and Board of Regents Chairman Gene Powell — say that they are moving quickly to allay the concerns of lawmakers, alumni and others regarding the direction and standing of UT, starting with the reassignment of a newly hired adviser to the Board of Regents.
Powell says that, contrary to recent speculation, the UT System "unequivocally" supports academic research, and said concerns that the views of recent hire Rick O'Donnell might change that "are absolutely incorrect." In fact, they're moving O'Donnell — who previously worked for the Texas Public Policy Foundation, a conservative think tank that espouses controversial higher ed reforms — to a different spot on the UT System's organization chart. He was hired to report directly to the regents, but now he'll work for the chancellor instead.
"We're listening," Powell said. "We're definitely listening to what our constituents and our friends and partners in the Legislature are telling us."
Much of the concern grew in the wake of Powell's hiring O'Donnell, a higher education reform advocate with a history of questioning the value of academic research, for a newly created advisory position that reported directly to Powell. O'Donnell worked at the Acton Foundation for Entrepreneurial Excellence, an affiliate of the Acton School of Business founded by Austin businessman Jeff Sandefer, a former UT business lecturer and current TPPF board member who has pushed for years for reforms to higher education.
Those productivity and accountability ideas, some of which have gotten traction at Texas A&M University, set the UT community atwitter — prompting the back-pedaling from the chairman of the board of regents.
Powell said that, because was not looking for somebody to do policy work, he did not give O'Donnell's policy positions much consideration. Therefore, he said the backlash by lawmakers and academics against O'Donnell's writings — for example, a paper written for the TPPF finding that academic research has "few tangible benefits" — was unforeseen.
"But I respect it, and I understand it fully," Powell said. "If I were in their position, I might have the same concerns."
Not only did O'Donnell's philosophy set some on edge, but there was speculation that his hiring was a deliberate move to cut out Cigarroa.
Not so, said Powell. "The board of regents and the chairman have every faith in the chancellor," he said, "and we are very proud of the work that he does, and we are depending on him to lead this system forward." Powell added that he believes that the System's presidents are "15 of the finest educators in America."
Moving forward, O'Donnell will serve under Cigarroa. In the coming days, Cigarroa indicates he expects to have recommendations on the new organizational structure. He says he will make additional recommendations regarding "how to make certain that the chancellor's office is directly involved in every matter," as well as assuring that presidents, provosts and other academicians have "ample input."
Asked if he would have hired O'Donnell, Cigarroa said, "If you left it to me individually, I probably would have taken a different track. I certainly would have gotten a lot of input."
Two task forces assembled by Powell — one on "university excellence and productivity" and another on "blended and online learning" — will continue to work toward improving academic quality while lowering costs. While some have questioned the May 15 deadline for their findings as being too close for comfort, Powell said he was merely trying to align their work with the legislative session. He said that while it will be great if they come back with solid proposals in May, if they don't, he will simple ask them to continue through the summer and produce a full report in the fall.
Inside Intelligence: Crisis Budgeting
Our insiders strongly agree that the Legislature will ratify the Rainy Day Fund bailout of the current budget, with 92 percent saying the House and the Senate will produce the needed supermajority votes to spend that money to balance the current budget deficit.
While they think there are other pressing concerns, like protecting schools or nursing homes, most insiders say the strongest impulse in the Legislature right now is to cut spending; 51 percent said that alone, and another 17 percent chose "cut spending and protect the Rainy Day Fund."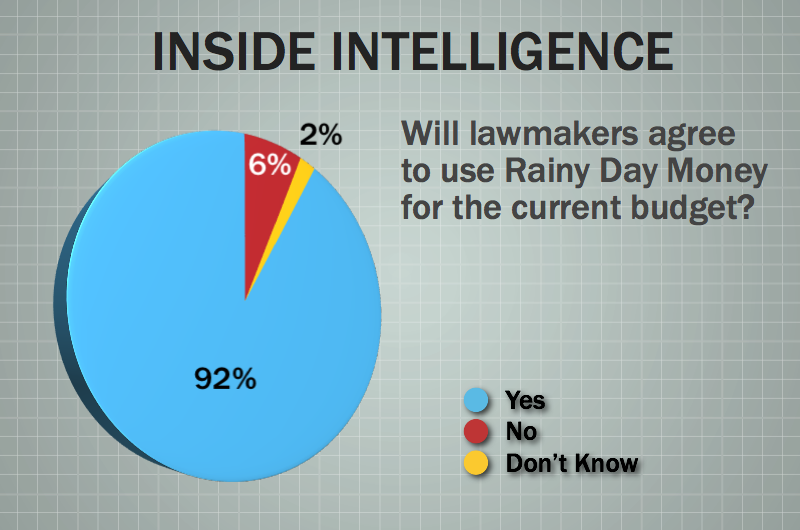 And we took their temperature again on ways to raise money to balance the budget: 65 percent are predicting fee increases and 51 percent think the Legislature will tap the Rainy Day Fund to balance the next budget. One in five (21 percent) chose legalized gambling — we didn't ask which type — will be a budget balancing issue this time. Only 13 percent predicted a tax increase. Full comments and verbatim answers to our poll questions are available in our Files section, but here's a sampling from this week's Inside Intelligence poll:
Budget writers want to tap the Rainy Day Fund to balance the current budget. Will three-fifths of the Texas House and Senate go along with that?
• "They certainly don't have many options now that the fiscal year is about over!"
• "They don't have the guts not to."
• "Not in the House, too many new members who will afraid of the perceived political fallout from the right. Doable in the Senate."
• "Senate is an obvious yes. House will go along with it now that Governor Perry has provided cover."
• "Perry said it's ok. He can't use it against them now so they will go along."
• "Now that Gov. Perry was forced to support the use of RDF, both chambers will follow suit and git r dun!"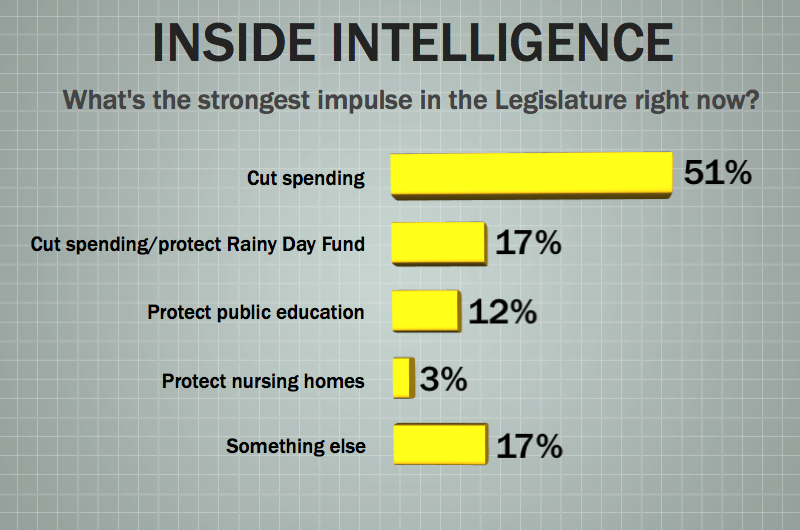 What's the stronger impulse in the Legislature right now? (Verbatims from those who answered 'something else'.)
• "Re-election"
• "For the majority the impulse would be to protect education and perhaps nursing homes, but they are intimidated into a support of 'cut spending'."
• "The strongest impulse is: choosing not to decide. None of the items on your list are currently 'the stronger impulse.' That's why we aren't making any progress on covering the shortfall."
• "Protect their own a**es"
The governor opposes using any of the remainder of the Rainy Day Fund to balance the 2012-13 budget. How will the Legislature get the job done?
• "There are already numerous bills that raise fees, allow agencies to raise fees, or increase court costs."
• "The Lege has no choice but to use the RDF. Perry will veto is and call a special session. He'll claim that he's standing up to big government interests regardless of party."
• "Cuts, cuts, cuts"
• "Cuts, cuts, cuts + magic."
• "All of the above - the hole is just too big."
• "It will not be possible to make some of the cuts necessary without shifting the costs to local entities. Those elected officials in turn will have to prioritize their spending and the cuts will be blamed on the legislature anyway."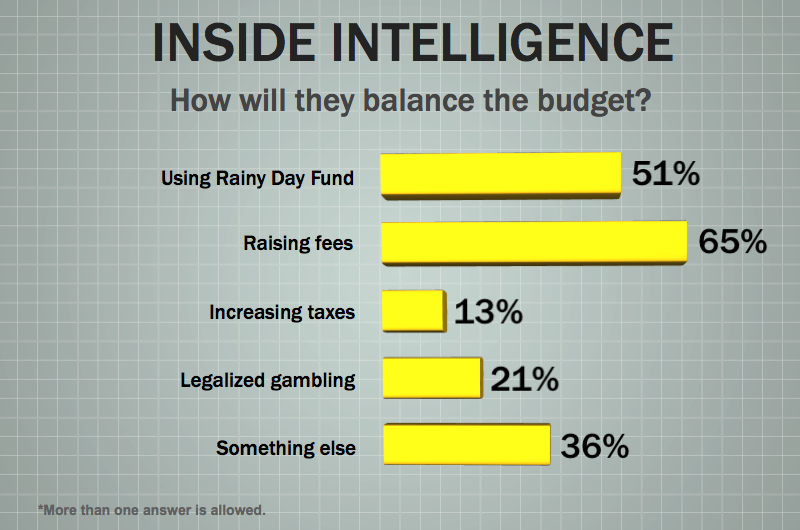 Lawmakers are in a tight spot on the budget, with other issues looming. How do you think this will this play out?
• "Republicans were elected on the promise of cuts. Why should anyone expect them not to cut? The only place where there seems to be a crisis atmosphere is in the media and at the offices of teachers unions. If there is no money, you can't spend it. It is time EVERYONE come to grips with that."
• "There is the real possibility of a deadlock which carries the budget process into special session. Sen. Ogden does not have the votes EVEN IN HIS OWN COMMITTEE for a budget which guts public education and guts care for the elderly. The Senate may very well muster the fortitude to play a game of chicken with the governor."
• "With much wailing and gnashing of teeth. They are slowly sobering up. Acceptance is the last stage."
• "If 12,000 people show up for a party at your house, they tend to get attention. The longer the session grinds on, the more ordinary people understand about this mess and why we are in it. Public anger will continue to grow and legislators will have no choice but to uncover their ears."
• "Not well. Cancel your summer vacations."
• "Negotiating with Perry is like negotiating with Israel over hostages: he doesn't blink, and if you kill 100 of his he will kill 1,000 of yours."
• "Special sessions"
• "I don't know. I can't remember ever being in this kind of environment."
• "Children barking, dogs crying, Lady Bird Lake boiling."
Public Ed Game Changer?
If Rep. Rob Eissler, R-The Woodlands, and Sen. Florence Shapiro have their way, Texas will be the first state to create an independent policy center that evaluates the productivity of its public school system.
Bills from the education committee chairs in both chambers — Eissler's HB 1589 and Shapiro's SB 872 — would establish a center with a board consisting of experts in the field appointed by the speaker, lieutenant governor and the governor tasked with studying best practices from across the state and the U.S. The center would serve as a clearinghouse for data about districts' spending and student achievement. They say it could be funded through a mixture of donations, grants and legislative appropriations.
During his testimony before the House Public Education Committee on Tuesday, former University of Texas regent Charles Miller said such a "game-changing" center would bring needed accountability and transparency to the public education system. He called it a "public monopoly" and said it allocated money in a "willy-nilly way."
"We don't have a clue about what we get for what we spend," he said. "The funding formula is outdated and opaque."
Democrats expressed concern over whether a productivity center could ever operate outside of partisan pressure. Rep. Scott Hochberg, D-Houston, said that while he liked the idea of the organization, he wondered whether it would truly function objectively with a board of political appointees.
"Why would you want a speaker, lieutenant governor and a governor to have their fingers in the pie?" he asked as Miller testified.
When the Senate Education Committee heard Shapiro's version of the legislation, David Anthony, the outgoing superintendent of Cypress-Fairbanks ISD, took issue with the fact that representatives from districts are excluded from the board and questioned whether the state needed "one more level of potential oversight to public education."
Hochberg also registered a concern about potentially expanding state supervision of education: "I just got chewed out upstairs for wanting to grow government," he said.
Lobbying, Legally
The Travis County District Attorney's Public Integrity Unit wrote a letter saying Thomas Ratliff, R-Mount Pleasant, has committed no crime in serving on the State Board of Education while employed as a lobbyist. "We have determined that it does not appear that any crime has been committed over which our office would have jurisdiction and venue," said Susan Oswalt in a letter to SBOE chairwoman Gail Lowe.
Ratliff asked the Public Integrity Unit, the branch of the DA's office charged with investigating statewide charges of public corruption, to review his case in response to questions from conservatives, including the Texas Eagle Forum, about his eligibility. Ratliff defeated staunch social conservative Don McLeroy, the board's former chairman, in the Republican primary in March 2010.
Earlier this year, Lowe, prompted by Ratliff, also filed a request for an attorney general's opinion on the issue. The attorney general's office is considering whether Ratliff violated a section of the Education Code that says a person may not serve on the board "if that person is subject to registration as a lobbyist 'by virtue of the person's activities for compensation in or on behalf of a profession, business or association related to the operation of the board.'" Ratliff and Lowe asked the AG's office to rule on that question, because they sought clarification of the education law — a separate question from the one directed to the Public Integrity Unit about whether he had committed a crime.
Lowe's request, drafted by Texas Education Agency attorney David Andersen, also acknowledges that while the board understands that the Legislature did not intend to prohibit all registered lobbyists from serving on the board, only those engaged in certain activities. "My questions involve what types of activities would trigger the prohibition under [the Education Code] and thus prohibit such person from serving on the Board," she wrote.
Download the full letter from the Public Integrity Unit here.
The Week in the Rearview Mirror
In what may finally be the end of the Donna Howard-Dan Neil race for Austin's House District 48, the committee considering Neil's challenge to the results ruled in favor of Howard. The committee, after a public hearing and a private session of cussing and discussing, declared Howard the victor in the race by just four votes. Neil's deciding whether to take the fight to the full House, but he's already been turned back by a Republican special master — Rep. Will Hartnett, R-Dallas — and a committee with a Republican chairman and a Republican majority. Outlook: Doubtful.
The bill-filing deadline saw a fair share of action, but didn't stack up to last session's. Senators filed 1,871 bills, down from 2,439 two years ago. In the House, the bill number was 3,801, down from 4,697 two years ago. The total number of bills filed (including joint resolutions in the House and Senate) fell to 5,873 from 7,325.
Teachers, parents and students converged in Austin to protest proposed cuts to the state's education budget. Save Texas Schools, the group organizing the protest, assembled (by police estimates) 8,000 protesters from across Texas to march to and then rally at the Capitol in support of reforming school financing, tapping the Rainy Day Fund and releasing $830 million in education funding currently tied up in a political fight in Congress. Another crowd — organized by organized labor — assembled two days later, when lawmakers were at work in the Capitol.
Rep. Rene Oliveira, D-Brownsville, wanted to modify a sanctuary-cities bill by adding an amendment removing schools from the entities that would be prevented from adopting policies prohibiting enforcement of federal immigration law, but it fell short. The version headed for the full House keeps school district police departments on the hook with their city and county and state colleagues.
With a developing nuclear crisis in Japan, groups opposed to expansion of the South Texas Nuclear Project in Bay City are petitioning state regulators. Operators of the plant want to add two more reactors to the two there now. A proposal for a new plant in Victoria also faced increased scrutiny at a Nuclear Regulatory Commission hearing this week.
With funding running out, the federal government announced the withdrawal of 1,200 National Guard troops from along the border by June 30. The Guard was intended to be a stopgap measure while the Border Patrol hired and trained another 1,000 Border Patrol agents, but the announcement drew sharp criticism. Republican and Democratic lawmakers protested the move, and Gov. Rick Perry's office issued a statement asking for 1,000 federally funded guard personnel in Texas to coordinate with law enforcement officials here until the Border Patrol is able to beef up its staff to 3,000 agents.
Social studies standards rewritten last year by the State Board of Education are back in the spotlight. After facing criticism from a conservative think tank, the Fordham Institute, House leaders have suggested reopening the process of setting the standards. House Appropriations Committee Chairman Jim Pitts, R-Waxahachie, said state budget money should not be spent on textbooks that remain controversial. Civil rights groups have protested the portrayal of minorities in the standards, and there is currently a formal complaint under review at the U.S. Department of Education filed by the League of United Latin American Citizens and the National Association for the Advancement of Colored People.
Political People and Their Moves
Hitting the pavement this week: Polly Ross Hughes is on the beat for the Texas Energy Report, replacing John Moritz, who's now herding cats for KXAN-TV's website. Hughes is a former Houston Chronicle reporter and freelancer… Patti Kilday Hart is now working for the Chronicle in the spot formerly occupied by R.G. Ratcliffe; she had been at Texas Monthly … and Nate Blakeslee found a tie and coat and is working the halls for that magazine, where he'll help Paul Burka put together this year's Top 10/Bottom 10 production.
Gov. Rick Perry named Kristin Benton of Austin chairwoman of the Texas Board of Nursing. Benton is an associate professor of the Austin Community College Vocational Nursing Program.
The governor also appointed:
• Four members to the Texas Private Security Board. Albert L. Black of Austin is executive director of Child Inc. Brian England of Forney is senior assistant city attorney for the city of Garland. Howard Johnsen of Dallas is board chairman and CEO of Hans Johnsen Company. Mark Smith of Dallas is owner and president of Smith Protective Services Inc.
• Daniel P. Moran of Cypress to the Texas Veterans Commission. Moran is chairman and CEO of Moran Enterprises Inc., and an infantry officer in the U.S. Marine Corps.
• Four members to the Aging and Disability Services Council. Sharon Butterworth of El Paso is a retired management professional and community volunteer. John A. Cuellar of Dallas is chairman and president of Las Tres C's Inc. Judy Foster of San Antonio is a registered nurse and chief health officer/head nurse at Children's Association for Maximum Potential. Donna Stauber of Waco is a certified health education specialist and life coach and the service excellence coordinator at Hillcrest Baptist Medical Center.
• Toni Glover of Fort Worth and reappointed Shara Michalka of Dallas to the Human Rights Commission. Glover is an advocate and community volunteer for people with developmental disabilities. Michalka is an attorney in Dallas, admitted to practice law in U.S. District Courts of the Northern, Southern and Western districts.
• Four members to the Texas Council on Autism and Pervasive Developmental Disorders. Anna P. Hundley of Dallas is executive director of the Autism Treatment Center of Texas. Tammy Lemoine of Center is principal of F.L. Moffett Primary School, and a former teacher in the Center Independent School District. Frank C. McCamant of Austin is owner of McCamant Consulting LLC. Callie M. Vivion-Matthews of Fort Worth is an attorney and subcontract administrator senior for the Lockheed Martin Aeronautics F-16 International Procurement/International Technical Assistance Program.
• Five members to the Texas Historical Commission. Earl Broussard Jr. of Westlake Hills president of TBG Partners. Matthew Kreisle III of Austin is a senior partner and managing principal of the Austin office of PageSoutherlandPage. Tom Perini of Buffalo Gap is owner of Perini Ranch Steakhouse. Judy Richardson of Caldwell is an insurance agent and co-owner of Insurance Associates in Caldwell. Daisy White of Houston is a special event consultant.
Quotes of the Week
State Board of Education member David Bradley, R-Beaumont, on whether it matters if elected officials send their children to public schools: "I always kind of wondered, how can you serve on the Texas mental health commission unless you are retarded or on the Texas Funeral Commission unless you are dead? Or in the Legislature, if you are sitting on the criminal committee, are you a criminal?"
Steve Hotze, the head of Conservative Republicans of Texas, at a meeting of the House Select Committee on State Sovereignty: "How nice it would be if we were an independent republic again."
Austin Police Chief Art Acevedo testifying at a hearing on campus carry legislation: "The last thing we want to introduce in the college environment — kind of like a bar — is a gun."
W. Scott Lewis of Students for Concealed Carry on Campus at the same hearing: "We are not trying to create an amateur security force. We are suggesting that individuals be given the means to protect themselves."
U.S. Rep. Michael McCaul, R-Austin, on a recent report that federal authorities in Mexico are allowing U.S. drones to enter Mexican airspace to conduct surveillance, to the El Paso Times: "It's a significant departure in the right direction. We are seeing the Felipe Calderón administration welcoming our military presence."
Sen. Florence Shapiro, R-Plano, the chairwoman of the Senate Education Committee, on why she supports cutting funding to the school district that operates inside the state's prison system and educates inmates, to the Austin-American Statesman: "This is the biggest waste of money I think I've seen. When we're cutting funding for public schools and furloughing thousands of school employees, they're going to have to convince us why they should receive any continued funding."
Planned Parenthood Federation of America President Cecile Richards on her mother, late Democratic Gov. Ann Richards: "She felt so strongly about women advancing, so very strongly about women's rights. I think she always taught all of us to stand up and fight for what is right. Whether I'm channeling her, or carrying on the work she'd want us to be doing, these are issues she believed in."
State Board of Education member Thomas Ratliff, talking about Travis County prosecutors who looked to see whether he can be a state official and also a lobbyist, in the Mt. Pleasant Daily Tribune: "They said that as far as they know I'm the first public official to ask them to come investigate him."
Harris County Judge Ed Emmett, a Republican and a former state legislator, on the budget tensions in Austin, quoted by the Houston Chronicle: "They'll get there. And if they don't, then I hope some of them get beat. It's just that simple. We all have to govern. It's fine to campaign on what you're against, but sooner or later you have to govern."
Contributors: Julian Aguilar, Reeve Hamilton, Ceryta Lockett, David Muto and Morgan Smith
---
Texas Weekly: Volume 28, Issue 11, 21 March 2011. Ross Ramsey, Editor. Copyright 2011 by The Texas Tribune. All Rights Reserved. Reproduction in whole or in part without written permission from the publisher is prohibited. One-year online subscription: $250. For information about your subscription, call (512) 716-8600 or email biz@texasweekly.com. For news, email ramsey@texasweekly.com, or call (512) 716-8611.
Texas Tribune donors or members may be quoted or mentioned in our stories, or may be the subject of them. For a complete list of contributors, click here.
Quality journalism doesn't come free
Perhaps it goes without saying — but producing quality journalism isn't cheap. At a time when newsroom resources and revenue across the country are declining, The Texas Tribune remains committed to sustaining our mission: creating a more engaged and informed Texas with every story we cover, every event we convene and every newsletter we send. As a nonprofit newsroom, we rely on members to help keep our stories free and our events open to the public. Do you value our journalism? Show us with your support.
Yes, I'll donate today
---
Information about the authors