Opening the Umbrella
Jim Pitts will ask his Appropriations Committee to vote out a supplemental budget bill on Monday to cover the $4.3 billion deficit in the current biennium, and to fund it with money in the state's Rainy Day Fund.
Jim Pitts will ask his Appropriations Committee to vote out a supplemental budget bill on Monday to cover the $4.3 billion deficit in the current biennium, and to fund it with money in the state's Rainy Day Fund.
The Waxahachie Republican and the rest of the management can figure out later how fast they want to take that to the floor of the full House. Gov. Rick Perry told the GOP caucus this week not to use the Rainy Day Fund — yet. He made an appearance with He wants them to look for more cuts before they take the hammer to the piggy bank. But Comptroller Susan Combs gave Pitts a boost, telling the budgeteers that she's not at liberty to spend money that's not in the bank, and to say that the money won't be in the bank sometime this summer if they don't act. The current budget goes through the end of August, but the current flow of cash won't carry that far. Thus, the deficit.
Pitts will need 90 votes in the House to tap the Rainy Day Fund for the deficit, and 100 votes if he tries to tap it later to balance the budget that starts in September. Those are three-fifths and two-thirds votes, respectively, of the members present in the House. On a day with a handful of absent members, the bar could be lower.
And Pitts is still hoping to send the full budget bill to the printers soon and to vote that out of committee, the better to get it in front of the public, then the full House, and then back to the House-Senate conference committee that will actually make the final decisions.
The pushback from teachers starts this weekend with a rally at the Pink Building while many educators are on spring break and continues into a Monday lobbying day. Some numbers to chew on, from the Texas Education Agency, about how cuts would land: About three-fifths of the state's school district employees are teachers and educational aides, and those two groups account for two-thirds of the total salary. Administrators have relatively high salaries but aren't as numerous, and auxiliary staff account for 27 percent of total employment but only 15 percent of payroll.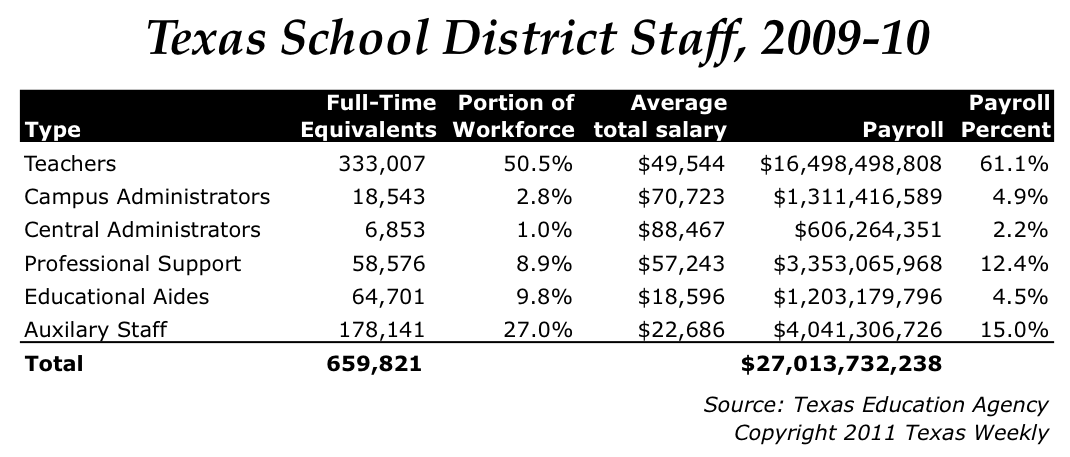 Inside Intelligence: Summertime Blues
Most of our insiders think the Legislature is headed for a special session after this regular session ends on Memorial Day. It's not even close: 76 percent think this 82nd festival of parliamentary joy will go into overtime.
That's not the bad news, either. While 27 percent think there will be just one special session, 51 percent think there will be two or more.
Most — 53 percent — say public school spending will be the issue that freezes the lawmakers. Another 16 percent say the Rainy Day Fund will do it; 14 percent say redistricting, which might never go to a special session but will suck some oxygen out of the regular session, will stop the show; and the rest say something else will do it.
The informal and unscientific survey, as always, produced some banter and commentary. The full text is available in our Files section, but here's a sampling: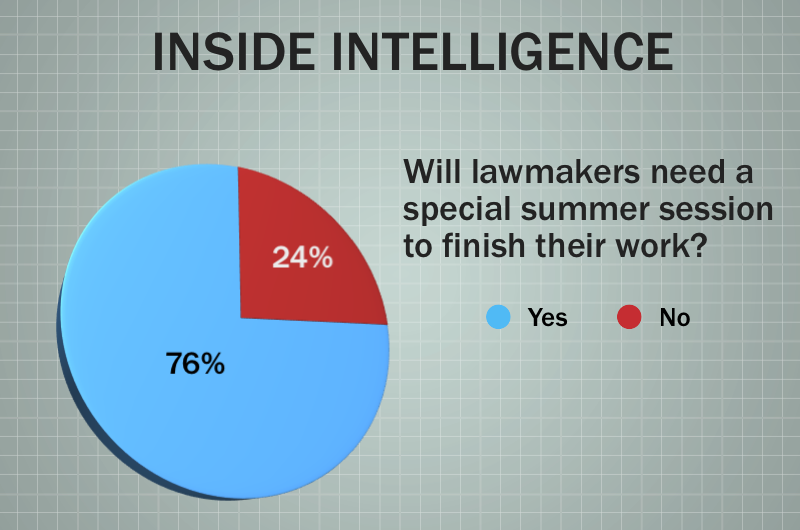 As we approach the halfway point of the legislative session, with most issues, redistricting and much of the budget still ahead, do you think the Legislature will finish its work during the regular session, or will they need a special session this summer?
• "They'll pass a budget and will at least pass a sunset safety net. Everything else is surplus."
• "I don't think you GET a special session for legislative redistricting - doesn't it go directly to the LRB if you don't do it during a regular session? Regardless, I think the budget might be enough of a mess that they go into (a?) specials(s?)."
• "I think they can finish on time, but acknowledge that is my heart talking, not my head"
• "No way they will finish all their work: Not enough revenue, too many cuts - both of money and people, member pairings and the fights that ensue over territory and certain voters, and way too many Sunset bills to finish. Time to consider an annual session, alternating between a budget only session and a session for everything else."
• "The Republicans are in control of the process so it is in their interest to finish on time."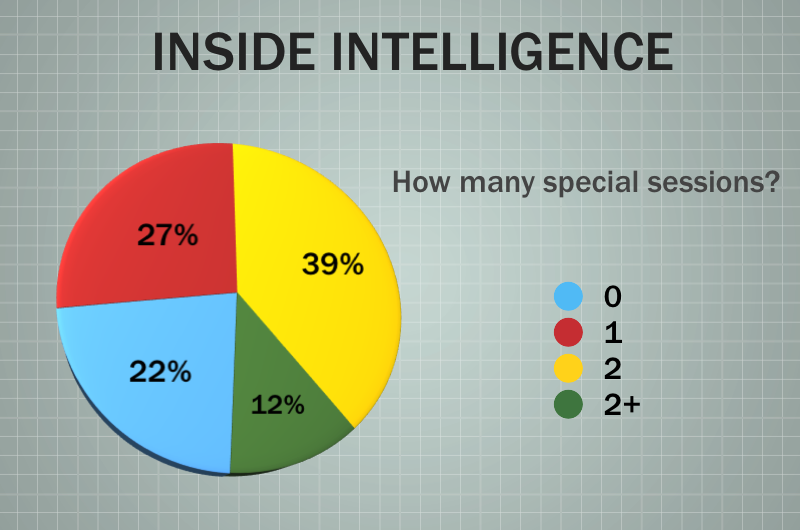 How many special sessions will it take?
• "Please don't let it be more than one speical. I'm going to Disneyland!"
• "Bill Clements just kept calling them back until a deal was made. Perry might be more inclined to get a deal and then call them back."
• "Democrats will leave town again."
• "The first one will end in failure as our governor makes his points with the more conservative elements of his party. We will get down to business in the second one."
• "One for the budget, one for redistricting."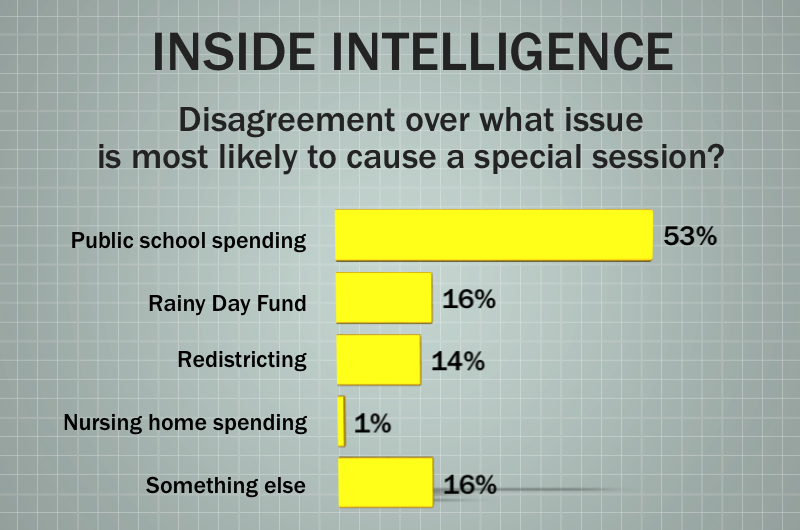 Who stands to win or lose if lawmakers come back for a special session this summer? Is it particularly good for someone or some group? Particularly bad?
• "Republicans lose. Democrats win."
• "It's gotta make Perry nervous. Might put a crimp in his Vice Presidential campaign..."
• "Republicans lose for every extra day in which the budget is a mess."
• "Good for hotels/restaurants and bars in Austin"
• "Governor's power to set the agenda in a special puts him on center stage-- to win or lose."
• "It's very good for political journalists and for the bottom line of the lobby. It *might* be good for the public if it's a sign that legislators are coming around to the reality that they can't let the Tea Party & TPPF hold education and social services hostage. It's bad for everyone else"
• "In a strange turn of event this redistricting cycle, Instead of the Legislators exiting the state for vacation to protest and leaving the rest of us here, We are all going to leave the state for vacation and make the Legislators stay."
What, and Leave Show Business?
In the last two weeks, Houston attorney Geoff Berg had an idea, which turned into a Facebook page, and that became a website that he hopes might spark a movement. The message: "Draft Tommy Lee Jones for Senate."
Berg also happens to be a left-leaning commentator and host of the radio show Partisan Gridlock on KPFT. He says, on this Jones issue, he is "absolutely serious."
"I can't think of another Democrat in Texas," Berg says, "that has the necessary name ID, that has positive name id, that would be able to raise money, and that would have at least the potential to attract string voters and a substantial number of Republicans."
Berg says he would "love" to see former Comptroller John Sharp or former U.S. Rep. Chet Edwards replace retiring Republican U.S. Sen. Kay Bailey Hutchison. The only problem, he says, "Neither one of them can win, and I'm certain they know that."
But who is a Texas Democrat with a legitimate shot? Al Gore's college roommate Tommy Lee Jones, star of such films as The Fugitive, Men in Black, Men in Black II, and No Country for Old Men.
Assuming Berg's right, does that say more about Jones or the state of the Democratic Party? Berg says, "It probably says a lot about both, and it also says a lot about the state of our politics.
So far, Berg does not believe the Republican field for 2012 is particularly inspiring either. But, he fears, "Whatever right wing extremist they nominate is going to waltz right in if the Democrats don't have a credible candidate."
A legitimate Democratic star could change that, he believes. Think of it this way: the three-plus minute campaign video former Dallas mayor Tom Leppert released after jumping in the race doesn't hold a candle to Jones' The Three Burials of Melquiades Estrada.
Berg says since publicizing his push for Jones, he has received positive feedback from many active Democratic players in Houston. He has not, however, heard from the man himself.
Berg says he will continue making the case for Jones until an equal, or better plausible candidate steps forward, though he isn't holding out hope. "There is no one," he says.
Following Utah's Lead
As Utah goes, so goes Texas.
At least that's what Rep. Aaron Peña, R-Edinburg, hopes happens with proposed legislation he said will explore the possibility of a state-run guest-worker program.
The bill would establish the Texas Commission on Immigration and Migration, which would, among other things, "develop a comprehensive, coordinated, and sustainable state plan to address … immigration and the use of migrant workers in the state." The commission would work together with a Mexican state to determine the requirements by which guest workers could legally migrate to Texas.
"Bottom line is: Mexico has workers, and we need workers," Peña said.
The Republican, who switched parties after last year's election, said his bill is modeled after similar legislation GOP leadership passed in Utah.
"The left, the progressives [also] have supported it. It passed through almost unanimously and it is a program that needs to be explored," he said.
Playing Outside
Texas Democrats are advertising their displeasure with the budgets being proposed by Gov. Rick Perry and House and Senate leaders. Literally.
The Democrats, who are vastly outnumbered in the Legislature, have started a round of radio ads designed to tell Texans their side of the budget story. And since the budget is grim, and the other party is in charge, and they don't have the votes to stop the plan, they've gone public.
The Texas House Democratic Campaign Committee is paying for the ads, starting them in the Corpus Christi market and saying it "will likely expand to other Texas cities."
Here's a transcript, provided by the HDCC.
Background: School bell rings in the distance. Door closes as little girl enters car.
Daughter's voice: "Hi, Daddy."
Father's voice: "Hi, baby. How was school?"
Narrator: "Education is the key to our children's future. But Republicans don't agree. They've controlled Texas government for years, and they've wrecked our state budget. Now, they want to close schools, cut teachers, and crowd 35 kids or more into classrooms."
Father's voice: "So, honey, what did you learn today?"
Daughter's voice: "Nothing, daddy."
Narrator: "Call 512-463-4630, and tell Republicans to quit killing the American Dream."
Male narrator: "Paid for by Texas HDCC PAC"
The Week in the Rearview Mirror
Gov. Rick Perry has called it a top priority but won't be able to sign abortion sonogram legislation into law until the House and Senate can iron out their differences. Last month, the Senate passed its version of the bill, which would require a doctor to perform a sonogram on a woman before administering an abortion. On Monday, the House gave final approval to its own version, which requires doctors to perform the sonogram 24 hours before the abortion — rather than the two hours prescribed in the Senate bill — and includes no exemptions for victims of rape or incest. The problem isn't in the different provisions, but in the different bills. Neither side has considered the other's actual legislation, and after Sen. Dan Patrick's forays into the speaker race before the session started, the House is less likely to consider his bill. He messed in House business. It's a tribal thing.
Rep. Scott Hochberg, D-Houston, proposed a stinker of a school finance bill just to show his colleagues in the Legislature what it would smell like. It came with elaborate spreadsheets, showing what it would look like in every school district. And if school finance is the art of spreading things around in more or less equal proportions, this works: Nothing smells sweet.
Examiners for the Texas Railroad Commission have ruled that methane gas contamination of water wells in Parker County was not caused by natural gas wells operated by Range Resources. The Environmental Protection Agency issued an emergency order in December alleging that Range's wells caused the contamination, and the company fought that assertion and hired experts to testify before the commission. The examiners concluded that the gas in the water wells came from a nearby geologic formation, the Strawn, and was caused by too many wells being drilled in its surface.
In the whirlwind of budget cuts, cuts to public and higher education have garnered the attention of not only affected school districts, but business leaders and parents across the state. Proposed cuts of more than $9 billion have school districts scrambling to slash their budgets, planning major program cuts and teacher layoffs. Lawmakers have proposed various cost-saving measures, including a four-day school week to save on energy costs. Other bills would free school districts from mandates as they go about trying to craft reduced budgets, and increase class sizes to district-wide averages. Meanwhile, a group of teachers and parents has organized a march and two rallies at the Capitol to voice their objections. More than 5,000 people are expected from across the state.
Death-row inmate Hank Skinner got another reprieve from the U.S. Supreme Court, which has sent his case back to court. The high court overturned the U.S. 5th Circuit Court of Appeals' denial of Skinner's request for DNA testing, ruling on a narrow question of whether Skinner could request the testing as a civil rights matter. His case will head back to federal court in Amarillo, where his lawyers will request access to evidence in his case that has never been DNA tested.
The Texas Department of Transportation is facing some gaping budget gaps of its own. It's projected that over the next 20 years, the department will require $315 billion just to maintain roads and prevent traffic from growing more congested than it is now, but available funding is only expected to total $160 billion. Legislators are reluctant (with a few exceptions) to increase fees or to revive an option, raised last session, to let local voters decide on increases that would be dedicated to local road projects.
A new website sponsored by the Texas Department of Agriculture encourages ranchers and farmers to document their concerns about daily border activities, including drug cartel violence and undocumented immigrants — but the site's message board surged with calls for vigilante justice. State Sen. José Rodríguez, D-El Paso, asked Agriculture Commissioner Todd Staples to take down the site, but Staples, with shorter leashes on the self-made pundits, will leave the website open.
Dunnam's Back
Former Rep. Jim Dunnam, D-Waco, is back in the game with a new Texas First Foundation he says will pursue policy solutions across party lines.
Dunnam says the new foundation is just starting up and hasn't hired a staff. He and Jeff Rotkoff, a Democratic op who worked for the House Democratic Campaign Committee and now consults for trial lawyer and Democratic financier Steve Mostyn, are making the rounds to announce the new venture. The board of the new operation includes former Rep. Carol Kent of Dallas, Zach Evans, and Houston lawyer Shawn Thierry. Rotkoff will be the executive director.
Dunnam contends that legislators philosophies on core issues "are just not that different," and that many issues have nothing to do with political party. And the lack of what he calls "a proper dialogue" is harmful to the state.
He says it won't be partisan, though his last gig had him heading the Democratic Caucus in the Texas House. "My job is not reelecting Democrats anymore," he says. And later, "Most people in Texas could give a rat about politics."
Texas First will work on policy solutions but will also have an advocacy component — one part of their research will focus on how to get a message to regular Texas through the fragmented media where no one outlet reaches enough people in the state to get the word out.
Dunnam doesn't expect Texas First to be a partisan group, or a foil to any particular group out there now. He speaks with some admiration of the conservative Texas Public Policy Foundation, but says that's not the model for what he's starting.
Conspiracy Theory
The pages related to the natural gas tax are missing from this year's "Tax Exemptions and Tax Incidence Report" from the state comptroller's office, inspiring a round of black helicopter talk about who got to whom.
The exemption has generated some conversation in these trying budget times, the idea being that getting rid of it would bring a truckload of money into the state treasury. It would also look like a tax increase to the industry, and probably to some legislators.
Anyhow, the dollars aren't attached to the comptroller's report this year because the numbers aren't big enough; the natural gas tax only gets in if it generated more than 5 percent of tax revenue in the previous fiscal year. Since it didn't, it's not in there. That means they didn't publish new estimates for what that high-cost gas exemption is worth. In the 2009 report, the comptroller priced it at $1.1 billion for the 2012 fiscal year and $1.2 billion for 2013.
Political People and Their Moves
Dan Neil will press forward with his election contest against Democratic Rep. Donna Howard of Austin. He lost the count, and the House's "master," Will Hartnett, R-Dallas, found him short of the votes he needs to unseat the incumbent. That moves it to a special House committee that meets to hear some of the particulars next week, which will then make a recommendation to the House, which could do nothing, declare him the winner, or order a new election.
U.S. Senate candidate Ted Cruz picked up an out-of-state endorsement from U.S. Sen. Mike Lee, R-Utah. And Railroad Commissioner Michael Williams, who's also running for that job, is reminding his supporters this week that the election is only 52 weeks away. It's on!
That was former Texas Tech football coach Mike Leach making the rounds at the Capitol this week, trying to get support for a resolution that would allow him to sue the state — or at least the part of it that's called Texas Tech University.
Antonio "Tony" Leal, the chief of the Texas Rangers, is retiring at the end of the month. He's been with the Department of Public Safety for 27 years and was the youngest Ranger — and the first Hispanic — to serve as chief, a job he took over in 2008. Assistant Chief Hank Whitman will take over the post until a permanent chief is appointed.
Gov. Rick Perry appointed four members to the Texas Southern University Board of Regents. Gary Bledsoe of Austin is president of the Texas NAACP, an attorney in private practice and a former assistant attorney general for the state of Texas. Samuel "Sam" Bryant of Austin is president of Bryant Wealth Investment Group. Richard Knight Jr. of Dallas is chairman and managing partner of Pegasus Texas Construction. Marilyn Rose of Houston is a CPA, a registered Texas assessor/collector and an internal auditor for the Harris County Tax Office.
Perry appointed Billy R. Bradford Jr. of Brownsville and Monte Cluck of Gruver to the Texas Water Development Board. Bradford is a certified public accountant and partner of Hales-Bradford. Cluck is owner and CEO of Dean Cluck Feedyard.
The governor reappointed Gloria Hicks of Corpus Christi and Robert Schmidt of Aledo to the Texas Racing Commission. Hicks is a certified public accountant and partner of Ed Hicks Imports and Ed Hicks Nissan. Schmidt is an orthopedic surgeon and a partner of the Texas Hip and Knee Center.
Quotes of the Week
Gov. Rick Perry, on how neither he nor any of the other members of the state's Republican leadership should be held responsible for any teacher layoffs while local school districts find solutions to their budget woes: "The lieutenant governor, the speaker and their colleagues aren't going to hire or fire one teacher, as best I can tell. That is a local decision that will be made at the local districts."
Speaker of the House Joe Straus, R-San Antonio, on whether President Barack Obama was born in the U.S.: "I have to take the governor of Hawaii at his word. I think it is preposterous to attack President Obama on that basis. There are so many other issues on which we can disagree."
Rep. Sid Miller, R-Stephenville, on the House-Senate standoff over which chamber should take up the other's version of abortion-sonogram legislation: "Someone has to blink."
Rep. Dan Branch, R-Dallas, on legislation to keep Texas lawmakers form fleeing the state to break quorum: "If you want to hide out, go hide out in Big Bend or hide out in an apartment in West Austin, but stay in the state of Texas."
U.S. Sen. John Cornyn, R-Texas, reacting to Department of Homeland Security Secretary Janet Napolitano's plan to organize a bipartisan group of lawmakers to tour the border: "Madam Secretary, you don't need to invite a Texan or an Arizonan to come to the border."
Greg Wonsmos, a liquor store owner and president of the Texas Package Stores Association, on whether Texans would drink more liquor if state law allowed liquor sales on Sundays, quoted by the Austin American-Statesman: "We do not believe encouraging people to drink more hard liquor is a good reason for passing legislation."
From the Twitter feed of Rep. Raul Torres, R-Corpus Christi, a member of the appropriations committee: "Would you support legislation that reduces state government employee pay by 10% if they make over $100,000?"
State Rep. Dan Huberty, R-Houston, quoted by the Austin American-Statesman on the state's finances: "I think there were a lot of deer-in-the-headlight looks when the budget was laid out."
U.S. Rep. Silvestre Reyes, D- El Paso, reacting to a website launched by Texas Agriculture Commissioner Todd Staples that allows border ranchers and farmers to chronicle the threats they face working and living on the Texas-Mexico border: "Our state is facing a $27 billion budget crisis, and our state leaders are wasting scarce tax dollars to support a platform that portrays rural Texas like rural Afghanistan."
Contributors: Julian Aguilar, Reeve Hamilton, Ceryta Lockett, David Muto and Morgan Smith
---
Texas Weekly: Volume 28, Issue 10, 14 March 2011. Ross Ramsey, Editor. Copyright 2011 by The Texas Tribune. All Rights Reserved. Reproduction in whole or in part without written permission from the publisher is prohibited. One-year online subscription: $250. For information about your subscription, call (512) 716-8600 or email biz@texasweekly.com. For news, email ramsey@texasweekly.com, or call (512) 716-8611.
Texas Tribune donors or members may be quoted or mentioned in our stories, or may be the subject of them. For a complete list of contributors, click here.
Texans need truth. Help us report it.
Independent Texas reporting needs your support. The Texas Tribune delivers fact-based journalism for Texans, by Texans — and our community of members, the readers who donate, make our work possible. Help us bring you and millions of others in-depth news and information. Will you support our nonprofit newsroom with a donation of any amount?
Yes, I'll donate today
---
Information about the authors
Explore related story topics