Up and Running
Legislative sessions lag along and then, suddenly, seem to catch traction and start. Plenty of people have been busy, but now, with 12 weeks left in the regular session, lots of people are getting busy.
Legislative sessions lag along and then, suddenly, seem to catch traction and start. Plenty of people have been busy, but now, with 12 weeks left in the regular session, lots of people are getting busy.
Redistricting numbers are here and mapmakers are starting to do things that distract people whose continued employment is contingent on the maps. The budget committees are trying to pull together enough votes to get their starting proposals to the full House and Senate for some arguing and then on to the conference committees that really cobble things together. The governor's emergency bills are moving, committees are meeting and we're coming up on the bill-filing deadlines in a few days.
Gambling promoters are filing their legislation and one name that's missing this time around is that of Appropriations Chairman Jim Pitts, R-Waxahachie. He's been a co-author of casino bills in the past and was expected to be there again this year. But he says he found out a couple of weeks ago that his brother, John Pitts, is lobbying for Wynn Resorts, and says that's why he's not putting his name on anything. He does say he'd still like to see casinos approved, and would like to have the money for the budget now and in the future. Pitts says he didn't promise anyone he'd put his name on legislation this time, but some of the operators were convinced otherwise and were telling people like us he was on board.
Rep. Jose Menendez, D-San Antonio, filed legislation this week as lead sponsor; his co-author is Rep. Mike "Tuffy" Hamilton, R-Mauriceville, who's also the chairman the House Licensing and Administrative Procedures committee to which gambling bills are regularly referred. That's where it died in 2009, with Menendez and Pitts in the pilot and co-pilot spots. A few days after its last hearing in April of that year, according to House and Ethics Commission records, John Pitts filed his first form registering as a lobbyist for Wynn. Houston Democrat Rodney Ellis is the Senate sponsor, as he was two years ago.
The same day that was being filed, Sen. Juan "Chuy" Hinojosa, D-McAllen, and Rep. Beverly Woolley, R-Houston, filed legislation that would allow slot machines at existing racetracks and at the state's three Indian reservations. The association lobbying for that — Win for Texas — released a poll last month saying 82 percent of Texans want to vote on slots at tracks, and saying 64 percent would vote for their proposal if it gets to the ballot. They got a similar result in a poll in 2009, but lawmakers weren't looking for money and didn't move on their proposal.
This session's new casino bill would allow up to eight casinos in cities and on the state's barrier islands, along with eight licenses for slot machines at horse and dog racing tracts. The state's Indian tribes would be allowed to operate casinos on their reservations in El Paso, Eagle Pass and Livingston. The proceeds would go to the state's property tax relief fund and to fund college scholarships. The Texas Gaming Association has its fingerprints on that one, and they've got a poll, too, boosting their bid and taking a swipe at the competition at the same time. In their polling, 63 percent of Texans would prefer "destination resort casinos" to 18 percent who'd prefer "video lottery terminals at horse and greyhound race tracks."
That internecine stuff has helped derail previous attempts to expand gaming. It's alive mainly because lawmakers are looking for money, but gambling is a tough vote for some lawmakers and industry squabbles can make it easier to say no. Stay tuned.
Pitts' main job is to get the budget together. He's trying to get 90 votes for a $4.3 billion raid on the state's Rainy Day Fund — an amount that would cover the deficit in the current budget and leave a little aside to help balance the next one. It's short of the $9.4 billion in the fund that's available to budgeteers. And it's a little easier to get: It takes two-thirds of the Lege to get into the fund for the next budget, but only three-fifths to use it for a current deficit. That's a ten-vote difference in the House (90, vs. 100) and will serve as a test for lawmakers' willingness to tap savings for the budget shortfall.
Gov. Rick Perry is lobbying against using the Rainy Day money and has said in speeches he'd prefer to leave it be while lawmakers are working on cuts, apparently on the theory that hunger pangs will inspire the cooks.
The appropriators are simultaneously working to get their budgets to the Legislature for its first look. Pitts says he hopes to get some voting done next week and could have the budget to the printers the week after that. He's promising a bare-bones bill for this round. Finance Committee Chairman Steve Ogden, R-Bryan, has a gang of senators from both parties who are saying publicly that the cuts are too deep and admitted to the Austin American-Statesman that he's "not even close" to having the votes to get the bill out of his own committee. "When we've got the votes, the bill is coming to the floor," he told the paper. "Right now, I don't have the votes so I don't have a timeline."
Inside Intelligence: Getting Schooled
This week, we asked the insiders to zoom in on what it would mean to make deep cuts to public education, as proposed by the House, the Senate and the governor.
They believe the school districts that are threatening to close local schools and to lay off teachers — 91 percent say that's likely and only 8 percent say it's not. They're pessimistic, too, about local property tax increases as a result of state budget cuts, with 82 percent saying those are likely and only 11 percent saying local taxes won't increase.
If the local school boards do any of that, will voters blame (or credit) them for it, or will they blame Austin? Two-thirds of the insiders — 65 percent — think the state officeholders will be held accountable. Another 20 percent say the consequences will be local, and six percent say it won't be an issue at all.
Finally, we asked which of three campaign promises is politically the most important one: 35 percent picked "fully fund education," 34 percent chose "cut the budget," and 24 percent chose "no new taxes."
Instead of one comment question, we opened each of the questions above to comments and let the insiders talk. The full set of verbatim answers is available at this link, but here's a sampling: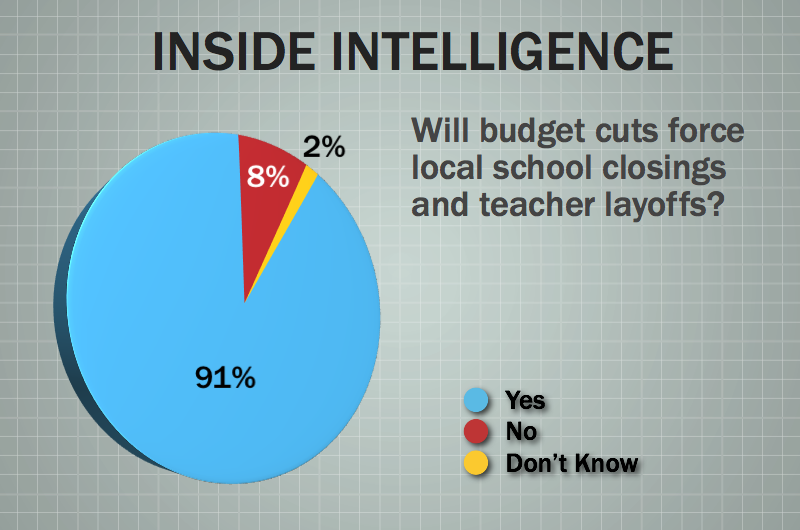 Do you believe local school districts will close schools and lay off teachers as a result of state funding cuts?
• "If by 'close' you mean consolidate."
• "District options will depend on the size of the budget cuts. Staff layoffs are guaranteed. School closures will generally be part of a long-term strategy, if applicable."
• "Consolidation of schools and maximizing infrastructure is long overdue."
• "I don't believe they will have a choice in the matter. Of course, they'll shut schools down and can teachers before they cut the Third Deputy Superintendent for Transportation."
Will state budget cuts result in local school property tax increases around the state?
• "If local taxes rise, you can bet they will blame Austin. We either need locally run (and locally accountable) schools or state run schools. Not the hybrid we now have. Parents and taxpayers need to have a clear-cut line back to who is responsible. School boards say it is Austin. Austin says it is poorly run schools. The time for finger pointing is over."
• "Some school districts will use any action at the state level as an excuse to raise taxes."
• "It's Texas, right? That's what we do here."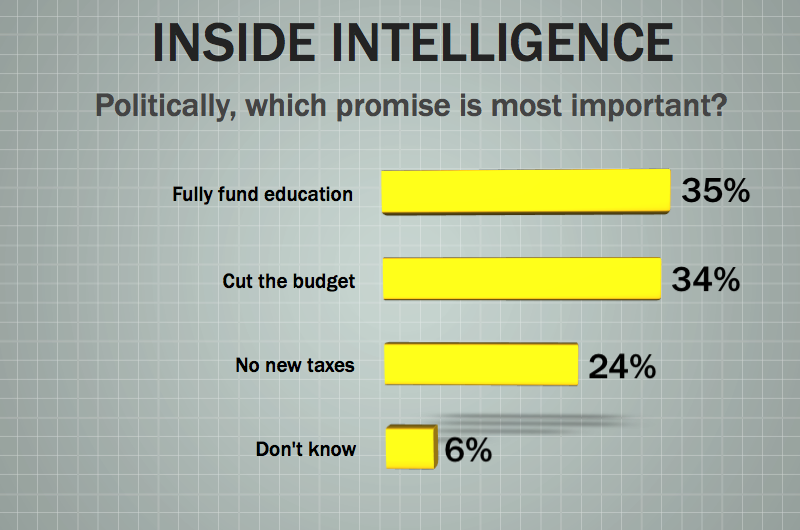 Who'll get the political blame or credit for any school layoffs and closings that occur?
• "It depends on who the political consultant is!"
• "State officials will take a big part of the hit for cuts; local officials will get more of blame for property tax increases."
• "Wouldn't you love to meet the delusional soul who clicks 'It won't be an election issue'?"
• "There will be enough blame to go around."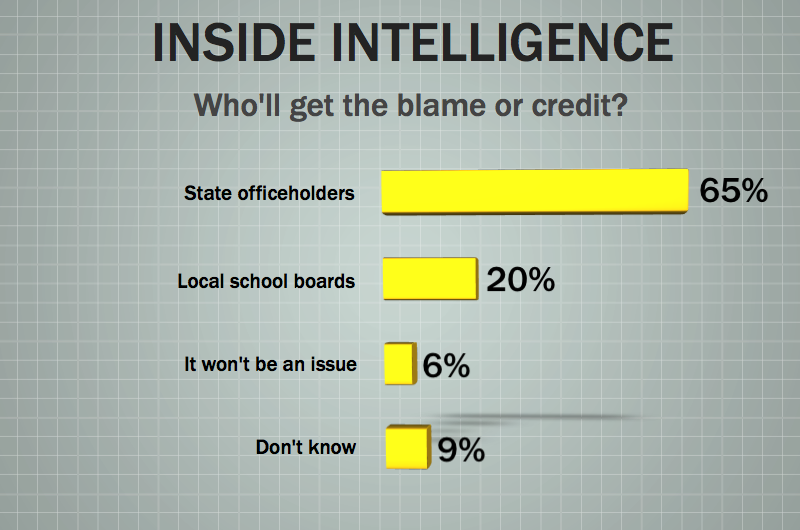 As a matter of politics, what's the more important promise?
• "Based on the election results from the last cycle and polls showing that the public supports Republican efforts at the national level to reduce spending, I think cutting the budget is the best political choice."
• "Cutting the budget and no new taxes would appear to be the most important promises at this point. It is hard to distinguish which is more important, although cutting the budget seems to be the current focus."
• "Unless you just landed on Earth, people recognize the economy calls for making really hard changes in spending."
• "These days polls show that folks want it all — tax cuts (less government) and social services. Well you can't have both, but GOP voters in the suburbs want good schools for their kids."
• "We've had this studied extensively. Threatening the next generation's future trumps the tax issue every time with voters. Voters want lower taxes but not at the expense of the future."
Keep on Trucking
It didn't take long for labor unions to pounce on the Obama administration for agreeing to terms with its Mexican counterparts that will re-start the cross-border long-haul trucking program.
Early Thursday the governments announced a tentative agreement, though Washington cautioned there is a still a long way to go. The original 1994 North American Free Trade Agreement would have allowed truckers from Mexico to move about the U.S. without mileage restrictions. It was never put into effect, however, and currently truckers on both sides of the border are limited to traveling in a 20-to-25-mile radius of a trade port. This agreement would allow U.S. truckers to have free range in Mexico and vice versa.
The timeline apparently includes engaging negotiating teams from both countries to work on the details. Look for Texas labor unions to be a large part of that public comment process. Ed Sills with the Texas AFL-CIO, issued a statement: "We are against this. The NAFTA trucking provision will eventually eliminate solid middle-class jobs in trucking and ports — jobs that have built our economy. We believe that when the program begins on a larger scale, safety issues involving Mexican trucks will present serious physical and legal dangers to American drivers."
And despite promises that the agreement benefits both countries, Sills said that wouldn't be the outcome. "It won't be a two-way street, even though NAFTA does allow American trucks to operate throughout Mexico. The Texas Department of Public Safety, which allows that Mexican trucks will be 'subject to inspection,' though not actually all inspected, has recently issued warnings against travel to Mexico," Sills said.
Fast Pass
Lobbyists and others who frequent the Texas Capitol — but don't feel like sacrificing the time and money to get a concealed handgun license to fast-track them past the building's metal detectors — may soon have another way around the lines that often form around the entrances.
State Rep. Charlie Geren, R-Fort Worth, filed House Bill 2131, which would allow people who meet certain requirements to skip the detectors as if they were packing.
Those requirements are identical to those that are required for CHLs except for getting certified for handgun proficiency. They'd have to be adults, legal residents of Texas without criminal records or histories of drug problems, and up to date on all of their taxes and child support payments.
If they meet those criteria, and willingly submit to a background check, then they'd be able to zip past the checkpoints. Notice: This is not a free ride. The bill allows application and renewal fees to cover costs.
Legislative Syllabus
Committees handling the state's public education business met in both chambers this week — and offered a clue as to what legislation might pick up momentum this session and what might be left to stagnate.
In the House, the Public Education Committee took up several bills — but left them all pending after lengthy testimony on an anti-bullying bill from Rep. Mark Strama, D-Austin, and one from Rep. Scott Hochberg, D-Houston, which exempts students from end-of-course exams in the fourth, sixth and seventh grades if they score well the previous year.
Strama's bill — one of more than 15 addressing bullying — drew opponents who questioned its definition of punishable behavior and whether policing bullying conduct was best left to local districts. Hochberg's bill — which has bipartisan support from Rep. Dan Huberty, R-Kingwood, a former school board member — has the advantage that it cuts costs, but may find opposition in the upper chamber, if it passes the House, from Sen. Florence Shapiro, R-Plano, who has stated her support for yearly testing.
Her Senate Education Committee sent legislation on minimum grading policies, employee insurance and attendance policies to the full Senate. But bills on residential development in school districts and special education policy stalled.
SB 79 will clarify a previous bill prohibiting teachers from setting minimum grades on assignments. In 2009, 11 districts sued the Texas Education Agency because they said the policy applied to individual grades. In some cases, the minimum grade for students had been raised to 70 percent, Shapiro said.
SB 140 will clarify the TEA's mandatory attendance policy, applying it to kindergarten through 12th grade, and prohibiting students from being pulled out of a class for state assessment tutorials. And SB 155 mandates that any retiring teacher's health insurance end before the next school year. Controversy arose after Fort Bend Independent School District's insurance policy allowed some policies to carry over into the next school year.
The committee also agreed on SB 912, a bill allowing teachers more time to request a hearing from school districts after being let go. Sen. Royce West, D-Dallas, said that the bill provides teachers and schools with more flexibility.
But members debated SB 296, which forces developers to register with nearby school districts if their proposed development exceeds 1,000 units. And they failed to reach an agreement on SB 596, which proposes starting the so-called "transition" program for special education students at age 14, rather than 16. The program allows students to learn skills for employment and wellness. The bill was held up because it costs the state some money — dollars that are incredibly tight in the current budget cycle.
SB 570, which would expand a new teacher mentoring program, was also flagged with a fiscal note but was well received by members of the committee.
Searching and Seizing
The amount of drugs, weapons and cash seized on the South Texas border with Mexico increased by almost 50 percent last fiscal year compared to 2009. The amount of weapons and ammo seized also skyrocketed.
A combined 154,313 pounds of cocaine, marijuana, heroin and methamphetamine was seized on the eight ports in between Del Rio and Brownsville. They carried an estimated street value of $407 million. Broken down by product, that's 146,934 pounds of marijuana, 6,075 of cocaine, 758 pounds of meth and 546 pounds of heroin. Agents also seized about 13.6 million in undeclared cash, according to a Customs and Border Protection statement issued in late February. The agency also seized 111 firearms, a 30 percent increase from 2009's 85, and 64,040 rounds of ammo, almost three times the 22,399 seized the year before.
The government usually congratulates its agencies on the amount of narcotics, weapons and cash seized. But it also recognizes the fact that an increase in seizures possibly reflects an increase in contraband that makes it through the ports into Texas and beyond.
The busts were made while agents inspected 2.4 million commercial trucks, 74,570 commercial buses, 21.3 million private vehicles and 59.5 million passengers and pedestrians.
The Week in the Rearview Mirror
A former chemical engineering student from Saudi Arabia was arrested by the FBI after an extensive investigation into an alleged plot to build and detonate bombs at various targets across the U.S., including the Dallas home of former President George W. Bush. The student, Khalid Ali-M Aldawsari, came to the states on a scholarship from a Saudi company and spent the better part of a year learning English. After studying chemical engineering at Texas Tech University, Aldawsari began to research bomb-making ingredients and targets, officials say. Agents found lists of potential sites in e-mails he sent to himself. Surveillance led to his arrest on a charge of attempted use of a weapon of mass destruction.
As legislators grapple with options to fill a gaping budget hole, Comptroller Susan Combs' report on sales tax exemptions is getting closer scrutiny. Opposition to broadening the collection of taxes or closing any of the sales tax exemptions loopholes is strong, but with the savings the state is looking for, lawmakers are paying particular attention to exemptions and how much each one costs the state. Combs made no recommendations in the report.
Anthony Graves spent 18 years on death row for a murder he didn't commit and, when he was released, hoped to receive state-mandated compensation for his imprisonment. But his claim was rejected by the comptroller's office, which declared that his release papers did not include the correct wording to qualify for the money. Now Graves has announced that he'll sue the state to get the money. He's asking for a declaration of his innocence to qualify him for the $80,000 per year of his incarceration that he would be entitled to under the Timothy Cole Compensation Act.
The Texas Forensic Science Commission will keep John Bradley as its chairman — for now. But his name was removed from a list of nominees sent by the Senate Nominations Committee to the full chamber after Democrats threatened to block his confirmation. Nominations Chairman Robert Deuell, R-Greenville, and Lt. Gov. David Dewhurst plan to work behind the scenes to confirm Bradley, who's been involved in controversy surrounding the Cameron Todd Willingham death penalty case. Not getting confirmed during the legislative session is functionally the same as being voted down.
Debate began over the House version of the abortion sonogram legislation, which got tentative (and overwhelming) approval late Thursday. HB 15 contains more stringent guidelines than its Senate counterpart, including a 24-hour lead time on the ultrasound before the procedure and no exceptions for victims of rape or incest. The sponsor of the bill, Rep. Sid Miller, R-Stephenville, insists that the requirements are strictly to give women more information, but opponents question the motivation of the extra procedure and instead advocate support for family planning funding.
Department of Public Safety officials are again warning Texans to stay away from Mexico. With spring break fast approaching for many students, DPS Director Steven McCraw issued a statement strongly discouraging students from traveling anywhere in Mexico due to the frequent and increasingly widespread violence. This follows another strongly worded caution to "winter Texans" in January to avoid Mexico.
All-day testimony about the various meanings of "groundwater" and "ownership" dominated a Senate Natural Resources Committee hearing on the future of how water will be pumped in Texas and who will benefit. The complicated issue is debated in each legislative session and constantly leads to lawsuits over who is entitled to water and who benefits from it. Sen. Troy Fraser, R-Horseshoe Bay, has a proposal to spell out what groundwater ownership would mean. On the other side of the issue are water conservation districts, which think it's their role to make decisions about how water is allocated.
Most Republican lawmakers continue to insist it's not raining, but a few of their colleagues are beginning to speak up in favor of using part of the Rainy Day Fund to help bridge the budget gap. House Appropriations Chairman Jim Pitts, R-Waxahachie, and Rep. John Otto, R-Dayton, are collecting votes for a $4.3 billion withdrawal that would cover the deficit in the current budget and then some. Rep. John Zerwas and Sen. Robert Deuell have also voiced their support for using some of the banked funds, believing that their constituents won't appreciate cuts to public education and other areas while there are billions sitting in the state's savings account.
The Texas Windstorm Insurance Association, an insurer of last resort for many Texas homeowners, will now be overseen by the Texas Department of Insurance. The board of the controversy-ridden association has also committed to replacing its director after it was criticized for not taking corrective action in several areas of its operations. Administrative oversight by the TDI will require it to monitor the actions of the agency.
Political People and Their Moves
Add former Dallas Mayor Tom Leppert to the fight card for the 2012 U.S. Senate race. In a matter of days, he resigned from the city hall job, declared, signed the Grover Norquist no-new-taxes pledge and popped up a website. That's the seat to which U.S. Sen. Kay Bailey Hutchison says she won't seek reelection.
Pat Robbins is leaving the Associated Republicans of Texas, which she helped start in 1975 in an effort to expand the number of Republicans in the Texas Legislature. The GOP had 14 of 150 House members then, and three of 31 senators (now it's 101 and 19, respectively). She'll remain on ART's board but is giving up the executive director title. The new ED is Miguel Romano, who's been at Austin-based Public Strategies Inc. and was the budget director on John McCain's 2008 presidential campaign.
Austin lawyer Bill Crocker is the new general counsel of the Republican National Committee, subject to confirmation. He's been the national committeeman from Texas since 2004.
Gov. Rick Perry appointed the following:
John Paul "J.Paul" Oxer of Sugar Land to the Texas Department of Housing and Community Affairs, to which Perry also reappointed Juan Munoz of Lubbock.
Oxer is managing director of McDaniell, Hunter and Prince Inc. Munoz is vice president for institutional diversity equity and community engagement, and vice provost for undergraduate education at Texas Tech University.
Rosemary Gammon of Plano and Tomas Gonzalez of Irving to the Risk Management Board. Gammon is director of Reimbursement & Payer Strategy for Mederi Therapeutics. Gonzalez is city manager for the City of Irving and a Lieutenant Colonel in the U.S. Army Reserve.
Scott McLaughlin of El Paso was reappointed as presiding officer of the Camino Real Regional Mobility Authority. McLaughlin is president of Stagecoach Cartage and Distribution LP.
Three members to the Texas Board of Criminal Justice whose confirmations are subject to Senate confirmation: Lawrence 'Larry' Gist of Beaumont, who is senior criminal district judge in the Jefferson County Drug Impact Court, and a certified specialist in Criminal Law by the State Bar of Texas Board of Legal Specialization. Tom Mechler of Amarillo, a professional engineer and president of Manna Services Inc. who lost last year's race for chairman of the Republican Party of Texas to Steve Munisteri. Leopoldo Vasquez III of Houston, who is executive vice president of Maximus Coffee Group.
Three members to the Texas Woman's University Board of Regents, which are also subject to Senate confirmation: Deborah "Debbie" Gibson of Houston, who is executive vice president and manager of the Trust Department of Amegy Bank. Melissa Tonn of Dallas, a board certified occupational medicine physician, president and chief medical officer of OccM.D. Group PA. Mary Pincoffs Wilson of Austin is a mentor and former foster family chairman for Helping Hand Home for Children.
Michael Bray of El Paso was reappointed to the Manufactured Housing Board. Bray is a Realtor with Prudential BKB Realtors.
Quotes of the Week
Steve Murdock, the former U.S. Census director and Texas state demographer, quoted by the Houston Chronicle on the population projections for Texas: "It's basically over for Anglos."
Rep. Leo Berman, R-Tyler, on email and online video clips that contend President Barack Obama was born in Kenya: "YouTubes are infallible."
Rep. Bill Callegari, R-Katy, whose district has grown by 71,000 Hispanics, a 250-percent increase, according to 2010 census figures: "Obviously I want to be aware of what my constituents want, but at the same time I can't change my principles."
Mexican President Felipe Calderón, on why the U.S. should focus on passing comprehensive immigration reform, in the Houston Chronicle: "As a president, I don't like the feeling of over 400 Mexican people who die every year trying to cross the border."
Democratic strategist James Aldrete, contending Texas Republicans are conflating immigration and border security and abandoning Latinos in the process: "There is nothing about checking the immigration status of children at school that has to do with border security."
Katherine Cesinger, spokeswoman for Gov. Rick Perry, after reports he blocked a number of journalists from following his Twitter account: "It is the governor's personal account, so he manages it as he likes."
Williamson County District Attorney John Bradley, whose nomination for chairman of the Texas Forensic Science Commission is pending in the Senate, on whether he regrets calling Cameron Todd Willingham a "guilty monster," quoted in the Austin American-Statesman: "My mother regrets it."
Sen. Robert Deuell, R-Greenville, on proposed budget cuts during a Senate Finance Committee hearing: "We're the 45th-lowest tax state. I'm not chomping at the bit to be number 44, but we're a low-tax state and we've got people in need."
Comptroller Susan Combs, on proposed cuts and whether she'd drain the Rainy Day Fund to help balance the budget, quoted in the Houston Chronicle: "There's no free lunch."
Contributors: Julián Aguilar, Reeve Hamilton, Ceryta Lockett, David Muto, Morgan Smith and Andrew Weber
---
Texas Weekly: Volume 28, Issue 9, 7 March 2011. Ross Ramsey, Editor. Copyright 2011 by The Texas Tribune. All Rights Reserved. Reproduction in whole or in part without written permission from the publisher is prohibited. One-year online subscription: $250. For information about your subscription, call (512) 716-8600 or email biz@texasweekly.com. For news, email ramsey@texasweekly.com, or call (512) 716-8611.
Texas Tribune donors or members may be quoted or mentioned in our stories, or may be the subject of them. For a complete list of contributors, click here.
Texans need truth. Help us report it.
Independent Texas reporting needs your support. The Texas Tribune delivers fact-based journalism for Texans, by Texans — and our community of members, the readers who donate, make our work possible. Help us bring you and millions of others in-depth news and information. Will you support our nonprofit newsroom with a donation of any amount?
Yes, I'll donate today
---
Information about the authors
Explore related story topics