Interactive: Census Totals by House, Senate District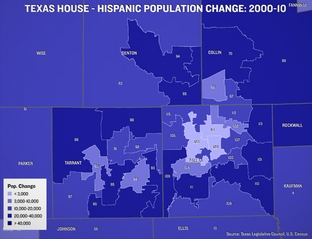 Our coverage of the U.S. Census Bureau's redistricting data, released last month, has so far focused mostly on growth and demographics in Texas' 254 counties. Today we're releasing a new feature allowing readers to examine these trends in Texas House and Senate districts.
Our new interactive map visualizes population changes by district for the total population and residents who are of Hispanic origin. These totals are especially important now given that lawmakers are preparing to redraw these districts based on their growth, demographics and election histories.
The data behind the map reveal some interesting trends. As we've seen, suburban areas around Texas' largest cities saw the robust growth in the Hispanic population — both in raw totals and rate. That means suburban representatives — most of whom are Republicans — are seeing an influx of potential voters from a group that has traditionally favored Democrats. One example is state Rep. Bill Callegari, R-Katy, whose district grew by 71,000 Hispanics, a 250-percent increase.
Callegari says the changing demographics in the district haven't altered his behavior in recent legislative sessions. "I have to say that my views on legislation — my basic views — certainly haven't changed. I'm still a very conservative-learning individual," he said. "Obviously I want to be aware of what my constituents want, but at the same time I can't change my principles."
Lawmakers redrawing the maps must keep the population in each House district at roughly 167,000, so Callegari also knows that he'll lose some real estate to districts to the east that lost population or didn't keep pace with overall growth. "We're going to have to shift around significantly."
State Reps. Allen Fletcher, R-Houston; Rob Eissler, R-The Woodlands; Jodie Laubenberg, R-Parker; Debbie Riddle, R-Tomball; and Vicki Truitt, R-Keller, also saw Hispanic populations in their districts increase by more than 170 percent. Of course, all demographics grew in these rapidly expanding portions of the state. Statewide, the Hispanic population doubled in 26 House districts. All but three are represented by Republicans.
Much more can be found by exploring the map, which works in a way similar to our county-by-county census interactive. Both use darker shades to represent larger population totals. Clicking on a district displays totals and changes in a table to the right.
Let us know if you have feedback or ideas for other data-related content, and be sure to follow @TribData on Twitter for updates.
Texas Tribune donors or members may be quoted or mentioned in our stories, or may be the subject of them. For a complete list of contributors, click here.