Ask a Texan
Who would have thought that of all of the big, nasty, thorny things in front of the Legislature this year that redistricting might be the least dangerous?
Who would have thought that of all of the big, nasty, thorny things in front of the Legislature this year that redistricting might be the least dangerous?
Not that it isn't dangerous, but have a look at the other stuff.
Voters, it turns out, are in the same place lawmakers are when it comes to the budget. They want to cut the budget but they don't want to cut anything in it. As governments go, Texas has a superior lean-to-fat ratio. You can call that efficient or parsimonious or both, but the point's the same: there's not much to cut unless you want to stop doing some of the main things you've been doing. The public, in the latest poll from the University of Texas and our sister publication, The Texas Tribune, wants to lose weight without going on a diet. They say no to cuts in public education, state grants for college students, pre-kindergarten, state employee and teacher retirement programs, CHIP, nursing homes, prisons, and everything else on the list. They say no to all but two kinds of new revenue — casinos and higher alcohol taxes. Those might help, if you could get them through this Legislature, but neither of those would produce enough money to fill the hole in the budget.
On a plate full of immigration-related issues, they're out for red meat. They'd get rid of birthright citizenship, force employers and police to check and enforce immigration laws, take in-state tuition away from students who live in Texas and whose parents are undocumented immigrants, crack down on sanctuary cities, and they oppose a path to citizenship for illegal immigrants already in the country. On most of those things, Republicans are more supportive than Democrats. On most, Hispanics are much less supportive than Anglos. If Republicans don't mind giving up the Hispanic vote in Texas, this is politically easy. But many of them want to stay in office and win other offices down the road, and that's an obstacle course. Lawmakers will have to do whatever they do this session without running off the fastest-growing part of the population, and do enough of it to keep the loudest part of their party from knocking their blocks off in the next primaries.
Redistricting, by comparison, is almost relaxing. Draw maps that protect you and hose your opponents. Take them to court. Lather, rinse, repeat.
Committees will be at work on all of that in the week ahead, and House leaders are talking about a vote on something like the base budget sometime around mid-March. The real deal-making follows that vote, but it will give everybody some idea of who's willing to vote for what.
Money remains on everyone's mind. Immigration often rises in public polls in tandem with economic troubles, though different groups see things in different ways. Look at this poll tidbit: In a state run by Democrats, the top issues would be, in order: Unemployment/jobs, state budget shortfall, economy, political corruption/leadership and education. Republicans produced a different list of most important problems facing the state: border security, immigration, unemployment/jobs, state budget shortfall, and economy. Independents? It's immigration, state budget shortfall, border security and a three-way tie between unemployment/jobs, the economy, and education.
The rest, in no particular order:
• Don't know is leading both primaries for the 2012 U.S. Senate nomination, getting 52 percent on the Republican side and 59 percent on the Democratic side. Lt. Gov. David Dewhurst, at 27 percent, lead the named Republicans and Chris Bell, at 16 percent, led the Democrats.
• If people could vote in a Tea Party primary, 22 percent say they would, most of them bailing on the Republicans to do so; 16 percent would stay behind in the GOP boat, and the Democrats would have 34 percent, which is about what they get without a Tea Party.
• Photo voter ID is slam-dunk popular. It wins with everyone: Republicans, Democrats, men, women, Anglos, Hispanics, sacreds, seculars, fat kids, skinny kids, and kids who climb on rocks. Overall approval: 75 percent.
• Doctor-assisted suicide gets 47 percent approval, and there' s an interesting nugget in the crosstabs: Independents side with Democrats instead of Republicans on the issue. On most other things, they side with the Republicans.
• One in four would leave the Rainy Day Fund alone, and 9 percent would spend it all. the big group, at 55 percent, would spend some but not all of the money.
• Casinos are starting to look okay to voters. A year ago, 40 percent said they'd allow full casinos in Texas, and that's now up to 56 percent. Only 8 percent want to ban gambling and only 11 percent more said they'd leave the state's gambling laws as they are today.
Inside Intelligence: What Happens in Austin...
With lawmakers promising not to raise taxes and at the same time becoming increasingly uncomfortable about some of the budget-cutting that might be required, gambling promoters who want to legalize slot machines and casinos in Texas are circling. So we went to the insiders to see whether they think this legislative session — unlike the 2003 wrestle with the budget and the 2004-05 efforts to rewrite school finance formulas — will be the charm.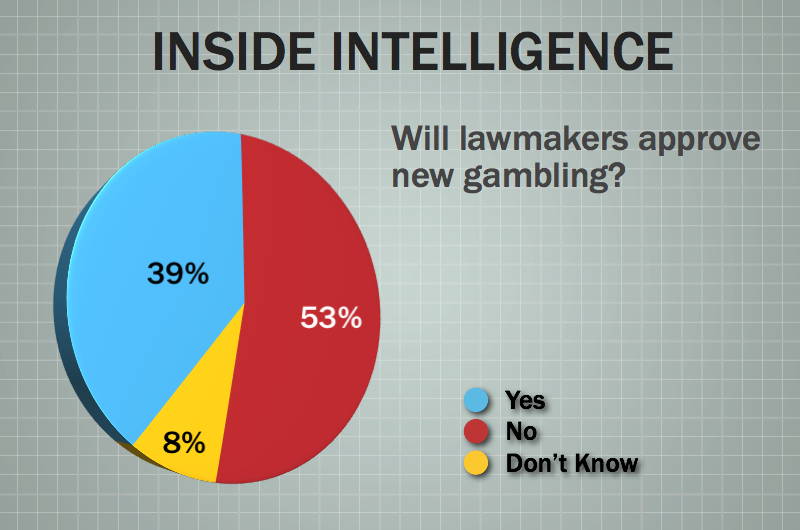 The insiders don't think so. Only 39 percent think lawmakers will approve new gambling this session, while 53 percent think the issue will once again fall short. If it is approved, 60 percent don't like the idea of dedicating the money to anything in particular; another 26 percent think it should go to public education. If anything passes, the insiders think the best chance is for slot machines at racetracks and Indian reservations, and not for casinos. The tally: 22 percent say slots at tracks, 14 percent say "whatever raises the most money", 11 percent say casinos at racetracks and reservations, and only 9 percent think full casinos would be the Legislature's choice. Almost half — 45 percent — say in that question that it's just not going to happen.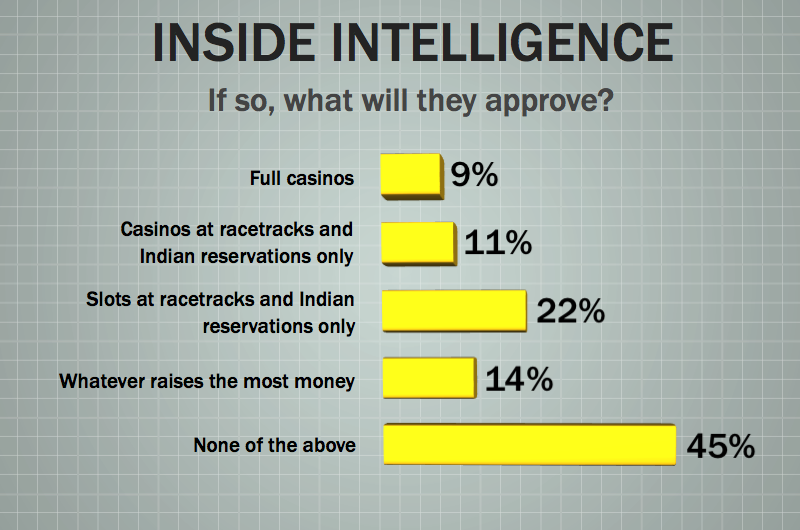 This week's open-ended prompt was: "Is it a good idea to allow more gambling in Texas and would it be a reliable source of funds for the state budget?" The full set of answers is attached, but here's a sampling:
• "No. The amount of trash that comes along with gambling needs to stay in Las Vegas."
• "No, fixing a deficit with gambling funds is like feeding a child whip cream for dinner."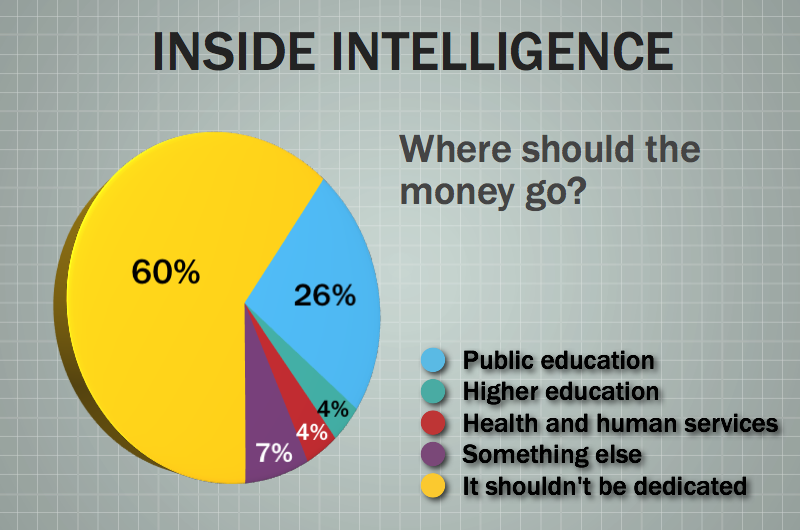 • "Hell yes."
• "Probably not. There are numerous studies that point to gambling being akin to a regressive tax. Additionally, we know that we will be exacerbating certain social problems like gambling addiction."
• "To a certain extent, the expenditure of Texas dollars on gaming is a present reality. It is a question of whether some of those dollars can be spent within Texas. For those states most dependent on gaming-related revenues, I think it is also a present reality that the revenue stream can be unreliable."
• "Sure, why not? We have the stock market."
• "It certainly wouldn't hurt. Texans gamble now. Texans will always gamble. Getting more state revenue from it couldn't be bad. On the other hand, Nevada's current 48% budget shortfall isn't exactly a ringing endorsement for such a thing getting Texas out of the budget mess the Republicans have put us in."
• "Better than losing it to Oklahoma, like our football players."
• "Yes - it keeps money here that would be spent elsewhere, helps increase tourism and can help revitalize certain parts of the state, and, to quote Animal House - we need the dues."
• "It won't raise the money legislators wish it would. Personally, I don't really care if Texas allows more gambling, but doing it under the banner of 'new revenue' is ridiculous. If you want to pander to the casino industry and create new addictions, just do it--but don't try to tell Texans you are doing it for their own good."
• "The unemployment rates in New Jersey, Nevada, and Michigan, each of which has commercial casino gambling, are respectively 14.1 percent in Michigan (the highest rate in the nation), 13.4 percent in Nevada (the second highest rate in the nation), and 9.8 percent in New Jersey (as of last year) ... Nevada, which relies on gambling for more than half of its state revenue, has cut public health programs, K-12 and early education programs, higher education spending, and state employees to meet its budget shortfall. ... Similarly, states bordering Texas that have legalized casino gambling are also making cuts: Louisiana and Oklahoma have cut public health programs, higher education, and state employees; while New Mexico has cut elderly and disabled assistance programs, as well as higher education spending, and reduced its state workforce. ... This is not to say that Texas will not have to reduce spending and cut programs, but merely to note that casino gambling does not immunize the state from having to cut programs and services."
• "No to the first and definitely no to the second. I'm a New Jersey native and can tell you that allowing casinos in Atlantic City has never come close to delivering on the claims made by proponents ... The only real benefit I'd expect to come from bringing casinos to Texas is an improvement in pizza quality."
Buying Time for Teachers
With major state funding cuts looming, for many school districts, it's not a question of if — but how and when — teacher layoffs will occur. A new bipartisan bill from education leaders in the Senate could temporarily change how schools go about that.
Districts have to give 45 days' notice to teachers if their contracts are not going to be renewed. Once a teacher receives notice, he or she has 15 days to request a hearing. A bill by Sens. Royce West, D-Dallas; Florence Shapiro, R-Plano; Robert Duncan, R-Lubbock; and Wendy Davis, D-Fort Worth, would give teachers 30 days instead of 15 to request a hearing. The idea behind the newly filed SB 912, which the senators developed with input from teacher, administrator and school board organizations, is to buy time for districts that may be forced to fire teachers soon, even as the Legislature continues to work on what many hope will be an improved budget plan.
"Teachers are the No. 1 most important element in the classroom," said Shapiro, who chairs the Senate Education Committee. "They come first, and we've got to make absolutely sure that teachers across this state recognize that we are working diligently every single day to help them."
Davis, who also sits on the Education Committee, said she hoped the bill sent a message to teachers that the Legislature is doing "as much we can in a difficult situation."
The legislation also contains a provision that allows districts to designate a lawyer to conduct the hearings in lieu of full a school board. If the estimates of potential layoffs into the 100,000s are accurate, school boards would be overwhelmed.
Eric Hartman, spokesman for the Texas branch of the American Federation of Teachers, emphasized that the legislation was "not something that permanently changes teacher contract rights in Texas."
If it secures a two-thirds vote in both chambers, the bill would take effect immediately — and would apply only for the current school year. It could make life easier for legislators while it makes things easier for the educators and the districts; the 45-day notices have to go out by mid-April or so in most districts, and some districts are already passing out pink slips. That gives those laid-off school workers time to share their views with legislators before the session is over.
Caucus vs. Conference
The Nov. 2 election didn't just tilt the GOP balance of the Texas House to a supermajority; it gave Hispanic Republicans the opportunity to form their own caucus. There are now six Hispanic Republicans in the House: Aaron Peña, the former Edinburg Democrat who switched parties after the election, Jose Aliseda of Beeville, Dee Margo of El Paso, Raul Torres of Corpus Christi, Larry Gonzales of Round Rock, and John Garza of San Antonio — the charter members of the Hispanic Republican Conference.
With respect to Latino caucuses, the Mexican American Legislative Caucus has traditionally grabbed headlines. It bills itself as the state's oldest and largest Latino caucus and as a nonpartisan outfit despite being composed of only Democrats last session. Peña is still a member of MALC, as are his five Republican colleagues.
But according to new census data released last month, the HRC is now open to more than 20 percent of the 150-member Texas House. According to an HRC statement, members whose districts are more than 30 percent Hispanic are able to join as associate members, and those whose Hispanic populations make up more than 40 percent are able to join as voting members of the conference. The HRC is open to 13 voting members and 24 associate, nonvoting members.
"The new census data shows what many have been saying for years: Hispanics are driving the tremendous growth that Texas has experienced this last decade," says Peña, the HRC chairman. "Those numbers are reflected in communities across many legislative districts, which is a boon for the conference. Our ultimate agenda is to give Hispanics a conservative choice and force the parties to compete for votes rather than take this important community for granted."
If MALC Chairman Trey Martinez Fischer, D-San Antonio, is worried the HRC could soon pull more weight then MALC, he's not showing it. As he did following the elections, he's showcasing his and the caucus's willingness to work with both parties.
"We are bolstered by the strong census figures in relation to Latino population growth and are proud to work with all groups including the Hispanic Republicans Conference," he says. But he's also touting MALC's experience against the HRC's.
"While it's nice to celebrate prospective membership gains, it's important to recognize that there are those that are trying to diminish and dilute Latino population. MALC's litigation team is the only caucus to intervene in the case of Teuber v. Texas that seeks to severely limit the population growth of Latinos over the last decade," he says, referring to the redistricting lawsuit filed a couple of weeks ago — before the census numbers were made public.
The suit alleges that counting undocumented immigrants in districts has an unfair effect on voters in districts with smaller numbers of non-citizens.
"Because the undocumented immigrants in the Twenty-Third District cannot vote," the suit alleges, "the eligible voting population in the Twenty-Third District is disproportionately smaller than the eligible voting population in a Congressional District with a smaller population of undocumented immigrants."
The Week in the Rearview Mirror
Abortion sonogram legislation, which the Senate has already passed, cleared a House committee Wednesday and could move to a full House vote as soon as next week. The vote Wednesday came after a day of graphic testimony that included denunciations of an exception in the bill proposed for victims of rape and incest. "I hold before you two sonogram pictures. Can anyone tell which one is the rape child?" asked one woman who testified, saying that her mother had been the victim of rape by eight men.
Long an embarrassment to the Department of Public Safety, which had officers on guard when it happened, the Governor's Mansion arson case may finally be starting to break. Texas Rangers announced they had linked the unidentified arsonist to a group of anarchists associated with the attempted bombing of the Republican National Convention in Minneapolis in 2008. The break came after painstaking reviews of video footage around the Capitol revealed a Jeep that was apparently casing the Mansion a few days before the fire. Officers continued their investigation into the identities of the men in the Jeep, leading them to a man affiliated with the anarchist group who, along with the other men in the Jeep, has denied involvement in the fire.
As union protests in Wisconsin made national headlines, the Texas chapter of the AFL-CIO sponsored a vigil in Austin to support the affected workers. Hundreds of supporters picketed the Capitol, saying they worried changes to collective bargaining rights could mean setbacks for union workers across the nation.
In anticipation of impending budget cuts, the Texas Education Agency laid off workers this week, though it declined to specify the exact number. Employees were being notified individually of the layoffs, after which the agency will release numbers. It may not be the end of the cuts, as the final tally will be contingent on a state budget which is still in draft mode.
Demonstrators from around the state came to Austin to protest several strict immigration bills that have been filed in the Legislature. The legislation in question would do everything from denying so-called birthright citizenship to requiring police to detain anyone they think is in the country illegally. One bill would mandate school districts to track and report undocumented students.
Another bill making a repeat appearance in the Legislature this spring looks to regulate payday lenders, which critics, led by Sen. Wendy Davis, D-Fort Worth, and Rep. Tom Craddick, R-Midland, say prey on the vulnerable by charging exorbitant interest rates and fees. The bill has spurred opposition from lenders in Texas, whose testimony at a Senate committee hearing Tuesday caused legislators to leave the bills on hold while they're reworked.
In hearings on cuts to the Texas Department of Public Safety, legislators floated the idea of using cash seized in drug busts to fund more border checkpoints and enforcement. Growing violence in Mexico and along the border sparked the question from Sen. Steve Ogden, R-Bryan. The current distribution system sends some of the cash to prosecutors with the remainder going into general state funds.
Political People and Their Moves
Gov. Rick Perry was in an appointing (and reappointing) mood this week:
He named Harold Hahn of El Paso vice chairman of the Texas Higher Education Coordinating Board.
Kerry "Dan" Woodson of Mount Pleasant, an attorney in private practice, was appointed judge of the 76th District Court of Morris, Camp and Titus counties.
He named James Rush of Odessa to the 244th District Court in Ector County. Rush is president of a private law firm.
Perry named David Alders of Nacogdoches chair of the Texas Department of Rural Affairs­.
Blake Ingram of Sunnyvale was appointed to the Texas Department of Motor Vehicles Board, to which William "Marvin" Rush of Seguin and John Walker of Houston were reappointed.
He reappointed Ben Raimer of Galveston to the Health Disparities Task. Raimer is a pediatrician and avice president and tenured professor at the University of Texas Medical Branch.
He reappointed Norman Darwin of Benbrook, a former attorney in private practice, as the Injured Employee Public Counsel.
Perry reappointed Rissie Owens of Huntsville to the Texas State Council for Interstate Adult Offender Supervision. Owens chairs the Texas Board of Pardons and Paroles
He reappointed Ronnie Fanning of Waco and Aaron Pierce of Temple to the Council on Sex Offender Treatment. Fanning is staff development supervisor of the McLennan County Community Supervision and Corrections Department. Pierce is a licensed professional counselor and sex offender treatment provider supervisor, and a certified crisis intervener and risk assessment consultant in private practice.
He reappointed Carlos Garcia of Brownsville, where he is chief of police, and Kenneth Ross of Houston, an insurance agent, to the Automobile Burglary and Theft Prevention Authority.
And the governor's speechwriter, Andrew Barlow, announced he's leaving to start his own consulting firm. Matthew Thompson will step in.
Quotes of the Week
Rep. Lon Burnam, D-Fort Worth, to the hundreds of Texans who descended on the Capitol steps to decry state enforcement of immigration laws in Texas: "You are here to say no to the most racist session of the Texas Legislature in a quarter of a century."
Rep. John Zerwas, R-Simonton, at a Texas Tribune TribLive event, on how his constituents might react if he didn't push to tap the Rainy Day Fund: "I'm going to take spanking for that."
Texas Supreme Court Justice Wallace Jefferson in his biennial State of the State address to the 82nd Legislature: "A justice system based on Democratic or Republican judging is a system that cannot be trusted."
U.S. Rep. Blake Farenthold, R-Corpus Christi, on whether he's vulnerable in 2012: "Nobody thought that I would able to win in this last election at all, and I won. And now nobody thinks I'll be able to keep it. I intend to work hard to prove that the thinking in Washington, D.C., about this is just wrong."
Sen. Dan Patrick, R-Houston, on whether school districts have room to cut nonteaching positions in their budgets: "As the old saying goes, when I start seeing districts' firing assistant football coaches, then I'll really know that they'll have a lean budget."
Rob Eissler, R-The Woodlands, chairman of the Public Education Committee in the House, quoted in the San Antonio Express-News on cuts to Texas Grants and to pre-kindergarten programs: "We have some serious, serious decisions to make. We're starting in a tight place. If you predict the future based on today, it's not bright."
Rep. John Smithee, R-Amarillo, grilling representatives from the Texas Windstorm Insurance Association on recent severance packages that, for at least one employee, included a pickup truck: "I don't understand what it is with these trucks. Everybody's getting a truck out of this thing."
Republican Sen. Bob Deuell of Greenville, a doctor by trade, on individuals gearing up to fight legislation mandating meningococcal vaccines for all college students: "They'll fight it without a fact to stand on."
A diplomatic cable reflecting the Mexican government's uncertainty about how many of its former military men defected to form part of the cartel known as Los Zetas, in a cable leaked by WikiLeaks: "Critics of U.S. military training and conspiracy theorists have long speculated that members of the notoriously violent cartel Los Zetas once received U.S.-funded special forces training. Since we cannot know the name of every Mexican soldier who has joined Los Zetas, we cannot irrefutably reject this possibility."
State Sen. Leticia Van de Putte, D-San Antonio, during the debate over showing sonograms to mothers before abortions, quoted in the Houston Chronicle: "Texas is going to shrink government until it fits into a woman's uterus."
Contributors: Julian Aguilar, Reeve Hamilton, Ceryta Lockett, David Muto and Morgan Smith
---
Texas Weekly: Volume 28, Issue 8, 28 February 2011. Ross Ramsey, Editor. Copyright 2011 by The Texas Tribune. All Rights Reserved. Reproduction in whole or in part without written permission from the publisher is prohibited. One-year online subscription: $250. For information about your subscription, call (512) 716-8600 or email biz@texasweekly.com. For news, email ramsey@texasweekly.com, or call (512) 716-8611.
Texas Tribune donors or members may be quoted or mentioned in our stories, or may be the subject of them. For a complete list of contributors, click here.
Texans need truth. Help us report it.
Independent Texas reporting needs your support. The Texas Tribune delivers fact-based journalism for Texans, by Texans — and our community of members, the readers who donate, make our work possible. Help us bring you and millions of others in-depth news and information. Will you support our nonprofit newsroom with a donation of any amount?
Yes, I'll donate today
---
Information about the authors
Explore related story topics