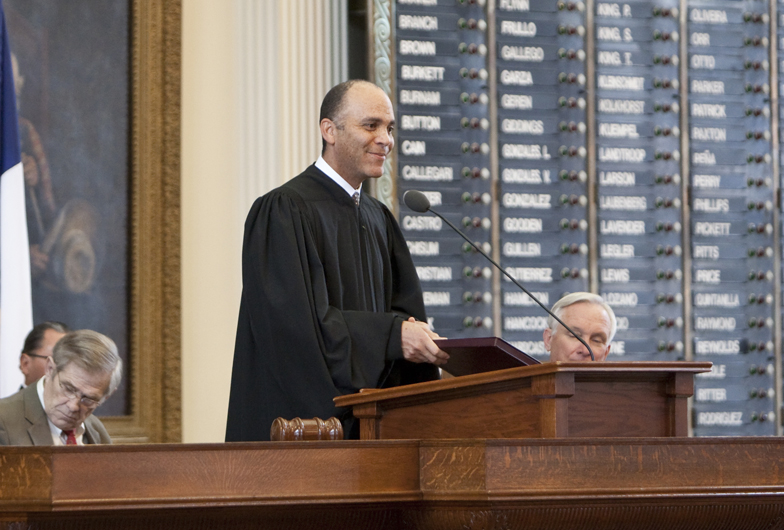 In his biennial State of the Judiciary address on Wednesday, Texas Supreme Court Chief Justice Wallace Jefferson urged the Legislature to protect legal aid funding — and renewed his call for the reform of judicial elections.
The budget crisis threatens to leave the state's neediest without legal representation, Jefferson said, and even now "the courthouse door is closed to many who have lost their jobs, veterans and women who struggle with physical abuse." As he asked the Legislature to appropriate $20 million in general revenue dollars for basic civil legal services, he said 6 million Texans currently eligible for legal aid have been turned away because of a lack of funding.
He also emphasized the importance of rehabilitation, psychiatric care and vocational training for juvenile offenders."Let us endeavor to give these kids a chance at life before sending them into the criminal justice system," he said.
As he urged lawmakers to support efforts to make the criminal justice system more fair, he noted that Texas ranks among the lowest of 50 states in spending per person on indigent defense. The Republican justice gave a public nod to state Sen. Rodney Ellis, D-Houston, for his work to exonerate the wrongfully convicted. Even in the face of a tremendous budget crisis, Jefferson said, government must not turn its back "on the neediest among us but continue to serve them as the Constitution demands."
The Texas Tribune thanks its sponsors. Become one.
Echoing his 2009 address, Jefferson also strongly criticized the state's system of electing judges on a partisan basis. "A justice system based on Democratic or Republican judging is a system that cannot be trusted," he said.
Possible solutions? A constitutional amendment for the merit selection of judges or, at the very least, the elimination of straight-ticket voting for judges, which he said results in judges losing elections not for "poor work or poor ethics or controversial or courageous decisions" but because of partisan tides.
Jefferson concluded his speech with a call to action: "A system that cannot provide equal access to justice, that does not protect the endangered and the vulnerable; a system that permits politics to take precedence over merit; and one that allows the innocent to remain behind bars," he said, "well, that is the reason you are here."
Download the full text of the speech above.
Texas Tribune donors or members may be quoted or mentioned in our stories, or may be the subject of them. For a complete list of contributors, click here.
Reference Material