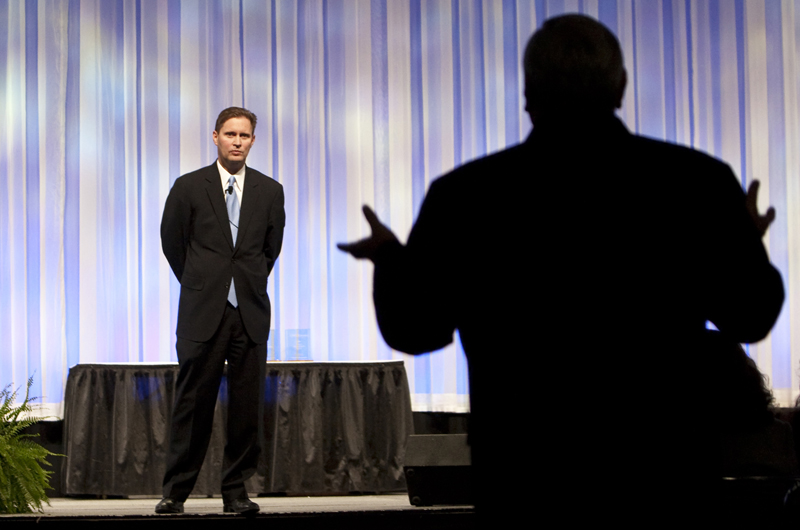 Even as he said that the 82nd Legislature would be "the most difficult legislative session facing public education in my lifetime," Texas Education Commissioner Robert Scott told more than 6,000 school leaders from districts across Texas today that "there are ways to make the budget work."
"I don't stand here in fear. I stand here looking at a problem," he said, adding, "Now is not the time to lose our heads. Now is not the time to point fingers and scream and yell. Now is the time to solve the problem."
Public schools face a proposed $10 billion less in state funding in introductory budgets set forth in the Legislature. Speaking at the Texas Association of School Administrators annual conference, Scott said deferring payments into the next biennium, tapping the Rainy Day Fund, easing regulation of school districts and changing the state's school financing formulas may all help reduce that gap.
Scott told the group that his first priority would be to protect the Foundation School Program, which finances the state's basic educational curriculum. Then he would ask for money to pay for end of course exam materials and discretionary grants like teacher incentives and early childhood education.
The Texas Tribune thanks its sponsors. Become one.
"I believe the budget situation will improve by the end of the session," he said. "I just don't know how much."
If the Legislature fails to reform the state's school financing formulas this session, Scott said, a new school finance lawsuit over the equitable funding of districts will be "an inevitable reality." Scott also addressed the possibility of postponing the roll-out of the state's new student assessment program, the STAAR test — an idea that drew cheers from the audience. While he said the Texas Education Agency is on track to implement the new standards, he said that will be "the debate of this Legislature."
"If you are 15 billion in the hole, what are you going to do with student expectations?" Scott said, adding, "If there is no money, will you raise standards?"
Texas Tribune donors or members may be quoted or mentioned in our stories, or may be the subject of them. For a complete list of contributors, click here.