Inside Intelligence: A Real Legislative Emergency is...
For the latest installment of our nonscientific survey of political and policy insiders on issues of the moment, we asked whether voter fraud is a policy issue or a political one, what should and shouldn't be on the governor's list of emergency items for the Legislature, how those designations should be used and whether the Legislature ought to be allowed to set its own early priorities.
This week, we asked our insiders about voter fraud — which was simultaneously being cussed and discussed in the Texas Senate debate over photo voter ID — to see whether they think it's a real problem (14 percent), a political issue (71 percent) or both (16 percent).
Next, we let them play consigliere to Gov. Rick Perry, choosing the items they'd recommend for the "emergency" designation that he has already used for voter ID, sanctuary cities, a call for a balanced federal budget, eminent domain and audio and visual sonograms of fetuses to be seen and heard when their mothers seek abortions. Those five items got between 13 percent and 27 percent support (the insiders were allowed to choose more than one issue). The state budget was the runaway, with 73 percent saying they'd put that on the emergency list. In an open-ended question about what else should be added to the issues up for early consideration by lawmakers, answers included school finance, public education, water, government efficiency, transportation and health care reform.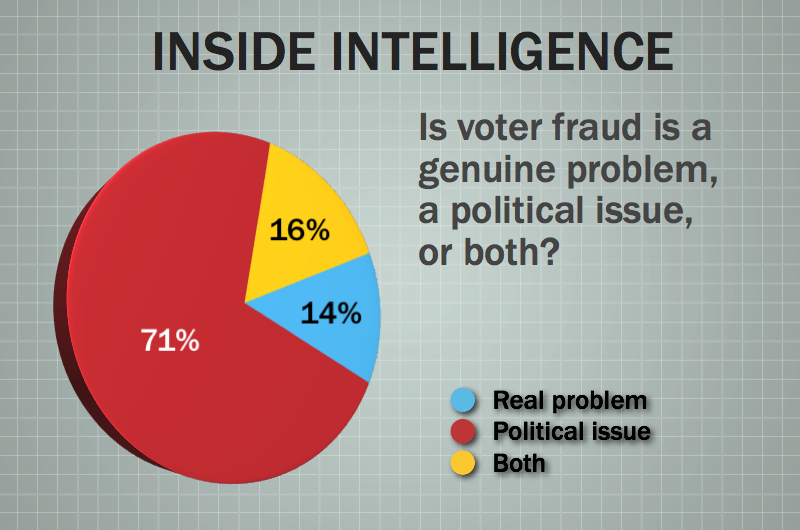 We then asked a question about the whole process — about how emergency items should be used and whether the Legislature should need the governor's designation to consider issues during the session's first 60 days. The full set of answers is attached, but here's a sampling:
• "Legislative emergencies should be used for true emergencies, not the issues the Governor's pollster deems red meat. Also, answers to your first question will skew the voter ID debate - many believe voter fraud is real, but the only kind of fraud voter ID legislation addresses is voter impersonation at Election Day polling places. That type of fraud has not been shown to be a real issue, despite the AG's best efforts."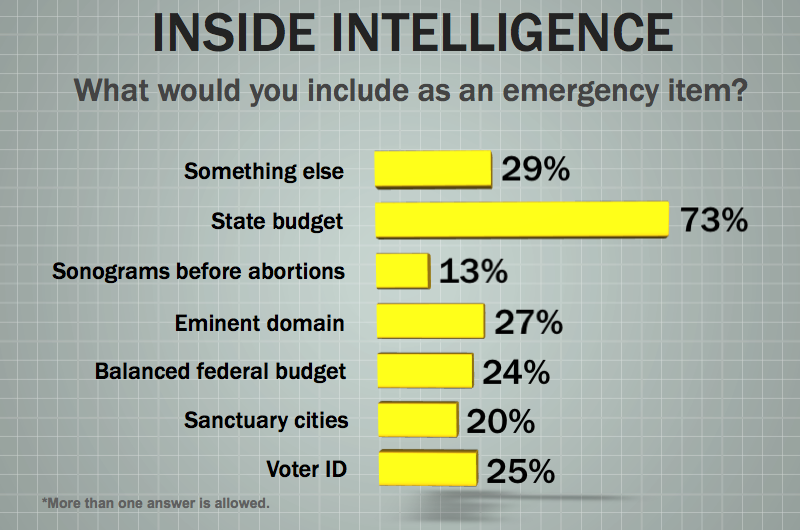 • "Like most of the powers granted the Governor, adding emergency items relies on a responsible and ethical leader. Draw your own conclusions in this case. But this doesn't really call out for a change — it does, however, call out on the press to highlight the non-literal use of 'emergency' by the governor."
• "Yes, the Governor should set an agenda for the state. Doesn't mean he will, but he should."
• "As it is, is a good constitutional balance. Just because a governor gives emergency status, the Lege is not compelled to act."
• "An 'emergency' in the technical sense is just a rule; it is nothing more than a procedure. Any Lege procedure can be used for a political purpose. The Governor has figured out this strategy of using the emergency procedure as a way to make sure his key support groups know that he is delivering on specific campaign promises. Pretty clever of him."
• "The slow walk at the beginning of the session is totally unnecessary and is one of the cause's of the traffic jam in the Last Days. Change it."
• "They should actually be used for state emergencies, but using them to calm the masses and show what the administration sees as a priority is what usually happens. Right now the wrath of the masses is more a political emergency than a state emergency."
• "We have enough laws, why make it easier to pass more?"
• "Should be used to focus legislative attention on a few critical or political issues before the calendar gets crowded. Emergency tags help highlight campaign pledges or respond to bona fide crises. The budget doesn't need to be tagged because it gets legislative attention and will not be completed until session's end anyway."
• "Yes, but not for the Governor to use as a political grandstand. His soap box is tall enough."
Our thanks to this week's participants: Cathie Adams, Brandon Aghamalian, James Aldrete, Clyde Alexander, George Allen, Jay Arnold, Jim Arnold, Kip Averitt, Louis Bacarisse, Charles Bailey, Mike Barnett, Walt Baum, Eric Bearse, Dave Beckwith, Tom Blanton, Hugh Brady, Steve Bresnen, Jay Brown, Andy Brown, Terri Burke, Jose Camacho, Lydia Camarillo, Kerry Cammack, Marc Campos, Snapper Carr, Janis Carter, William Chapman, George Cofer, Rick Cofer, Harold Cook, Kevin Cooper, Hector Deleon, Scott Dunaway, Anne Dunkelberg, David Dunn, Jeff Eller, Jack Erskine, Alan Erwin, Gay Erwin, Ryan Erwin, Jon Fisher, Kyle Frazier, Wil Galloway, Neftali Garcia, Bruce Gibson, Eric Glenn, Daniel Gonzalez, Jim Grace, Thomas Graham, Alan Gray, John Greytok, Michael Grimes, Wayne Hamilton, Sandy Haverlah, Albert Hawkins, Adam Haynes, Jim Henson, Shanna Igo, Cal Jillson, Jason Johnson, Karen Johnson, Robert Kepple, Richard Khouri, Tom Kleinworth, Kenneth Kramer, Sandy Kress, Tim Lambert, Nick Lampson, Pete Laney, Dick Lavine, Donald Lee, Luke Legate, Leslie Lemon, Richard Levy, Ruben Longoria, Vilma Luna, Matt Mackowiak, Bryan Mayes, Richard McBride, J. McCartt, Dan McClung, Scott McCown, Mike McKinney, Kurt Meacham, Debra Medina, Robert Miller, Lynn Moak, Bee Moorhead, Steve Murdock, Craig Murphy, Richard Murray, Sylvia Nugent, Todd Olsen, Gardner Pate, Bill Pewitt, Royce Poinsett, Kraege Polan, Jay Propes, Ted Melina Raab, Bill Ratliff, Tim Reeves, Carl Richie, Kim Ross, Jeff Rotkoff, Luis Saenz, Mark Sanders, Jim Sartwelle, Stan Schlueter, Bruce Scott, Steve Scurlock, Terri Seales, Christopher Shields, Patricia Shipton, Ed Small, Martha Smiley, Terral Smith, Todd Smith, Larry Soward, Jason Stanford, Bill Stevens, Keith Strama, Bob Strauser, Colin Strother, Charles Stuart, Frank Sturzl, Michael Quinn Sullivan, Russ Tidwell, Bruce Todd, Trey Trainor, John Weaver, Ken Whalen, Darren Whitehurst, Chad Wilbanks, Ellen Williams, Michael Wilt, Alex Winslow, Eric Wright, Peck Young, and Angelo Zottarelli.
Texas Tribune donors or members may be quoted or mentioned in our stories, or may be the subject of them. For a complete list of contributors, click here.
Texans need truth. Help us report it.
Independent Texas reporting needs your support. The Texas Tribune delivers fact-based journalism for Texans, by Texans — and our community of members, the readers who donate, make our work possible. Help us bring you and millions of others in-depth news and information. Will you support our nonprofit newsroom with a donation of any amount?
Yes, I'll donate today
---
Information about the authors
Explore related story topics