Pick Your Poison
In the House, it's the nastiest, ugliest budget anybody's seen in a zillion years. In the Senate, they'll start on Monday with voter ID, the issue that froze the Legislature two years ago.
In the House, it's the nastiest, ugliest budget anybody's seen in a zillion years. In the Senate, they'll start on Monday with voter ID, the issue that froze the Legislature two years ago.
You thought maybe it was going to be quiet around here?
First up on Monday: Voter ID in the Texas Senate. Gov. Rick Perry added that to his list of emergency items (see below). The Senate rules approved this week include the special order from last session, which means the voter ID bill can come up without the customary approval from two thirds of the Senate. The House doesn't have rules yet, but a skirmish over voter ID is already percolating on that end of the Capitol. Democrats have enough people to make a loud noise, but not enough by themselves to be more than a speed bump on this issue.
Perry also added a federal issue to the list of emergencies, saying the state should officially urge Congress to pass a balanced budget amendment for the federal government. The theory is that the states can start the push, since they're the ones who'd be ratifying any amendment that makes its way out of Congress. U.S. Sen. John Cornyn, R-Texas, is one of the sponsors of the amendment.
Voter ID is the second of two bills that have minority Democrats, in particular, on high alert. He started by putting a ban on sanctuary cities on the list, which offers Texas lawmakers a way to do their own version of immigration enforcement legislation that passed in Arizona last year. Arizona requires law enforcement officers to check the citizenship of people they suspect of being immigrants. Perry says he wants Texas to allow it, and says sanctuary cities prohibit it. He says now — and said during the campaign — that Houston is a sanctuary city; there's not a significant difference between the policies followed by that city and the Texas Department of Public Safety. That dispute aside, he wants a state law that's permissive.
Voter ID, Stat
Gov. Rick Perry on Thursday added two more issues, including controversial voter ID legislation, to his list of "emergency items" that legislators can begin debating right away instead of waiting until after the first 60 days of the session.
He also wants legislators to get cracking on legislation encouraging an amendment to the U.S. Constitution requiring that the federal budget be balanced. Already on the "emergency items" list are reforming eminent domain laws and abolishing sanctuary cities.
On the campaign trail, Perry repeatedly asserted his belief that the federal government's budgeting process should be more like the Texas approach, which requires a balanced budget. The state can't do anything directly about that but can join other states in urging Congress to pass a balanced budget amendment to the Constitution, which would then be ratified by the states.
Voter ID, the requirement that Texans display photo identification before they vote, effectively shut down the 2009 session. Democrats, believing it unnecessarily disenfranchises eligible voters, used stalling tactics to block consideration of it — and everything else — for five days at the end of session. The issue is expected to have a more receptive audience in the Legislature's current Republican-dominated environment.
Lt. Gov. David Dewhurst was on board with both issues, issuing a statement: "Texas has a constitutional duty to balance our budget which forces lawmakers to regularly review and prioritize state spending, and Washington should be forced to do the same with federal spending." Dewhurst has long been on the record in favor of voter ID.
Lawmakers are already gearing up for the debate to begin. Shortly after Perry's announcement, Sen. Troy Fraser, R-Horseshoe Bay, announced that he would, for the third consecutive session, carry the voter ID bill in the Senate.
Fraser managed to get the bill through the Senate last year, only to see it blocked in the House. "By declaring this issue an emergency," he said, "we will be able to get started sooner."
Bending the Rules
In a party-line vote, the Texas Senate adopted its rules without making any changes to the requirement that two-thirds of the body agree in order to bring an issue to the floor. Of course, no change means that controversial legislation on voter ID is exempt from that rule because of a special order that carries over from last session.
Though the retention of the two-thirds rule was decided before senators went to the floor, it still inspired some heated discussion. And it will continue to as long as Sen. Dan Patrick, R-Houston, is in office.
Though he lacked the votes to do away with the so-called two-thirds rule, Patrick still rose to express his opposition to its existence. He prefers a simple majority or a compromise of a three-fifths rule because, he says, the two-thirds rule is "inhibiting" the rule of the majority. "I don't stand alone," Patrick said. "I stand on the shoulders of our Founding Fathers."
Interestingly, the first person to rise in support was Sen. John Carona, R-Dallas, who famously voted against his party when it passed the special order on voter ID last session. "I stand somewhat in contrast to my position two years ago," he said. The reason: a flood of calls from constituents — he estimated between 150 and 200 — supporting the change.
In response, the longest-serving member, Sen. John Whitmire, D-Houston, said he was "disappointed" that, after two sessions, Patrick had not developed an appreciation for the rule, which he said "requires us to sit down and talk." He cited an apocryphal story of Thomas Jefferson comparing the purpose of a senate to the reason coffee is occasionally poured into a saucer before being consumed — to cool things down. That, Whitmire said, is the purpose of the two-thirds rule.
Lt. Gov. David Dewhurst said he supported the majority opinion maintaining the two-thirds rule, with the understanding that they have historically always managed to reach agreements allowing them to raise important legislation.
This session's rules are different from last session's in just two ways. One minor tweak was made to the rules dealing with the referral of local bills. Another, proposed by Sen. Kirk Watson, D-Austin, allows more time to consider "out of bounds" budget changes — those that have not been voted on by the House or Senate — that are proposed in conference committee.
The Republicans all voted in favor of the rules, and Democrats — still opposed to the voter ID exception — voted against. Sen. Rodney Ellis, D-Houston, and Sen. Glenn Hegar, R-Katy, were absent.
A Modest Proposal
During the campaigns, the state budget was a generality, an abstract thing that ought to get smaller and not require taxes of fees or tapping into the state's savings. It was a large and ugly menace that needed to be tamed and whittled. Now it has become, instead, a list of particulars — each with a constituency — and the race is on to see which constituency is loudest, strongest, scariest, and most politically important.
It's time, in other words, to actually write the budget, to decide which cuts are politically and morally safe, and which programs are so important that they might weigh strongly against those other pledges about taxes and fees.
When there's a surplus, people line up for a chance at the new money. When things are like they are now, they line up to say why their programs can't be cut. And by putting so many things on the block — everything, really — the budgeteers assured that the line will be long, that there will be a lot of wailing, and that voters will have a chance to say whether they really meant it when they said they wanted lawmakers to hold the line or cut.
Now, in short, is when everyone finds out what their promises and demands mean, in real life (as opposed to campaign life).
The lineup is ugly, and it won't be long before lawmakers are scrounging for money to save programs that, right now, are on the butcher's counter. The budget, as proposed, doesn't use Rainy Day money, mostly (but not completely) avoids new fees, and doesn't use any of the regular tricks, like delaying payments from one budget to the next, that can make a budget balance in slim times. Those smoke-and-mirror deals might smell funny, but they can pump $3 billion or so into an empty purse.
They might look for gambling money, too. This is a quote from Appropriations Chairman Jim Pitts, R-Waxahachie, while he was explaining the proposal this week: "You know, there's nothing in this bill that's not painful." Here's a quote from May, when Pitts was talking to the Houston Chronicle for a story on gambling's chances this session: "If I can't show the pain this session, it will never pass."
They might find no money at all, and their opening shot assumes the worst. The short form: The Texas House opened with a $156.4 billion budget that's $31.1 billion smaller than its predecessor, a drop of 16.6 percent from the current two-year spending plan.
The Senate will follow with a proposal of its own next week — lawmakers say the differences are relatively small. And Gov. Rick Perry says he'll follow with his own proposal before his State of the State speech in the first week of February.
The state's current budget totals $187.5 billion, including $88.5 billion in general revenue. The proposed replacement, prepared for the House by the Legislative Budget Board, includes $79.3 billion in general revenue, a drop of 10.4 percent from current levels.
Estimates of the state's budget shortfall — the difference between the amount of money needed to fund the state and the amount that's actually available — range from $15 billion to $27 billion. Going from this proposal, there's no shortfall in the state budget at all. The House's initial plan cuts spending in virtually every area of government and doesn't include funding increases that would cover current services, population growth and inflation.
The health and human services portion of the proposal would cut Medicaid provider rates — what doctors and hospitals and others are paid — by 10 percent. It doesn't include funding for population growth or for increased costs or utilization rates. There's also a $4.3 billion cut included to account for the federal stimulus money used in the current budget that's not available for the next budget. The proposal would cut a total of $16.1 billion in health and human services spending. That's a 24.6 percent cut.
Public education spending would drop, too. The notes included with the proposal say it falls $9.8 billion short of the amount needed under current school finance formulas, which means that the Legislature will have to alter them or find the money. The proposed budget doesn't include funding for increased numbers of students, for projected declines in property values and related local school taxes, or $3.3 billion in the current budget from federal stimulus money. Public education spending would drop a total of $7 billion from current levels. Pre-k programs lose their funding. Higher education would be cut $1.7 billion, or 7.6 percent, from current levels. The colleges would lose $254.4 million in special items funding. Texas Grants would get whacked, and four community colleges would lose their state funding.
The plan would cut about 9,300 state employees next year and the ones who are left would be paying the state to park in state garages, paying more for their insurance, and getting less help from the state on their pensions. The state's contributions to educator pensions would drop, too, and retirees could end up paying more for their insurance.
The House proposal chops $3.3 billion from the business and economic development section of the budget, a 14.3 percent drop. Public safety and criminal justice would lose $1.5 billion from current levels, a 12.7 percent drop.
The LBB, which guides lawmakers as they write the state's budget, also revealed its long-awaited recommendations for how to save and raise money to help balance the 2012-13 budget and make the state function more efficiently, from lifting the ban on Sunday liquor sales to tying the summer sales tax holiday to the state's financial condition. That's an interesting list, and has $1.2 billion in savings and revenue "enhancements" that'll get a harder look than usual because of the hard times.
Most of the cuts proposed are in federal funds. The drop in general revenue and general revenue-dedicated is $9.2 billion; the drop in federal funds is $21.9 billion. The state's debt service is one of the few things that rises from the current budget to the proposed plan, to $3.3 billion from $2.8 billion.
But, as Pitts keeps saying, this is only the start. It'll change, perhaps for the better. And Perry sounded a note of optimism about the comptroller's numbers, saying he wouldn't be surprised to see her revenue estimate thaw out as the economy recovers this spring.
He's pursuing federal forbearance on Medicaid and other programs — his version of relief would be block grants allowing the state to design its own program — but doesn't think Washington will answer that plea while lawmakers are writing this budget. If something breaks there after the session, it could be fodder for a special session later on.
Litigation Risk
An expected $5 billion to $10 billion reduction in state funding of public education has some school districts discussing the possibility resuming the legal battle that resurfaces every decade or so over Texas' financing of its public schools. But how those cuts will shake out across districts remains to be seen, says Equity Center spokeswoman Lauren Cook, so it's difficult to predict whether the next big school finance lawsuit is on the horizon.
"I don't think that just because we have the shortfall, that means we have to have a lawsuit," she says, adding, "It'd be really hard to imagine making the cuts to Article III without doing some kind of restructuring. Because there hasn't been a school finance bill filed with the Article III budget cuts, we can't say what the cuts will look like for each districts."
Senate budget chief Steve Ogden, R-Bryan, has said that in order to balance the budget, the Legislature must fix the school finance system. In the budget proposal laid out in the House on Wednesday, the state comes $9.8 billion short of meeting current school finance formulas — and did not include funding for the estimated 80,000 new students Texas adds each year, or decreased property values across the state. The House budget includes a rider that assumed the passage of legislation enacting reductions to school district entitlements — in other words, a new school finance bill. The question is, can they cut funding and still maintain a system that's not open to a new lawsuit on equity?
Kay's Dominos
Michael Williams will stick around the Texas Railroad Commission until April 2. The commissioner is resigning after more than 12 years there to concentrate on a run for the U.S. Senate. That move gets him out of the way of a Sunset Advisory Commission proposal that, among other things, would change the name of the commission and replace its three elected commissioners with just two. Williams says he's in favor of the Sunset changes — he'd name it the Energy Commission rather than the Oil and Gas Commission, but either is preferable to Railroad, he says — but says it's time to jump.
News of his resignation rained on Roger Williams' parade; the former Secretary of State announced the same day that his bid for Senate will carry the endorsement of former President George H.W. Bush. And a couple of days later, former Solicitor General Ted Cruz, who earlier had his eye on the attorney general's job, announced his plans to run for Senate. With Kay Bailey Hutchison saying she won't seek another term in 2012, the stampede is underway. Lt. Gov. David Dewhurst is openly interested, as is former Comptroller John Sharp, a Democrat, and Railroad Commissioner Elizabeth Ames Jones. There's speculation that U.S. Rep. Michael McCaul, R-Austin, might get in. And a new poll included U.S. Rep. Ron Paul, R-Surfside, and found him strong at this point. Throw his name into the soup, and play with the idea of a father and son (Rand Paul, R-Kentucky) serving together in the Senate.
That survey, by Public Policy Polling, put Paul and Dewhurst at the top of the Republican heat right, with the lite guv getting 23 percent and the congressman pulling 21 percent. Attorney General Greg Abbott, who hasn't expressed any interest in the Senate race, got 14 percent, followed by U.S. Rep. Joe Barton, R-Ennis, at 7 percent, Ames Jones at 6 percent, Cruz, Dallas Mayor Tom Leppert and Michael Williams at 3 percent, and Roger Williams at 1 percent. That's before any advertising, debating, fundraising and serious attention on the race.
Inside Intelligence: The 2012 Senate Race
Our insiders have David Dewhurst as the runaway favorite to replace Hutchison at this early point in the game, and they think the top three influences in the race will be money, conservative Republicans, and Barack Obama. Other candidates they think might get into the race include Dallas Mayor Tom Leppert, U.S. Reps. Ron Paul, Pete Sessions, and Lamar Smith, sports announcer Craig James, Workforce Commissioner Tom Pauken, and our personal favorite: "Some rich dude from Dallas or Houston."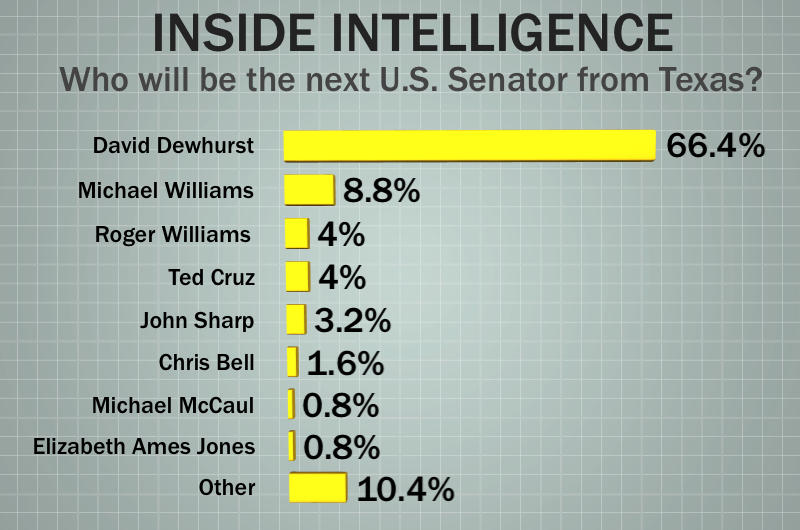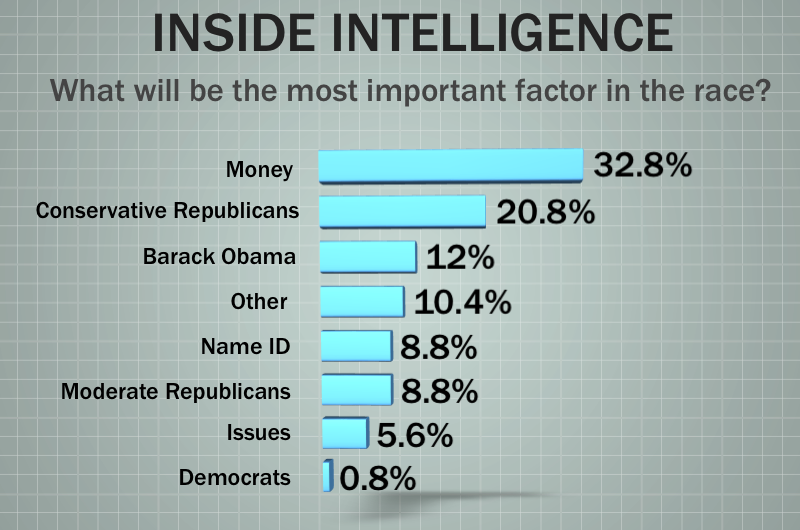 They also seem to think it's got the potential to have an impact during the legislative session. The full set of responses is here. Some samples:
• "Dewhurst needs to make a big leadership statement if he wants to get out in front of the race. Michael Williams will have ample time to raise money and increase his name ID while legislators are doing the heavy lifting of the session."
• "Not too much. Too much requires focus this session."
• "Dewhurst will want to get a budget in the regular session, some good conservative legislation for the republican primary voters (think voter ID and immigration), and assurance that they won't come back for special in 2012."
• "It will push the Senate to the right."
• "Hoo boy, who wants to vote for taxes and fees, and who wants to shut down government? Who'll take a risk, and who'll try to dodge the bullet? Who'll run into each other at the intersection of risk and opportunity? Who'll get up from the wreck? Stay tuned."
• "Well it's obvious that Dewhurst is running for US Senate after listening to his inaugural speech on Tuesday: his sights on DC are clearly set. Dewhurst will make sure that voter ID passes the Senate, as well as any anti-immigration, anti-Washington legislation that helps him cater to the Tea Party activists. His moderate stance won't help him win without a few victories for the extreme right."
• "Appears two of the top three leaders are already in campaign mode so look for them to use the session to score points with the Republican base vote."
The Week in the Rearview Mirror
There was some celebrating to be done amid the tough questions about the budget. Gov. Rick Perry was sworn in for an unprecedented third term as governor and got to enjoy the accompanying pomp and circumstance. His inaugural speech stuck with his current themes, attacking the federal government and bragging about the state of the economy and business climate in Texas, citing it as a model for the nation. Lt. Gov. David Dewhurst echoed Perry's mantra of limited government in his speech and toed the party line of belt-tightening without tax increases. He also called for more federal troops for the border. Inaugural festivities were scaled back somewhat in a nod to the weak economy, and the official inaugural ball was funded by supporters of Perry at a cost of around $2 million.
A federal appeals court has upheld the University of Texas' admissions policy, reversing its own 1996 decision that banned the use of affirmative action. The court overturned its decision in response to a 2009 Supreme Court ruling that upheld affirmative action at the University of Michigan's law school. UT has been grappling with its admissions policy since 1996, attempting to increase the percentage of minorities it admits while staying in the confines of the ruling. Affirmative-action opponents have already promised they'll work to appeal the decision.
The state continued its battle with the Environmental Protection Agency over new nationwide emissions rules, refusing to participate in hearings about the EPA's plans to implement the new rules. State officials began their protest last month, when the EPA announced its intentions to take over the permitting process because of Texas' refusal to comply with new emissions standards. The EPA says it's trying to prevent a complete freeze of new construction projects if the permits can't be issued. The state's request to delay the new rules has been rejected by federal courts three times in the last two months.
In a first for Hudspeth County, shots were fired at four county road workers from across Mexican the border. None of the men were injured from the high-powered rifle shots, but officials are concerned that escalating drug violence might be to blame in this corridor, through which drugs are often smuggled. U.S. Rep. Francisco "Quico" Canseco expressed his frustration with the growing insecurity of the border area, while the Border Patrol released a statement that it has no plans to increase its presence in the area.
Two Texas death row inmates had their hopes dashed by the U.S. Supreme Court, which declined to hear their appeals. The high court had previously stayed the executions of Cleve Foster and Gayland Bradford as it considered their appeals but this week rejected their cases, clearing the way for new execution dates to be set.
Political People and Their Moves
Speaker Joe Straus, R-San Antonio, created the House Select Committee on Election Contest to look into the outcome in House District 48, where Rep. Donna Howard, D-Austin, narrowly defeated Republican Dan Neil. Rep. Todd Hunter, R-Corpus Christi, was appointed chairman. Rep. Craig Eiland, D-Galveston, was appointed vice chairman. Also on the committee: Dennis Bonnen, R-Angleton; Helen Giddings, D-DeSoto; Ryan Guillen, D-Rio Grande City; Lois Kolkhorst, R-Brenham; Tryon Lewis, R-Odessa; Jerry Madden, R-Plano; and Wayne Smith, R-Baytown. They got started this week on that process, which usually moves pretty quickly. Rep. Will Hartnett, R-Dallas, is the "master of discovery," and has done this before.
ERCOT's board elected Laura Doll as the new chair and Michehl Gent as vice chair. That's the Electric Reliability Council of Texas, which oversees the state's electric utility grid.
Gov. Rick Perry appointed 10 members to the Texas Emerging Technology Fund Advisory Committee, which recommends proposals eligible for funding under the Emerging Technology Fund to the governor, lieutenant governor and speaker of the House, who then must unanimously approve funding for projects. C. Mauli Agrawal of San Antonio is dean of the College of Engineering at UT-San Antonio. Thomas Halbouty of Southlake is an executive at Pioneer Natural Resources. Judy Hawley of Portland is a business developer for Advanced Acoustic Concepts and a former state representative. Terry C. Hazell of Georgetown is an entrepreneur in residence at Texas State University and Springboard Enterprises. Robert Hicks of Austin is president of Capstar Partners LLC. Randal "Randy" Hill of Baird is president and CEO of APT Advanced Trailer and Equipment LP. Rick Ledesma of Harlingen is founder and CEO of DataLogic Software Inc. Robert "Bob" Pearson of Austin is chief technology and media officer for WCG. Henry Venta of Beaumont is dean of the Lamar University College of Business. Aruna Viswanathan of Houston is the chief underwriting officer for Clearspring Capital Group. Not on the board? William Morrow, asked to leave after a state investigation into a stock deal between him and Alan Kirchhoff, who was deputy director of the tech fund at the time. Travis County prosecutors passed on the case, but Morrow wasn't reappointed with others this time.
Quotes of the Week
House Appropriations Chairman Jim Pitts, R-Waxahachie, discussing the tough base budget with his fellow members: "I don't want the folks back home to think this is a done deal. It is not."
Rep. Warren Chisum, R-Pampa, in the American Independent, on where he'd cut the budget: "Where you cut out the governor's economic development fund, and the emerging technology fund, you can cut it out, and nothing really happens except you cut it out. We don't want to pay Hollywood to make any more movies. They make pretty damn poor movies anyway. So you get rid of the Film Commission."
Rep. Jim Keffer, R-Eastland, whose district would lose a community college if the proposed budget is adopted, in the Houston Chronicle: "Reality has set in today, members. We have seen what the budget is going to look like, and we've got to go from now campaigning to governing this state of Texas. To me, we've gotten off on a wrong foot."
State Rep. Joaquin Castro, D-San Antonio, on proposed budget cuts:"At what point is this budget akin to asking an anorexic person to lose more weight?"
Soon-to-be former Railroad Commissioner and presumed U.S. Senate candidate Michael Williams, tweeting: "Friends, for many reasons I shouldn't directly address your questions about my Senate race intentions. Please be patient. Stay tuned. But get ready!! People get ready!!"
Rep. Elliott Naishtat, D-Austin, on being interviewed by The Daily Show's John Oliver on the religious undertones of the recent speaker's race, quoted in The Texas Independent: "I am going to look like an idiot, and they are going to have fun at my expense … and that's okay."
Sen. Florence Shapiro, R-Plano, presiding over the swearing in of three new State Board of Education members, quoted in the Austin-American Statesman: "I thank each and every one of you for the work you have ahead of you. I know that you don't envy me, and I don't envy you."
U.S. Rep. Ron Paul, R-Surfside, on the prospect of his running for Kay Bailey Hutchison's Senate seat, in the National Journal: "It only crosses my mind because people ask me about it."
Contributors: Julian Aguilar, Reeve Hamilton, Ceryta Lockett, David Muto and Morgan Smith
---
Texas Weekly: Volume 28, Issue 3, 24 January 2011. Ross Ramsey, Editor. Copyright 2011 by The Texas Tribune. All Rights Reserved. Reproduction in whole or in part without written permission from the publisher is prohibited. One-year online subscription: $250. For information about your subscription, call (512) 716-8600 or email biz@texasweekly.com. For news, email ramsey@texasweekly.com, or call (512) 716-8611.
Texas Tribune donors or members may be quoted or mentioned in our stories, or may be the subject of them. For a complete list of contributors, click here.
---
Information about the authors
Quality journalism doesn't come free
Perhaps it goes without saying — but producing quality journalism isn't cheap. At a time when newsroom resources and revenue across the country are declining, The Texas Tribune remains committed to sustaining our mission: creating a more engaged and informed Texas with every story we cover, every event we convene and every newsletter we send. As a nonprofit newsroom, we rely on members to help keep our stories free and our events open to the public. Do you value our journalism? Show us with your support.
Yes, I'll donate today