Report Shows Traffic Growing Problem in Texas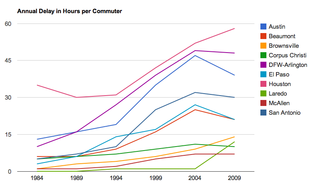 Road rage and fender-benders aren't the only reasons to hate traffic jams — Texans wasted $8.96 billion on congested roadways in 2009, according to the Urban Mobility Report released today by the Texas Transportation Institute (TTI) at Texas A&M University. Ten Texas cities, from the very large — Houston and DFW-Arlington — to the small, but growing — Brownsville and Laredo — were included in the 439 urban areas monitored by the report.
The average commuter wastes 34 hours a year in traffic jams, but like most things, congestion is bigger in Texas. Houstonians lose 58 hours of their year on the highway, DFW-Arlington commuters lose 48 hours, and Austinites lose 39. See an interactive graph showing annual hourly delays and costs of congestion here.
"The congestion levels in Houston and Dallas didn't go down as much as some congestion levels in some other bigger cities that we looked at," says Tim Lomax, research engineer at TTI. He says congestion has fallen nationally because of the recession, but "the congestion in Texas didn't go down as much because of our relatively strong economy."
To measure congestion, TTI teamed up with INRIX, a company that provides live traffic information on handheld mobile devices, to collect actual travel speeds on every major road in the U.S. TTI paired the real-time speeds with traffic volume data from transportation departments across the country.
"We're living in a data paradise right now," says Lomax. "The advantage is we get this speed every hour of the day, so we get much more accurate speeds. We can find when work zones are affecting traffic speed, or big weather events. We have a much more detailed picture."
The Texas Department of Transportation has worked with TTI and used similar real-time measures of traffic speeds to compile data specific to Texas congestion.
"Over the past two years, we have put out a list of the 100 most congested roadway segments across the state," says Karen Amacker, TxDOT spokeswoman. "We're looking at it not just at a city-by-city perspective, but also as a roadway-by-roadway perspective."
When it comes to finding a solution, Amacker says TxDOT is trying "a little bit of everything" to fix statewide congestion problems.
"The solution is sometimes adding a lane or re-striping an intersection or changing signal timing," says Amacker. But often, complicated solutions are needed, like creating alternative routes, increasing the availability of public transportation and encouraging employers to offer flexible work schedules.
"We need to add more capacity — both road capacity and public transportation capacity — but we also have to operate that really efficiently," says Lomax.
The use of public transportation saved $18.8 billion in 2009, according to the report, but TxDOT and TTI agree that Texas needs to implement more than one solution to reduce congestion.
"Everybody doesn't focus their lives around congestion. They live in a neighborhood they like, send their kids to schools they like," says Lomax. "When people have choices they don't always make the same choice, and our transportation has to match what people's choices are."
Texas Tribune donors or members may be quoted or mentioned in our stories, or may be the subject of them. For a complete list of contributors, click here.