After Grave Is Moved, Regulations Are Scrutinized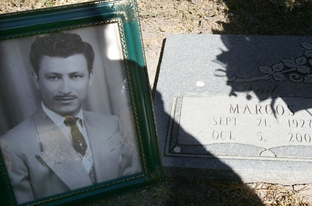 In October 2001, Marcos Guerra's wife and three daughters laid him to rest at the cemetery in San Benito where members of his family had been buried for three decades. Almost four years later, they were at the graveyard again, burying him a second time.
The cemetery had moved Guerra's body without the family's permission, and when the Guerras discovered that, they exhumed his remains to see whether he was really buried where the company said he was.
Now, the family's legal battle with one of the largest funeral-services providers in North America, which has a history of lawsuits from disgruntled customers, is raising questions about the state's regulation of its cemeteries.
After her husband died suddenly at 74 after a brief illness, Juanita Guerra bought two plots in the San Benito Mont Meta cemetery in the Rio Grande Valley — one for her husband and one so she could be buried next to him. Her husband's family members have been buried in the same section of the cemetery, which has been owned since 1995 by Service Corporation International, a corporate titan of after-life care.
A few days after Guerra's funeral, the cemetery contacted his family to say there had been a mistake. Someone else already owned the plot where Guerra was buried. Would the family mind if his grave was moved to another part of the cemetery? The Guerras did mind, and said so.
At that point, Jaye Gaspard, the manager of Mont Meta, offered Juanita Guerra any number of plots where both she and her husband could be buried, said her daughter Gracie Little. She continued to refuse.
In early 2002, during one of her regular visits to her husband's grave, Juanita Guerra noticed freshly dug earth and what she later learned were backhoe marks above her husband's grave. According to court documents, when the Guerras questioned Gaspard about it, he responded with a letter saying the cemetery had been putting down new sod in preparation for the holidays.
The Guerras filed a complaint with the Texas Funeral Service Commission in April 2002, accusing Mont Meta of moving Guerra's grave without their permission. After Service Corporation International admitted it had "slid" Guerra's body 15 to 18 inches into another spot and expressed regret, the commission declined to take disciplinary action against the cemetery, finding no wrongdoing.
The family then went to court, accusing SCI of negligence, fraud, trespass and intentional infliction of emotional distress. A trial court awarded the Guerras $6.3 million in damages in 2007, but an appellate court, while upholding the judgment, reduced the award to $3.8 million in 2009.
The company, based in Houston, appealed, and on Dec. 9, the Texas Supreme Court heard oral arguments in the case.
Among legal experts, the Texas Supreme Court has a reputation as a defense-friendly venue. So the fact that it has taken an interest in the case is a "very, very bad sign," for the Guerras, said Ryan Clinton, a former assistant solicitor general and Dallas appellate lawyer, who is not involved in the Guerras' case. The court "generally grants to reverse, and they generally hold against plaintiffs," Clinton said.
Mike Hatchell, SCI's lawyer, did not respond to several requests for comment, but in court papers the company said the case against it contained a "horde of errors" and was "anything but a decorous, deliberative judicial proceeding." Mont Meta, the company said, made a "series of mistakes" in dealing with the Guerras — and admitted them. But in exchange for this "laudable admission," it said, the company got a "no-holds barred-trial" that resulted in its being labeled "criminals" and "repeat offenders."
Among the company's complaints is that the trial court allowed testimony about its settlements in other lawsuits for abuses at other cemeteries — thus biasing the jury — and let Juanita Guerra testify that she would place any punitive damages in a public trust to monitor the industry and help the poor with funeral expenses.
That was "highly prejudicial," Clinton said.
"If the allegations are true, then clearly there was harm done" to the Guerras, he said. "But if the trial court let in evidence that shouldn't have been let in, they could lose all of it."
Whatever the Supreme Court's decision, the Guerras' struggle casts an unflattering spotlight on the cemetery business in Texas. Two state agencies supervise the funeral business: the Texas Funeral Service Commission, which licenses cemeteries, and the Texas Department of Banking, which regulates prepaid cemetery contracts and perpetual-care cemeteries.
During the 2009 legislative session, partly in response to concerns about the double-selling of graves and the Funeral Service Commission's difficulty monitoring the problem, state Rep. Warren Chisum, R-Pampa, succeeded in getting legislation passed that authorized the commission to create a database of Texas cemeteries. Chisum said that while he did not think the problem was "widespread," he said that as cities grow, "we're going to have to have some method for settling these disputes."
Steve Wolens, a lawyer and a Democratic member of the Texas House from 1981 to 2005, said the problem was not the lack of regulation, but a lack of enforcement.
"We've got the rules that we need," Wolens said, "they just need to be enforced. It's simple. Said a different way, someone has to care."
The funeral industry leaves consumers vulnerable in two ways, said Wolens, who has faced SCI in court. After a death, families often must make decisions in a short period of time, and in a bereaved state of mind. "On top of that," he said, "you add the sales spin, which is, 'This is the last thing you can do for your dearly departed — don't you think he would want the nicest casket?'"
SCI's practices have been the subject of class action lawsuits in several states, including Florida, California and Texas. Scott McLain, the McAllen lawyer who represents the Guerras, currently has nine other legal proceedings pending in the Rio Grande Valley against the company.
"Their MO is to literally try to cover it up, hide their mistakes, do whatever is necessary to try and cover up the problem, and if it does come to light somehow, they blame it on a rogue employee," McLain said.
Meanwhile, at 75, Juanita Guerra still does not know whether she will be buried next to her husband. Her daughter Julie Ramirez said Mont Meta had offered two plots in a more remote part of the cemetery, which would mean moving the man once again and putting him and his wife too far from the rest of the family. It also suggested burying Juanita above her husband in the same space, or next to him in a spot that is currently under a path. She has refused all of these offers.
"If something happens to her, what are we going to do?" Ramirez asked. "Just put her somewhere until they decide what to do?"
Texas Tribune donors or members may be quoted or mentioned in our stories, or may be the subject of them. For a complete list of contributors, click here.