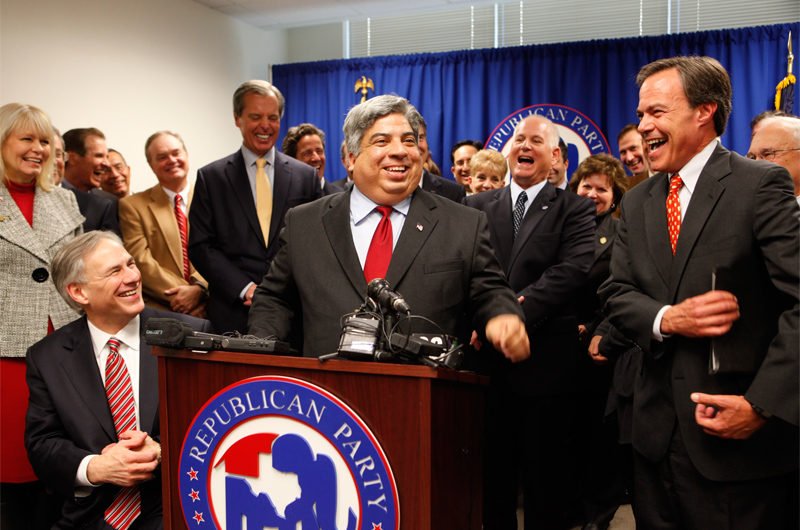 Surrounded by statewide elected officials and a pack of fellow lawmakers, Democrats Aaron Peña of Edinburg and Allan Ritter of Nederland defected to the Republican Party this afternoon.
After 22 new freshman Republicans are sworn in next month, the flips will give the GOP 100 votes in the Texas House; an election for an open seat is being held today in a district widely expected to elect a 101st Republican.
Gov. Rick Perry, a former Democrat who switched before the 1990 elections, welcomed them in, joined by a group that included Lt. Gov. David Dewhurst, House Speaker Joe Straus, Attorney General Greg Abbott, Railroad Commissioners Michael Williams and Victor Carrillo and Commissioner-elect David Porter, GOP Chairman Steve Munisteri, and about two dozen Republican legislators.
Ritter said he received a handful of calls from people who didn't like the switch but wasn't feeling any real heat, even though his home is a base for unions and some of the state's prominent trial lawyers. "I was a Democrat that voted for tort reform from Jefferson County," he said. "I'm used to pressure."
The Texas Tribune thanks its sponsors. Become one.
Both men say they have no intention to resign and seek re-election, as then-Congressman Phil Gramm did in the 1980s, to ask voters to ratify the switch. Both say they'll return money to donors who ask. Peña, asked if his donors included the Democratic Party, answered, "I think I can say no, and that's part of the problem."
Texas Tribune donors or members may be quoted or mentioned in our stories, or may be the subject of them. For a complete list of contributors, click here.