Inside Intelligence: The Railroad Commission Should Be...
For this week's installment of our nonscientific survey of political and policy insiders on issues of the moment, we asked whether the Texas Railroad Commission should live or die and whether the commissioners ought to be appointed or elected. And we asked for suggestions on what government is doing now that it ought to stop doing.
With the Sunset Advisory Commission bearing down on the Railroad Commission, we asked the insiders this week whether the RRC should live or die and whether the commissioners ought to be appointed or elected.
They'd kill the RRC, and they favor appointed regulators over elected ones. Half said regulators should be appointed, while 37 percent prefer elections, 8 percent said it doesn't matter and 5 percent don't know. Asked whether the RRC ought to remain as is, 33 percent said keep it, 60 percent said kill it and 7 percent didn't have a preference.
For our open-ended question this week, we asked: "Budget writers are looking for other agencies and programs to cut or reorganize. What's the state government doing now that it ought to stop doing?" Some of the verbatim responses follow; you can see all of the responses here.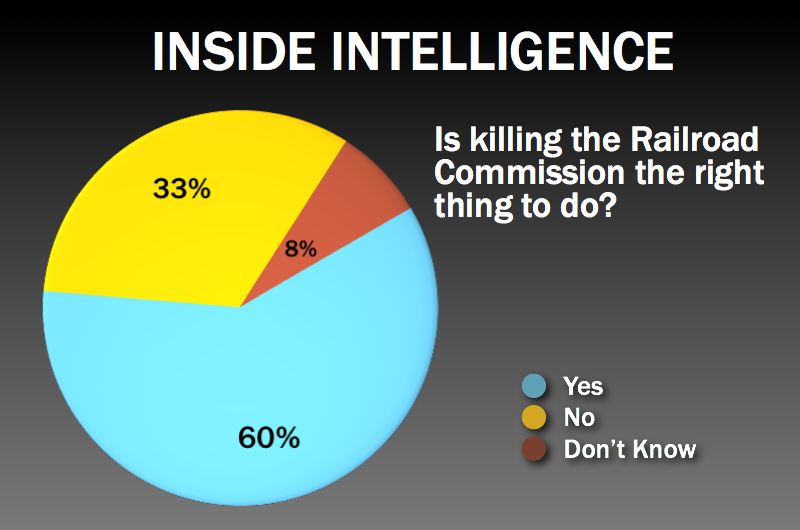 • "First, I'd like to clarify my answers to 1 and 2. The RRC should be abolished and its duties transferred to the PUC with no new commissioners and a 20 percent reduction in staff transferred over from the RRC. There is no savings from replacing the three electeds w/ 5 part-timers and probably complicates matters more. I would support having the Legislature elect the PUC commissioners. State government should get out of the brush removal business. The Department of Licensing and Regulation should be abolished and those functions transferred to the Secretary of State. DIR and the Facilities Commission should be abolished and those functions transferred to the Comptroller. Teleconferencing should be mandatory for most board and commission meetings. Transfer UNT to the Texas Tech System and abolish the individual board of regents for the third tier schools and have them all under the Texas State University System. Give the coordinating board real muscle/teeth to weed out duplicative and underperforming programs. Require all faculty members to teach 12 hours each semester and freeze faculty hiring. Institute salary caps for all state officials at 250 percent of the governor's salary. Combine all retirement systems into one system. Retool secondary education to combine the last two years of high school with the first two years of college in a single junior college and use existing buildings and personnel to handle the courseloads. Combine 9, 8, and 7 grades into middle schools and have grades k-6 in one school. Have Comptroller work with state university architecture schools to develop a standard portfolio of school building plans and require any school seeking a state guarantee of its building bonds to use those standard plans to cut architect and contractor fees. Plan school buildings so that the libraries can be used by the public after hours and combine small town and school libraries. Plan public clinic space that can be used by school nurse and local doctors after hours. Require that all buildings and furniture used by have at least a 50-year lifespan. Make furniture purchases from prison workers manadatory. I have lots, lots more."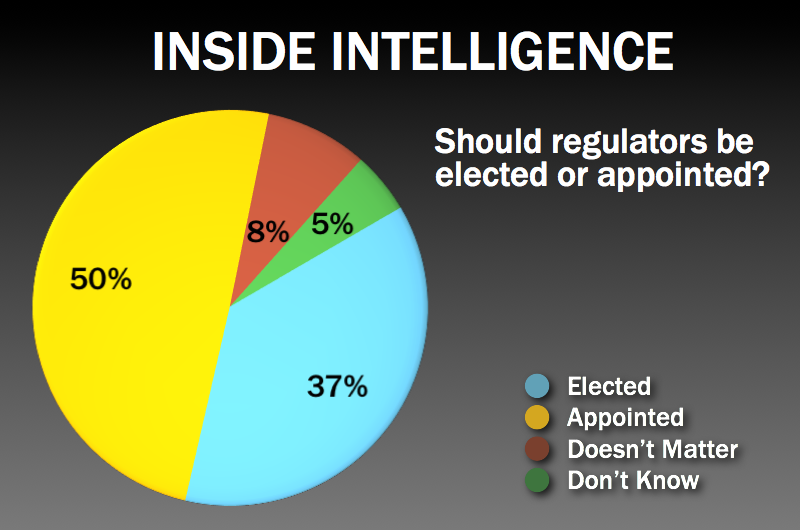 • "Given how large and intrusive the federal government presence has become in areas like social services, education and the environment, I question the need for much of state government in those areas. Might be more efficient just to let the feds implement, rather than have the state as a translator between the feds and business/local government."
• "Too many judges in too many levels of court; too much fluff in business development; too much spent on prisons; too many school districts; too much overlap in higher ed and not enough focus on distance learning"
• "Incarcerating more people than necessary. Prison should be for hardened, dangerous people, not those with an addiction problem."
• "None come to mind."
• "Let the Federal Government take over TCEQ."
• "Education and Medicaid spending are the two big places left to cut. The elections showed that the citizens want less government. Both of these should be on the table. It is time to see if the electorate is really ready for the cuts they say they want."
• "Eliminate DIR. Reduce the per-student amount in the Foundation School Program. Eliminate state's subsidy of health care costs at ERS. Opt out of CHIP."
• "Eliminate the Texas House of Representatives. The benefits would far exceed the savings realized in the state budget."
• "That will be the question of the session."
Our thanks to this week's participants: Sylvia Acevedo, Cathie Adams, Brandon Aghamalian, George Allen, Doc Arnold, Jay Arnold, Kip Averitt, Louis Bacarisse, Charles Bailey, Karey Barton, Eric Bearse, Dave Beckwith, Tom Blanton, Hugh Brady, Steve Bresnen, Andy Brown, Terri Burke, Lydia Camarillo, Snapper Carr, Janis Carter, Corbin Casteel, George Cofer, Rick Cofer, John Colyandro, Harold Cook, Alexis DeLee, Scott Dunaway, Jeff Eller, Alan Erwin, Ryan Erwin, John Esparza, John Fainter, Jon Fisher, Wil Galloway, Bruce Gibson, Scott Gilmore, Daniel Gonzalez, Thomas Graham, Marta Greytok, Anthony Haley, Billy Hamilton, Wayne Hamilton, Sandy Haverlah, Albert Hawkins, Adam Haynes, Jim Henson, David Hilgers, David Iannelli, Shanna Igo, Cal Jillson, Jason Johnson, Richard Khouri, Tom Kleinworth, Kenneth Kramer, Sandy Kress, Tim Lambert, Nick Lampson, Pete Laney, Dick Lavine, James LeBas, Donald Lee, Randy Lee, Luke Legate, Leslie Lemon, Ruben Longoria, Matt Mackowiak, Dan McClung, Scott McCown, Carol McDonald, Mike McKinney, Kurt Meacham, Debra Medina, Robert Miller, Lynn Moak, Bee Moorhead, Steve Murdock, Keir Murray, Shannon Noble, Todd Olsen, Gardner Pate, Bill Pewitt, Tom Phillips, John Pitts, Steve Pringle, Jay Propes, Ted Melina Raab, Bill Ratliff, Karen Reagan, Tim Reeves, Chuck Rice, Carl Richie, Kim Ross, Mark Sanders, Jim Sartwelle, Stan Schlueter, Terri Seales, Christopher Shields, Ed Small, Martha Smiley, Glenn Smith, Terral Smith, Todd Smith, Larry Soward, Jason Stanford, Bob Stein, Keith Strama, Bob Strauser, Colin Strother, Leslie Sullivan, Michael Quinn Sullivan, Russ Tidwell, Trey Trainor, John Weaver, Ken Whalen, Darren Whitehurst, Christopher Williston, Michael Wilt, Peck Young, Angelo Zottarelli.
Texas Tribune donors or members may be quoted or mentioned in our stories, or may be the subject of them. For a complete list of contributors, click here.
Texans need truth. Help us report it.
Independent Texas reporting needs your support. The Texas Tribune delivers fact-based journalism for Texans, by Texans — and our community of members, the readers who donate, make our work possible. Help us bring you and millions of others in-depth news and information. Will you support our nonprofit newsroom with a donation of any amount?
Yes, I'll donate today
---
Information about the authors
Explore related story topics