Twenty Year Incumbent Loses Seat in CD-17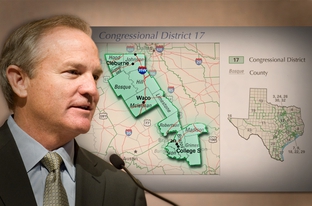 Enlarge
Illustration by Marjorie Cotera/Todd Wiseman
If he had won tonight, it would have cemented his reputation as a political miracle worker. Instead, U.S. Rep. Chet Edwards lost the Central Texas seat he's held for more than two decades to Republican Bill Flores of Bryan by a wide margin.
In early totals, it appears the Waco Democrat will not even win his home McClennan County.
Edwards ran a locally focused campaign that emphasized his record of bringing home jobs to the district and support of veterans' issues. He hammered Flores hard when he had the opportunity: on stumbles the political newcomer made with comments indicating he supported privatizing veterans' health care, raising the retirement age for social security, and criticizing the incumbent's involvement in keeping Baylor in the Big 12 conference. Edwards also failed to make headway with a late breaking story that revealed the retired oil and gas executive from Bryan had failed to repay $7.5 million he received from the federal government to rescue his company from a bankruptcy — after Flores' repeated attacks on the Obama administration's bailout.
As Edwards tried to draw the district's attention to local issues, Flores' campaign made it impossible to forget national ones. He made it difficult for voters to turn a corner without seeing the statistic that Edwards had voted with Speaker of the House Nancy Pelosi 96 percent of the time — despite Edwards' notable breaks with Democratic leadership on healthcare, cap and trade, and the repeal of "Don't Ask Don't Tell." In a year of high Republican turnout and historic anger toward the federal government, it worked.
Texas Tribune donors or members may be quoted or mentioned in our stories, or may be the subject of them. For a complete list of contributors, click here.