Tonight's the Night
Over the past year, we've seen nearly $100 million worth of gubernatorial politics in Texas and millions more spent maneuvering for advantage in Congress, in the Legislature and in other statewide and local offices. Tonight, we'll finally know what's what.
It's finally Election Day. In less than 24 hours, we'll know the answer to the main questions of the night: Who won, and what does it mean?
Over the past year, we've seen nearly $100 million worth of gubernatorial politics in Texas — quite an economic stimulus on its own — and millions more spent maneuvering for advantage in Congress, in the Legislature and in other statewide and local offices. A U.S. Senate race that everyone expected never materialized, dashing, for now, the dreams of a half-dozen would-be contenders. The U.S. senator who, a year ago, was the most popular Republican in the state, according to some polls, got her clock cleaned in the GOP primary by an incumbent governor who looked extremely vulnerable but is now regularly a subject of speculation about potential national standard-bearers for the GOP.
A year ago, Texas Democrats were saying, without irony, that their goal was to win two or three seats and to regain their majority in the Texas House, where they'd be in position to name their own speaker and to have a greater voice when political maps are redrawn in 2011. Now those same Democrats are feverishly working to minimize their losses in a political environment made for Republicans.
Here are some questions that will be on our minds this evening — and should be on yours — as the polls close and the results are reported:
So, to that first question: Who wins, and what does it mean?
If Rick Perry is the winner (and if he breaks 50 percent this time and shakes off the taunts about his 39 percent win in 2006), he'll remain on a national trajectory. Perry says he's not interested in being president and is a little coy about whether he'd like to be vice president. In any case, he says he'd like to lead a national conversation about federalism and states' rights. He starts a book tour right after the election, under this banner: "Fed Up! Our Fight to Save America From Washington."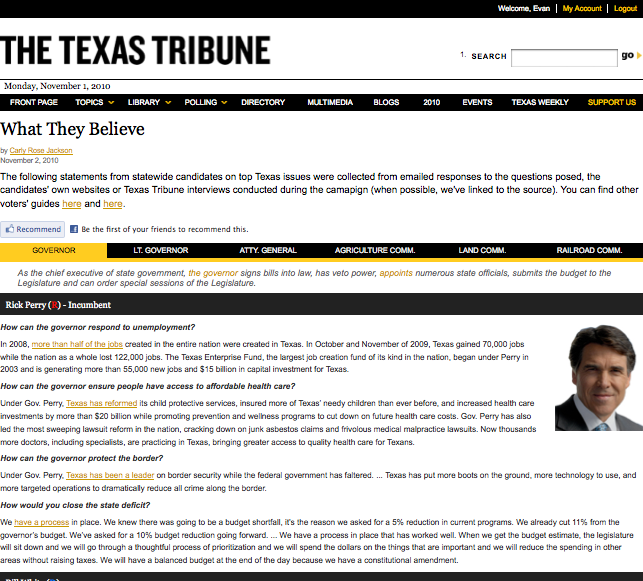 Application by Carly Rose Jackson
If it's Bill White, it means the Democratic electoral drought that began in 1998 is finally over, that there was a major upset brewing under the red tide seemingly sweeping Texas and the U.S. And it means everybody has to re-examine their strategies for the looming budget deficit, congressional and legislative redistricting and issues from voter ID to immigration legislation.
How does White do statewide, and in Harris County in particular?
Barack Obama won the presidency while losing Texas. And though he got 44 percent of the state's votes, he prevailed in only 28 counties. To beat Perry, White has to offset near-certain Perry wins of traditional strongholds like Collin, Denton, Tarrant, Montgomery and Williamson counties with wins of his own in traditionally Democratic counties along the Texas-Mexico border, in the state capital and within the Dallas and Houston city limits. And he has to cut into the incumbent's numbers in those Republican territories.
White is also the electoral umbrella for endangered Houston Democrats, namely state Reps. Kristi Thibaut, Hubert Vo and Ellen Cohen, and hoped to be bad news for threatened Harris County Republican Reps. Dwayne Bohac and Ken Legler. Their numbers will tell some of his story — and Harris County's.
Do Harris County and Dallas County go back to the Republicans, in whole or in part?
In a Democratic year, most of the judgeships in the two big counties go to the Democrats. Voters just don't know who they are, so they're elected according to the atmosphere and their party affiliation rather than their ability. If this is a Republican year, both the narrowly blue county (Harris) and the much bluer county (Dallas) could easily flip back to red, meaning judges with blue jerseys will be replaced by judges with red ones. Harris County has the House races mentioned above to watch. In Dallas County, keep your eye on Democratic state Reps. Robert Miklos of Mesquite and Carol Kent and Allen Vaught of Dallas and on Republicans Joe Driver of Garland and Linda Harper-Brown of Irving.
How did that voting machine warehouse fire affect the Harris County vote, if at all?
It's like a half-baked television movie plot. Republicans hope to win back a major urban county that went to the Democrats in 2008. All of the county's voting machines are in the same warehouse. The warehouse burns down. Harris County election officials say they'll be fine, that the votes will be counted on time and accurately, and so on. Tuesday will tell.
Does Tom DeLay finally beat Chet Edwards?
DeLay's not on the ballot, but his redistricting efforts were designed to knock off a half-dozen Texas Democrats, with Edwards foremost among them. But Edwards, who's got the sixth-most Republican district in Texas and who has the distinction of living in the most Republican district in the U.S. represented by a Democrat, has hung on time after time against well-financed, carefully recruited Republican challengers. This year, with conservatives raging at Obama and the federal government, could prove too much. Bill Flores, a Bryan businessman who's received solid financial backing (some from his own bank account), is hoping to unseat the 10-term incumbent.
In a Democratic Congress, Edwards is in a power spot — close to the leadership and in a key spot on the budget-writing appropriations committee. That committee gig is swell, but it's not a great time to be close to Speaker Nancy Pelosi, the year's second most popular political piñata.
Edwards isn't the only congressional Democrat on the griddle this year. San Antonio's Ciro Rodriguez is trying to prevail against a stiff challenge from Republican Francisco "Quico" Canseco, a well-funded Republican who's been tagging the incumbent for, among other things, scolding a citizen-questioner at a town hall meeting earlier this year.
Each of those seats, in Republican hands, could make big differences in how the Legislature draws new political districts next year.
How many seats do Republicans pick up in the Texas House, and is the result likely to have an effect on Joe Straus' efforts to win a second term as speaker? Does it leave any hope for Warren Chisum, who announced a challenge?
Answer the second question first: Straus is only in trouble if the Republican majority in the House is unhappy enough to ditch him in favor of someone else, and the evidence for that argument is thin. Add in this anecdote: Two of the House's conservatives — Linda Harper-Brown of Irving and Charles "Doc" Anderson of Waco — got into electoral hot water this year, and when they needed friends, they each got large contributions from Straus. That sort of thing counts when it comes time to elect a speaker.
For Chisum to have a reasonable shot, he'll have to build a 76-vote majority from a coalition of conservatives who think Straus is too moderate and from Democrats who voted for Straus but don't think the rewards were commensurate with their importance relative to his other supporters. There's another play, possibly: Divide the House and elect the speaker from the Republican Caucus. If enough of the House Republicans would agree to stick with the caucus vote, they'd be able to name a speaker. But it still might be Straus.
The answer to the first question ranges — depending on your correspondent — from four seats (optimistic Democrats) to 12 (optimistic Republicans). The first election after the current redistricting maps were drawn, and they were drawn to favor Republicans, produced 88 GOP seats in the House. There are 77 Republicans in the House now, so another dozen would put them back in that territory. Anything short of that merely solidifies their current majority. One point: Lawmakers often start their redistricting exercise by looking at the partisan balance in their respective chambers. If Republicans have a big number, they'll start with a redder map.
Do any of Tuesday's losers come up short in a way that's useful to their political futures?
White's the poster child here. If he loses the race for governor, and if Kay Bailey Hutchison decides not to seek re-election to a fourth term in 2012, his name is high on the list of Democratic candidates. But he's got to show he's viable this year, even if it's in a losing effort. White has to do well in Houston proper, and in Harris County and the Houston media markets generally, to prove he's got a base of support from those six years as mayor of the state's biggest city. He's got to out-do Tony Sanchez's 40 percent in 2002 and hope he can beat John Sharp's 46 percent that same year — the post-1998 high-water mark for Democrats in statewide elections. Sharp, one of the other Democratic names on that Senate list, is waiting in the wings to emphasize any weak spots in White's performance tonight.
White's not alone. Lt. Gov. David Dewhurst and Attorney General Greg Abbott have higher ambitions, and their performances this year matter. Various state legislators who haven't yet revealed their intentions would like to move into Congress after redistricting, or into the Senate from the House, and so on.
Or from Congress into, say, statewide office. For instance: What's next for Chet Edwards if he loses tonight?
Texas Tribune donors or members may be quoted or mentioned in our stories, or may be the subject of them. For a complete list of contributors, click here.
Your New Year's resolution list isn't complete without …
… supporting the Tribune. This new year, resolve to do your part to sustain trusted journalism in Texas. Join thousands of readers who power The Texas Tribune's nonprofit newsroom.
Donate now