Inside Intelligence: The Next Governor of Texas Will Be...
For the first installment of our non-scientific survey of political and policy insiders on issues of the moment, we asked two questions: "Which candidate do you think will win the race for governor?" and "Who are you voting for?" We also gave them a chance to explain — and, boy, did they.
We're starting a new weekly feature with our sister publication, Texas Weekly: a survey of insiders on issues of the moment called "Inside Intelligence." We sent questions last week to more than 400 lobbyists, consultants, former officeholders and other in-the-know types to see how they think things are shaking out in the last week of the governor's race. We didn't ask current officeholders or their staffs, and we used an Internet service that prevents non-invitees from voting and invitees from voting more than once. We'll do a new one every week, publishing the results in Texas Weekly on Friday and Monday in the Tribune.
We got a good response to this first survey: 121 took it, saying how they'll vote in the governor's race and who they think will win and offering a short narrative analysis of what they think is going on. Our respondents identified their own party preferences: 48 percent Republican, 31 percent Democrat, and 19 percent independent. That leaves 2 percent "other." (In the interest of transparency, our intent is to name the people who took the survey each week without attaching names to answers; we're still fiddling with how to make that work. Stay tuned.)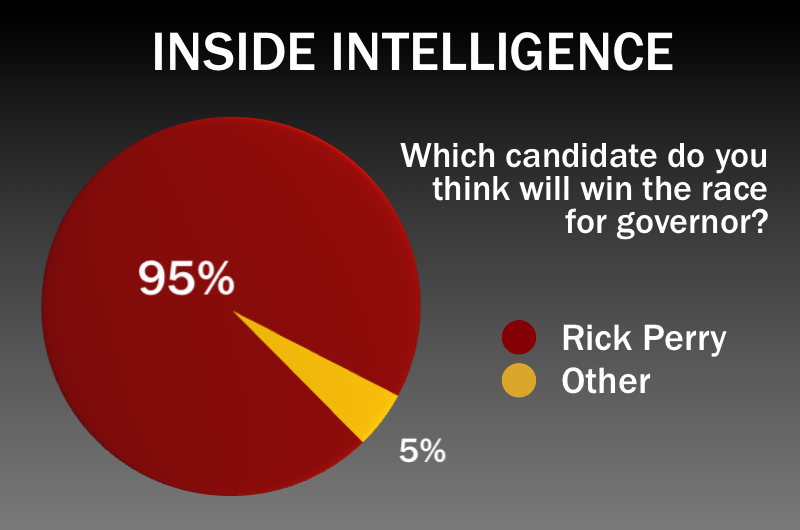 How are our insiders voting? Rick Perry beats Bill White among this group 55 percent to 38 percent. We had Libertarian Kathie Glass and Deb Shafto of the Green Party in the question; they combined for only a few votes.
How do they think the race will turn out? Overwhelmingly, they think it's over: 95 percent said Perry will win and only 3 percent picked White. The rest were undecided or didn't want to choose.
We then asked, "What are the biggest factors affecting the outcome?" Here's what it got interesting. You can download the full set of verbatims above, but a sampling follows:
• "Economy and jobs"
• "Turnout among urban African Americans and Hispanics in South Texas and the Valley"
• "Turnout, message, style of candidate"
• "Disgust with the Democratic Party generally and nationally, more specifically."
• "The Texas economy in comparison to the rest of the nation. Tea party fervor and negatives of national Democratic party positions on key issues to Texans."
• "For some inexplicable reason, White tried to make this race a referendum on himself rather than a referendum on Perry."
• "Turnout in Harris County and the Libertarian vote"
• "Anger at the Democrats in Washington. Perry has effectively become a "cheerleader" on that issue."
• "Texas is doing better than the rest of the nation. Perry is a monster campaigner. White could have been competitive but ran a poor campaign."
• "Disaffected Democrats in an overwhelmingly Republican year. It is a real Double-Whammy."
• "Obama and the dismal Democrats (who ever thought I'd be missing Lyndon?), Money, Lack of 'effective' coverage of the issues and positions, Bill White can take any issue and wonk it out"
• "Houston turnout for White"
• "anti-Obama, anti-Washington, anti-spending"
• "Perry fatigue being outpaced by anti-Washington fervor"
• "Perry's done a good job and Texas works well compared to every other state in the nation. White may be a good person individually but I would be worried about his appointees and staff as having too many 'community organizers'."
• "Perry staying on message. White not being able to find a consistent meassage. White running from The President."
• "National trend for Republicans."
• "The White campaign didn't drive a coherent message that effectively exploited Perry's vulnerabilities."
• "Texas is a politically conservative state. The Democratic candidate has not generated any excitement among his base. More importantly, he has not done anything to move independents. He ran the same campaign as the Hutchison campaign."
• "Voter turnout, national backlash against Democrats, concern re Bill White's ties to trial lawyers and organized labor"
• "Three decades of confusion (make it five)"
• "Anger and the mobilization of that anger."
• "It's Texas. Obama, Pelosi and Reid are a millstone around Bill White's neck."
• "1) National tidal wave and Obama back-lash, 2) Bill White's micro-management of his own campaign, and specifically that he do all the talking in his ads. He is terrible on camera. His low energy makes David Porter interesting."
• "Perry's ability to use Obama's negatives; the national economy; subpar White campaign organization."
• "Fear"
If you'd like to suggest an insider who ought to be included — no officeholders or their direct employees can play — let us know their name and email address. And if you've got a question for the insiders, let us know. We'll put it on the list.
Texas Tribune donors or members may be quoted or mentioned in our stories, or may be the subject of them. For a complete list of contributors, click here.
Texans need truth. Help us report it.
Our Fall Member Drive is underway, and we need your support. The Texas Tribune is a critical source of truth and information for Texans across the state and beyond — and our community of members, the readers who donate, make our work possible. Will you join as a member with a tax-deductible donation of any amount?
Yes, I'll donate today
---
Information about the authors
Explore related story topics