E-Voting Suit Reveals Frailties of the Ballot Box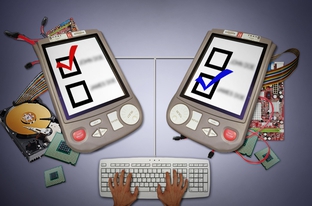 Enlarge
Illustration by Todd Wiseman
It's the stuff of an Orwellian dystopia: a voting machine hacked, an election stolen, the public none the wiser. Yet some civil rights groups believe it's a real threat in Texas — one of only 12 states that allows a form of paperless voting, according to the Verified Voting Foundation, a nonprofit that lobbies on the issue nationwide.
Ensuring the purity of the ballot box has been a point of concern for lawmakers since "hanging chad" entered the national lexicon in 2000. Congress passed the Help America Vote Act in 2002 to improve the administration of federal elections, but an irony of post-Bush v. Gore reforms is that the electronic machines brought in to replace outdated lever-and-punch-card-based systems have their own flaws.
The Texas Supreme Court heard oral arguments last week in a lawsuit brought by the NAACP and the Texas Civil Rights Project against the secretary of state, which certifies voting machines used in counties across Texas. Lawyers for the groups allege that the state agency, when it certified machines that do not allow for an independent audit or verification of votes, violated its duty under the Texas Constitution to protect the integrity of elections.
The case, in litigation since 2006, has yet to go to trial. The high court was hearing an appeal on procedural grounds from the secretary of state, whose lawyers are challenging a lower court's decision allowing the suit to go forward. If the Supreme Court rules against the state, a trial court could halt the use of direct electronic voting machines in precincts across Texas.
When voters cast a ballot, direct electronic voting machines, or DREs, automatically transmit their selections to a hard drive without maintaining a paper trail indicating how that vote was cast. In the event of a recount, a DRE simply recalculates the same numbers it has already reported. Without a way to independently audit votes, DRE systems are especially vulnerable to malfunction or tampering, according to Rice University professor Dan Wallach, who has conducted two nationally respected studies on paperless voting, including one in California that led the legislature there to abandon the use of DREs.
To corrupt the software in the current generation of e-voting machines, all a potential hacker would need is brief physical access to one of them, says Wallach, who is working with the Texas Civil Rights Project on its lawsuit. After that, Wallach says, an "infection" could quickly spread among machines, which are often networked together at polling places, or through the smart cards that poll workers routinely insert in each machine. Once voting results are corrupted, evidence of the hacking disappears.
So it's impossible to know when — or even if — nefarious meddling with electronic ballot machines occurs. Wallach is careful to say that his studies focused on a "vulnerability that exists, not a vulnerability that's being exploited." But the machines also put the electoral system at risk from benign errors, Wallach says. The Texas Civil Rights Project's brief before the high court cites a number of irregularities: the loss of voting records in Collin County during the 2004 presidential election; the inclusion of 100,000 uncast votes from Tarrant County during the March 2006 election; the alteration of votes from one party to another in Collin, Dallas, El Paso, Galveston, Harris, Jefferson and Palo Pinto counties during the 2008 presidential election.
In Texas, county commissioners select the voting machines each precinct in the county will use from a list of approved devices distributed by the secretary of state's office. Private vendors apply for certification from the state agency, which puts them through a lengthy examination process in which they undergo vigorous security tests, including a public hearing, twice a year, according to Ann McGeehan, who supervises elections for the secretary of state. Voters in the state's most populous counties — Bexar, Harris, Tarrant, El Paso and Dallas — will cast their ballots on DREs this election cycle.
The NAACP/Texas Civil Rights Project lawsuit targets a particular DRE, called "eSlate," made by Hart Intercivics. Marcus MacNeill, Hart's vice president of products and partnerships, says 23,000 of them are deployed in 111 counties, including Tarrant and Harris, across the state. He says that while Hart machines have "proven to be very durable and reliable," it's also up to the individual counties to make sure they securely operate them and test them regularly. "It's one thing in a lab scenario where someone has access to the machine for several days" to figure out how to hack a machine, he says, and quite another for someone do that "just walking up to the machine in a polling place."
"There's just simply no way to do that with our products," MacNeill says.
The Texas Legislature has grappled with the right way to address paperless electronic voting. State Rep. Aaron Peña, D-Edinburg, introduced legislation in the 2005, 2007 and 2009 sessions that would have required the independent verification of DREs. He says the issue, politically charged when Democrats were questioning the validity of President George W. Bush's election, has since become bipartisan as Republicans have recognized potential vulnerabilities of the existing system. But his bills have still failed to gain traction.
Wallach has testified before the Legislature on the topic and believes inaction at the Capitol stems from lawmakers giving too much deference to the county commissioners. "The vendor has told them things that aren't true, and they believe the vendor," says Wallach, calling election officials' confidence in the current systems — in light of research on their flaws — "baffling."
Peña, the vice chairman of the House Elections Committee, says he's currently deciding whether to propose a new bill in the upcoming session. But since such a bill would have a fiscal note attached, the timing — when the state faces a budget shortfall projected to be as high as $21 billion — may not be right. He believes it will take a national debacle, like the one Florida faced in 2000, for the state to reform its voting practices.
"The way government normally works is that some big tragedy occurs and the problem is exposed. The problem here is that you'll never see it, because there's no evidence of a tragedy," he says. "Because there's no paper trail, any mistakes that are made by the machines, or by the programmers, or by tampering, you'll never know they happened. So the outrage won't be there."
McGeehan vouches for the machines currently in use. "There are no vulnerabilities. They meet security standards," she says. "They wouldn't be certified if they didn't." As for the possibility of tampering, McGeehan acknowledges "a lot of allegations" but no proof. She's aware that some states have required a paper trail but says "that's really a policy issue."
McNeill, of Hart Intercivics, points out that his company makes e-voting machines with an option for independent verification — but the state chooses not to mandate their use on the current machines. "We provide solutions to the market that the market needs," he says. "It's not that vendors don't provide the option [for paper trails] and the state doesn't have a choice. It's just not a requirement in Texas today."
Texas Tribune donors or members may be quoted or mentioned in our stories, or may be the subject of them. For a complete list of contributors, click here.