Ready, Set, Vote
Former state Sen. Kim Brimer, R-Fort Worth, won the mail-in vote two years ago. He beat Democrat Wendy Davis on Election Day, too. But he lost the walk-in early vote in the crush of excited Democrats who went to the polls that year, and that was enough to send him home and send Davis to the state Senate.
Former state Sen. Kim Brimer, R-Fort Worth, won the mail-in vote two years ago. He beat Democrat Wendy Davis on Election Day, too. But he lost the walk-in early vote in the crush of excited Democrats who went to the polls that year, and that was enough to send him home and send Davis to the state Senate.
Early voting starts on Monday, and Republicans are hoping to tell stories like that one after the election. There are signs they peaked a little early — the maximum chest-thumping period seemed to be in late August and early September — but they're still expecting to have a big day nationally and a big day in Texas. Democrats we know are still apprehensive, but not as worried as they were a few weeks ago. Races that were lost in mid-September have closed up. For instance, there was a Chet Edwards announcement, via press release, that his polls show he's behind by 4 percentage points. That stinks, you'd think, except that it's a big improvement over his earlier polls (salt this stuff heavily, as the polls come from the campaign pushing them as news). Likewise, we're hearing from consultants here and there that their races are tightening up.
That's not enough to put the Democrats in a good mood, necessarily. And not everybody's buying it, either. State Rep. Warren Chisum, R-Pampa, pulled the trigger on his race for speaker this week, saying the House needs stronger leadership and not saying, but likely thinking, that there will be enough Republican gains to assist him in toppling freshman Speaker Joe Straus of San Antonio. Straus, a Republican, was elected with more Democrats than Republicans at his side.
Chisum's pitch is that only a speaker with the support of a majority of his own party can properly run the House. That might be so, but it also describes a narrow path to victory. If this was a story about Congress or about another state, we'd be writing that the GOP caucus will pick the next speaker and that all Chisum has to do is win a majority of that group to defeat Straus. But this remains a bipartisan House, and Chisum can't get to the high chair without some Democrats at his side. See the trouble? He's more popular with the conservative Republicans who resent Straus' embrace of Democrats, but he needs Democrats to win the speakership and he needs to convince enough people in both groups that they'd get a better deal with him in charge than they're getting now. If anyone can pull from both sides, it's probably Chisum.
Overthrowing a speaker, or trying to, is risky; Chisum would have to show enough people that it's worth the risk. It's not clear that Straus has aggravated enough people (or any, really) to create real opposition since he took over in January 2009. That leaves three groups from which Chisum could draw support: Republicans who lost political juice when Straus ousted former Speaker Tom Craddick of Midland, Democrats who think they'd get a better ride from someone other than the current speaker, and new members who haven't formed allegiances to Straus.
If the Republican election gains are large enough, that third group could make this interesting. Chisum's decision to announce before the election could reflect some confidence in that, or could be a signal to other conservative Republicans that it's time to come out and play — while the elections are still in flux.
Straus isn't exactly Bambi here. He's been pressing campaign money into the hands of embattled incumbent Republicans while other GOP groups have been funding attacks on incumbent Democrats. That keeps Straus' hands out of the races of those Democrats — many of whom helped get him elected last year — while buttressing his Republican support with members who might not have supported him over Craddick. Some Democrats are suspicious of that arrangement and suggest Straus is doing more favors for the party that he represents than for the House members who voted him into office. Chisum's playing on that, too, telling the Democrats that when he's against them, he'll be obvious about it. He says it boils down to experience. From his letter to fellow House members:
Today I throw my hat, my experience, and my commitment to the House into the ring for consideration as Speaker of the Texas House of Representatives. Those of you who know me, know that this is not a decision I have entered into lightly, but like many of you I have come to realize that the time has come for us to unite behind a speaker that will lead the Texas House next session as we face our state's many challenges together.

The times demand a strong and decisive leader. The Texas House has enjoyed strong, experienced leadership under Speakers Laney and Craddick, who were fully supported by majorities of their respective political parties. Sadly, recent history has shown us that when a chamber's leadership does not enjoy majority support from his own party mixed with good support from the opposition party, his leadership is weak and ineffective. As a candidate for Speaker of the House, I will give Republicans and Democrats an opportunity to decide whether the Texas House wants to lead this session, or whether it doesn't.

...

In deciding to run for Speaker of the House, I heavily weighed the experience of last session with the demands of the upcoming session. In earnest, we entered the 81st session with open minds, hoping for the brand of leadership Speaker Straus had pledged. However, his approach, guided by his inexperience, instead allowed the minority party to control much of the session's agenda, and the result was no leadership during the total breakdown in the most critical days of the session. Speaker Straus has never served on Appropriations, never served on Ways and Means, has never even faced a difficult budget cycle, much less served as a member during a redistricting session. As the 82nd Legislature approaches, Texas demands a speaker who can successfully navigate these waters. I have the experience and skill that the House requires.
State Rep. Leo Berman, R-Tyler, had been running for speaker but told reporters he is dropping out and will support Chisum. And Straus deflected the story by saying he's busy with other things: "My style of respectful, inclusive leadership has earned the support of the vast majority of members of the Republican caucus and the Texas House. In these critical weeks before the election, I believe my fellow Republicans should be focused on building our Republican majority in the Texas House, as I am working hard to do."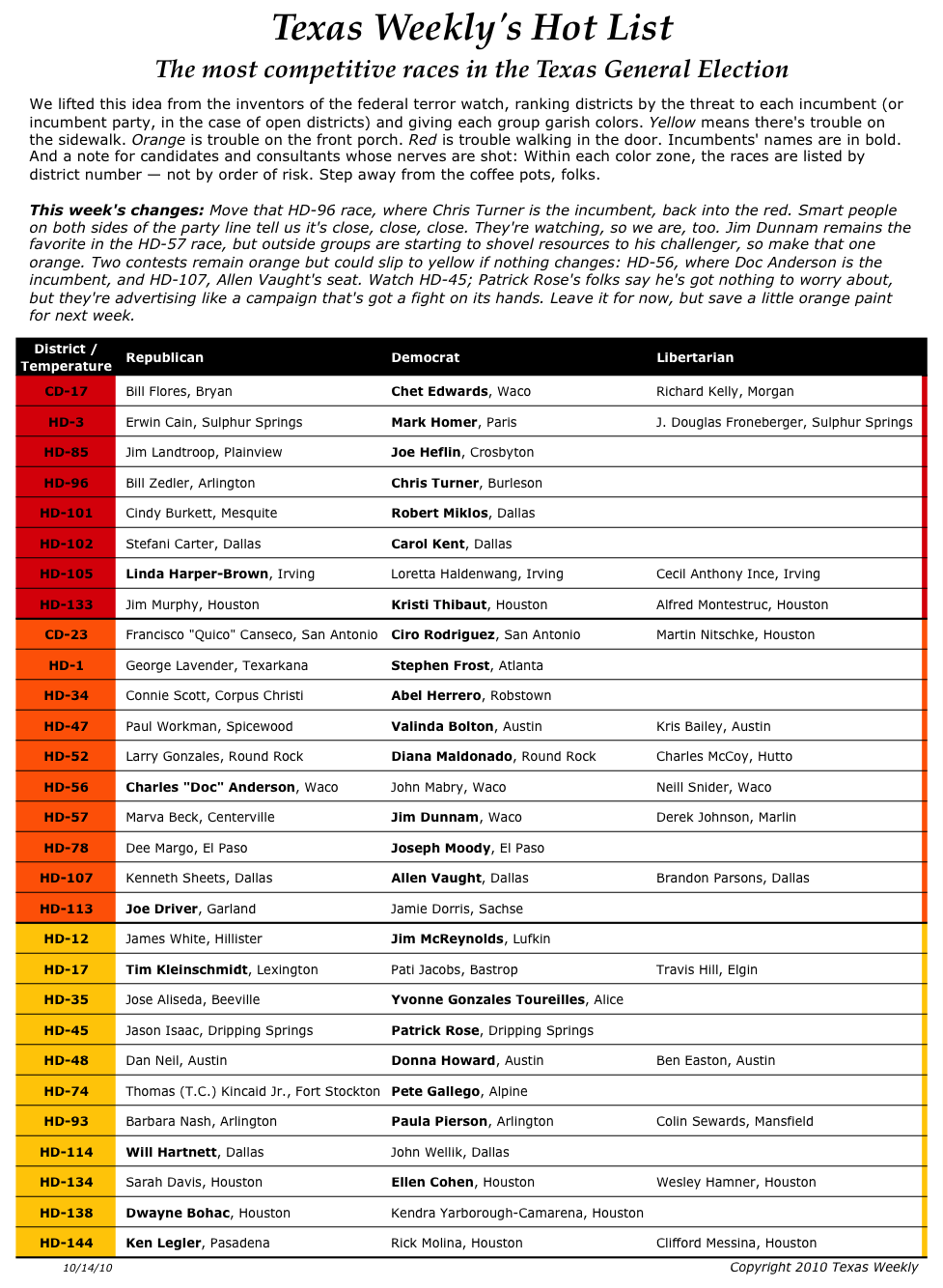 Secret Admirers
A Houston-based group sent mailers into at least two House races, but instead of using its political action committee to pay for the mailings, it used a 501c4. The Citizen Leader Alliance, started by Leo Linbeck III of Houston, sent flyers on behalf of Republicans in two districts, carefully avoiding endorsements but expressing its admiration for state Rep. Ken Legler, on one hand, and challenger Marva Beck, on the other. Legler is being challenged in HD-144 by Democrat Rick Molina of Houston, an attorney who's been slamming the incumbent he says is moving jobs to China. Beck is the Republican running in HD-57 against state Rep. Jim Dunnam, D-Waco, getting substantial help from Texans for Lawsuit Reform and other groups who smell a chance to knock off one of the House's top Democratic leaders.
The mailers are similar, and relatively innocuous. "The Citizen Leader Alliance respects Republican Marva Beck because she knows that jobs are what Texans need, not more federal interference and unfunded federal mandates," says one mailer. Other than Beck's name, it's identical to the mailer sent to people in Legler's district.
It doesn't include a political advertising disclaimer, and Meredith Simonton, the group's executive director and the treasurer for the CLA's political action committee, says it doesn't have to. It also doesn't have to disclose where the money that paid for the flyers came from. The relatively small PAC got $50,000 from Linbeck and from a handful of others including Dick Weekly, $50,000; and Harlan, Stuart and Trammell S. Crow, who gave a combined $50,000. The PAC paid for mailings, Internet services and polling during the primary on behalf of Jeff Cason, who unsuccessfully challenged Republican state Rep. Todd Smith of Euless.
But the PAC wasn't playing in this election as recently as its September 23 report. "The piece you saw was sent from CLA, our 501c4 entity," Simonton said via email. "We are working on citizen education in various parts of the state, as it is our mission to educate citizens on public policy issues and to facilitate engagement in the policy process. We comply with all requirements made of 501c4 organizations. And, as a 501c4, we do not disclose a list of our donors. Leo Linbeck III serves as our president and our other board members are public record."
Inconvenient Truth
There seems to be some confusion in Corpus Christi. Democratic Rep. Solomon Ortiz Jr. says his opponent, Republican Raul Torres, is touting endorsements he hasn't received.
Ortiz has cast doubt on Torres' proclaimed endorsements from the Corpus Christi Caller-Times, the National Rifle Association, the Texas State Rifle Association and local Republican Sheriff Jim Kaelin. Ortiz says his opponent listed the endorsements on his website and in campaign literature but that he's actually received none of them.
"As an elected official and candidate, I know that the public's trust is something you can never take for granted," Ortiz wrote in a letter to supporters highlighting the issue.
In fact, both pro-gun associations have actually endorsed Ortiz, though Torres was given an "A" rating based on his responses to survey questions. Torres' consultant, Christian Anderson, says the campaign has corrected errors in the way it listed the association's ratings.
The Ortiz campaign also produced a letter from Kaelin saying he had received a copy of Torres' campaign literature featuring his image and falsely attributed quotes of support. Kaelin writes, "I told [Torres] in no uncertain words, 'I could not give him my endorsement.'" Anderson says the campaign literature in question dates back to the primary and was the work of a previous consultant who has since been fired.
Torres still promotes the Caller-Times endorsement on his Facebook page, though he actually received the endorsement in his primary race. The paper has yet to endorse in the general election. "Our opponent seems to be making much ado about nothing," says Anderson, who says the campaign never asserted that the endorsement had come after the primary.
When not squabbling over who does or doesn't like whom, the campaigns are busy highlighting alleged ethics violations by their opponents. Torres filed a complaint alleging that Ortiz pocketed $4,050 in campaign cash, and an ethics complaint was filed alleging that Torres did not correctly report assets and liabilities on his personal financial statement. Ortiz says he was reimbursing himself for cell phone bills, which, he says, the Texas Ethics Commission has ruled is permissible. The Torres campaign says errors on his records will be corrected and that his tax records made publicly available.
The Idiot Box
A week after the Democratic Congressional Campaign Committee invested in airtime in his district, U.S. Rep. Ciro Rodriguez, D-San Antonio, has more help in his race from the national party. Former president Bill Clinton stumped for the San Antonio Democrat on Thursday. His Republican challenger, Francisco "Quico" Canseco, cast the event as a "desperate campaign move" and evidence that the national party thinks the incumbent is in trouble.
In CD-17, U.S. Rep. Chet Edwards aired a new TV ad spotlighting a Dallas Morning News article that revealed his Republican opponent, Bill Flores, failed to repay $7.5 million he received from the federal government to rescue his company from a bankruptcy.
The ad wars also heated up in the state house this week: Rep. Diana Maldonado, D-Round Rock, released a spot playing up her leadership on business and education issues. She faces Republican Larry Gonzales.
Republican challenger Patrick McGuiness jabbed Rep. Mark Strama, D-Austin, across the airwaves, linking the incumbent to President Barack Obama. Strama aired an ad of his own, calling for a focus on renewable energy.
Back to Basics PAC and the Democratic Governors Association both flexed their muscles in gubernatorial race broadcasts. The association released its second ad attacking Gov. Rick Perry for his support of an HPV vaccine mandate. Back to Basics, the PAC funded by Houston trial lawyer Steve Mostyn, released its latest spot, which accuses Perry of diverting recovery funds intended for victims of Hurricane Ike to repair the Governor's Mansion.
Driven to Drink
Unlikely allies have teamed up against a proposal that would make it a crime to drive with a blood-alcohol content lower than the current legal and nationally legalized limit of .008 in Texas.
The American Beverage Institute has asked lawmakers to reject the proposal that would punish drivers with a BAC as low as .05 saying it would unjustly inconvenience "adults who drink moderately and responsibly prior to driving," according to a statement released by the American Beverage Institute, which also stated that Austin Police Chief made the initial call to lower the limit. The ABI is getting support from no other than Mother's Against Drunk Driving founder Candy Lightner, the association said.
"MADD has become far more neo-prohibitionist than I had ever wanted or envisioned," Lightner has said. "I didn't start MADD to deal with alcohol. I started MADD to deal with the issue of drunk driving."
The statement also cites data from the National Highway Traffic Safety Administration indicating the average BAC of a driver in a fatal alcohol-related wreck is more than twice the current limit at 0.19%
Flotsam & Jetsam
Time Warner TV customers in Dallas got a flashback, seeing ads from Democrat Carol Kent's 2008 race running instead of ads from her current race. Kent beat state Rep. Tony Goolsby, R-Dallas, two years ago. Now she's up against Stefani Carter in that HD-102 contest. And, after an apologetic letter from the cable company saying they had accidentally run the old spots, that's what her commercials now say.
• Three insurance associations are grouping up to lobby on the new federal health care program. The group includes the Texas Association of Health Underwriters, the Independent Insurance Agents of Texas and the National Association of Insurance and Financial Advisors-Texas. They're calling themselves the Texas Coalition of Health Insurance Agents.
• Democrat Jeff Weems appears to be winning the media war, but Republican David Porter is getting the Austin trade groups. The two are running for an open seat on the Texas Railroad Commission. Weems has snagged endorsements from the state's biggest papers (Dallas, Fort Worth, Houston, Austin and San Antonio). But the Texas Oil & Gas Association, the leading trade group for the oil industry that's regulated by the RRC, is flying the red flag, as is the Texas and Southwestern Cattle Raisers Association PAC.
The Week in the Rearview Mirror
A special judicial commission appointed by the Texas Supreme Court has invalidated the public warning issued against Court of Criminal Appeals Presiding Judge Sharon Keller. Keller had been under the gun for misconduct based on her actions in a 2007 death row appeal. The commission ruled that the procedure leading to the warning, issued by the state Commission on Judicial Conduct, was at fault. Keller was initially investigated using the formal procedure available, but the punishment was only an option if the investigation had been informal.
The curious case of the American allegedly shot and killed on a Jet Ski at Falcon Lake has folks scrambling to keep up with the latest developments. Initial suspicion that the story was false was replaced by stories reporting that officials were searching for two brothers from a well-known drug cartel suspected of involvement in the murder. After that story was discounted came news that one of the Mexican investigators working on the case had been decapitated and had his head delivered to military authorities in a suitcase. The body of victim David Hartley had still not been located.
There won't be a gubernatorial debate, but we got a little bit of drama Monday at State Board of Education debate at the Texas Business and Education Coalition. The notorious board has received national attention for its socially conservative seven-member bloc's attempts to steer Texas curriculum. Democrats were quick to characterize the board as too political and ideological, while Republicans found themselves in the curious position of defending the board's past actions while promising moderation and cooperation in the future.
Maybe they were just feeling solidarity with the rescued Chilean miners, but officials in Atascosa County this week were surprised to learn that the flag they've been displaying on their ballots is not the symbol of the Lone Star State. Instead, a picture of the Chilean flag has been on absentee ballot instructions for several years. An Atascosa County resident studying in Japan pointed out the error when he received his absentee ballot package.
Bipartisanship doesn't have to be dead. This week, a compromise to extend funding of programs at NASA was signed into law after months of work by U.S. Sens. Kay Bailey Hutchison and Bill Nelson, D-Fla. NASA officials were satisfied with the deal, which provides for another shuttle flight in June, extends space station operations for five additional years and provides funds for commercial spacecraft. The legislation also provides a long-range plan for developing deep-space exploratory craft.
FEMA turned down Texas' request for disaster relief from Tropical Storm Hermine, so Gov. Rick Perry did what any responsible executive would do: He appealed to a higher authority. Perry reportedly wrote a letter to the president asking him to reverse the decision to deny aid to the 13 counties affected by the destruction and flooding caused by the storm.
Pretrial hearings were scheduled to get under way at Fort Hood in the case against Major Nidal Hassan, who's accused of going on a shooting rampage last November, killing 13 people and injuring dozens more. But the defense filed new paperwork asking for a month's continuance, and the entire legal team spent over three hours in chambers with the judge in the case, James L. Pohl. Pohl subsequently delayed the start of the hearing until the new issue can be addressed. The defense wasn't saying what the new issue was but cryptically hinted that it might have constitutional implications. Legal experts speculated that the defense is trying to avoid a death-penalty case that is seen as unwinnable.
Convicted murderer Hank Skinner got his day in court this week — the U.S. Supreme Court, that is. The high court issued him a last-minute stay of execution in the spring with the promise of hearing the appeal to determine whether further DNA testing would be allowed in the case. Certain items weren't tested in the original trial, and Skinner and his new attorneys are asking that those items be turned over to them to be tested. Skinner has contended that he was not the one who killed his girlfriend and her two sons and that the testing will help him prove his innocence.
Gov. Rick Perry insists that his reason for not participating in a gubernatorial debate has to do with Bill White's refusal to release certain tax returns, but some observers have a different theory: Perry's actually afraid of Libertarian Kathie Glass. They cite Libertarian Debra Medina's surprising success in the primary debates as evidence that Perry feels threatened by being compared to so-called true conservative candidates. Glass attempted to confront Perry at a campaign event in Humble but was rebuffed by his security detail.
Political People and Their Moves
Kerri Briggs, who formerly served as assistant secretary of elementary and secondary education in the U.S. Department of Education and most recently as state superintendent of education for Washington, D.C., began work as the new program director of education reform for the George W. Bush Institute.
Deaths: Gene Fondren, the former state House member and master lobbyist who served for more than 30 years as president of Texas Auto Dealers Association. He was 83.
Quotes of the Week
Democratic U.S. Rep. Chet Edwards, to the Dallas Morning News editorial board, on his race against Republican Bill Flores: "I don't mind saying we are behind. I relish being the underdog."
Brian Cuban, brother of Mavericks owner Mark Cuban, on the need to legalize medical marijuana, quoted in The Dallas Morning News: "This is not about Cheech and Chong. We're not talking about pot shops cropping up along Northwest Highway like strip clubs. We need to get the attention of the suits and ties, and the soccer moms."
Ciudad Juárez Mayor Hector "Teto" Murguía, addressing the Mexican press during his swearing in ceremony in the embattled city across the Rio Grande from El Paso, Texas: "Undoubtedly, the media will be of great help in this transition from paralysis to action, from fear to hope, from apathy to commitment. You have been and will be the pillar of our democracy."
Judge Charlie Baird, who while on the Criminal Court of Appeals voted to reaffirm Cameron Todd Wilingham's death sentence and now stands poised to review the Corsicana man's conviction, in The Texas Tribune: "Life is full of mistakes, but my thinking has always been, if you make a mistake, you ought to be man or woman enough to admit it."
Rep. Jim McReynolds, D-Lufkin, explaining to the Tribune what he thinks of politicians that switch parties: "In the Church of Christ, if you get a sex change, I won't sit by you next Sunday."
Kinky Friedman to the Tribune: "I mourn the passing of the Democratic Party. They deserve to get beat and get beat bad. This is the harvest that Obama has reaped. It's a government by ego. I sense that he doesn't love America. I sense that he loves Obama."
Janice Ruple, elections administrator for Atascosa County, to the Austin American-Statesman after realizing the county for years has been sending out absentee ballots with a picture of the flag of Chile instead of Texas: "We just never caught it."
Attorney David Thompson, a school finance expert, on the state's funding for public schools: "There is not one single defender of our system. Further, there is not one single person who can explain our system."
State Rep. John Smithee, R-Amarillo, quoted in the Amarillo Globe-News on the prospects of a race for speaker of the House between Joe Straus of San Antonio and Warren Chisum of Pampa: "I am looking at two of my best friends in the Legislature. It is not a comfortable position to be in."
Lt. Gov. David Dewhurst, on the coming legislative session with its promised battles over a large budget shortfall and political redistricting: "I'm looking forward to it. I haven't lost my mind. I'm looking forward to it."
Contributors: Julian Aguilar, Reeve Hamilton, Ceryta Holm, David Muto and Morgan Smith
---
Texas Weekly: Volume 27, Issue 39, 18 October 2010. Ross Ramsey, Editor. Copyright 2010 by The Texas Tribune. All Rights Reserved. Reproduction in whole or in part without written permission from the publisher is prohibited. One-year online subscription: $250. For information about your subscription, call (512) 716-8600 or email biz@texasweekly.com. For news, email ramsey@texasweekly.com, or call (512) 716-8611.
Texas Tribune donors or members may be quoted or mentioned in our stories, or may be the subject of them. For a complete list of contributors, click here.
Your New Year's resolution list isn't complete without …
… supporting the Tribune. This new year, resolve to do your part to sustain trusted journalism in Texas. Join thousands of readers who power The Texas Tribune's nonprofit newsroom.
Donate now