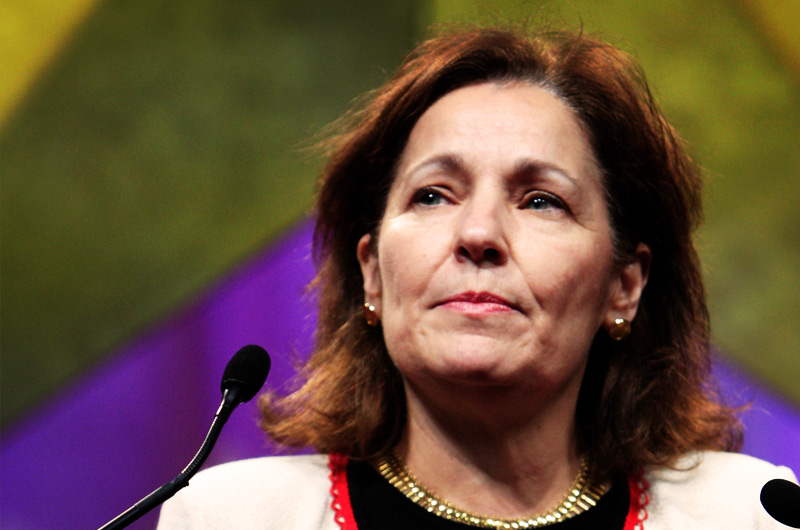 A specially appointed court of review vacated the State Commission on Judicial Conduct's sanction of Sharon Keller today, saying the state board acted unconstitutionally in reprimanding the presiding judge of the Court of Criminal Appeals.
The commission censured Keller after she refused to keep her courtroom open past 5 p.m. for a last-minute death row appeal in 2007. The procedural tangle in the court of review's 33-page opinion (download it above) wraps around what is essentially the concept of double jeopardy. When the state board decided to investigate Keller, it could have initiated "formal" or "informal" proceedings. It opted to go the "formal" route by asking the Supreme Court to appoint a "special master" to hear the evidence against Keller. In January, that special master, Judge David Berchelmann, found that Keller had committed no wrongdoing and deserved no other punishment than the "public humiliation" she had already endured. At that point, according to the opinion, the commission, if it wanted to pursue the case, had a choice of either issuing a public censure or recommending her removal from office. Instead, it issued June's "public warning" — a lesser punishment than a "public censure," and essentially a slap on the wrist. That's an option that only available to the commission under informal proceedings, according to the court of review's opinion.
This all matters because Keller's method of appeal differs depending on whether she faced formal or informal proceedings. In the case of a public sanction, her next stop would usually be requesting a formal evidentiary hearing — but in this case, that has already happened. The three-judge review court struggled with this during oral arguments for Keller's appeal of the sanction on Oct. 20. Judge Elsa Alcala of Houston's First Court of Appeals said a second, separate trial of Keller would be an "absurd consequence," adding later that "it doesn't sound fair, and it doesn't feel fair." Second Court of Appeals Judge Terri Livingston and Ninth Court of Appeals Judge Charles Kreger also sat on the panel, which was appointed by the Texas Supreme Court.
Keller's lawyer, Chip Babcock, argued that his client faced a "Hobson's choice" in determining whether or not to appeal the commission's finding — either "accept a sanction based on findings she didn't believe were true" or "go through the expense of funding a whole new trial."
The Texas Tribune thanks its sponsors. Become one.
Seana Willing, the commission's executive director, was unavailable for comment.
Texas Tribune donors or members may be quoted or mentioned in our stories, or may be the subject of them. For a complete list of contributors, click here.
Reference Material