Treemap Reveals Campaign Ad Trends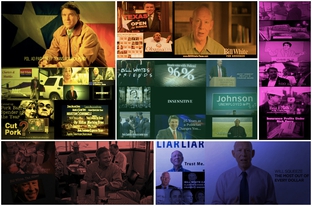 Enlarge
Illustration by Todd Wiseman
Since The Texas Tribune launched in November 2009, the Ads Infinitum blog has collected and posted political advertisements — more than 70 and counting — from candidates in both parties running for various offices during the primary and general election campaigns. We recently went back and collected data on each ad we've posted and created a treemap data visualization so readers can easily sort the ads across five different categories: candidate/organization, political party, election, promotional/attack and method of distribution.
Certain trends emerge in the treemap. For instance, we've posted more Republican advertisements than Democratic ones. Sorting the ads by election, rather than political party, explains why. Rick Perry, Kay Bailey Hutchison and Debra Medina, who battled it out during the GOP gubernatorial primary, each released more advertisements than Democrat Bill White.
Sorting the ads by election also shows the races to which we and other observers have paid particular interest — such as CD-17, where U.S. Rep Chet Edwards, D-Waco, and his Republican challenger, Bill Flores, are fighting for a seat that could determine which party has the majority in the next session of Congress.
If you're new to using treemaps, the tutorial below explains how to use this kind of data visualization to find the information you want.
It's called a treemap because — like a tree — it continuously divides data into smaller branches. Imagine that you have a big box full of items and you want to arrange them inside the box so you can see what you have more clearly. First, you divide the items into groups by one level of categorization. Then you divide those groups into smaller groups by a second level of categorization.
At the top of the treemap, tabs identify each level of division and the order in which they occur. In the starting position of our treemap, the advertisements are grouped by which candidate or organization released them. At the next level down, they're grouped by election. Down another level, they're divided by whether the ad promoted a candidate or attacked an opponent. The level after that is political party, and the final level is based on how the ad was originally distributed. By changing the order of the tabs, you can change the order of how the ads are grouped and the view created by the treemap.
Texas Tribune donors or members may be quoted or mentioned in our stories, or may be the subject of them. For a complete list of contributors, click here.