Trail Mix
A new poll — this one done for the state's five biggest papers — put the major-party contestants in the governor's race 7 percentage points apart. That number, along with the 6-point spreads in the University of Texas/Texas Tribune poll and the latest Rasmussen Poll, has Democrats spinning this as a close contest and Republicans spinning it as a race that's not as close as it appears to be, with Republican voters eager to turn out and Democratic voters demoralized. With a month left, there's plenty of time for either theory to blossom into fact.
A new poll — this one done for the state's five biggest papers — put the major-party contestants in the governor's race 7 percentage points apart. That number, along with the 6-point spreads in the University of Texas/Texas Tribune poll and the latest Rasmussen Poll, has Democrats spinning this as a close contest and Republicans spinning it as a race that's not as close as it appears to be, with Republican voters eager to turn out and Democratic voters demoralized. With a month left, there's plenty of time for either theory to blossom into fact.
Breakthroughs, if they happen at all, sometimes happen at the top of the ticket, as when Republicans John Tower and Bill Clements led what was otherwise a Democratic sweep of statewide offices in 1978 (Tower was already in office; Clements was the breakthrough). Sometimes, they happen at the bottom, as when Kay Bailey Hutchison and Rick Perry got elected Treasurer and Ag Commissioner in an otherwise Democratic sweep in 1990.
Democrats are hoping this is their year; that is, after all, what you do a month before an election. And were it to happen — this is not a prediction, just a speculation — the closest races are at the top and at the bottom, according to the polls. There's that spread at the top, already noted, and there's this at the bottom: In the UT/Tribune poll, there were 15-point (or better) differences in favor of the red team in races for lieutenant governor and attorney general, and generic contests between unnamed Democrats and Republicans running for Congress and the Legislature. But at the bottom of the executive ticket (judges weren't included in the poll), the land commission candidates were 10 points apart, the agriculture commission candidates were 7 points apart, and the railroad commission candidates were 8 points apart. That's close enough to close up under certain conditions, and certainly close enough to keep the attention of all the parties and spectators. A couple of items, in that light:
• Jeff Weems picked up endorsements from the state's two biggest newspapers, the Houston Chronicle and the Dallas Morning News, in his race for railroad commissioner. He faces Republican David Porter for the only open seat on the statewide ballot. Victor Carrillo, the incumbent, lost to Porter in the primary.
• And the challenger in the race for agriculture commissioner is getting attention the incumbent didn't necessarily expect or want him to get. Hank Gilbert, who lost the last race for this post to Todd Staples, and lost a race for Troup ISD school board since then, is ginning up some interest with stunts and spoofs that have merited a small but steady stream of news stories.
The red-colored political glasses of the moment have Republicans looking for wins in places where they don't usually look. For instance, Rep. Jim Dunnam, D-Waco, could be in for an interesting ride. Hard to tell whether this is for real or a feint, but Republicans are talking about a serious effort to knock off the House's Democratic leader with a late, heavily financed campaign on behalf of Marva Beck of Centerville (there's a Libertarian in there, too: Derek Johnson).
They appear to have three motivations: One, they don't like the incumbent, who regularly pesters Republicans from the back microphone in the Texas House and who helped topple then-Speaker Tom Craddick of Midland and replace him with Republican Joe Straus of San Antonio. Second, they think this is the sort of strong Republican political year when it'll be possible to take out Democrats who aren't beatable in normal times. Third, and this is the meat of it: They think the well-financed campaign of Bill Flores against U.S. Rep. Chet Edwards, D-Waco, could help do Dunnam in, too. Dunnam discounts that, saying that the two contests will help turn out his core vote in McLennan County, that the Republicans are too late, and that he's been running since Beck showed up, buzzing around the district in a yellow and black Mini Cooper. "We're gonna act like they're fully funded," he says. We've added the race to the Hot List.
Friends in High Places, Part One: Former House Speaker Tom Craddick will be the featured guest at a fundraiser next week for Sarah Davis, the Republican challenging state Rep. Ellen Cohen, D-Houston, in HD-134. Her campaign says she's got internal polls that show her ahead by 27 points, and she says she'll report $235,000 on hand in the campaign finance report that's due next Monday. Davis' husband and campaign treasurer is Kent Adams, who ran for the House in 1998 as a Republican from Beaumont. Rep. Allan Ritter, D-Nederland, won that race and is still in the House.
Friends in High Places, Part Two: Rep. Diana Maldonado, playing defense Williamson County's HD-52, kicks off a Saturday of block-walking with a pep talk and visit from Democratic gubernatorial candidate Bill White, who'd also like to get some votes there. Maldonado is trying to in a second term in what had been a Republican district; her opponent is Republican Larry Gonzales.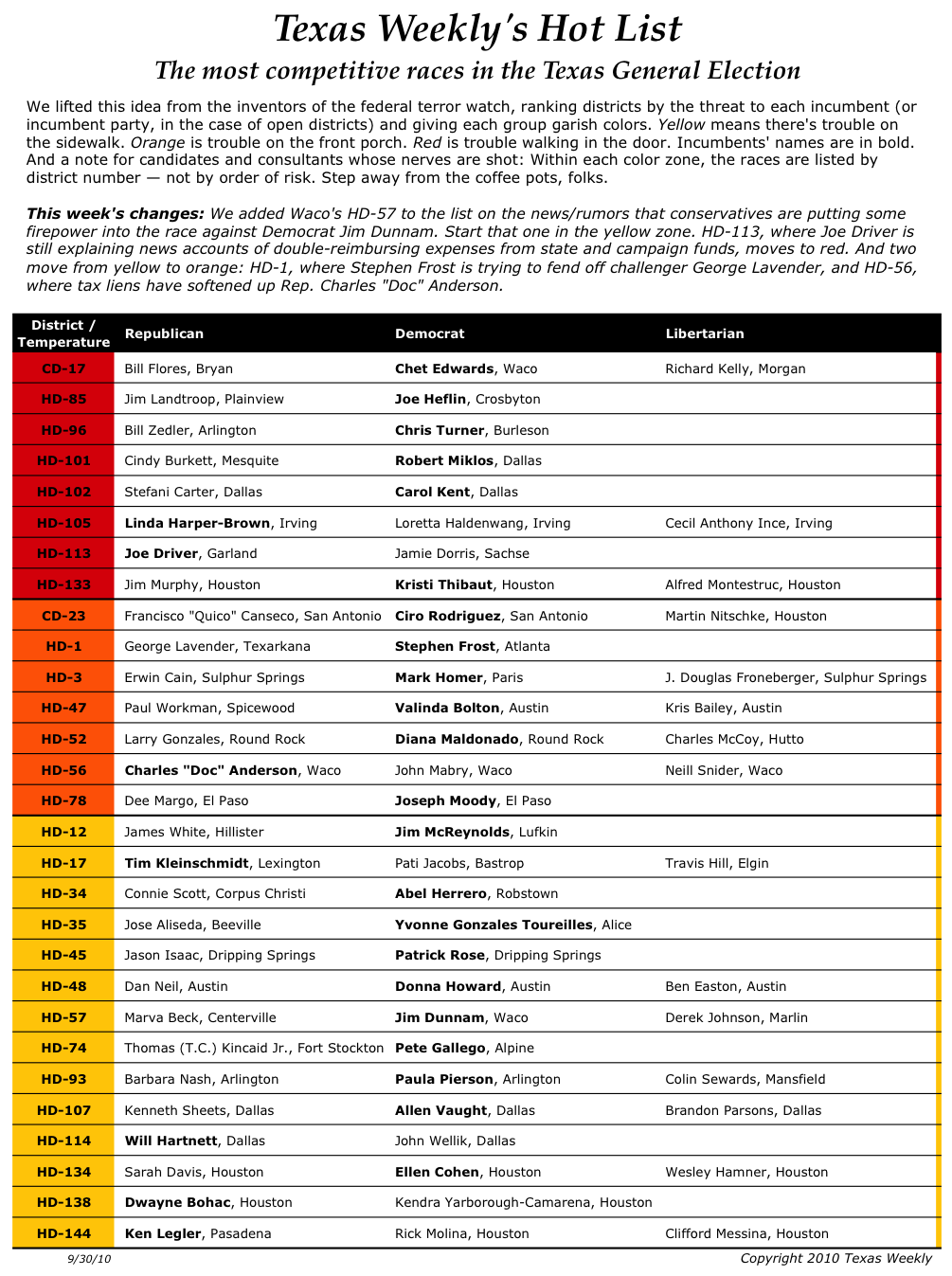 Campus Carry, Redux
Not long after a gunman ran through the University of Texas campus randomly firing an AK-47 and then shot himself, an old debate resurfaced: Should concealed handguns be allowed on campus?
Currently, concealed handguns are prohibited on college campuses in Texas. Last session, Rep. Joe Driver, R-Garland, and Sen. Jeff Wentworth, R-San Antonio, pushed a bill that would have allowed concealed handgun license-holders to carry weapons on campus. The bill passed the Senate but was left hanging in the House.
As news of the UT incident spread, Tarrant County Republican Party Chairwoman Stephanie Klick tweeted, "Too bad for UT students that Conceal Carry on Campus did not pass during the last legislative session."
While nobody was hurt other than the shooter, Klick said the incident could have been much worse. "We got lucky this time," she told The Texas Tribune, "but there have been other campuses where many have been killed."
John Woods, a graduate student at UT, was a student at Virginia Tech University when a gunman killed 32 people, including Woods' girlfriend. During the session, Woods became a prominent face of the opposition to concealed carry. His position remains unchanged.
"I'd just point out that the only person who's been killed has been the shooter," Woods told the Tribune. "I think the situation might be a lot more chaotic and a lot more deadly if a number of students had tried to go in and be heroes." Ultimately, he said, the system worked.
Klick does not believe that license holders would create chaos, because in order to get their licenses, they must go through background checks and receive training. "These gun-free zones make people sitting ducks when you have a crazed gunman," she said.
Driver says he plans to reintroduce the campus-carry bill next session. But not because of Tuesday's events; he says that's been his plan all along and isn't influenced by the incident at UT.
Of course, Driver must first get re-elected. And Wentworth is itching to leave the Senate for an administrative job in academia. But even with them gone, other legislators will likely step up to the plate. Sen. Dan Patrick, R-Houston, who sponsored the bill in 2009, has already pledged his support. If the bill is reintroduced, Woods said, he "absolutely" will be there to fight it.
Fretting Fingerprints
The controversial Department of Homeland Security program that identifies immigrants in local jails now operates in every Texas county, signaling an increase in participation of more than 300 percent since June, when 66 Texas counties used the system.
Through the Secure Communities program, administered by Immigration and Customs Enforcement, local law enforcement compares the fingerprints of anyone arrested against those in a DHS database to determine if the individual can be removed under immigration laws.
"The move improves public safety by enabling ICE to prevent the release of convicted criminal aliens back into our communities when they complete their sentences," ICE Assistant Secretary John Morton said.
Critics have alleged that the program could lead to racial profiling if police begin to target minority-majority neighborhoods. ICE officials have said that's not a concern, however, because every person arrested is fingerprinted, and not just those whom officers suspect of being in the country illegally. ICE also maintains that the effort targets major offenders who commit "level 1" offenses for deportation first. Those offenses include homicide, kidnapping, assault, robbery, sex offenses and narcotics crimes that carry a sentence of greater than one year.
Data obtained by our sister publication, The Texas Tribune, showed that since Texas joined the program in October 2008, through June of this year, it had submitted 494,445 sets of fingerprints to DHS for tracing, leading to 10,837 aliens being arrested or booked into ICE custody. According to ICE statistics at that time, 8,596 had been deported. Of those, just 2,113 — fewer than 25 percent — were convicted of level 1 offenses, compared to 5,147, or 60 percent, who were convicted or charged with level 2 offenses.
The move should undoubtedly increase the number of undocumented immigrants in Texas eventually deported after being arrested by local law enforcement. According to a study by the Benjamin Cardozo School of Law, Travis County already leads the nation in how many of its detainees are deported. According to the study, 82 percent of immigrants identified through the program in Travis County, including those who have not committed a crime, are deported through the program.
Expansion of the program in Texas comes as some local governments elsewhere have voted to opt out of the program. Santa Clara, Calif., and Arlington County, Va., voted to suspend their inclusion in the program.
Ad Warring
As the race enters its last month, this week saw another round of TV ads from U.S. Rep. Chet Edwards, D-Waco, and his Republican challenger Bill Flores in CD-17.
Flores aired an ad spotlighting Edwards' "False" PolitiFact rating in the Austin American-Statesman. Though the ad doesn't explain the rating, it refers to Edwards' claims in a TV ad that a company Flores helped run "laid off over 3,000 workers and then paid off its top executives with millions." PolitiFact concluded that, while Flores maintained an executive title for six months after the merger that resulted in job losses, his "duties were limited to a single small project before his departure less than six months later."
Edwards put out an ad featuring concerned veterans speaking out against Flores' purported plan to privatize veterans' health care. The ad stems from a remark Flores made at a runoff debate that indicated he supported allowing veterans to use their government benefits to seek health care in the private sector. The pair will debate on Oct. 24 at an event in Waco sponsored by the Waco Tribune-Herald and KXXV-TV.
The Week in the Rearview Mirror
Polls showing a tightening governor's race have led the Democratic Governors Association to invest some of its time and money in Texas. The group's assessment that the race is still up for grabs led it to start running ads in the state calling Rick Perry an entrenched politician who's made a series of bad decisions for the state of Texas. The 30-second spots are expected to cost the association $650,000 to $700,000 per week.
Census data released this week showed an increase in the poverty rate, and Texas wasn't immune. In spite of the perception that Texas has escaped the worst of the economic downturn, statistics show that Texans have suffered decreases in income, as well as increases in the poverty rate, which at 17.2 percent is higher than the 14.3 percent national rate.
Looks like voters' chance to see a debate between the two major gubernatorial candidates this year has faded to about nil. Media outlets organizing the debate are trying to fill the gap by inviting two other candidates on the ballot, Libertarian Kathie Glass and Green Party candidate Deb Shafto. Democrat Bill White has already accepted the invitation to appear Oct. 19 at KLRU studios in Austin, but Rick Perry's still declining to debate White unless he releases certain tax returns dating back to his tenure as deputy energy secretary in the Clinton administration.
The Cameron Todd Willingham investigation is back in the headlines, as a suit filed by the family of the executed man has will be heard by District Judge Charlie Baird. The dispute over the methods used in the original arson investigation continue to dominate the debate over the fairness and ultimate validity of the outcome of the trial, even though Willingham was put to death in 2004. His family, with the assistance of the Innocence Project, filed a petition to restore the reputation of the man who was convicted of setting a fire that killed his three daughters.
The State Board Of Education, notorious for its recent debates over social studies curriculum, stirred up controversy again on standards for world history textbooks. The board took action on a resolution put forward by Randy Rives of Odessa, an unsuccessful board candidate. The resolution warned publishers to avoid a "pro-Muslim" bias in their books and vowed to reject any books seen as "anti-Christian." After the debate, the board voted 7-6 in favor, with two members of the board absent. The action is seen as largely symbolic, as the resolution is nonbinding and the textbooks in question are no longer in use.
The battle over $830 million dollars of education dollars intensified when Gov. Rick Perry announced that Texas would now sue to get its fair share of the federal jobs bill money. U.S. Rep. Lloyd Doggett, D-Austin, attached an amendment to the legislation that prevents the state from using the money for any other purpose than education. Perry and Attorney General Greg Abbott, insisting that committing funds to any particular purpose is a violation of the state Constitution, have filed suit in the U.S. 5th Circuit Court of Appeals to secure the money.
Southwest Airlines surprised most observers by announcing that it has worked out a deal to buy low-cost rival Air Tran. The deal would expand Southwest's presence in new hubs and increase it footprint in the Northeast and the Caribbean. On the heels of major mergers between Delta and Northwest in 2008 and Continental and United this year, the combined airline's firepower will put pressure on American Airlines to find a partner.
Threats to contractors' jobs at the Johnson Space Center may be eased this week by the passage of a funding bill representing a compromise on future plans for NASA's manned space program. A deal worked out by U.S. Sens. Kay Bailey Hutchison and Bill Nelson, D-Fla., is expected to pass the House — it already passed the Senate — which will send it to the Oval Office for a signature and a little more job security for the more than 1,100 contractors who were facing job losses from budget cuts.
Building a transmission line through the Hill Country could relieve chronically congested power transmission lines, the Electric Reliability Council of Texas announced this week. But landowners are fighting construction of the 130-mile line across land they call environmentally sensitive. The Texas Legislature in 2007 mandated that lines be built to aid in the transmission of wind power generated in West Texas, but when permits to build were filed, stakeholders across the area protested. ERCOT pulled back on part of its recommendations and agreed that upgrading existing lines would be sufficient. Now, opponents want to see the remainder of the construction plans scrapped. The Public Utility Commission will hear arguments next month.
The battle over settlement records at the Texas Windstorm Insurance Association took a new turn, with a public information request from Texans for Lawsuit Reform. That group has asked TWIA for the records under the state's Open Information Act. Rep. Larry Taylor, R-Friendswood, asked for the records and found himself in a court fight with Steve Mostyn, the lawyer who handled the cases and, coincidentally, the incoming president of the Texas Trial Lawyers' Association — chief rival of TLR. The courts have kept the records under wraps, so far.
U.S. District Judge T. John Ward of Marshall tells Texas Lawyer he'll go on senior status a year from now and is writing a letter to the president to that effect. Ward is best known in the legal world as the linchpin of the intellectual property docket in East Texas. He was part of the three-judge panel that handled the state's initial redistricting battles nine years ago.
Quotes of the Week
Bill Flores, the Republican candidate in CD-17, emphasizing his plans to come home every weekend if he's elected to Congress, quoted in The Texas Tribune: "People in Bryan are going to see me in my flip-flops and shorts on Saturday at Lowe's hardware, and it's not going to be a pretty sight. And on Sunday in my Sunday school class."
Libertarian gubernatorial candidate Kathie Glass, quoted in Politico: "Whether we have Rick Perry or Bill White does not matter a hill of beans. We're still going to hell in a hand-basket."
U.S. Rep. Eddie Bernice Johnson on her recent scholarship flap to the Dallas Morning News editorial board: "When this is over, it will be clear that I broke no rules."
2006 Democratic gubernatorial candidate Chris Bell, who recently won a suit against the Republican Governors Association that netted him $2 million, in an interview with the Tribune: "It was a fascinating, exciting home stretch that I greatly enjoyed. I don't have any regrets about the governor's race at all."
Eric Celeste, a campaign spokesman for Dallas County District Attorney Craig Watkins, to the Morning News explaining why Watkins won't be appearing at a televised forum scheduled to be broadcast Sunday on WFAA-TV: "Craig is not running from [opponent Danny Clancy] at all. Watkins is trying to reach as many people as possible. He's extremely busy."
California Gov. Arnold Schwarzenegger on Texas oil companies Valero and Tesoro, proponents of Proposition 23, a measure that calls for suspending the state's climate law until the jobless rate hits 5.5 percent for a year: "Does anybody really believe they are doing this out of the goodness of their black oil hearts — spending millions and millions of dollars to save jobs?"
Houston Mayor Annise Parker, on how Gov. Rick Perry's criticism of her predecessor and Perry's challenger, former Houston mayor Bill White, has labeled her city as a "financial mess," in the Morning News: "Rick Perry is a long, long, long-serving elected official trying desperately to hold onto his position, and he's saying a lot of things as part of the campaign rhetoric that are unfortunate. I inherited a city that was essentially well run."
The editors of El Diario de Juárez, the Mexican city's largest paper, in an editorial addressed to the drug and prison gangs responsible for the deaths of more than 6,500 in less than three years, including a 21-year-old Diario photographer, Luis Carlos Santiago, who was gunned down two weeks ago: "We do not want more deaths. We do not want more injured or more intimidation. It is impossible to carry out our role in these conditions. Tell us, therefore, what is expected of us as a media outlet."
Contributors: Julian Aguilar, Reeve Hamilton, Ceryta Holm, David Muto and Morgan Smith
---
Texas Weekly: Volume 27, Issue 37, 4 October 2010. Ross Ramsey, Editor. Copyright 2010 by The Texas Tribune. All Rights Reserved. Reproduction in whole or in part without written permission from the publisher is prohibited. One-year online subscription: $250. For information about your subscription, call (512) 716-8600 or email biz@texasweekly.com. For news, email ramsey@texasweekly.com, or call (512) 716-8611.
Texas Tribune donors or members may be quoted or mentioned in our stories, or may be the subject of them. For a complete list of contributors, click here.
Texans need truth. Help us report it.
Our Fall Member Drive is underway, and we need your support. The Texas Tribune is a critical source of truth and information for Texans across the state and beyond — and our community of members, the readers who donate, make our work possible. Will you join as a member with a tax-deductible donation of any amount?
Yes, I'll donate today
---
Information about the authors
Explore related story topics