Crime, Guns and Money
When the state's concealed handgun statute was approved 15 years ago, lawmakers argued it would help citizens defend themselves — but residents of low-income, largely Democratic nieghborhoods aren't applying for gun permits as often as those in wealthier, more-conservative areas, according to a Texas Tribune/San Antonio Express-News analysis.
Editor's note: This story was written by reporters John Tedesco of the San Antonio Express-News and Brandi Grissom of The Texas Tribune. Matt Stiles of the Tribune analyzed and mapped the data.

Jonathon Hartsfield and Adam Kelly live on opposite sides of San Antonio. They both own guns, they've never been in serious trouble with the law and they'd both like to have a concealed handgun license — just to be safe.
But like many of his neighbors on the city's low-income South Side, Hartsfield hasn't applied for a gun permit, which costs $140 for the license fee and roughly $100 or more for the 10-hour instruction class. "I'd like one," says Hartsfield, 22, who works at a shooting range on Pleasanton Road called A Place to Shoot. "It's the cost and time to get it."
Kelly, 36, lives on the city's North Side — one of the most popular areas for concealed handgun licenses. Two weeks ago, he attended the mandatory class to obtain his permit. "It's the right thing to do if you're going to have a gun," Kelly says.
When Texas lawmakers approved the state's concealed handgun statute 15 years ago, they promised it would help law-abiding Texans defend themselves against criminals. But in a pattern that's playing out in San Antonio and other major cities in Texas, residents in low-income neighborhoods aren't taking advantage of the concealed carry law as often as residents living in wealthier, more conservative areas.
The pattern surprises some gun owners, who wonder why more law-abiding citizens aren't applying for concealed handgun licenses in the inner city, where rates of violent crimes are higher.
The trend didn't necessarily come as a surprise to Texas Land Commissioner Jerry Patterson, who wrote the 1995 bill that created the concealed handgun license when he served in the Texas Senate. But he says socioeconomics weren't at the top of his priority list when he developed the measure.
"You're talking about disposable income sufficient to take the course, pay the fee and buy a firearm," he says. "I think it would be certainly better if we could lower the fee."

Haves and have-nots

The Department of Public Safety does not identify permit-holders, but it publishes data showing the total permits issued in ZIP codes across Texas. When that data is compared with income levels and past presidential election results in the same areas, the analysis shows that the number of gun permits in a neighborhood often correlates with how much money residents make, how they vote and where they live.
The outskirts of Bexar County and many North Side neighborhoods had the highest rates of gun permits. Ten or more permits per 1,000 residents were issued or renewed last year in ZIP codes such as 78259, a suburban maze of cul-de-sacs and winding streets outside Loop 1604.
The median household income for residents in the area was nearly $100,000, and voters predominately cast their ballots for Republican U.S. Sen. John McCain in the 2008 presidential election. The North Side neighborhoods in that ZIP code had a low rate of violent offenses: four incidents per 1,000 residents.
Meanwhile, in the West Side ZIP code of 78207, near downtown, the rate for violent crimes such as aggravated assault and robbery was nine times higher than the violent crime rate in 78259. But only 27 people out of 57,000 residents living in the West Side ZIP code received a concealed gun permit last year, or less than 1 permit per 1,000 residents. The median household was $25,000, and residents tend to vote for Democrats. Barack Obama won most voting precincts on the West Side.
Similar patterns emerge in Harris County. In the Houston suburb of Sugar Land, for example, about 12 out of every 1,000 residents were licensed to carry a concealed handgun last year. The median annual income there: $91,756. And residents there chose McCain over Obama in 2008. Meanwhile, near downtown Houston, in a ZIP code where the median income is $24,976 and voters in 2008 supported Obama, only about three residents in every 1,000 obtained a handgun license.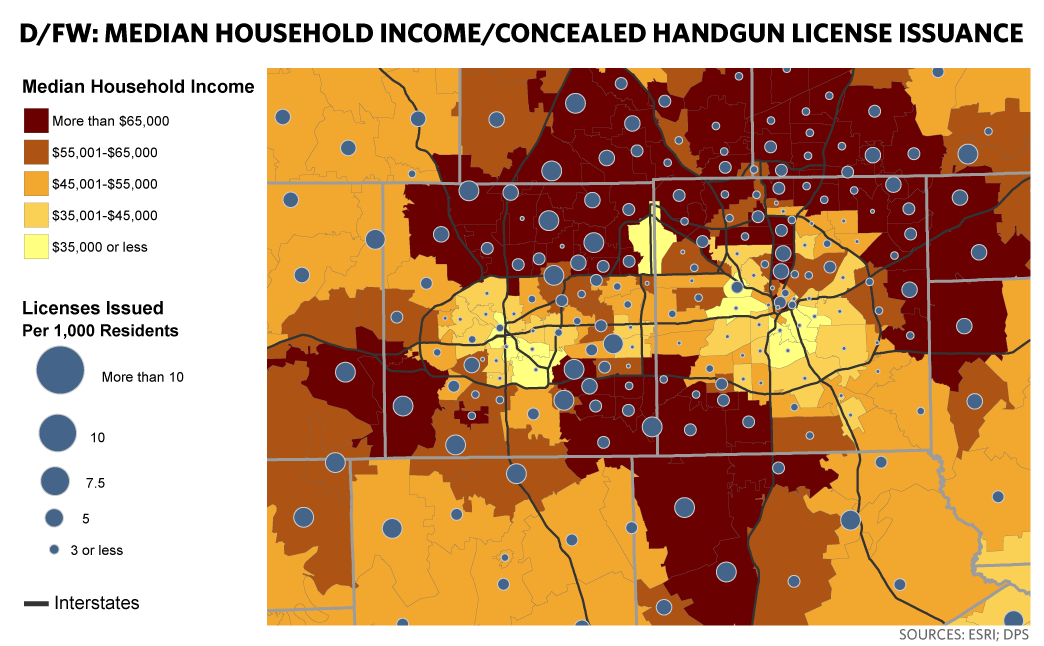 The trend in other major metropolitan counties is visible in maps created by the Tribune, using demographics data released to the Tribune by Esri, a leader in the geographic information systems industry.
When the gun-permit data is viewed on a map, the pattern becomes a kind of Rorschach test that can mean different things to different people.
Is it a sign of a stark divide between liberals and conservatives? Between the haves and have-nots? Between those who embrace Texas gun culture and those who don't understand it?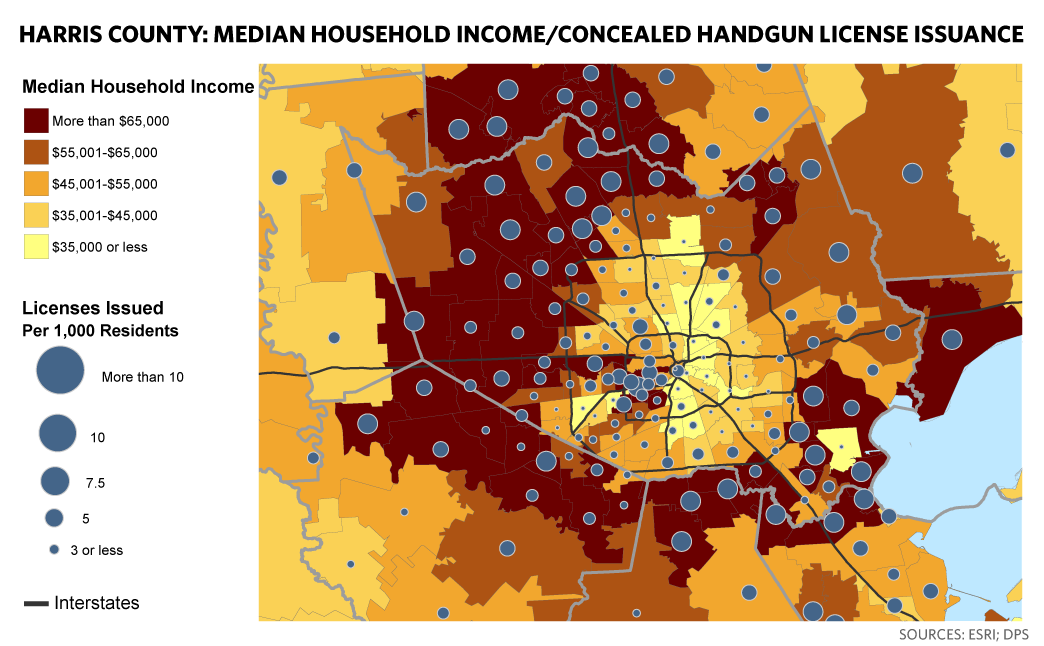 At least one expert says it's probably some amalgamation of all those factors and others, too, including individuals' perceptions about crime and guns, their likelihood of being involved in crime and even the number of single-parent households in an area. "Most criminologists probably would believe that those elements could be important, but there's probably a lot else that's going on as well," says Matt Nobles, an assistant professor of criminal justice at Sam Houston State University in Huntsville.
Sun Tzu and the art of concealed carry
Concealed handgun instructor Michael Arnold knows that some people might view the high number of gun licenses on San Antonio's North Side and think that residents there are paranoid and trigger-happy. But he says the reality is far different. People who obtain concealed handgun licenses have to pass a criminal background check, he argues, so the process weeds out people who shouldn't be legally allowed to carry around a gun in public.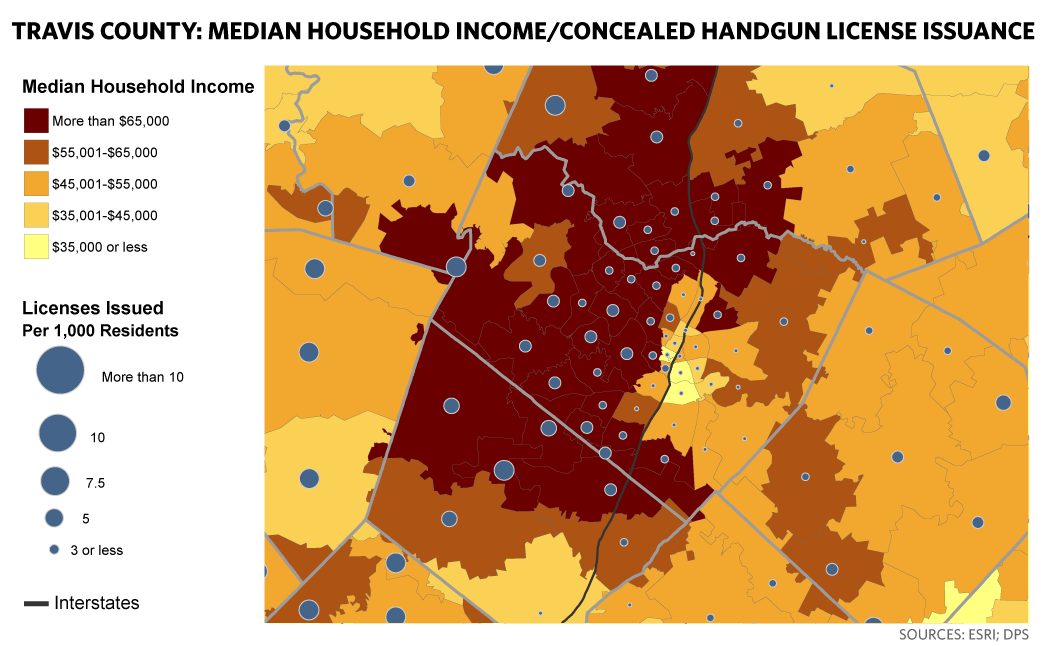 Students who take his mandatory concealed handgun classes learn the importance of using a handgun as a last resort. It's not easy taking a human life — a lesson that Arnold makes sure his students learn. "If you knew the people who had licenses, one of the things you would come away saying would be, 'They're the most polite people I know.' Because they got more to lose if they're not polite."
On a recent Saturday morning, Arnold made that key point to a concealed handgun class of 12 men and two women. The group gathered in a corrugated metal building at the Bexar Community Shooting Range outside San Antonio. In the classroom, the muffled drumbeat of gunfire could be heard outside at the practice range.
Arnold stressed how a handgun owner should avoid pulling the trigger unless there is no other choice. Tall and folksy, he paraphrased the Chinese military genius Sun Tzu to make his point: "You'll win the fight if you avoid the fight."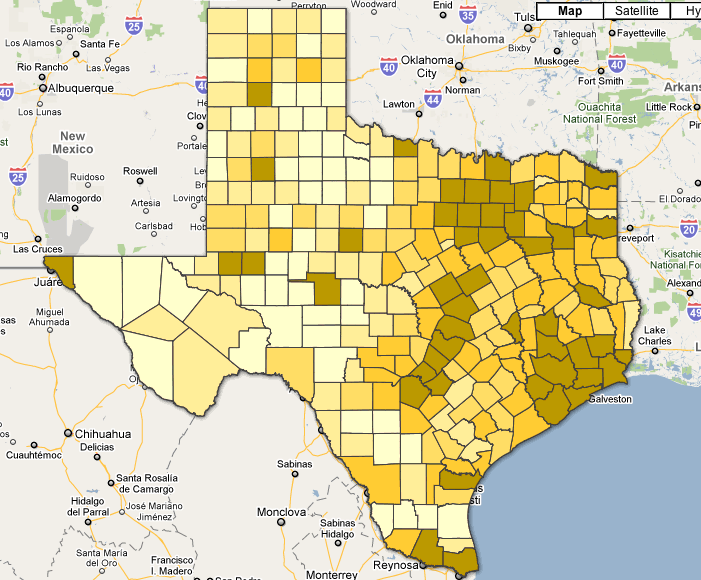 That lesson hit home for Robert Fletcher when he took the concealed carry class in 1998. Fletcher, 52, who lives in Northwest Austin, says the class reinforced the responsibility of gun ownership. "As a consequence of that, I've really looked at things differently, and I make it a big part of my life not to get into it with people," Fletcher says. "There are so many ramifications when that occurs, you can't even begin to conceptualize all the headaches."
Fletcher decided to get a handgun license when his two daughters were young. He wanted to be able to protect them in a threatening situation. Now that they're grown and he doesn't often find himself in dangerous areas, Fletcher says he rarely carries his gun with him — it's cumbersome and just one more thing to worry about. But he almost always has one in his vehicle. "On a day-to-day basis, I don't feel very threatened where I go," he says.

Cultural divide

In Texas, the concealed handgun training is outsourced to private instructors who follow an approved lesson plan but set their own fees. Arnold's rates start at $105 per student. Some instructors charge more. All students in Texas must also pay the $140 licensing fee, which is pricier than in most states. "There is an expense involved in getting a concealed handgun license, and that may have some direct relationship to why in lower-income neighborhoods, people aren't getting them," says Wayne Christian, a gun instructor who teaches annual classes to the San Antonio Bar Association and is running as a Republican candidate for county court judge in the November elections.
Christian doesn't see political ideology playing any role in the distribution of gun permits in Texas. But other gun owners say it's probably a factor, noting that conservatives tend to be raised around guns, are more comfortable with them and are more likely to be educated about what's involved in getting a concealed handgun license. "Part of it may be kind of a cultural thing," says Robert Buchmann, a salesman at Nagel's Gun Shop on San Pedro Avenue in San Antonio. "Some people look more towards themselves to protect themselves. Some people look more towards others, such as police. It is kind of cultural or political."
Austinite Fletcher says it makes sense to him that more Republicans would be licensed to carry concealed. "I know Democrats who are hunters and own guns, but to a large extent, people who believe in firearms and think we should have a right to use them are going to be Republicans," he says.
More guns, less crime?

Crime rates in a neighborhood often have little bearing on whether residents opt to get a gun permit.
"Crime rates and licensed-handgun concealment are not closely related," says John Kilburn, a professor at Texas A&M International University who co-authored a 2004 study about gun permits in Louisiana. "Because we're talking about a human emotion of fear of victimization. And that overpowers anything."
Nobles, of Sam Houston State, says individual opinions about guns may also be different based on where a person lives and the crime rate there. For those who live in gritty urban neighborhoods where gang violence is prevalent, guns could be associated with crime and death. Residents in suburban areas may see guns as recreational and as a means of protection.
In areas where the crime rate is higher, he says, more people could be disqualified from getting a license because they have a criminal history.
What's more, gun ownership and concealed handgun licenses don't necessarily go hand-in-hand. Texans can legally keep guns in their homes and cars without a license. Then there are those who don't care what's legal and just carry a gun anyway. "This could be a very subtle and nuanced kind of phenomenon," Nobles says.
It remains unclear, though, whether high rates of concealed handgun permits in a neighborhood actually deter crime — something lawmakers hoped would happen when they approved the law that allows licenses. Researchers such as John Lott, a senior research scientist at the University of Maryland and the author of More Guns, Less Crime, argue that violent offenses dropped in states where concealed carry laws were adopted. Other researchers disagreed with Lott's conclusions and argue that legalizing concealed handguns has little impact on crime rates.
"It may be just that the inner city may have more crime in general, regardless of whether people get licensed," Nobles says.
Since the point of a concealed handgun permit is to legally carry a firearm in public, even residents in the safest gated communities still might want a permit for when they travel, says Timothy Wallace, a concealed handgun instructor at Dury's Gun Shop in San Antonio. "I could live in the Dominion and never have a problem in the world there," Wallace says. "But I might have to work elsewhere where there might be lots of problems."
Pearland resident Kristin Cortese says she and her husband are both avid bikers and that they sometimes venture into areas less savory than their quiet Houston suburb. That's one reason why they both decided to get concealed handgun licenses about six months ago. Now, Cortese says, she misses her gun if it's not close by. "You never know what you're going to come up against in life," she says.
Express-News Database Editor Kelly Guckian contributed to this report.
Texas Tribune donors or members may be quoted or mentioned in our stories, or may be the subject of them. For a complete list of contributors, click here.
Texans need truth. Help us report it.
Our Fall Member Drive is underway, and we need your support. The Texas Tribune is a critical source of truth and information for Texans across the state and beyond — and our community of members, the readers who donate, make our work possible. Will you join as a member with a tax-deductible donation of any amount?
Yes, I'll donate today
---
Information about the authors
Explore related story topics