Fail to the Chief
Nearly as many Texans believe Barack Obama is a Muslim as approve of his performance as president, according to the latest University of Texas/Texas Tribune poll.
Nearly as many Texans believe Barack Obama is a Muslim as approve of his performance as president, according to the latest University of Texas/Texas Tribune poll.
Obama's job ratings are dismal here. Half of the state's voters disapprove strongly of Obama's performance and another 8 percent disapprove "somewhat." About a third approve of the job he's doing (13 percent strongly), 7 percent are neutral and only 1 percent register no opinion.
A majority — 52 percent — answer correctly that the nation's chief executive is a Christian, but 29 percent believe he's a Muslim, and 14 percent say they don't know his religious affiliation.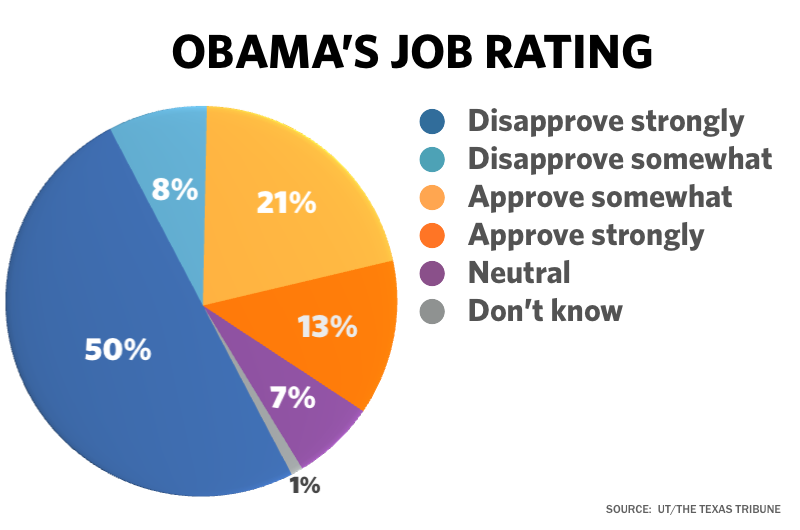 Obama's low ratings are shared by his fellow Democrats in Washington, according to the poll.
"These numbers are pretty abysmal, and it just doesn't bode well for Democrats in general," says Daron Shaw, who conducted the poll with fellow University of Texas government professor James Henson. "There really is a toxic national environment for the Democrats and that can't help Democratic candidates in Texas.
"Now more than ever they want to localize and personalize their races," Shaw says of the Democrats. "Republicans might want to nationalize their races and talk about Obama and Pelosi."
Given a list of names and institutions to rank on a 100-point scale, Texans are stingy with good grades: Only the Tea Party, at 52, made it past the halfway mark. Democratic gubernatorial candidate Bill White got 50. Gov. Rick Perry and the Republican Party both had mean rankings of 49 and the Republicans in Congress got a 47. From there the numbers drop significantly: Obama rated 42 on that "feeling thermometer," the Democratic Party got a 40, and Democrats in Congress got a 38.
To underline a point made in other poll answers, Texans are not happy with Washington and blame the Democrats, who are in charge there, for the trouble. Only 26 percent think the country is on the right track (43 percent say the state's on the right track), and 54 percent say the country is economically worse off than it was a year ago (compared with 42 percent who say that about the state economy). But so far, they're not attaching that to Texas pols like Perry and White.
Eighteen months before the 2012 presidential primary in Texas, 46 percent say they'll vote on the Republican side, 31 percent will vote on the Democratic side; 18 percent aren't sure, and 5 percent say they'll skip the major party primaries.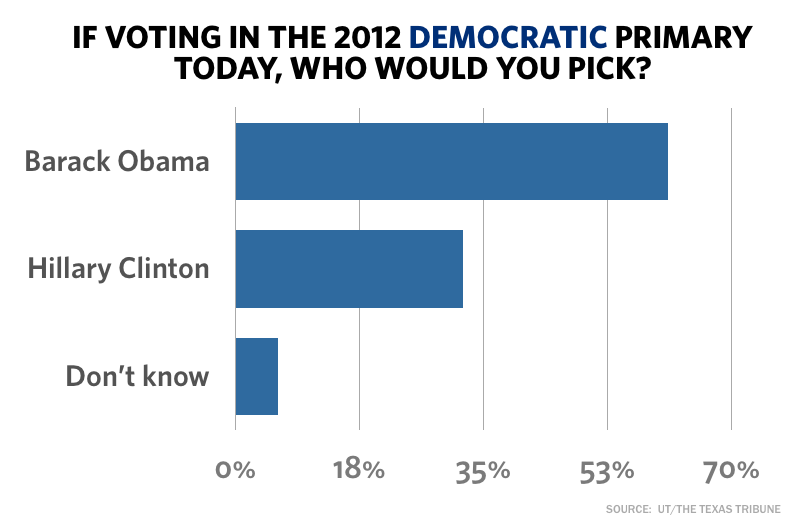 The 2012 presidential hopefuls haven't declared at this point. But in a hypothetical matchup, Democrats in that bunch would choose Obama over his former rival and current Secretary of State Hillary Clinton, 61 percent to 32 percent.
On the Republican side, more candidate names are in the speculative hat and voters sort them this way: former Alaska Gov. Sarah Palin, 20 percent; former U.S. House Speaker Newt Gingrich, 15 percent; former Govs. Mitt Romney of Massachusetts and Mike Huckabee of Arkansas, tied at 13 percent; U.S. Rep. Ron Paul of Texas, 8 percent; Texas Gov. Rick Perry, 7 percent; former Florida Gov. Jeb Bush, 3 percent; Mississippi Gov. Haley Barbour, 2 percent; and Minnesota Gov. Tim Pawlenty, 1 percent. The candidate named "Don't Know" got 19 percent — almost enough to top the list. Perry has said repeatedly that he's not interested in running for national office; if he changes his mind, he'll have to do better than sixth in a poll in his home state to win serious attention.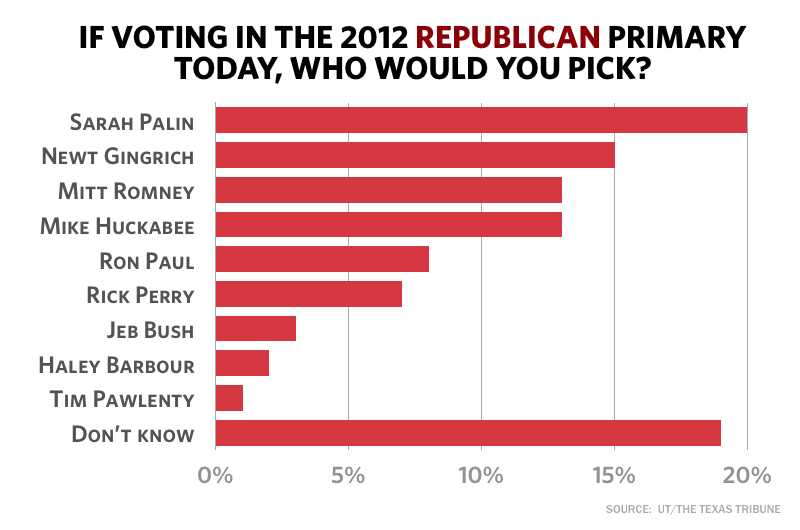 Forty-seven percent disapprove of the way Obama is handling things in Afghanistan, with 33 percent approving and 20 percent expressing no opinion. Not surprisingly, they don't think that war is going well; just 30 percent say it is, while 57 percent say it's not. Texans have mixed reactions to the beginning of the withdrawal of troops from that country in July of next year, with 47 percent saying they support the timetable and 40 percent saying they don't.
The poll asked voters a few questions about their general political knowledge, including the one about Obama's religion. Almost all — 95 percent — correctly chose Joe Biden when asked to select the vice president's from a list of four names; 64 percent knew that Harry Reid is the U.S. Senate majority leader; and 64 percent correctly chose John Roberts at the U.S. Supreme Court Chief Justice from a list of four names (11 percent chose House Speaker Nancy Pelosi or White House Chief of Staff Rahm Emanuel).
This is the fourth University of Texas/Texas Tribune poll (the three others are here, here and here). The survey of 800 registered voters was taken Sept. 3-8 and has a margin of error of +/- 3.46 percent. The full summary of questions and responses, and the cross tabulations from the poll, are attached as documents.
Texas Tribune donors or members may be quoted or mentioned in our stories, or may be the subject of them. For a complete list of contributors, click here.
Your New Year's resolution list isn't complete without …
… supporting the Tribune. This new year, resolve to do your part to sustain trusted journalism in Texas. Join thousands of readers who power The Texas Tribune's nonprofit newsroom.
Donate now