Speaking Openly
Warren Chisum didn't actually come out and say he's running for speaker of the Texas House — you have to file papers with the Texas Ethics Commission to do that, and he hasn't. But in an interview with the Associated Press, he left open the possibility that he'll run, just to keep the conversation going.
Warren Chisum didn't actually come out and say he's running for speaker of the Texas House — you have to file papers with the Texas Ethics Commission to do that, and he hasn't. But in an interview with the Associated Press, he left open the possibility that he'll run, just to keep the conversation going.
That's a fly: Put the idea out there and see which fish are interested and how many there are.
Speakerships are built on the personal ambitions of the voters — in this case, on the political and personal needs of the 150 members of the Texas House. All other things being equal, they each vote for the candidate who'll give them the best deal.
Straus toppled Speaker Tom Craddick after Craddick unified most Democratic members against him and left enough Republicans in the cold that the opposition — most of the Democrats and almost a dozen Republicans — ended up with a majority. Craddick toppled Pete Laney in 2003 after helping draw redistricting maps that brought a large cohort of Republican freshman to Austin in 2003; the GOP had the majority for the first time since Reconstruction and Craddick, who'd been all over the state helping those Republicans get elected, was the only serious candidate in his party for speaker.
Chisum (like any challenger) doesn't stand a chance unless Straus' base comes apart faster than he can add new supporters. For him to fall like Craddick, there'd have to be enough discontent in the House to form a bloc of votes against him.
Some of the elements are in place. Some Democrats are unhappy that they're being treated like the minority party in a closely divided House where they think they should have a stronger hand. And Republicans who aren't on the Straus team — a group mainly comprised of folks who were on the Craddick team that was turned out two years ago, and members who just don't like the idea of a GOP official put in office because of strong Democratic backing — would like to be back in power. It's not enough, though, to get 76 House members grousing about management. They have to have a candidate to carry their standard. Chisum has been able in the past to win votes for legislation and issues from both sides of the aisle, and although he's on the conservative side of the GOP, a lot of Democrats like him. But to win, he and other Republicans would have to agree to spread power around in a way that would hold the coalition together.
For Straus to fall like Laney did, Republicans would have to win a bunch of seats in November — possible, given the current political timbre — and they would have to win them with candidates predisposed to turn out the current speaker in favor of someone new and different. With less than two months to go before the election, that's not at all what those candidates are thinking about. They're thinking about political survival. The game is to win their favor by helping them win their elections, and the person or group that does that will be the first in the door when it's time to ask for votes for speaker. Straus is actively involved in open seat races and in seats where Republican incumbents are fighting challengers. And other groups, like the Associated Republicans of Texas, are involved in races where Republicans are challenging incumbent Democrats. ART's unofficially with Straus, at least to outward appearance. If Chisum is to have a chance, he'll have to win the hearts of some of those candidates by helping them get elected in November.
It's always possible to knock off a speaker, but it usually doesn't come together. Members don't like to risk their current situations by grasping for better deals, for one thing — the price of trying and failing is too high. And it's hard to unseat a speaker without a rationale that makes sense to the public. When Craddick beat Laney, it was a change in the majority. When Straus beat Craddick, it was the end to an eight-year argument over the way he ran the House and handled issues there. What's the case against Straus? For (some) Democrats, it's that he hasn't sufficiently rewarded them for their part in the Craddick coup. And for (some) Republicans, it's that he joined with Democrats to upend a conservative Republican speaker. The case for him? He's not Craddick, and members say they've got more freedom to operate now than during the previous four terms. He put new people in important jobs, building the start of the kind of leadership structure that can keep a speaker in office. Don't forget the lobby on the pro and con sides. The current In-crowd works to keep its position. The former In-crowd works for a return to the trough. And don't ignore — as an asset — the fact that he hasn't been in the job for even two years yet. Being a speaker is politically equivalent to handling moderately radioactive rocks: It's only after prolonged contact that the poisons build to dangerous levels.
Poll Vaulting
Bill White added insurance reform in a detailed way to his list of issues on August 27. A poll from Texas Watch, focused on insurance matters and including news of a dead heat in the governor's race, came out on September 7. And Back to Basics, the political action committee funded almost entirely by Houston lawyer Steve Mostyn, came out with an ad bashing Rick Perry on insurance on September 8.
White turned up his own ad volume this week, with an ad on Border Security that does double-duty, calling for more help on the border and knocking the incumbent for not taking care of it after being in office for so long. Perry's not on TV yet.
The week also saw new polls in rapid fire that indicate a tightening contest. Texas Watch, a nonprofit insurance reform outfit with Democratic ties, has the race in a statistical tie in a survey done by a Republican firm, Hill Research Consultants. That had Perry at 42 and White at 41, and 14 percent undecided (600 voters, August 25-9, MOE +/- 4.0 percent). They also found that voters think insurance rates are too high and think the state's regulation of that industry favors insurers over the people who buy insurance. Most Texans — 84 percent — think the state's insurance commissioner should be elected rather than appointed, and 73 percent think companies should have to get the state's approval before rates can go up, offering some backing for that issue blast from White. Then Public Policy Polling came along with a survey showing Perry with a six-point lead but upside down on voters' good and bad feelings. According to PPP, 50 percent of voters have a negative impression of the incumbent while 39 percent like him; for White, it's 44 percent positive and 29 percent negative (538 likely voters, September 2-6, MOE +/-4.2 percent). The same survey had David Dewhurst leading Linda Chavez-Thompson in the Lite Guv's race, 54-34 percent. They didn't poll (or didn't release their results) in other contests.
That same pollster came back the next day with an off-subject but interesting survey result: 62 percent of Republican primary voters in Texas would vote against U.S. Sen. Kay Bailey Hutchison if she faced a GOP primary challenge from someone more conservative. She doesn't have to worry about that for a couple of years, and then only if she seeks reelection. PPP's Tom Jensen says people still like her — 58 percent as against 28 percent with a negative view. He attributes that hypothetical primary result to the current conservative disquiet in the GOP.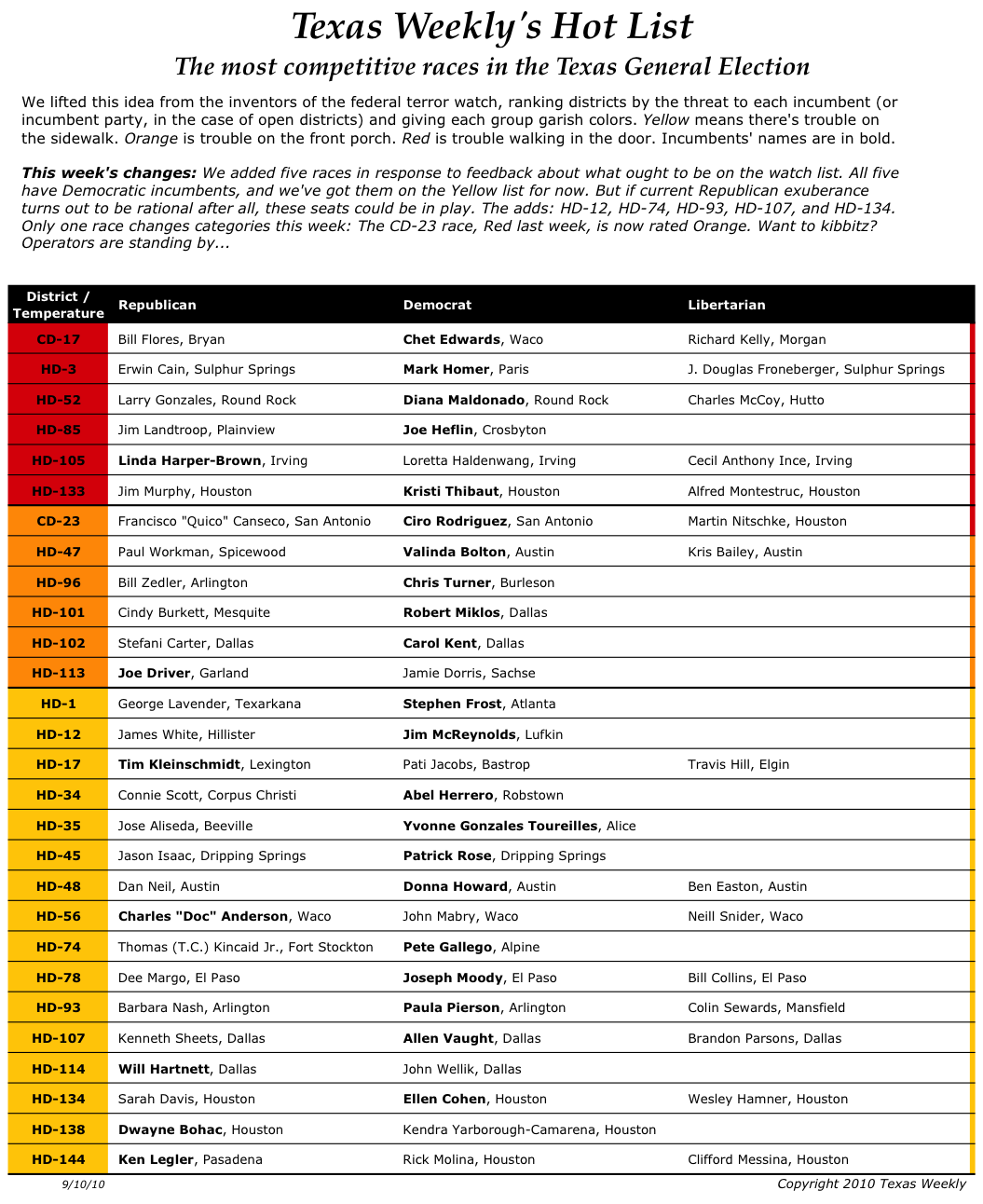 Courting the Non-Vote
Although U.S. Census forms have come and gone, some lawmakers are eyeing legislation that could tweak the final numbers to include more people in certain legislative districts. State Rep. Harold Dutton, D-Houston, says he'll file legislation to count the estimated 157,000 inmates in the state prison system as residents of the places where they lived before incarceration. Dutton has previously argued that counting inmates where they are incarcerated inflates the counts in rural areas, where most prisons are located, and could potentially affect the "one person, one vote" provision of the U.S. Constitution.
The Texas House Committee on Redistricting is in the middle of a busy interim session, traveling the state to hear testimony leading up to the legislative session that starts in January. Committee Vice Chairman Mike Villarreal, D-San Antonio, says he wants to study the inmate issue at greater length, in addition to how the flow of college students from rural areas affects the count in urban settings. He did, however, favor Dutton re-filing the legislation.
After traveling to El Paso and Lubbock last month, the committee will be in Dallas, Arlington and Richardson later this month to hear testimony.
Fight Promoter
Those who failed to notice it referenced on his now-defunct campaign website might not know about the 20-year side job of Republican Party of Texas Chairman Steve Munisteri. It gets no mention on his current bio on the party's website. Munisteri says that's because the text was pared down to include minimal details after an initial one — which detailed, among other things, his high school clubs and awards —went a bit too far.
It turns out, in addition to his day job as a lawyer, from 1989 to 2009, Munisteri managed professional boxers on the side.
A fan of the sport since childhood, he took lessons for three years and occasionally sparred at his local gym. Later in life, when he was asked by a friend if he might try his hand at managing, he asked if it would cost a lot of money and take a lot of time. "They said no," he recalls, "and both of those things turned out to be grossly inaccurate."
He lost a lot of money in boxing. "I make no secret about that," he says. Only one year removed from his managing career, he says he has almost no desire to watch matches these days. But, he says he does still provide occasional television commentary that reaches an estimated 110 million homes in the U.S. and 35 million internationally.
Overall, he says, "It's a lot tougher business than politics." That may be so, but the two have a lot in common. Munisteri explains that there are four major boxing organizations — each with bylaws, elected officials, and conventions — that rate fighters. "There's a lot of politics in who gets selected to what," he says. The following is a Munisteri's list of similarities:
• "There's a lot of lobbying that has to happen and personal relationships that have to be developed so that you can make your case and get your case heard."
• "Factions develop within the organizations — almost all those organizations are split from other organizations."
• "You have a lot of different people sniping at each other."
• "There's a lot of characters that range from very good people that really care and are in it for the love of the sport, to some folks who go over the line who aren't the most ethical and don't play fair."
• "You have press conferences on a regular basis."
• "I don't get paid, and I pay my own expenses."
The Week in the Rearview Mirror
Will there be a gubernatorial debate? We'll know in less than a week: With several debate offers on the table, the answers haven't changed. Democrat Bill White says Yes, and Republican Rick Perry says No, unless White releases his tax returns from the time he served as deputy energy secretary in the Clinton Administration. Perry added a deadline: He won't debate if those returns aren't public by September 15th. That's next Wednesday. Texas has gone 20 years since the last debate standoff prevented a joint forum. Ann Richards and Clayton Williams never could get together — Williams' side wouldn't go for it — and ended up doing one-on-one interviews on television that ran back-to-back.
Breaking news of another oil rig explosion was overblown. The latest fire on an offshore platform didn't result in any casualties or oil spilling into the Gulf, and what was initially reported by the Coast Guard as a noticeable oil sheen floating in the water was later said to be nonexistent. It could have more impact on arguments over well safety and offshore drilling moratoriums.
U.S. Sen. John Cornyn upset some of the Tea party crowd. During this election season, his National Republican Senatorial Committee has aided and abetted what Tea partiers see as establishment candidates going up against their candidates, and they don't want Cornyn taking sides. They've been holding protests at his district offices to voice their opinion that he should stay out of the primaries and stick to helping Republicans get elected in November.
As if Harris County officials didn't have enough to worry about after a major fire destroyed their electronic voting machines, they are now are being sued by the Texas Democratic Party. They are accusing the tax assessor-collector's office of illegally rejecting voter applications and of sharing information selectively with his own political allies. This is the second time in two years that the parties have fought this fight and follows a settlement that was hammered out just last year. Democrats argue that the terms of the settlement are being violated and that the voter registration process in Houston is illegally partisan.
One of the most closely watched congressional races ratcheted up another notch, with Bill Flores claiming Chet Edwards' campaign ad contains false information and threatening legal action to get it taken off the air. The Republican disputes allegations in the ad that he was responsible for laying off over 3,000 workers as the result of a merger back in the 1990's. Both campaigns are citing company filings to back up their claims.
School districts are bracing for budget cuts to just keep coming as the state faces a record shortfall. This week Gov. Rick Perry presented a grant incentive that would reward districts for collaborating on administrative tasks. He says cost sharing could allow the districts to receive an extra ten percent of the money they save, and would be particularly beneficial for smaller, rural districts.
This is different: Tomball, Debbie Riddle's territory, voted against an ordinance that would have restricted the activities and rights of immigrants. The city council voted down proposals to make English the official language of the city and a requirement that property and business owners and operators prove their citizenship. In front of a large and vocal crowd, the council also voted against closing its existing day-labor site and tabled a proposal to contract only with businesses that prove they hire only legal immigrants.
Attorney General Greg Abbott says his office will investigate Google. That inquiry will address concerns that Google's search results are skewed, stifling competition. Google says it'll cooperate and pointed out that if consumers were unhappy with its services, it would be losing business to other search engines.
Political People and Their Moves
Rich Parsons left his position as press secretary for Lt. Gov. David Dewhurst and accepted a position with the Austin-based communications firm, Hahn Texas, as vice president of public affairs. No lobbying, he says.
Bob Hudgins, director of the Texas Film Commission, is leaving at the end of the month. He says it is not related to an ongoing controversy over the state's film incentive policy — he just wants to return to production work.
Rick Molina got endorsements from the Texas Federation of Teachers and from the Texas State Teachers Association in his challenge to state rep. Ken Legler, R-Pasadena. Molina's a lawyer and former prosecutor.
Deaths: Jackson Smith Jr., whose 40-year tenure as a judge included time on Houston's 1st Court of Appeals. He was 90.
Quotes of the Week
Tom Jensen, director of Public Policy Polling, on the Texas governor's race: "[Bill] White may be the poster child for the right candidate running in the wrong cycle."
Linda Chavez-Thompson, the Democratic nominee for lieutenant governor, to the Houston Chronicle on the demands of fundraising: "I have been one of the best people at the AFL-CIO to pick up a phone and talk anybody into giving me a check for a cause. Trying to sell myself to someone has been the hardest thing."
Rep. Dawnna Dukes, D-Austin, to The Texas Tribune on a controversial content clause in the rules for the Texas Film Incentive Program: "As my mom and dad used to tell me, 'If you're going to live in my house, you're going to live by my rules.'"
Abel Valdez Jr., brother of recently captured drug kingpin Edgar Valdez Villarreal, aka "La Barbie", to The New York Times: "I'm not saying he's an angel. He's done things that are not legally right, but he has principles."
Former President George W. Bush, touting his forthcoming book at a fundraiser for Tarrant County College, in the Fort Worth Star-Telegram: "I wrote a book! I know this comes as a great surprise to those who live on our coasts. Most of them didn't think I could read a book."
Ciudad Juárez spokesman Jaime Torres, reacting to a recent report that indicates 40 percent of the guns used in crimes in Mexico come from the U.S., in the El Paso Times: "A high percentage of weapons that come into Ciudad Juárez come from the United States, and Texas is the perfect corridor. It worries us a lot."
U.S. Senate Majority Leader Harry Reid, D-Nevada, speaking about job losses during the Bush era at a rally in San Antonio, in the San Antonio Express-News: "During the Clinton years — those eight years — more than 22 million jobs were created in this country. How many jobs did George Bush create during his eight years? In fact, he shipped them all overseas."
Former U.S. Sen. Phil Gramm, R-Texas, in a radio spot for Bill Flores, who is trying to unseat the incumbent Democrat from Waco: "In February, Congressman Chet Edwards wrote to the people of the district: 'This election is about fiscal responsibility so we don't drown our children in debt.' The only problem is six days before, Chet Edwards had voted for the largest increase in the national debt in American history."
Contributors: Julian Aguilar, Reeve Hamilton, Ceryta Holm
---
Texas Weekly: Volume 27, Issue 34, 13 September 2010. Ross Ramsey, Editor. Copyright 2010 by The Texas Tribune. All Rights Reserved. Reproduction in whole or in part without written permission from the publisher is prohibited. One-year online subscription: $250. For information about your subscription, call (512) 716-8600 or email biz@texasweekly.com. For news, email ramsey@texasweekly.com, or call (512) 716-8611.
Texas Tribune donors or members may be quoted or mentioned in our stories, or may be the subject of them. For a complete list of contributors, click here.
Quality journalism doesn't come free
Perhaps it goes without saying — but producing quality journalism isn't cheap. At a time when newsroom resources and revenue across the country are declining, The Texas Tribune remains committed to sustaining our mission: creating a more engaged and informed Texas with every story we cover, every event we convene and every newsletter we send. As a nonprofit newsroom, we rely on members to help keep our stories free and our events open to the public. Do you value our journalism? Show us with your support.
Yes, I'll donate today
---
Information about the authors