Contagious
The Labor Day start of the 2010 election sprint finds Texas Republicans feverish: Even some of the sober ones think they could land eight or nine or ten sets in the state House this year. Democrats aren't giving up, by any means — their optimists still think they can win the House away from the GOP. But a strain of the same virus that infected donkeys two years ago has now infected elephants. Then, Democrats were Wild About Obama and it drove their fall efforts and helped boost turnout in November. This year, it's the Republican version of Wild About Obama —and it apparently affects their enthusiasm the same way. With about two months left before Election Day, they're exuberant.
The Labor Day start of the 2010 election sprint finds Texas Republicans feverish: Even some of the sober ones think they could land eight or nine or ten sets in the state House this year. Democrats aren't giving up, by any means — their optimists still think they can win the House away from the GOP. But a strain of the same virus that infected donkeys two years ago has now infected elephants. Then, Democrats were Wild About Obama and it drove their fall efforts and helped boost turnout in November. This year, it's the Republican version of Wild About Obama —and it apparently affects their enthusiasm the same way. With about two months left before Election Day, they're exuberant.
That compounds a structural problem the Democrats already faced: Most of the swing seats in the Texas House are in Democratic hands. Another way to say that: Republicans have more opportunities to gain seats than the Democrats do. And if the GOP crowd is right, the mood of the election will play against Democrats and help the Republicans unseat Democrats who wouldn't be imperiled in a normal election year. Our list of 21 House races to watch (last week) included 14 held by Republicans and only seven held by Democrats. Nothing in the Senate appears competitive, and only two congressional seats are seriously contested. Both of those are held by Democrats, who like their counterparts in the Legislature, are hoping for a political climate change.
Some of the euphoria comes from national surveys and prognostications. Larry Sabato, the University of Virginia political scientist, shook things up with a prediction that the Republicans will regain a majority in the U.S. House and maybe even in the Senate. It's hard to tell whether the same thing is happening in Texas, and in the same way, but it's the kind of anecdote that's making the Republicans so optimistic.
The Texas House and Senate are already Republican. The Senate's not in play, but a bigger majority for the GOP in the House could help that gang with political redistricting next year and would give Republican leaders a stronger hand in covering a budget shortfall estimated at $18 billion. The current numbers — 77 Republicans and 73 Democrats — forces the majority to negotiate with the minority on almost everything. The bigger the difference, the easier it is for the majority to rule without making concessions. And this time, to lock in that advantage by drawing political maps for the next ten years.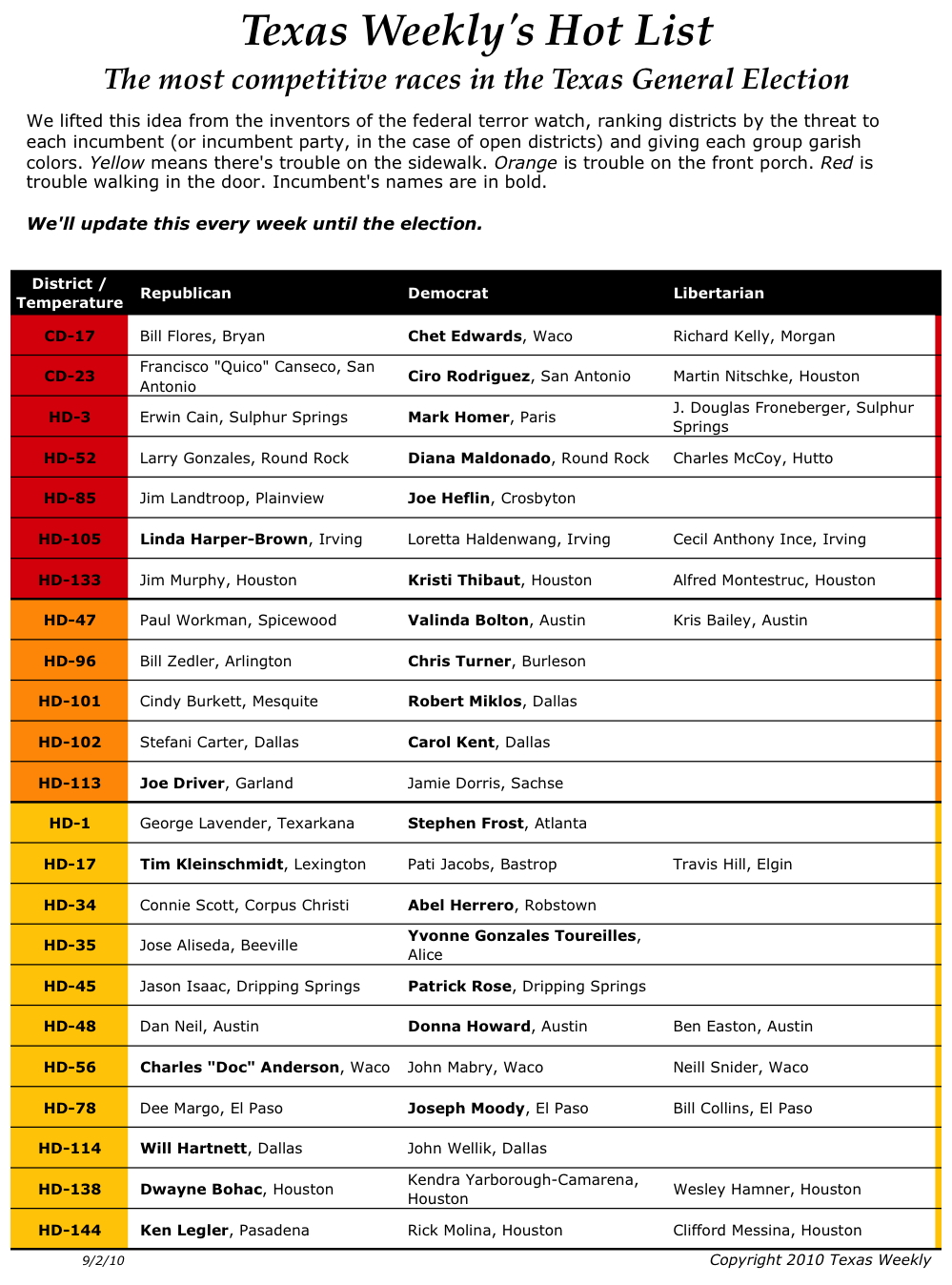 Who Doesn't Want to Be a Millionaire?
It looks like Kinky Friedman and Carole Keeton Strayhorn each could have been millionaires if they'd followed Democrat Chris Bell's lead.
Bell, the Democrat in the last race for governor, sued Gov. Rick Perry and the Republican Governor's Association, saying that group gave the governor $1 million illegally. RGA was registered to contribute to a Texas state race, and Perry's campaign wasn't allowed to accept money from an unregistered PAC contributor. Under Texas election law, a court siding with Bell would award him twice the amount of the illegal contributions; this week, an Austin judge did just that, telling the RGA it owes Bell $2 million. The RGA is appealing that decision.
But Perry paid the Democrat $426,000 in March, agreeing to write the check and also getting everybody involved to agree not to discuss the terms of the settlement. Here's the interesting part: The money doesn't go to Bell's campaign, but to the candidate himself. Bell's losing run for governor was worth at least the $426,000 the governor paid, and if the RGA ruling holds, another $2 million. Not bad for two years work. As for Friedman and Strayhorn? They were entitled to the same kind of damages but never filed suit. Now it's too late: According to lawyers familiar with campaign finance law, the statute of limitations has passed.
• The debate debate in the governor's race is in the bell lap; Perry let loose his 2009 tax return (he filed for an extension in April) and said he won't debate if Democrat Bill White doesn't release some of his old tax returns by mid-month. White has accepted every debate that's been proposed so far, including one from the state's big newspapers which promised a televised forum to the two candidates or, if only one accepts, to that one candidate.
• Taking a page out of the Hutchison handbook, White announced his support for limiting a governor to two four-year terms. Furthermore, he says he would abide by those limits if elected whether there's a referendum or not.
"Texans want to see less power in the hands of the government rather than more," says White spokeswoman Katy Bacon. "We've seen an enormous consolidation of power under Rick Perry."
Perry's primary opponent, U.S. Sen. Kay Bailey Hutchison, R-Dallas, also called for term limits. Needless to say, it did not prove to be a winning strategy for her.
Of course, Hutchison made her stand from the awkward position of being in the middle of a third term she earlier promised never to serve. White was term-limited out of office after three two-year terms as Mayor of Houston. Before leaving office, he appointed a commission to study term limits, which ultimately proposed changing its limit to two four-year terms for the Houston mayor. That proposal was struck down in a close, contentious vote by City Council last month.
In November, amid Hutchison's call and the ongoing discussion in Houston, the Tribune asked White about the concept of term limits. "Voters always have the right to limit the term of an elected official by voting them out of office, but some believe that there is a reasonable feeling that incumbents become too entrenched and lose accountability," he said at the time.
In an interview with Scott Braddock of KRLD in Dallas this week, White explained why he believes term limits may be right for the executive branch, but not for legislative positions. "The whole idea behind term limits in the executive branch is to prevent people from basically building a political machine," he said. "There may be other levels of government where people can do pros and cons. I think, there … it can give a little bit too much power to the bureaucracy."
Ultimately, if the referendum White is proposing gained enough support, Texas voters would have the opportunity to approve it. Said Mark Miner, a spokesman for the incumbent: "Perry believes in letting the voters decide in November, and he believes the current system works."
A Voting Machine
The Texas groups in the Industrial Areas Foundation say they'll try to turn out 225,000 voters for the November elections and Ernesto Cortes of Austin, one of the group's national leaders, says that number will come from currently registered voters. It's not a voter registration effort — it's a voter motivation effort.
The group is trying to regather its strength; at its peak in Texas, it could turn out more than 400,000 voters for a gubernatorial election. They've got Texas organizations in Houston, Dallas, Austin, San Antonio, Austin, El Paso, Del Rio and in the Valley. Over 1,200 from those groups gathered in San Antonio over the weekend to pull together their program, to hear from speakers on their top issues (education, health care, immigration, the state budget) and to hear from a few candidates — gubernatorial candidate Bill White and U.S. Rep. Ciro Rodriguez, D-San Antonio, among them — who promised to back the group's agenda.
State Rep. Rene Oliveira, D-Brownsville, told the group that he expects the next legislative session to fall short, and predicted lawmakers will meet in special session next summer to finish work on the budget and redistricting. He and other speakers warned that the projected budget shortfall will threaten state programs dear to the IAF, and he urged the crowd to lobby lawmakers to use the Rainy Day Fund and find other money before they start cutting any programs. That was echoed by others, like Cortes. "It's open season on anybody you don't like ... and we need to stop the bullying in public policy," he said. "If we don't get up when we get knocked down, we're not gonna get anywhere."
Nothing Special
David Swinford's seat in the Texas House will apparently remain empty for four months. Swinford, a Republican state representative from Dumas for almost 20 years, resigned as August 31 — the end of the state's fiscal year — from his post in HD-87.
He's been out talking about lobby work, and apparently decided it would be best to quit the state job before he gets hired somewhere. He told local reporters that he won't represent gaming clients because he's not favorably disposed toward legalized gambling in Texas.
Ordinarily, such a resignation would prompt the governor to call a special election to fill the seat for the remainder of Swinford's term. But August 24 was the last day to put the seat on the November ballot, even in a special election. Since that's passed, and since there's no real emergency — the Legislature isn't meeting until January, by which time Swinford's full-term replacement will be ready to be sworn in — it'll go empty. A spokeswoman for Gov. Rick Perry says that, without that emergency, the governor isn't likely to call a special election.
Another West Texas seat will be filled in a November 2 special election. Carl Isett, R-Lubbock, resigned earlier this summer and is already registered as a lobbyist. Since he quit before the August 24 date, the governor went ahead and set a special election for his spot on the day voters go to the polls anyway. Republican John Frullo and Democrat Carol Morgan will be on the special election ballot for what's left of his term; they're also both on the general election ballot for a full two-year term in that HD-84 seat.
There are three candidates for a full term in Swinford's seat: Republican Four Price, Democrat Abel Bosquez, and Libertarian James Hudspeth.
None of them will get the usual benefit of an early election — a couple of months worth of seniority that would come into play when office and parking assignments at the Capitol are made. And years later, when appointments based on seniority come into play.
Still Married
The Texas Supreme Court may soon have to decide whether to enter the fray on the issue of same-sex divorce after a recent ruling from the 5th Court of Appeals in Dallas. The appellate court prevented two men from turning their Massachusetts marriage into a Texas divorce, overruling a lower court's order at Attorney General Greg Abbott's request.
When a Dallas family court moved forward with the case last October, Abbott appealed, saying that "the laws and constitution of the State of Texas define marriage as an institution involving one man and one woman" and that the court's decision "purports to strike down that constitutional definition." The appeals court agreed with his argument — essentially, that the state can't dissolve a marriage that it doesn't recognize — and asked the lower court to dismiss the case for lack of jurisdiction. Since October, Gov. Rick Perry has also come out against the court's ruling.
In its opinion, the Dallas court says the Texas constitution prohibits the recognition of same-sex marriages in other states. Texas law doesn't violate the Equal Protection Clause of the U.S. Constitution because the right to marry a person of the same sex is not a right that is "deeply rooted in this Nation's history and tradition," and so doesn't fall under the aegis of the clause.
Randall Terrell, the political director of gay rights advocacy group Equality Texas, says the language interpreting the Constitution in the Dallas court's ruling is "tailor-made" for an appeal to the U.S. Supreme Court. That is, "if the parties have the financial wherewithal and the desire to push this case that far." If the men decide to appeal — and their lawyer Pete Schulte says they haven't yet made that decision — the next stop would be the Texas Supreme Court. Terrell doesn't expect the all-Republican court to go against Abbott's position.
Two women, also married in Massachusetts, have a similar case pending in Travis County. A judge granted their divorce earlier this year, after declining Abbott's request to intervene. Their case is currently on appeal. In February, a Texas Tribune/University of Texas poll found that 28 percent of Texans support gay marriage, while another 35 percent support civil unions.
Cross Country
A new study by the Pew Hispanic Center is likely to fuel the debate over immigration in Texas as the elections and the legislative session get closer.
Researchers there found illegal crossings into the country have declined overall but some states, including Texas, have drawn increases. From 2000 to 2005, an average of 850,000 undocumented immigrants entered the U.S. each year. From 2005 to 2007, the figure decreased to 550,000 annual entries. Between 2007 and 2009, that number dropped to 300,000. But in Texas, crossings have increased by 200,000 from 2007 to 2009. According to the study, that means about 1.6 million undocumented immigrants were living in Texas in 2009 — about 6.5 percent of the population. About 1.05 million undocumented immigrants make up about 8.7 percent of the labor force, according to the data. The majority of the immigrants, about 60 percent, come from Mexico.
Texas unemployment has consistently been lower than that of most other states, though its rate increased from 6.8 percent in April 2009 to 8.5 percent in June 2010, according to the U.S. Bureau of Labor Statistics. That could lead legislators to push for laws that mandate use of the E-verify system, which checks the eligibility of job applicants with the Social Security Administration. A case pending before the U.S. Supreme Court — U.S. Chamber of Commerce v. Candelaria — concerns whether a state has the right to require E-verify. That arose after Arizona made the system mandatory for employers there.
The Week in the Rearview Mirror
A warehouse fire in Houston destroyed Harris County's electronic voting machines. Investigators haven't yet determined if the fire was accidental or intentional, but they did estimate the cost to be upwards of $30 million. County Commissioners scheduled an emergency planning meeting for November's election, and the county clerk is already advocating early voting to ease the county's burden come Election Day. Bexar, Tarrant and Fort Bend counties all offered to lend their old equipment, pending approval by the Justice Department. Anything that knocks down the numbers in and around Houston could be particularly hard on Bill White, the former Houston mayor who's counting on his geographic base in his bid to beat Rick Perry.
Before his televised speech to the nation, President Barack Obama made a stop in El Paso to thank the soldiers stationed at Fort Bliss for their service. He shook hands, hugged soldiers and their families and spoke to a lunchtime gathering where he thanked the troops for their role in the combat mission in Iraq.
Another Dallas area pol is in ethical hot water. U.S. Rep. Eddie Bernice Johnson, D-Dallas, admitted steering scholarship money from the Congressional Black Caucus Foundation to friends and relatives. Members are allotted $10,000 to hand out as scholarships with minimal guidelines, but recipients are required to live in the representative's district. There are also strict anti-nepotism guidelines that Johnson ignored. While she admitted that her actions violated the rules and announced that she would reimburse the funds immediately, she insisted it wasn't intentional.
In the continuing saga that is Texas education, the state's refusal to commit to use federal funds only for education appears to be costing the state a pile of money. TEA Commissioner Robert Scott traveled to Washington to talk to Deputy Education Secretary Tony Miller and work out a way for Texas to get its share of the aid approved by Congress to save education jobs. Texas's share has been estimated at $830 million, projected to keep 14,500 educators on the job statewide. While no compromise was reached, Scott vowed to keep searching for a solution. He and the governor say the money has unacceptable strings attached.
Controversy surrounding the Texas Youth Commission has reappeared, and as the agency faces new complaints of misconduct, the official charged with independently investigating allegations resigned. John Moore was appointed to the post of ombudsman on March 10, and submitted his resignation five months later, on August 9th. The post was created in response to a previous scandal at the agency.
Quotes of the Week
Gov. Rick Perry at a campaign stop in Temple, quoted in the Texas Tribune: "We're creating more jobs than any other state in the nation. ... Would you rather live in a state like this, or in a state where a man can marry a man?"
U.S. Rep. Ron Paul, R-Surfside, on his plans to introduce a bill to force an audit of U.S. gold holdings in the Federal Reserve, quoted in The Hill: "If there was no question about the gold being there, you think they would be anxious to prove gold is there."
U.S. Rep. Eddie Bernice Johnson, D-Dallas, after pledging to return more than $20,000 in scholarship funds she gave to relatives and those of staff, quoted in the Wall Street-Journal: "While I am not ashamed of helping, I did not intentionally mean to violate any rules in the process."
Justice Kerry Fitzgerald of the 5th Court of Appeals in Dallas: "A person does not and cannot seek a divorce without simultaneously asserting the existence and validity of a lawful marriage. Texas law, as embodied in our constitution and statutes, requires that a valid marriage must be a union of one man and one woman, and only when a union comprises one man and one woman can there be a divorce under Texas law."
Libertarian candidate Martin Nitschke of Houston, writing on his campaign website about the congressional district he wants to represent: "CD 23 is near El Paso, so many of you do not live in this District. Neither do I, so it will be hard to campaign there. My first objective is to secure the District nomination for the Libertarian Party. From there, hopefully the D and R candidates will have pissed off enough voters that I can win by default."
Laredo Police Department spokesman, Investigator Jose E. Baeza, on the arrest of South Texas drug kingpin Edgar Valdez Villarreal, aka "La Barbie", in the Texas Tribune: "Many people are eager to put a head on the monster, but my take on it is that there are three or four more heads that will grow in its place. It's too easy to say it will subside. It doesn't just go away."
Gubernatorial candidate Bill White on how his planned partnership with the federal government to secure the borders differs from incumbent Gov. Rick Perry's efforts: "A meaningful partnership means more than photo opportunities or expensive, ineffective programs like $4 million for border cameras that netted about two dozen arrests."
Houston Mayor Annise Parker on the number of Katrina evacuees still living in Houston five years after the storm: "I don't know what the number is, and I don't believe we will ever know, nor should we need it any longer. They are Houstonians."
Former U.S. Rep. Dick Armey, on whether he'll run for president in 2012, in the Texas Tribune: "Oh, no, no, no, no. I've got 34 goats that depend on me daily. I couldn't be away that long."
Contributors: Julian Aguilar, Reeve Hamilton, Ceryta Holm, and Morgan Smith
---
Texas Weekly: Volume 27, Issue 33, 6 September 2010. Ross Ramsey, Editor. Copyright 2010 by The Texas Tribune. All Rights Reserved. Reproduction in whole or in part without written permission from the publisher is prohibited. One-year online subscription: $250. For information about your subscription, call (512) 716-8600 or email biz@texasweekly.com. For news, email ramsey@texasweekly.com, or call (512) 716-8611.
Texas Tribune donors or members may be quoted or mentioned in our stories, or may be the subject of them. For a complete list of contributors, click here.
Texans need truth. Help us report it.
Independent Texas reporting needs your support. The Texas Tribune delivers fact-based journalism for Texans, by Texans — and our community of members, the readers who donate, make our work possible. Help us bring you and millions of others in-depth news and information. Will you support our nonprofit newsroom with a donation of any amount?
Yes, I'll donate today
---
Information about the authors
Explore related story topics