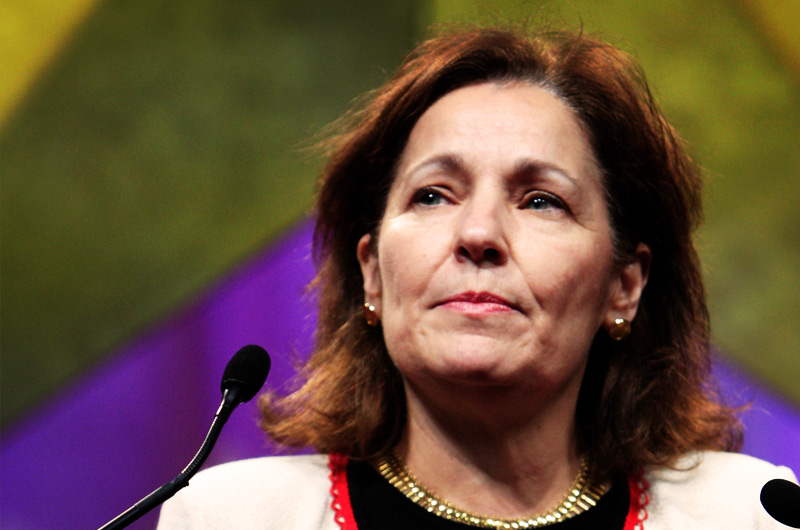 The Texas Supreme Court has denied Judge Sharon Keller's request for intervention in her sanction from the State Commission on Judicial Conduct.
The agency issued Keller a "public warning" in the now-infamous death penalty case in which she refused to keep her offices open past 5 p.m. for a last-minute appeal. Questioning the constitutionality of the sanction, essentially just a public reprimand, Keller asked the high court for mandamus relief, which could have allowed the court to unilaterally reverse the commission's decision in an advisory opinion. She took that route instead of appealing the decision through the usual method, which would involve a new trial weighing the allegations against her in front of a Supreme Court-appointed tribunal of appellate court judges. Now that the court has denied her mandamus request, she can still decide to go that route.
Justice Nathan Hecht recused himself from the decision. He isn't required to give a reason for sitting out a case, and he gave none. But Hecht's ties to Keller's defense may have something to do with it: Chip Babcock, Keller's attorney, also represented Hecht in his own troubles with the commission in 2006.
The Texas Tribune thanks its sponsors. Become one.
Update

(4:43 p.m.)

:
As expected, Keller has just filed a request to appeal the commission's decision through traditional channels. Find a copy of a letter from her lawyer above.
Texas Tribune donors or members may be quoted or mentioned in our stories, or may be the subject of them. For a complete list of contributors, click here.
Reference Material