HuTube: Birdwell Flap on Waco TV
Watch to see how our story questioning the eligibility of state Sen. Brian Birdwell played on TV news in Waco, part of his district.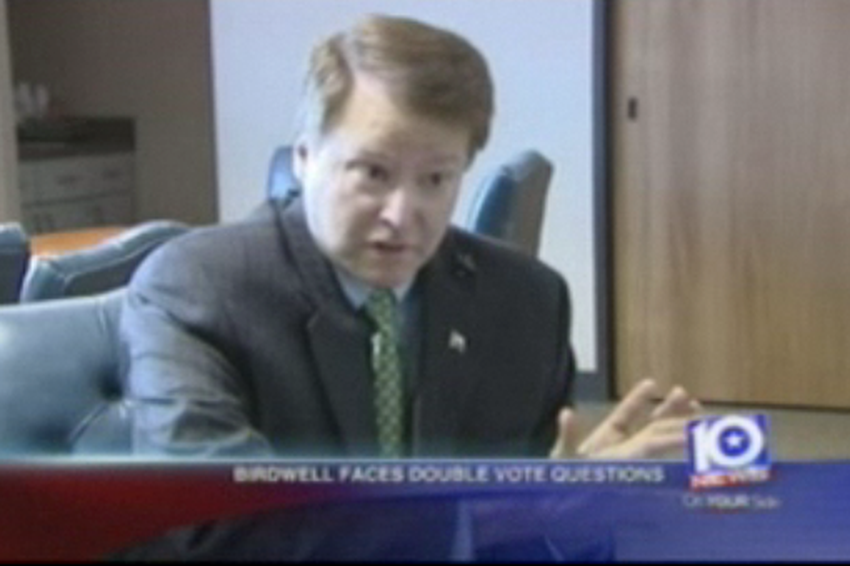 The Texas Tribune thanks its sponsors.
How did the Tribune's state Sen. Brian Birdwell eligibility story play on television? We got a chance to find out, as both the CBS and NBC affiliates in Waco produced their own versions of Ross Ramsey's piece, which ran Tuesday in the Tribune. At issue: whether the newly-elected state senator voted twice in the same presidential election, and if he meets residency requirements to serve in the Texas Senate. As Ross reported, the questions will have to be resolved by the courts, and only if someone with standing mounts a legal challenge. (Birdwell issued a response Wednesday, which Ross also analyzed.)
As you'll see in the clip, KWTX-TV visited with the McLennan County Democratic Party, and party workers said they hadn't yet decided what to do with the news. Birdwell, who turned down Ross' interview requests, didn't speak directly with television reporters, either. But stay with this video until at least the :40 mark, where Ross makes an appearance via Skype.
Texas Tribune donors or members may be quoted or mentioned in our stories, or may be the subject of them. For a complete list of contributors, click here.
Get The Brief
Never miss a moment in Texas politics with our daily newsletter.