On the Records: Sheriffs' Endorsements Similar to Obama-McCain Map [Updated]
Most of the gubernatorial endorsements today by Texas sheriffs — though not all — map to the 2008 presidential election results.
Democratic gubernatorial candidate Bill White today is touting endorsements from more than 20 county sheriffs, many of whom patrol regions along the Texas-Mexico border. So too is his rival, incumbent Republic Gov. Rick Perry.
After the Sheriffs' Association of Texas conference in Fort Worth, both campaigns sent out media releases. White's stated that the sheriffs endorsing him represent roughly 50 percent of Texans — including 99 percent of those living directly on the border. Perry touted his support from several Democratic sheriffs.
In fact, most of these sheriffs — though not all — acted similarly as their constituents voted during the 2008 presidential election.
Here's a map of the counties in which sheriffs endorsed White or Perry: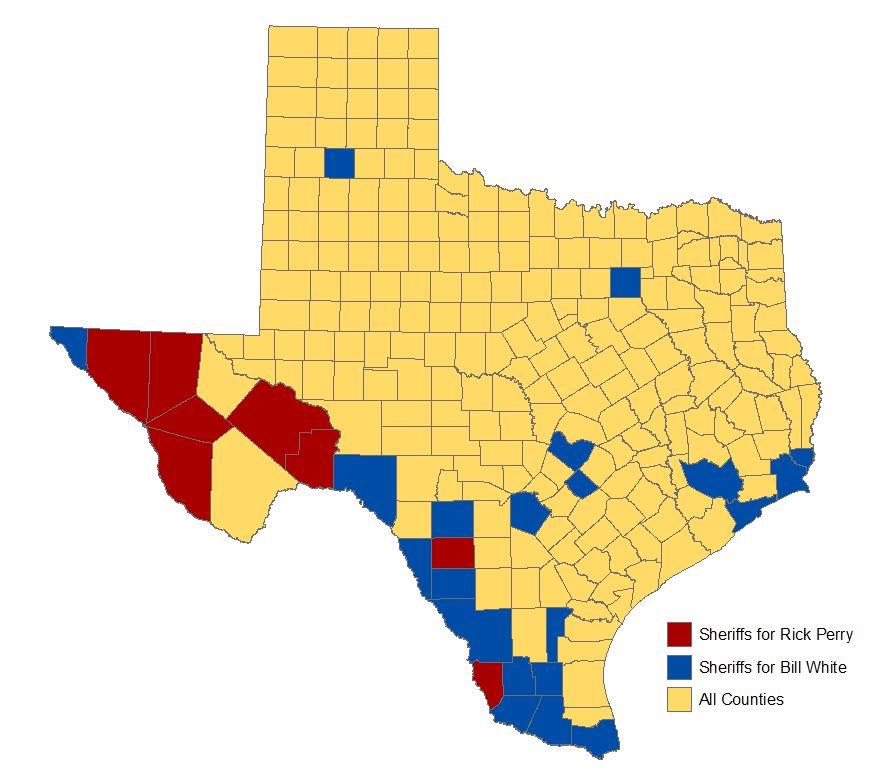 And here's a map of 2008 presidential election results:
As you can see, White did get the endorsement of sheriffs in five "McCain" counties: Caldwell, Galveston, Orange, Swisher and Uvalde. And Perry got the endorsement from sheriffs in four "Obama" counties: Culberson, Presidio, Zapata* and Zavala*.
So, what does this mean? Perhaps that sheriffs aren't just law and order — but politicians, too.
* Both Perry and White claim endorsements in Zapata and Zavala. We're trying to sort it out.
UPDATE (4:10 p.m.): The Perry campaign sent us signed endorsement cards from the Zapata and Zavala sheriffs. We haven't heard back from the White campaign.
Texas Tribune donors or members may be quoted or mentioned in our stories, or may be the subject of them. For a complete list of contributors, click here.
Support public-service journalism that's always free to read.
It's been a busy year. Through it all, The Texas Tribune's journalists have not missed a beat. And with redistricting starting in earnest next week and the 2022 elections on the horizon, we know our journalism will continue to be fundamental for Texans everywhere. Support our work today so we can be there for you in 2022 and for whatever else 2021 might throw at us.
Yes, I'll donate today