TribWeek: Top Texas News for the Week of July 19, 2010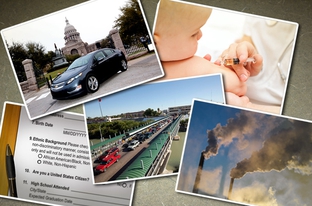 Most of Texas' health insurance companies have fully covered the costs of the infant vaccine Prevnar 13, which prevents deadly cases of bacterial pneumonia and meningitis. The exception has been Blue Cross Blue Shield of Texas, which has forced physicians to make up the difference or turn babies away. But no more: This week, on the same day The Texas Tribune asked about the reimbursement gap, BCBS reversed course. It will now cover all costs associated with the vaccine.
Candidates in Texas political races were required last week to file reports itemizing how they financed their campaigns in the first half of 2010, and our newest app lets you examine each candidate's totals for fundraising, spending, loans and, perhaps most important, cash left to spend. Mid-year campaign finance reports reveal which races have the attention of the political players in Texas, offering a down-in-the-weeds look at where the fights will be this fall.
Former San Antonio Mayor and HUD Secretary Henry Cisneros on what Bill White has to do to win the Latino vote, what Rick Perry should say about the Arizona immigration law and how Julián Castro can ensure his star continues to rise.
Texas environmentalists have adopted a pragmatic strategy for winning tougher control of industrial air pollution through the Sunset Advisory Commission's review process: They've teamed with a former commissioner of the Texas Commission on Environmental Quality to craft recommendations. They're speaking with a unified voice. And they're pursuing limited changes in existing practices.
Rather than building new power plants just to meet peak electricity demand on hot summer afternoons, why not just persuade people and companies to use less electricity? "Demand response" is quickly taking hold in Texas.
Plug-in cars — which are touted as green because they use little if any gasoline and can reduce greenhouse gas emissions by between 49 percent and 75 percent compared with a conventional vehicle — will soon be a viable option in Texas. By the end of this year, Austinites should be able to buy the new electric car from Chevrolet, called the Volt. By next February, hundreds of Leafs, Nissan's plug-in car, will be on the roads around Houston. The new influx, fueled by government subsidies, should more than double the number of plug-in vehicles in the state.
After a sluggish 2009, Texas' top trade districts — Houston, Laredo and El Paso — are rebounding well from the national recession and witnessing huge increases in the value of trade passing through their ports this year.
A court case involving two University of Texas applicants who believe they were denied admission because they're white threatens to reinvigorate an ideological skirmish that peaked in the late 1990s. The first lawsuit of its kind brought against a university since a pair of landmark U.S. Supreme Court decisions in 2003, Fisher v. Texas has observers everywhere wondering if the state's troubled history with race-based admissions makes it the ideal incubator for the next round of affirmative action battles.
Fewer students from Mexico have enrolled at border schools like the University of Texas at El Paso, UT-Pan American, and Texas A&M International since 2006, while their ranks have grown at schools farther from the Rio Grande, like UT-Austin and Texas A&M. Can the drop be attributed to the drug war, or is the growing violence simply compounding the decades-old problem of border "brain drain"?
Private, for-profit colleges, which offer professional certificates at a steep cost, have come under fire for peddling big student loans to vulnerable Texans in exchange for credentials of dubious value.
Texas Tribune donors or members may be quoted or mentioned in our stories, or may be the subject of them. For a complete list of contributors, click here.