State Audit Finds Massive Backlog at Workers' Comp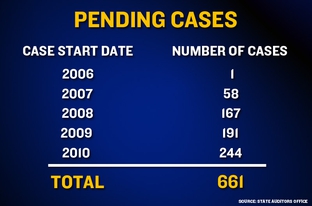 State auditors found muddled chains of command, incomplete or missing files and a massive backlog of cases when they dug into the enforcement process at the Division of Workers' Compensation, according to a report released Thursday. The audit is ongoing, but it supports the claims of former employees who exited the division this year amid complaints of stalled action on dozens of cases against physicians accused of abusing the system.
"Tens of millions of dollars of unnecessary care has been exposed and identified to the division, and they didn't do a stinkin' thing about it," says Dr. Ken Ford, the division's former assistant medical advisor. "It's a tragedy."
The division's Office of the Medical Advisor identifies and investigates doctors for over treating patients, overcharging insurers or otherwise violating the rules of the state workers' comp system. The findings are sent onto enforcement, whose attorneys are responsible for issuing disciplinary orders or litigating the cases. In some instances, they take doctors to trial at the State Office of Administrative Hearings. But former employees and the state audit reveal that hundreds of cases are stalled or disappearing as they reach the enforcement stage.
The result, over the past half decade: hundreds of cases in which medical quality reviewers recommended doctors for sanction or removal from the system sit untouched, unsupervised or lost in a paperwork jungle. According to the audit, 81 cases were never logged, more than 20 percent of cases were closed without clear documentation, and 661 enforcement cases have been open for an average of 15 months without action. One case has been open since 2006, and more than 60 cases are assigned to staff members who were fired last year.
Three former employees charged with investigating cases and recommending them for enforcement — Dr. Bill Nemeth, the division's first medical advisor, who served from 2001 to 2007; Ford, the assistant medical advisor from 2004 to March of this year; and Dr. Clark Watts, a consultant on the division's Medical Quality Review Panel — each say they resigned out of frustration that cases were not being enforced.
"I've been watching this in person for almost six years, and it's been about enough to drive me crazy. I just hope they can do something about it," Ford says. "I think this report backs us up pretty good."
Division administrators aren't disputing any of the audit's revelations and began making fixes in May. "We're happy that they made some recommendations to improve our processes and looking forward to put into place," says division spokesman John Greeley. The report shows the division is working to locate missing files, review the current status of cases that lack paperwork and assign pending cases by August.
For the handful of cases that did end with sanctions, auditors found that monetary penalties were either inconsistent or not as stiff as enforcement attorneys recommended — but there's no paper trail to explain why penalties were lessened. "The division should … consider reviewing all of the workers' compensation cases it closed with a warning letter to determine whether it took the appropriate disciplinary action," the report said.
The former enforcement team leader, Cass Burton, is one of half a dozen employees involved with medical review and enforcement to leave the division in the first half of this year. Contacted by the Tribune, Burton referred questions to Greeley, who only confirmed that he had resigned. Sources say attorney Leah Gillum, who's worked at the Texas Department of Insurance since 2004, has been named acting team leader and has begun making the transition from the Department of Insurance to the Division Workers' Compensation.
"[The auditors] have identified what the problems are, but I don't think anything's gonna change," says former enforcement attorney Cathy Lockhart, who was fired in February as she was trying to get settlements on cases that division Commissioner Rod Bordelon had thrown out. "As long as the same people are in place, they're not going to want to make any changes. If they did, they'd bring in somebody that knows what they're doing, but instead they replaced Burton with someone who has never, ever litigated a case." The division hasn't yet responded to questions about Gillum's experience.
A second State Auditor's report is expected later this year. Meanwhile, the House committee that oversees Texas workers' compensation laws will vet the issues further in a hearing in August. State Rep. Joe Deshotel, D-Beaumont, the chair of the Business and Commerce Committee, has said he's interested in the cost of inaction against bad actors. "What's the budget impact of fraudulent claims, unnecessary complaints on our already strapped budget?" Deshotel says. "Those are the issues we're going to be looking at."
Texas Tribune donors or members may be quoted or mentioned in our stories, or may be the subject of them. For a complete list of contributors, click here.