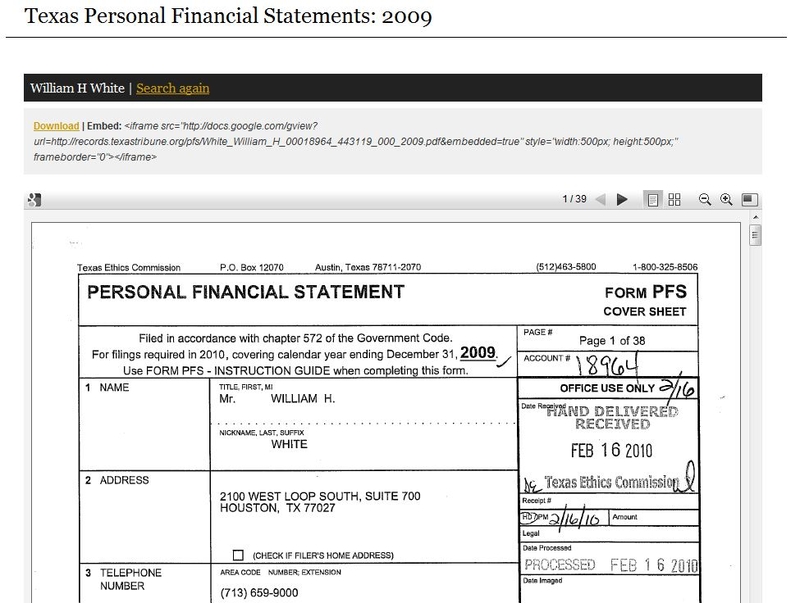 The Texas Ethics Commission recently released more than 3,000 personal financial statements for the 2009 calendar year — documents that detail state officials' financial interests and liabilities.
The commission is required to collect the documents from state elected officials, candidates for state offices and some agency heads and board and commission members. But the statute doesn't require the commission to post them online. You can only see them by making a formal request under the Texas Public Information Act.
That's exactly what we did — last week collecting 3.5 gigabytes worth of records. Unfortunately, the documents are .pdf files of paper scans — the Legislature hasn't required electronic filing — so we can't search and sort the data like we do with campaign finance and lobbying disclosures. But the statements do offer some disclosure about the people running Texas' government.
You can find and read the records in our latest application, which allows users to search by first or last name — or to browse a drop-down menu with each official's name. We're displaying the forms with Google's PDF viewer, so anyone to read, download and/or embed them.
The Texas Tribune thanks its sponsors. Become one.
The documents show all sorts of details, such as each official's income sources, securities holdings and debt. Rick Perry's filing, for example, lists this College Station rental home, which is the source of an ethics complaint filed last week by the Texas Democratic Party. The party claims the governor didn't disclose the ownership properly. (You'll also notice that Perry received boots from late-Gov. Dolph Briscoe and a "transportation" gift from restaurant magnate Tilman Fertita). Here's the report:
The governor's Democratic opponent, former Houston mayor Bill White, also had to file a report. It discloses his interest in BJ Services Co., which has been under investigation by a congressional committee for possible groundwater contamination in North Texas — a fact Perry's campaign has used as an attack. (The company has many investors, including state Sen. Kel Seliger, R-Amarillo, according to his form).
This is a work in progress, and we're working to make more sense of the data behind the app. Adding the officials' titles, for example, would make the information more meaningful for readers to search. But we're posting it today to give Texans access to the records now.
Let us know what you find, or if you have ideas for improving the app, and be sure to follow @TribData for updates.
Texas Tribune donors or members may be quoted or mentioned in our stories, or may be the subject of them. For a complete list of contributors, click here.